Overlooking the meeting point of the Tay and Earn valleys, Moncreiffe Hill has a long history of settlement, dating back to the Iron Age when not one but two forts were constructed on its slopes.
The larger and better defined of the pair – Moredun Top Fort – occupied the highest point while the other – Moncreiffe Hill Fort – sat above crags on the steeply sloping southern flank of the peak.
Both enjoyed a spectacular outlook over the surrounding lands, vital when the safety of the resident tribes relied on being able to spot an enemy approaching. Ironically, as I made my approach, the hill was blanketed in a thick freezing fog, a sea of white swirling up from the neighbouring valleys.
Fortunately, even when visibility is poor, there is plenty to see along the way, as I soon discovered. Hiking up the path from the Woodland Trust car park on Rhynd Road, I passed carved stones with contemporary images of insects, birds and mammals, and a circle of timber poles designed to symbolise a hill fort, before entering the plantation at a gate above.
Within the trees, a pair of metal deer lurked in the undergrowth to my right while, higher up, a bench hewn in the form of a giant dragonfly offered an opportunity to sit for a moment and rest.
The wildlife sculptures are undoubtedly easier to spot than the woodland's own native creatures, but go quietly and you may see red squirrels, roe deer and woodpeckers in this mixed plantation of broadleaves and conifers.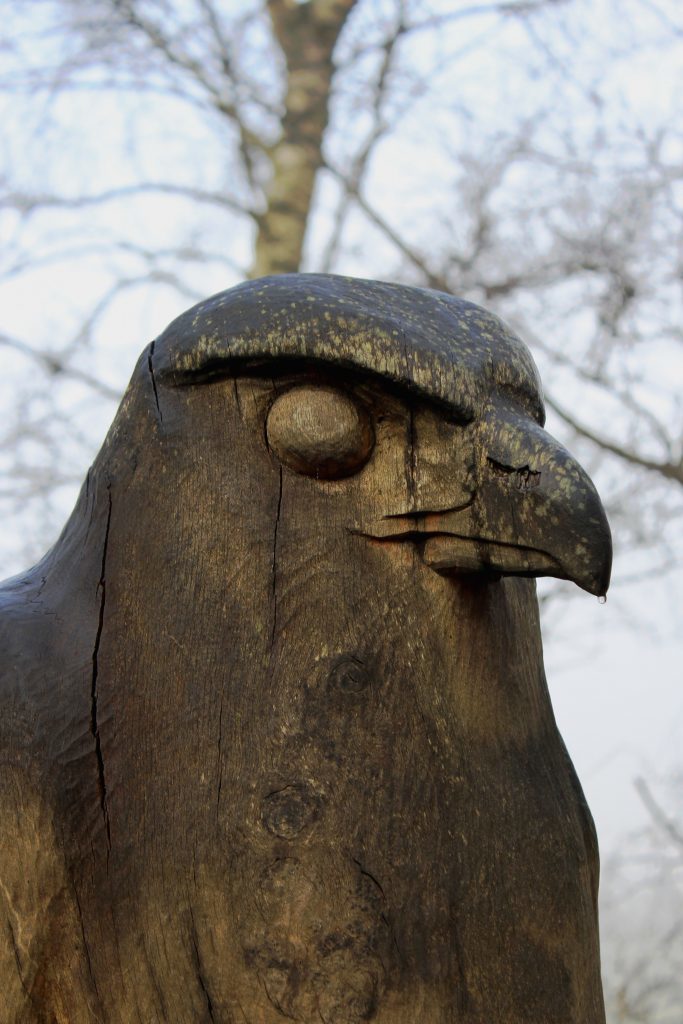 The ascent is reasonably strenuous, the path steep in places, and, with mist permeating the trees, the forest felt strangely eerie, as if perhaps inhabited by the ghosts of our Iron Age ancestors.
Their ancient home soon beckoned, the trail leaving the conifers at an information board (one of a number dotted around the hill) and venturing up on to Moredun Top, an elevated oval plateau.
Sadly, the fog remained as thick as ever, despite the sun doing its utmost to break cover, and, while I could hear the unmistakable rumble of vehicles on the motorway below me, I could see neither the ribbon of tarmac nor its traffic.
Willing the sky to clear, if only momentarily, I sat for a bit by the summit cairn but, starting to feel the chill in the air, I gave up and descended disappointed.
My spirits lifted, however, as I followed the trail down towards Moncreiffe Hill Fort. Ahead of me, a glimmer of light filtered through the canopy and, as I scampered up to the trig point, a sudden snap of blue sky signalled a change in my weather fortunes.
For the briefest spell, the mist evaporated, revealing Moredun Top above and precipitous slopes of craggy rock dotted with larch below. It was a time of elation, but my joy was short-lived for the clouds quickly conspired to cloak the hill from view once again.
The trig point marks the site of the lower of Moncreiffe Hill's two forts and it has recently been the subject of archaeological excavations which found evidence of defensive ramparts and unearthed a leaf-shaped Neolithic arrowhead.
Further digs are due to take place this year on Moredun Top, doubtless revealing more about the history of Moncreiffe Hill, its ancient strongholds and its early inhabitants.
ROUTE
1. Ascend path through high gate, passing circle of timber poles, to second high gate.
2. Enter woodland at gate and ascend path to junction.
3. Turn left (signed Hill Forts) and ascend path to junction by carved timber blocks.
4. Turn left and continue up on broader trail to next junction.
5. Turn left (signed Moredun Top Hill Fort).
6. Bear left at information board, ascending path to summit. Descend path east, returning to information board, then retrace steps to point 5 and turn left, descending path. Ignore track branching left and continue down to another information board. 
7. Branch left to Moncreiffe Hill trig point. Return to information board and turn left, following track west.
8. Turn right, following track north-east.
9. Turn right, ascending track to point 3. Turn left and descend path, retracing steps to car park.
INFORMATION
Distance: 4km/2½ miles
Ascent: 180m/600ft
Time: 2 hours
Grading: Generally easy route following well-made waymarked paths through woodland with some strenuous sections of ascent to Moredun Top
Start/finish: Woodland Trust Moncreiffe Hill car park (signed from Edinburgh Road, Perth) on Rhynd Road, one mile east of Perth (Grid ref: NO 138210). Car park is open from 7am to dusk
Map: Ordnance Survey 1:50,000 Landranger sheet 58; Ordnance Survey 1:25,000 Explorer sheet 369
Tourist Information: Perth iCentre, 45 High Street, Perth PH1 5TJ (Tel 01738 450600)
Public transport: Nearest bus stop is at junction of Edinburgh Road and Rhynd Road