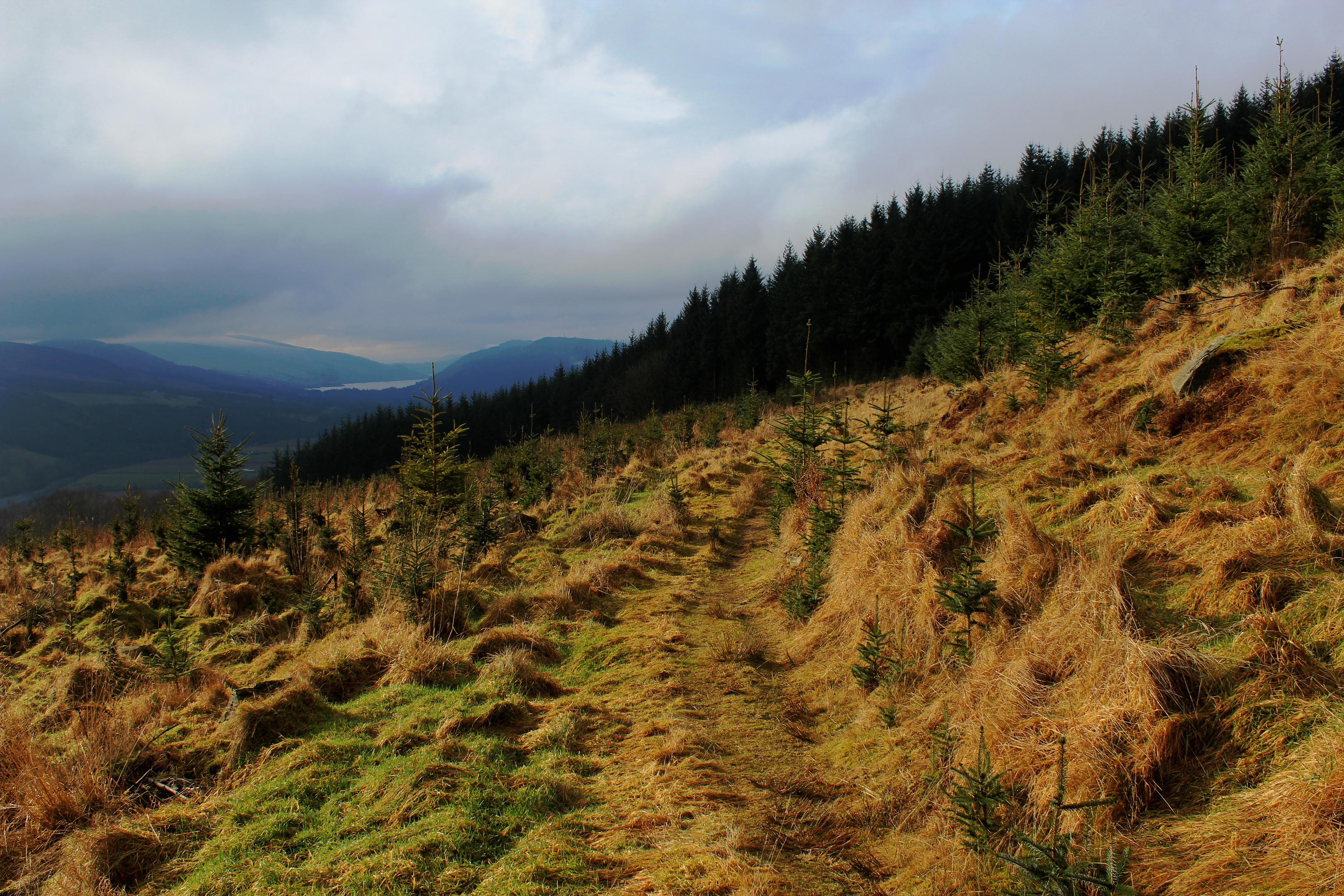 General George Wade's network of military roads opened up the Highlands in the first half of the 18th century, enabling government troops to move swiftly through the mountains and glens.
With numerous rivers and streams to cross along the way, bridges were a necessity and the one spanning the River Tay at Aberfeldy – Tay Bridge – is arguably one of Wade's greatest achievements.
Opened in August 1735, the five-arch stone structure was designed by architect William Adam and constructed by master masons drafted in from the north of England. Today it remains in daily use, carrying a much heavier load than was ever originally intended, testament to the engineering skills of the general and the work of his men.
Crossing Wade's bridge, I headed upriver, a path that leads ultimately to Kenmore following the water closely through the flat and fertile farmland of Appin of Dull.
Thanks to the river and its alluvial deposits, the ground here has long been productive. During early Christian times, it supported a monastery in the nearby village of Dull, 'appin' meaning abbey land.
Along the way, paths branch north to Weem and Farleyer, which nestle below the forested slopes of Weem Hill, but I stayed with the river a while longer, taking brief shelter from ominous dark clouds at an open fishing hut.
Despite threatening rain, the downpour I anticipated failed to materialise and I ventured back out. While the weather may have been apt for a day out in Dull, the landscape itself was far from boring, the sweeping river leading eyes west to Drummond Hill and, behind it, more distant snow-covered summits.
My signal to turn north was a bridge spanning the outflow of the Camserney Burn, beyond which a track curves right at a small fenced enclosure, following the burn upstream, across the appin, to meet the B846 road.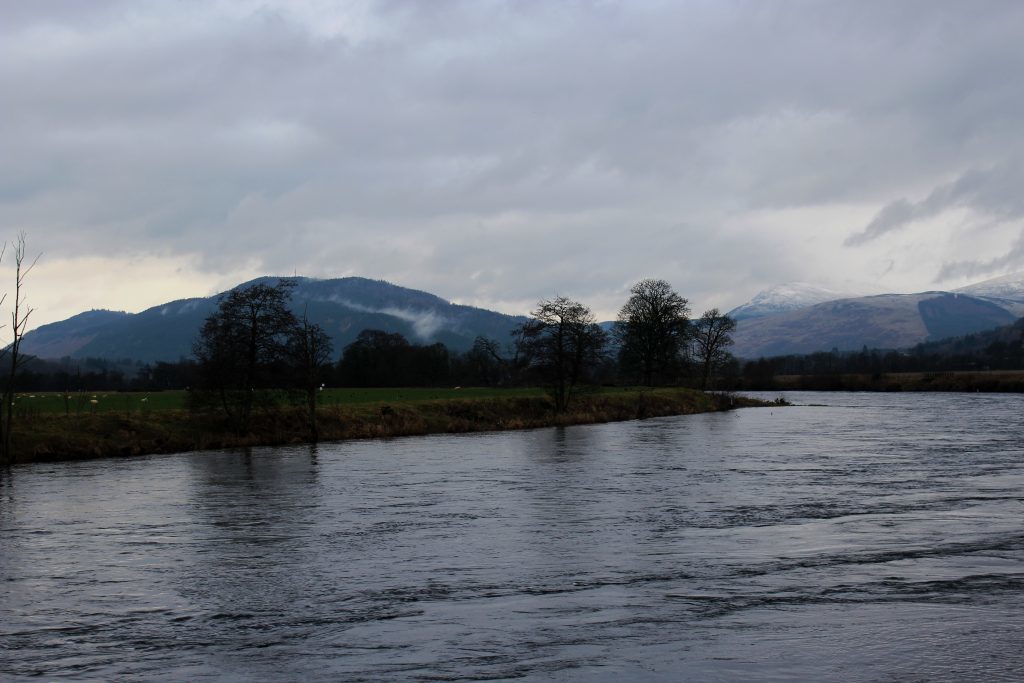 Crossing back over the burn, this time on asphalt, I wandered up through the hamlet of Camserney, a cluster of charming stone houses and cottages, spotting my first snowdrops of the winter growing on the grassy verge.
The winding lane ends at thatched Crachan Cottage and a track continues ahead, swinging east as it rises below woodland to a junction where, on a clear day, a well-appointed bench offers a vista over the valley.
Rested, I returned to the track, the long incline continuing to a remote steading at Shenavail where I entered the plantation cloaking the southern flank of Weem Hill.
A welcome clearing further up revealed the ruins of the abandoned hamlet of Rawer, tumbledown stone outlines all that now remain of houses, enclosures, a lime kiln and mill.
Tunnelling back into the trees, I briefly joined a more robust forest road before turning east once again, a pleasant path winding through the trees, emerging via an open gateway in the fence on to a mossy mound.
Below the outcrop, as I descended by
a stone wall, windblown trees did their best to impede progress but, by detouring a little to the left, these upturned obstacles were negotiated with relative ease and I was rewarded with a clear trail down to the village of Weem.
A short, signed detour through a restaurant car park re-united me with the B846, my route back across the appin – far from dull, as I had discovered – to Aberfeldy.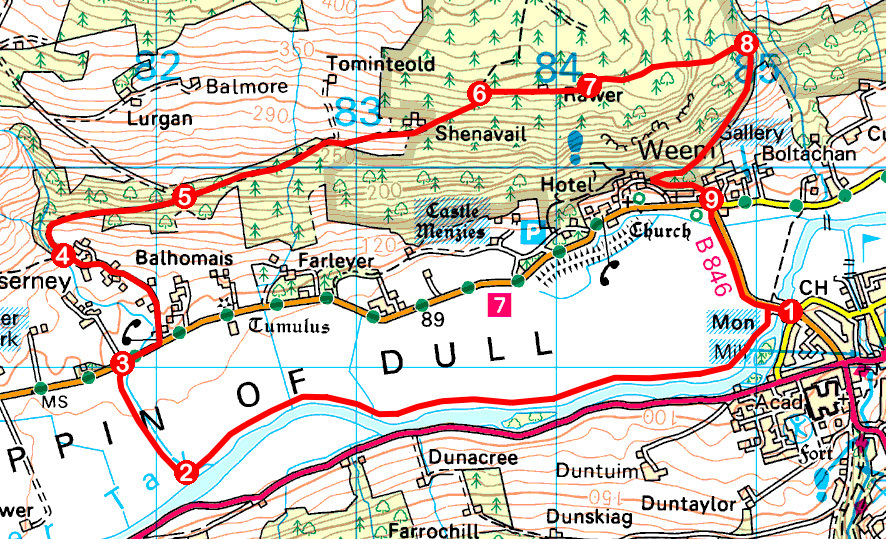 ROUTE
1. Cross Tay Bridge, go left through gate and follow riverside path (signed Kenmore) west for 3km.
2. Cross Camserney Burn by bridge and bear right on track, following burn upstream to B846.
3. Turn right and walk 200m east on B846 then turn left (signed Camserney) and ascend minor road through Camserney, bearing right on to track beyond Crachan Cottage.
4. Ignore path branching left to Dull and continue up track.
5. Continue straight ahead at junction (signed Weem) to Shenavail. Enter forest at gate and ascend track.
6. Turn right (signed Aberfeldy) and follow path east through ruins of Rawer to meet track.
7. Turn left, ascending track, then branch right at small cairn. Continue east on path over exposed mound then, bearing right, descend path by wall.
8. Turn right and descend path. Approaching Weem, go left at junction (signed Aberfeldy) and descend to B846.
9. Cross B846 and follow path/pavement south to Tay Bridge.
INFORMATION
Distance: 11km/6¾ miles
Ascent: 300m/990ft
Time: 3 hours
Grading: Moderate route following paths, tracks and minor roads along riverside and through forestry with some well graded but prolonged sections of ascent. Some sections of path can be wet and muddy underfoot
Start/finish: General Wade's Tay Bridge, Aberfeldy (Grid ref: NN 851492). On street parking on adjacent Taybridge Drive
Map: Ordnance Survey 1:50,000 Landranger sheet 52; Ordnance Survey 1:25,000 Explorer sheet OL49
Tourist Information: Aberfeldy iCentre, The Square, Aberfeldy PH15 2DD (Tel 01887 820276)
Public transport: Stagecoach bus service 23 links Perth with Aberfeldy