Long distance trails are a great way to explore the landscape. Equally, they offer useful links between communities, links that can either be walked on their own or incorporated into other outings.
Setting out from the southern end of the Tay Road Bridge on a loop through the north Fife countryside, and sustained by a lorne roll and coffee served up at the car park kiosk, I joined the Fife Coastal Path.
Heading east from Newport, the well-signed trail runs parallel with the B946 to a picnic area beyond which it forks left, a leisurely descent following the line of an old railway to Tayport.
Across the River Tay, established landmarks such as the Sidlaw Hills and Broughty Castle vied for my attention alongside more recent additions to the waterside scene – a trio of offshore oil platforms berthed in the port.
Entering the burgh, I passed Tayport's West Lighthouse, resplendent in white, and the shorter East Lighthouse. Designed by Robert Stevenson and built in 1823, they were a vital navigational aid for vessels entering the estuary.
Another aid to mariners, although not on the Tay, was the lifeboat Duke of Kent, now propped up on one of the old stone piers at Tayport harbour. Stationed in Eastbourne, it finished its career as a survey boat after being decommissioned by the RNLI in 1993.
The coastal path led me around the harbour, now a marina, and along residential Harbour Road to Tayport Common.
Here I left the official trail and, by a band of pine, picked up a path over the parkland, passing a wildlife pond on the left en route to Tayport Football Club's Canniepairt ground where the way swings right to join Shanwell Road.
A little to the south, a track led me through Scotscraig Golf Course. The route crosses a couple of fairways, where signs warn of the direction to expect play from, before exiting the course at a gate.
It continues south past Garpit and through a plantation of pines, entering Tentsmuir National Nature Reserve where my next stop was Morton Lochs, a trio of pools created at the start of the last century. Today they are a haven for wildlife and, in addition to hides overlooking the water, one focussing on the forest offers opportunities to spot red squirrels.
Cutting between the north and south lochs, the reserve access track leads inland to the B945 from where I wandered west, a quiet country road running through arable farmland towards Forgan Manse, passing the ruins of 19th Century Forgan Church.
Just ahead of the manse, I turned north, a right of way signed for Inverdovat rising through a paddock and up the edge of a field on to Roseberry Hill. Passing a carved boundary stone, the path skirts the eastern edge of Roseberry Wood, descending through a field below to cross a wee wooden bridge spanning a ditch in the base of the valley.
Climbing by a wall to the road above, signs for East Newport led me by the pan-tiled stone sheds of Causewayhead Farm and down a tree-lined track to the A92.
Carefully crossing the busy dual carriageway, I headed down Newport's Station Brae, the second road on the right – Norwood – guiding me past houses and wooded Gowrie Hill to a cycle path offering passage back to the Tay Road Bridge.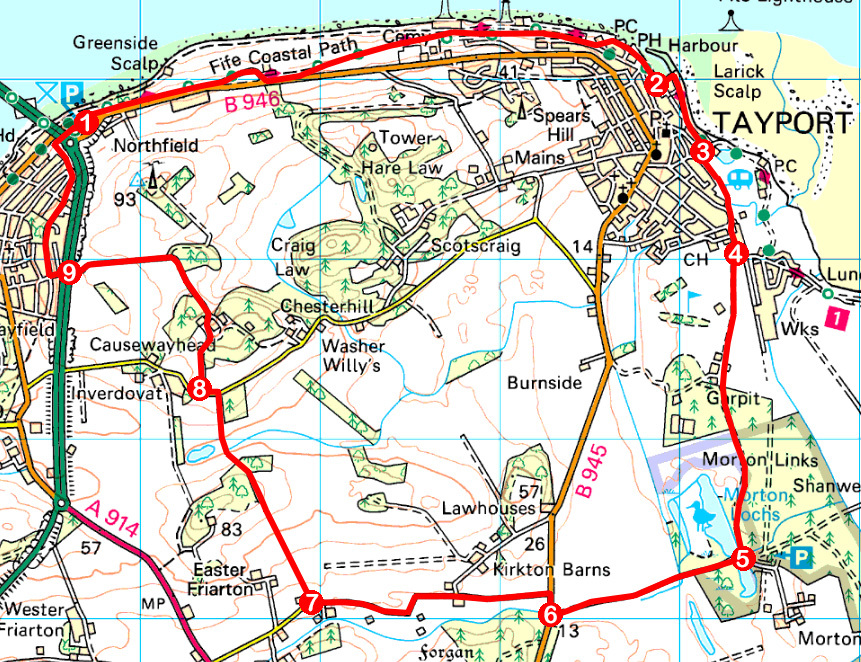 ROUTE
1. Descend path to B946, cross and follow Fife Coastal Path east to Tayport harbour.
2. Continue on coastal path (following Harbour Road) to Tayport Common.
3. Cross Promenade and bear right to pick up gravel path running south to Shanwell Road then turn left and walk 250m on pavement.
4. Bear right through gate, following track across golf course. Exit course at gate and follow path south to Morton Lochs.
5. Turn right and follow track west to B945.
6. Turn right on B945, then go left, following minor road west.
7. Turn right (signed Inverdovat) and follow waymarked path north.
8. Go left along road, then turn right, following lane up to Causewayhead. Bear left round stone sheds and continue on track, turning left at next junction.
9. Cross A92, descend 50m on Station Brae then go right along Norwood. Where Norwood meets Craighead Cresent, continue ahead on cycle path to Tay Road Bridge.
INFORMATION
Distance: 13km/8 miles
Ascent: 200m/660ft
Time: 4 hours
Grading: A moderate route setting out along the Fife Coastal Path and thereafter following good paths, tracks and minor roads with some useful waymarking. Keep dogs on lead where signs request and take great care crossing A92 towards end of walk
Start/finish: Car park at south end of Tay Road Bridge (Grid ref: NO 426287)
Map: Ordnance Survey 1:50,000 Landranger sheet 59; Ordnance Survey 1:25,000 Explorer sheet 371
Tourist Information: Dundee Information Centre, 16 City Square, Dundee DD1 3BG (Tel 01382 527527)
Public transport: Stagecoach bus service 96 from Dundee stops at the south end of the bridge