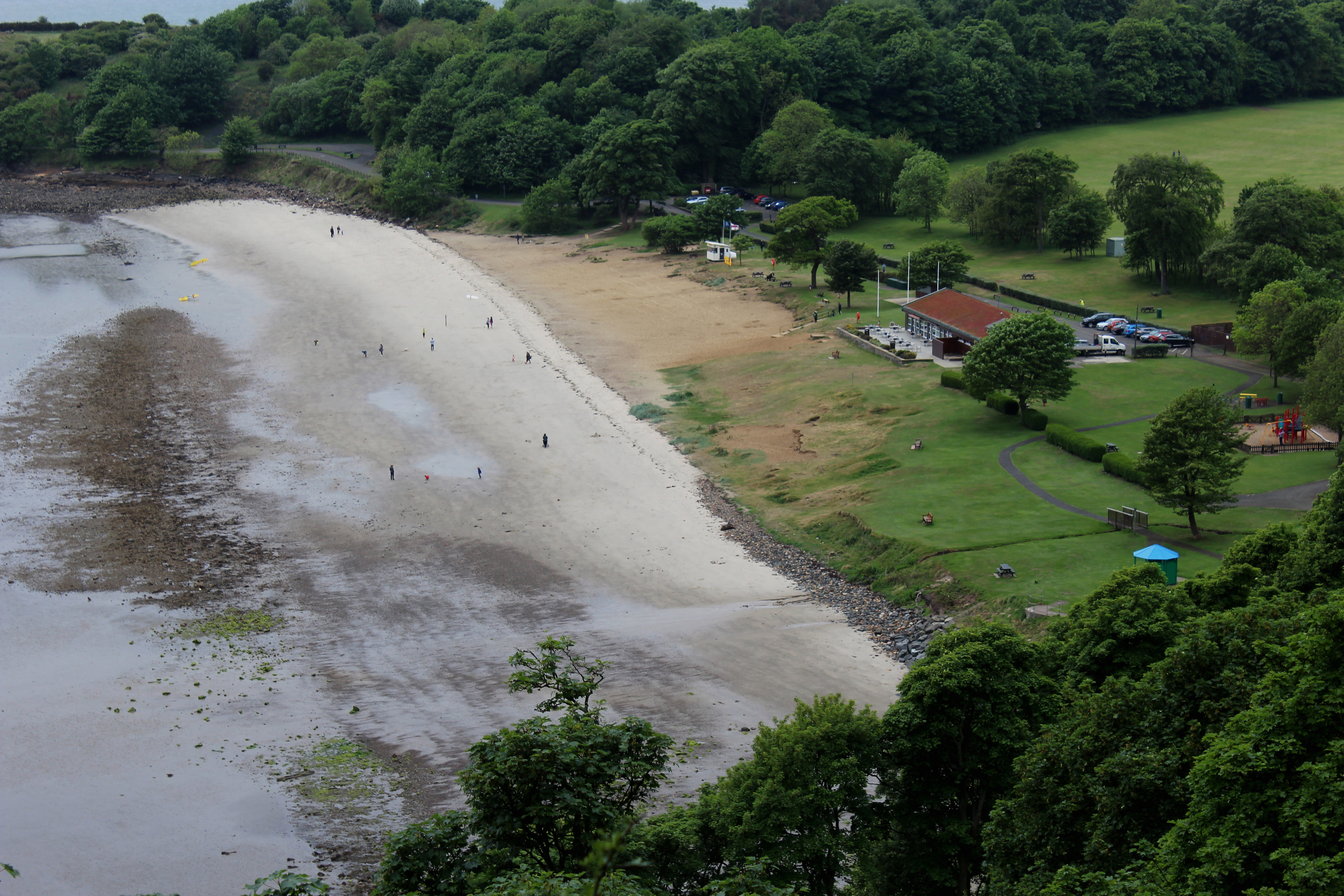 The lengthy coastline of Fife harbours some beautiful beaches. From Tentsmuir Sands, in the north, to Inverkeithing Bay, in the south, sandy strips, rocky coves and bays of shingle satisfy all moods, from the desires of castle builders to those intent on a bracing seaside stroll.
The weather, of course, plays a significant role in Scottish beach life, as I discovered on a bank holiday weekend in Aberdour. Two days of glorious sunshine blessed the popular Silver Sands with throngs of bathers.
Turning up on the Monday, however, under grey, rain-laden clouds, it was a rather different picture postcard I sent home. The RNLI lifeguards were bravely holding their line, but most folk were huddled in the waterfront café clutching steaming mugs of tea.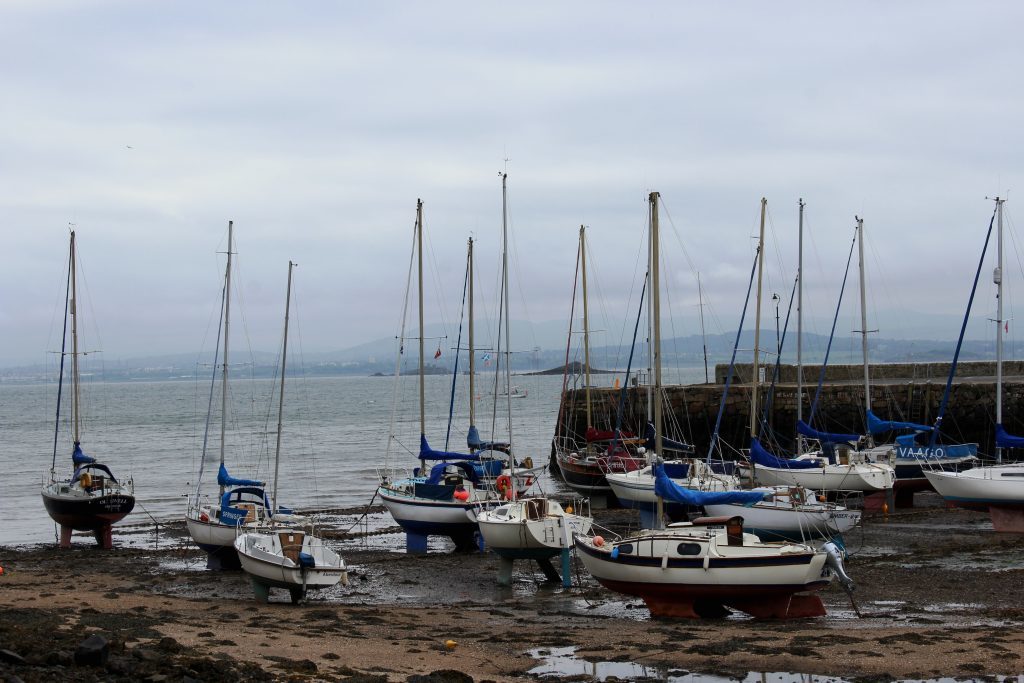 Leaving shorts and sunscreen in the car, I pulled on waterproofs and set out across the bay, the award-winning band of pristine white sand attracting only a chilly breeze and incessant drizzle.
Not exactly wishing I was here, I toyed with the idea of calling a halt at the café but eternal optimism and the belief conditions could only improve pushed me on along the Fife Coastal Path.
Surfaced in parts, the trail cuts a fine line between a jumbled, rocky foreshore and woodland above, the trees buffering the main east coast railway line.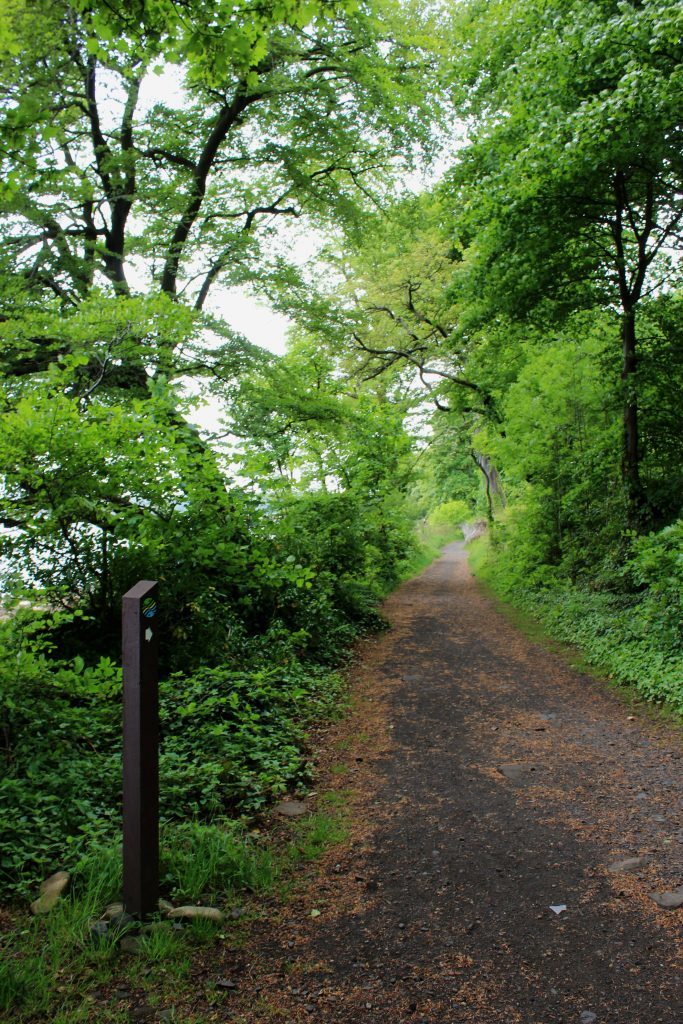 Despite the occasional rumble of passing trains, it was a pleasantly peaceful wander, with views over the water towards the islands of Inchkeith and Inchmickery and ahead to The Binn, a little hill casting a shadow over Burntisland.
A tunnel guided me under the railway beyond which I branched left, up steps into The Heughs, a ribbon of deciduous woodland dominated by beech and sycamore and peppered with wildflowers, including some rather soggy bluebells.
A chiefly Scottish term, 'heughs' means a precipice, steep crag or cliff and a surprisingly steep seaward drop soon revealed itself, an exposed viewpoint offering a different perspective on the still empty Silver Sands.
Turning inland, the path meets the A921, the roadside pavement leading me back into Aberdour and its historic heart.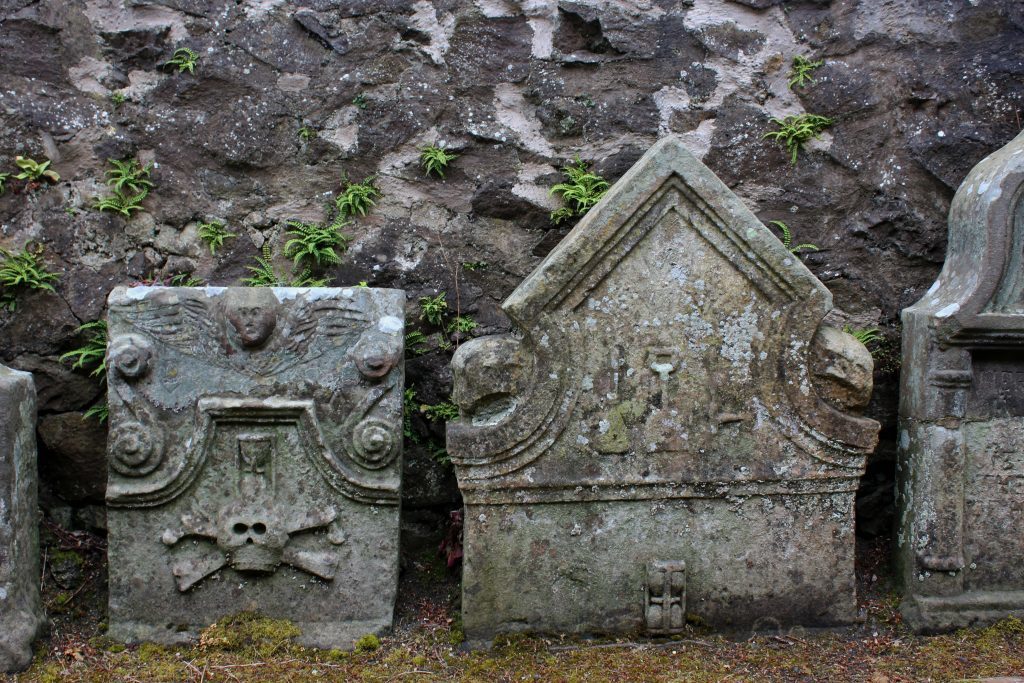 One of Scotland's oldest castles still standing (parts of the site date from the 1100s), Aberdour has been extensively altered and extended over the centuries to meet the needs of various noble occupants, including Robert the Bruce's nephew, Thomas Randolph.
While there is an admission charge to enter the castle and its beautifully maintained walled gardens, visitors can meander freely into the kirk yard of neighbouring St Fillan's Church.
Dating from the 12th century, this charming little church was restored in the 1920s after falling into ruin and it is surrounded by some fascinating 17th and 18th century headstones.
Onward and I was soon reunited with the coastal path at the village harbour. It led me round to Hawkcraig Point where, atop the protruding headland, there is a grandstand view of Inchcolm Island, its abbey visible.
The derelict wooden pier at the base of the crags was built to ferry out quarried stone but, during the first world war, it was pressed into service as part of a pioneering research station established by the Admiralty to find ways of detecting German U-Boats.
An information board by one of two navigation beacons on the point offers an insight into life at the station – HMS Tarlair – and the work undertaken, come rain or shine.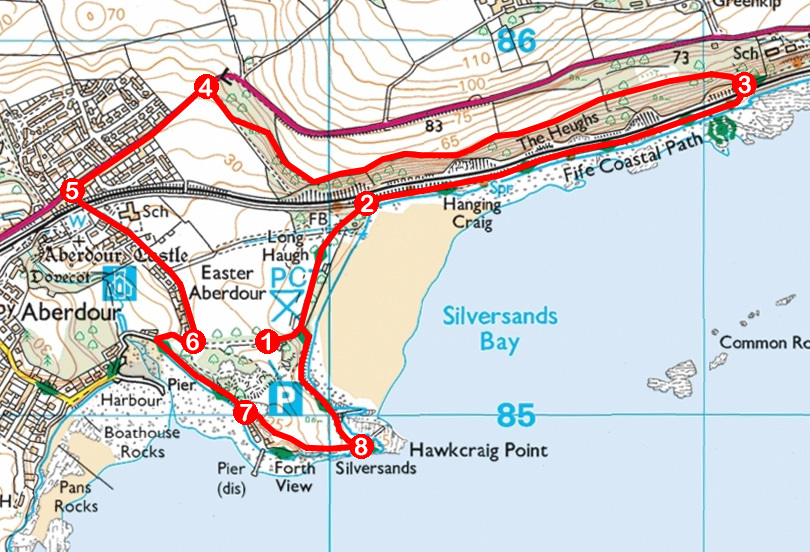 ROUTE
1. Descend path and roadway to beach (signed Beach Access) and follow surfaced track north, passing lifeguard station and café/toilets. Continue ahead on path, bearing right of play area.
2. Pass through gap in wall, turn right and follow Fife Coastal Path (FCP) east.
3. Bear left under railway, then ascend to junction. Turn left (signed Aberdour by The Heughs), pass through gap in wall, ascend steps and follow path west through woodland, branching left at next junction (again signed Aberdour by The Heughs).
4. Emerging on to A921, turn left and walk along pavement into Aberdour.
5. Turn left and follow Hawkcraig Road south-east.
6. Bear right at traffic island and descend surfaced path/steps to junction. Turn left along FCP.
7. Ascend stone steps, ignoring path branching left, on to headland then descend path and steps to car park at Hawkcraig Point.
8. Go left along track to Silver Sands.
INFORMATION
Distance: 5.2km/3¼ miles
Ascent: 100m/330ft
Time: 2 hours
Grading: Easy, low level route following tracks, paths and pavement along coast and through woodland with only a couple of short sections of ascent
Start/finish: Silver Sands beach car park, Hawkcraig Road, Aberdour (Grid ref: NT 198852). £1.50 car parking charge during summer season
Map: Ordnance Survey 1:50,000 Landranger sheet 66; Ordnance Survey 1:25,000 Explorer sheet 367
Tourist Information: Dunfermline iCentre, 1 High Street, Dunfermline KY12 7DL (Tel 01383 720999)
Public transport: Stagecoach bus service 7 stops in Aberdour and there is also a railway station in the village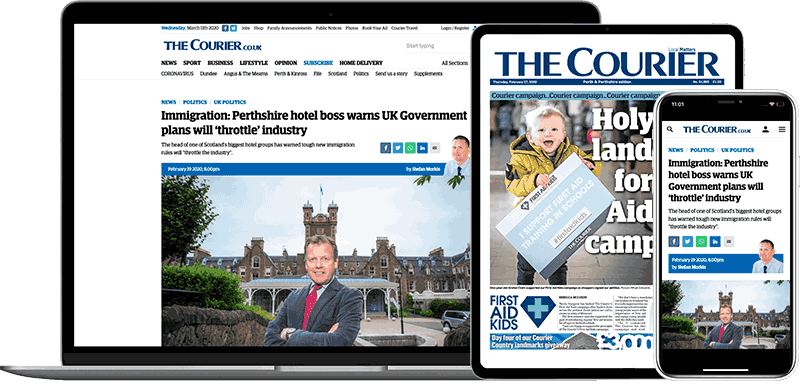 Help support quality local journalism … become a digital subscriber to The Courier
For as little as £5.99 a month you can access all of our content, including Premium articles.
Subscribe