The Falls of Bruar are one of Highland Perthshire's scenic gems. Hidden away among towering trees, two rustic stone bridges span a deep, rocky ravine through which the Bruar Water tumbles with, it must be said, a certain gusto.
A short and rather strenuous trail linking the spouting lower and upper falls has been attracting visitors since the 18th century, among them Queen Victoria, poet Robert Burns and artist William Turner.
An impressive spectacle in their own right, cascades and pools mark the end of the Bruar Water's journey from the southern fringes of the Cairngorms down through the wild and lonely hills and moorland of the Forest of Atholl. And it was this remote landscape that I wanted to explore.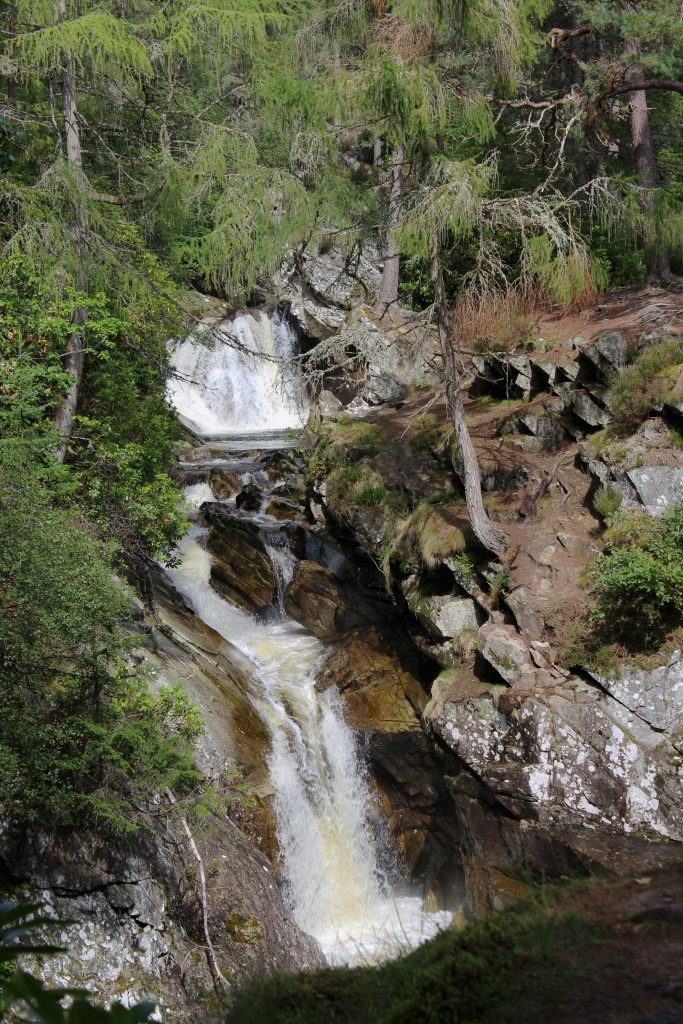 The well-walked way to the falls leaves the road at the eastern edge of the busy House of Bruar shopping complex, a dark tunnel sneaking below the railway ahead of a climb above the gorge to the lower of the two bridges.
The parapets and paths were constructed in the latter years of the 18th century by John Murray, 4th Duke of Atholl, who also planted the woodland and built wee shelters and follies which sadly no longer stand.
Crossing the old stone span after pausing to admire the white water, I continued up to a bench and viewpoint where the path brushes shoulders with a hairpin bend in one of the gravel roads running through adjacent Baluaine Wood. Here I broke free from the crowds, a less frequented route leading north through neighbouring Glen Banvie Wood.
Bruar Water down to my left, the flow remained largely concealed by conifers until I emerged from the plantation at a high gate, slender Scots Pines ahead affording tempting glimpses of not only river but also mountain and moor.
Clearing the trees completely at the northern tip of the forest, a track led me across heathery slopes, the meandering river below enjoying a moment of calm before its rollercoaster ride down the valley.
The moorland byway dips past a derelict farmstead at Ruichlachrie to meet the Bruar Water and, while there is evidence a bridge once spanned the river here, it has long since been washed away.
The adjacent ford rather too wide for my liking, I tramped upstream to a spot where stony banks split the flow. A hop, a skip and a jump and I was safely over, my feet remaining relatively dry.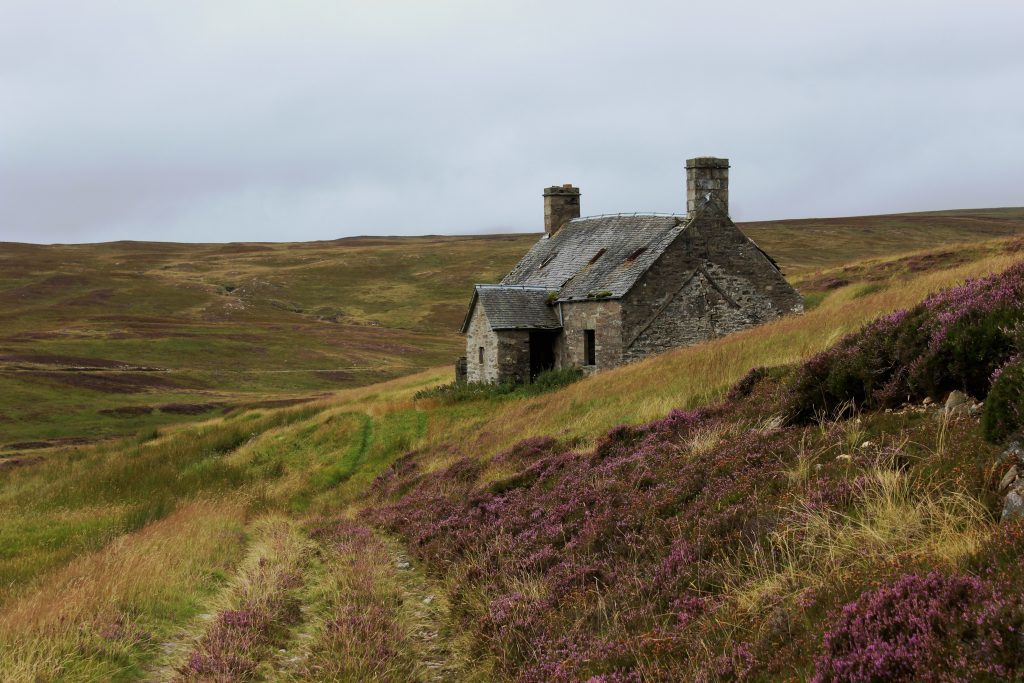 Cuilltemhuc, another abandoned dwelling, is the perfect place to regroup and, if necessary, wring out wet socks, before joining a robust track that passes to the rear of the boarded-up bothy.
Turning south, I embarked upon a steady ascent out of Glen Bruar, the track rising over the partially wooded slopes of Creag Bhagailteach and Colrig before dropping into Glen Garry, the hamlets of Calvine and Struan below.
One of General George Wade's 18th century military roads passes through the valley but, just ahead of an estate hut, I opted instead to join a parallel forest track of more recent vintage.
Beckoned onward by a view of distant Ben Vrackie, I soon re-entered the woodland flanking the famous falls and, with time in hand and a little energy left in the tank, followed in the footsteps of those illustrious visitors of old, finishing my day off exploring this celebrated beauty spot.
ROUTE
1. Exit car park on to B8097, turn left then go left on gravel track (signed Falls of Bruar Walk). Continue ahead on path, passing under railway, and ascend by Bruar Water to Lower Bridge. Cross and ascend path to meet bend in track.
2. Turn right and ascend track. Ignore track branching left and continue to next junction.
3. Turn left and ascend track north. Ignore tracks branching right.
4. Where track forks at marker post, go left and continue north.
5. Turn left at marker post and follow moorland track north-west, descending past Ruichlachrie to Bruar Water.
6. Bear right along wall and cross Bruar Water at stony banks. Ascend to join track above Cuilltemhuc.
7. Turn left and follow track south.
8. Approaching shed, turn left through high metal gate and follow track east.
9. Go through high metal gate, descend to junction and continue ahead on track then path to meet Falls of Bruar path.
INFORMATION
Distance: 14km/8¾ miles
Ascent: 360m/1190ft
Time: 4 hours
Grading: Moderate route following good paths and tracks through woodland and over open moor with a bridgeless river crossing at the half way mark and some strenuous sections of ascent
Start/finish: House of Bruar, 5km west of Blair Atholl (Grid ref: NN 821659)
Map: Ordnance Survey 1:50,000 Landranger sheet 43; Ordnance Survey 1:25,000 Explorer sheets OL49 and OL51
Tourist Information: Pitlochry iCentre, 22 Atholl Road, Pitlochry PH16 5BX (Tel 01796 472215)
Public transport: Elizabeth Yule bus service 87 (Mon-Sat) or Stagecoach service 83 (Sun) from Pitlochry