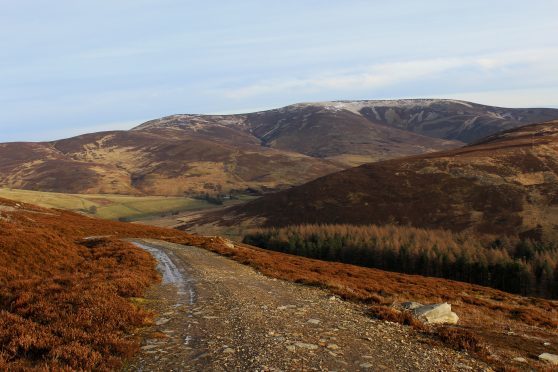 Black Hill, Glen Lethnot, Angus
Visiting Lethnot, the most isolated of the Angus glens, my adventure began long before I even took a step. Negotiating the single-track road that weaves through the valley, I clattered across cattle grids, slithered over swathes of ice, dodged zippy estate Land Rovers and retraced a considerable portion of my journey in reverse gear to allow a lorry through.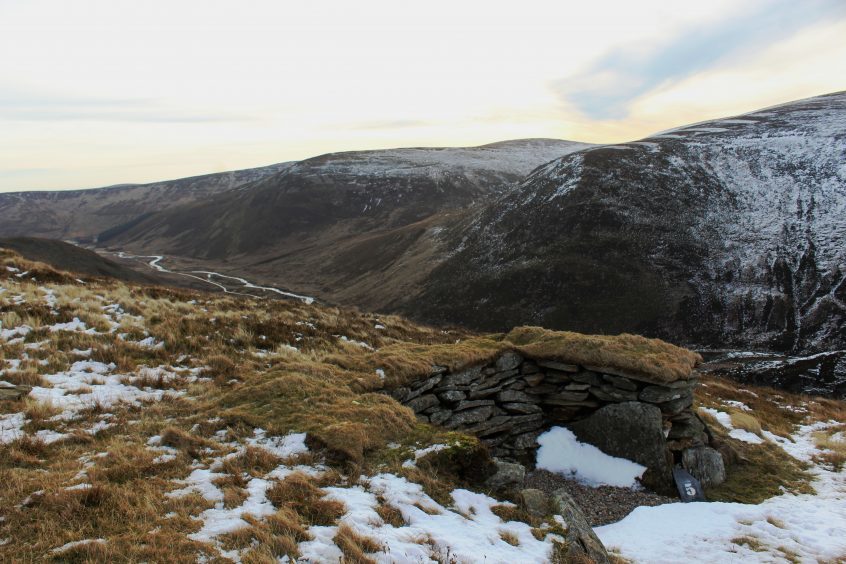 Eventually, nerves a little frayed but happy not to have ended up straddling the verge, I made it to Hunthill Lodge and, a little further on, a gravel car park that marks the end of the public road, onward travel only possible on foot, mountain bike or 4×4.
A robust estate track follows Water of Saughs upstream from here into the remoter upper recesses of the glen, offering access to a succession of low hills flanking the river.
I was aiming for Black Hill, a peak occupying the high ground between Glen Lethnot, to the south, and Glen Esk, to the north, the descent taking in outlying Little Black Hill and Broom Craig.
First, however, I had to get to the top and, after a couple of easy kilometres strolling along the valley floor, the track suddenly got serious, zig-zags rising steeply over the hillside.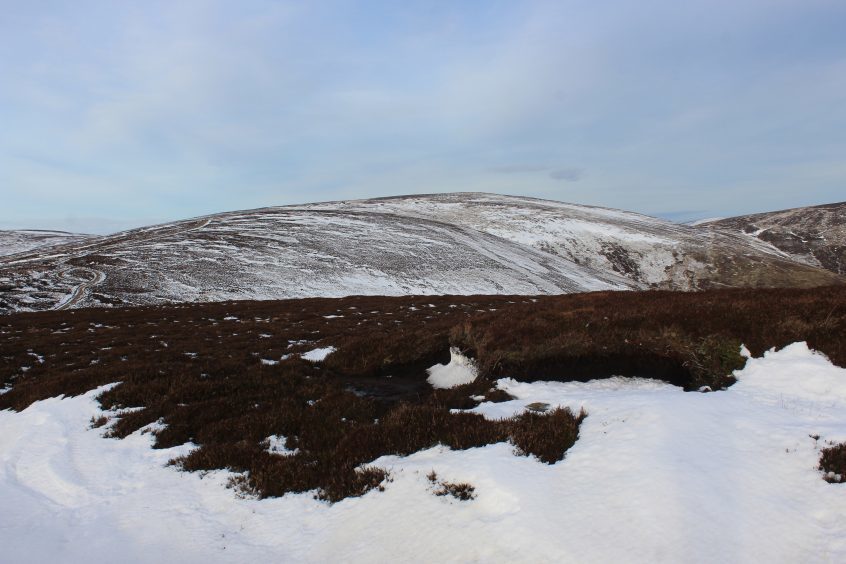 Swinging west, the incline finally eased, the track dipping briefly before climbing to its highest point where I turned north, a more exposed gravel road scaling a bare slope of heather riddled with dark peat hags.
This is grouse shooting country and tracks proliferate, serving lines of butts strung out across the moor. However, with the season wrapped up in December, I could walk without intruding upon the activities of the estate and the birds were free to go about their business until, that is, the 'Glorious Twelfth' of August comes around once again.
They kept me on my toes, erupting unpredictably from heathery hideouts either side of me. The mountain hare they share the land with were sporting their winter whites and, by contrast were quieter, if less easy to spot in the snow.
A high gate marks the boundary of the Hunt Hill Estate and here the track turns east, following a twin line of electrified fences on to Black Hill, views extending north over Glen Esk to Mount Battock, Mount Keen and distant Lochnagar.
Across the wire, a sizeable herd of red deer wandered over the hillside, quickening their pace as they sensed my presence.
Approaching the summit, at a prominent boulder, the main track swings right once again and a short detour is required to attain the top. A peaty trail runs parallel with the fence and, with the unmarked summit sitting on the other side of the wire, a wooden stile affords access.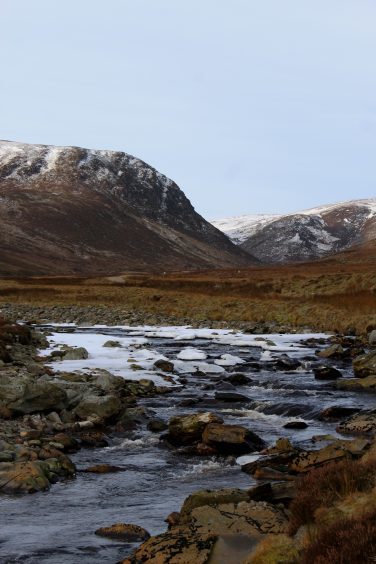 Re-joining the track, I followed it south over Little Black Hill and on to Broom Craig. There are a few ups and downs to contend with before the drop into Glen Lethnot takes hold, the track looping down towards woodland.
Biding farewell to the heather moor and its grouse at a gate, a strip of pasture was all that lay between me and the road below. Wandering past the strikingly pink Hunthill Lodge and a string of estate buildings, the tarmac below my boots was a gentle reminder that the rollercoaster ride home would soon be upon me.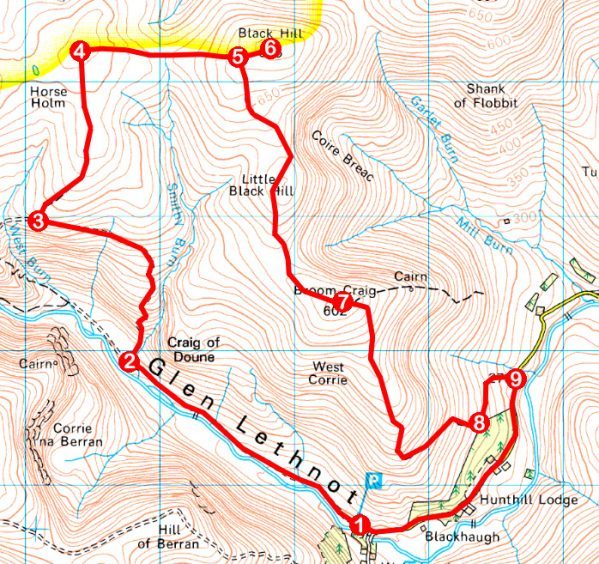 ROUTE
1. Pass through black metal gate and walk 2km north-west on track to junction.
2. Turn right, staying on main glen track, and ascend by Smithy Burn. At top of slope, bear left, ignore peaty track branching right, and walk west.
3. At junction just beyond track's highest point, turn right and ascend track north.
4. Approaching high gate, stay on main track as it swings right, leading east on to Black Hill.
5. Leave main track at boulder and continue east to unmarked summit.
6. Retrace steps to point 5, turn left and follow track south over Little Black Hill to Broom Craig.
7. Ignore track branching right, descend to next junction, fork right and continue down track.
8. Leave moorland at gate and descend track over grazing land to meet road beyond gate.
9. Turn right and follow road back to car park.
INFORMATION
Distance: 14km/8¾ miles
Ascent: 550m/1815ft
Time: 4 hours
Grading: A challenging route suitable for fit, experienced hill walkers, good tracks lead through remote country with sections of strenuous ascent. Go equipped for all weather conditions and keep dogs under close control to protect ground nesting birds
Start/finish: Car park by Waterhead at end of Glen Lethnot road (Grid ref: NO 464717)
Map: Ordnance Survey 1:50,000 Landranger sheet 44; Ordnance Survey 1:25,000 Explorer sheet 389
Tourist Information: Gateway to the Glens Museum, 32 High Street, Kirriemuir DD8 4BB (Tel 01575 575479)
Public transport: None