Balcarres Estate, Colinsburgh, Fife
Hidden away in the East Neuk of Fife, historic Balcarres House sits at the centre of a traditional rural estate, rich agricultural ground and mixed woodland that has been in the Lindsay family since the 16th century.
Surrounded by parkland but largely concealed by trees, the mansion and its formal gardens lie below a more exposed landmark, a Gothic folly perched atop a craggy wee hill.
A very visible statement of Georgian opulence, the dark stone tower on Balcarries Craig enjoys an incredible outlook over the estate and south towards the waters of the Firth of Forth.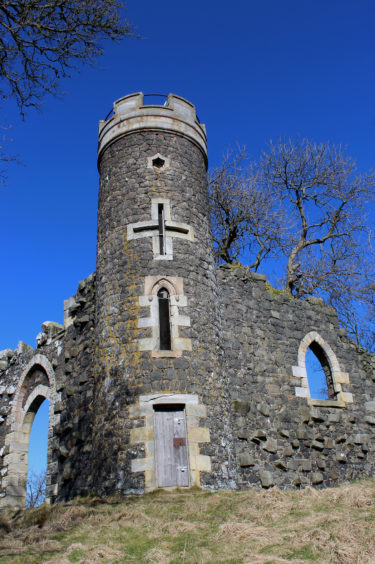 It was to be the high point of a day out which, for me, began in Colinsburgh, a village founded by the 3rd Earl of Balcarres, Colin Lindsay, to provide homes for the soldiers of his regiment following the Jacobite uprising of 1715.
Strung out along the busy B942, Colinsburgh's main thoroughfare can be congested and there is limited on-street parking, so it is worth considering public transport as a means of travel here, a good bus service linking the community with St Andrews and Leven. Another alternative is to start in Kilconquhar, a mile to the south, where there is a car park, and hike up the minor road to Colinsburgh.
The junction of Main Street, North Wynd and South Wynd is the historic heart of the village and, from here, North Wynd led me into the policies of the estate, a grassy tree-lined track rising between fields, past a restored dovecot.
Balcarres House, which dates from the late 16th century but was enlarged in the mid-19th century, lies across parkland to the right but trees afford only the briefest of glimpses.
Approaching a cluster of estate buildings, I left the track and continued ahead, a good path running through the oaks of Miggie's Acres before swinging right into Scots Pine, a track beyond passing below Sprattyhall Cottages to meet the northern driveway.
Fringed with bands of woodland, this climbs steadily through farmland, dipping briefly to cross Balniel Den, where the old mill buildings of Lathallan sit above the Den Burn, before ascending once again.
At the top of the drive, after a brief tramp along the grassy roadside verge, I looped round by Kilbrackmont Farm, a field-edge track delivering me back on to the road at Balniel Farm, to the south of which I re-entered the policies of Balcarres at North Lodge.
Ignoring a couple of tracks branching left, I descended into Balcarres Den, the frothing burn, heavy with snow-melt, grey and icy cold, cascading down through a wooded valley dotted with snowdrops.
The flow weaves below a pair of old stone bridges to a disused sawmill where, behind the sturdy stone mill building, I picked up the trail to the tower.
A simple footbridge spans the stream, a slender path tunnelling through rhododendron as it clambers out of the den before rising through a wide, walled corridor separating fields on to the eastern ridge of the Craig.
A pleasant and none too strenuous woodland ascent through banks of snowdrops soon revealed the folly, a tower flanked by two walls built in 1813.
Majestically crowning vertiginous slopes to the south, this elevated flight of fancy gazes out across the grand house and its grounds, a chance to share views long enjoyed by the Lindsay family.
ROUTE
1. Walk 150m along North Wynd, bearing left. Turn right on gravel footpath running between walls. Pass park and continue ahead up grassy track.
2. Continue ahead through junction and, approaching house, bear left through wooden gate. Follow woodland path north. Turn right at arrow post to meet track by Sprattyhall and continue east to junction.
3. Turn left and follow surfaced track north to B941.
4. Walk 150m north on B941, turn right and follow track east then south.
5. Descend grassy field-edge track to B941, turn left and walk 250m on road.
6. Bear right off B941 at lodge and descend track to bridge.
7. Cross bridge, go left, crossing second bridge, turn right then fork right to old sawmill.
8. Bear right between wooden shed and mill, cross culvert, go left to cross bridge over burn and ascend path to tower. Descend west to meet driveway and turn left.
9. Turn right, descending driveway to B942. Turn right for Colinsburgh.
INFORMATION
Distance: 8.8km/5½ miles
Ascent: 180m/600ft
Time: 3 hours
Grading: Moderate low-level route following good tracks and paths, rising to viewpoint folly. Keep dogs under close control where livestock is encountered
Start/finish: Junction of Main Street and North Wynd (adjacent to The Corner Shop), Colinsburgh (Grid ref: NO 476034). Limited on-street parking
Map: Ordnance Survey 1:50,000 Landranger sheet 59; Ordnance Survey 1:25,000 Explorer sheet 371
Tourist Information: St Andrews iCentre, 70 Market Street, St Andrews KY16 9NU (Tel 01334 472021)
Public transport: Stagecoach bus service 95 (St Andrews to Leven) stops in Colinsburgh