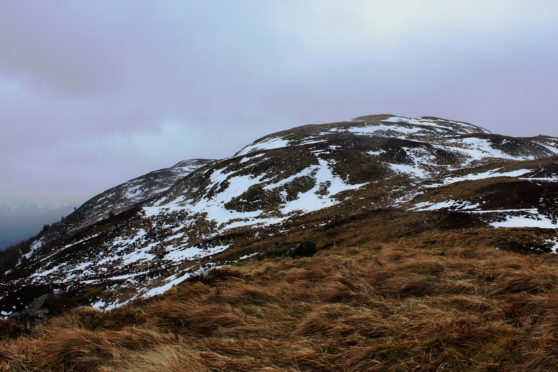 Beinn an t-Sithein, Strathyre, Stirling.
Stumbling upon diversions set up around logging operations is an occupational hazard for walkers wandering into commercial timber plantations. These are, after all, working forests and most detours are short and well-signed.
Arriving in the Trossachs village of Strathyre with my sights set on the summit of Beinn an t-Sithein, I discovered that the first section of the path up this prominent peak was closed due to tree felling.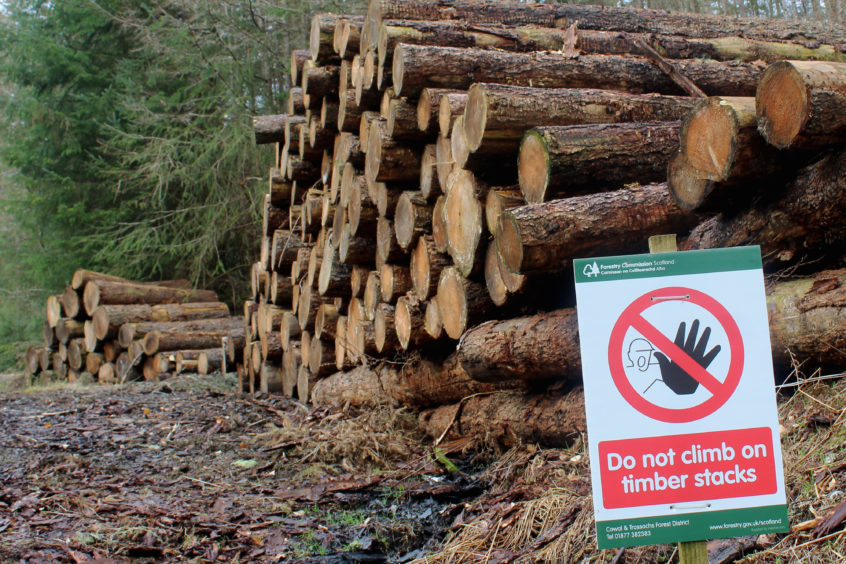 Fortunately, an alternative route was in place and this enforced change prompted me to completely re-think my approach to the hill. Rather than join the well-trod route ascending the southern shoulder, I decided to tackle the summit ridge from the north.
Crossing the River Balvag, I tramped the wooded back road that leads ultimately to Balquhidder, the signed diversion taking me past cottages, lodges and an old mill to a forest track that climbed abruptly by stacks of freshly-hewn timber.
Curving north, the incline eased although the gravel road continued to rise steadily beneath my feet, occasional breaks in the spruce and pine offering vistas east over the Strathyre valley, and an excuse to briefly pause.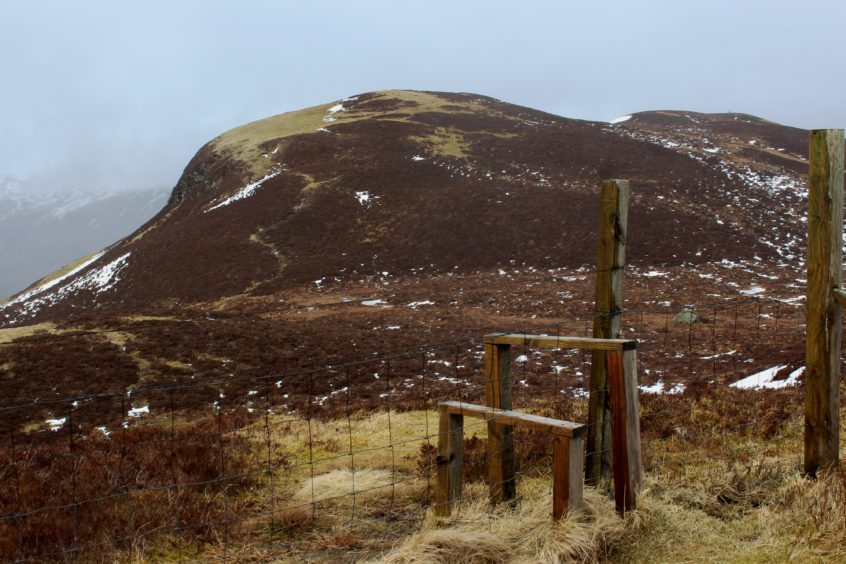 A wind-blown tree lying across the trail threatened to derail my progress but, after negotiating this obstacle and a junction above, I crossed the northern flank of the hill and descended sharply, Loch Voil and the Braes of Balquhidder now in view.
At the next hairpin bend, I left the track by a wooden fence panel, crossed a low wall and clambered up the shoulder, a distinct enough grassy path climbing out of the trees, following the remains of an old fence over Beinn Luidh,
Battling a stiff wind from the west carrying with it occasional squalls of rain and sleet, I missed the shelter of the trees and the prospect of returning to the cosy confines of the conifers pushed me on over the unprotected high ground.
Indeed, mounting a ladder stile that straddles a high fence separating Beinn Luidh from Beinn an t-Sithein was a challenge in itself but, back on terra firma after a bit of a buffeting, I made it safely to a small cairn marking the summit, the more northerly of two heathery humps.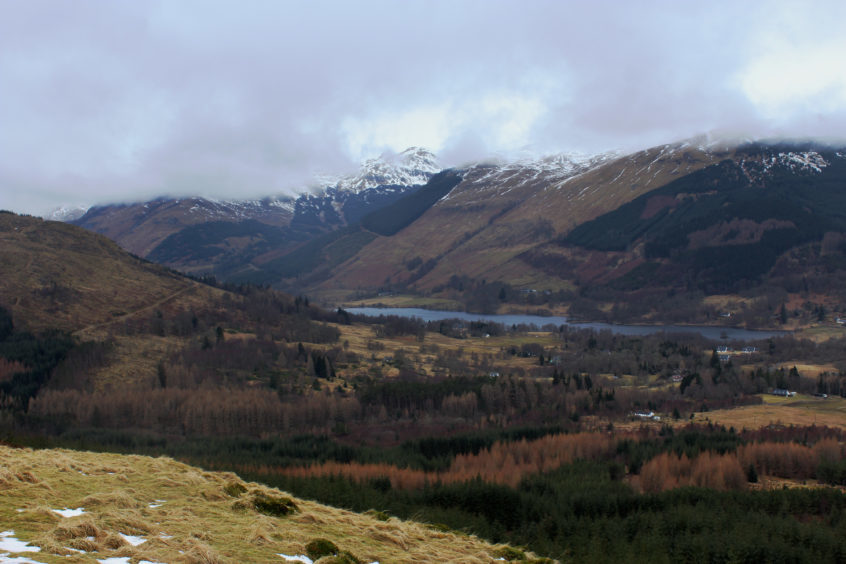 Often anglicised to Ben Shian or Ben Sheann (there is a hotel in Strathyre with this name), Beinn an t-Sithein means 'mountain of the knoll' and the knoll in question is to be found to the south of the summit.
A rocky protuberance, An Sidhean is, from both the top of the hill and the valley below, the most prominent feature of Beinn an t-Sithein and many folk who make the trek up from Strathyre are happy enough to conclude their climb here, not least because it is the peak's best viewpoint, overlooking Loch Lubnaig.
Below An Sidhean, the trail to Strathyre descends steeply into a col where it curves left and cuts a less than distinct line through young conifers. Stay close to a wee stream and cross the flow as felled ground nears to pick up a much more robust gravel path.
This descends steeply and, as I paused at a viewpoint part way down the incline, I was glad that I had chosen to make my approach from the north for this road would have been quite a haul up to the knoll.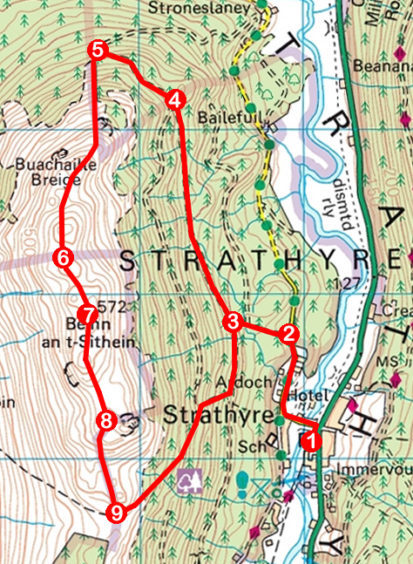 ROUTE
1. Join path beyond picnic tables and turn right to meet minor road. Turn left (signed Balquhidder) and follow road over river. At junction beyond, go right (signed Balquhidder) and follow road 500m north to forest track end.
2. Turn left, pass metal gate and ascend track, ignoring first track on right.
3. Take second track on right and ascend 1.5km north to junction.
4. Ignore track branching sharp left and ascend track climbing north-west past pole gate. Continue up, curving right before descending steeply to bend.
5. Branch left off track, cross wall and ascend path by wall then old fence line over Beinn Luidh.
6. Cross ladder stile and ascend to summit of Beinn an t-Sithein.
7. Descend path south to An Sidhean.
8. Cross stile, detour up An Sidhean, then descend steeply into col.
9. Bear left, descending indistinct path to meet good path. Follow this down past viewpoint to meet track at signposted junction. Go left to point 3 and retrace steps to Strathyre.
INFORMATION
Distance: 8.8km/5½ miles
Ascent: 540m/1780ft
Time: 3-4 hours
Grading: A moderately challenging upland hike for fit, experienced hillwalkers, the route follows forest tracks and rough paths over exposed hillside with some strenuous ascent and steep descent
Start/finish: Car park and picnic area adjacent to village shop, Strathyre, signed from main road and accessed via Old Station Court (Grid ref: NN 560170)
Map: Ordnance Survey 1:50,000 Landranger sheet 57; Ordnance Survey 1:25,000 Explorer sheet OL46
Tourist Information: Callander iCentre, 52-54 Main Street, Callander FK17 8BD (Tel 01877 330342)
Public transport: Kingshouse Travel bus service C60 links Callander with Strathyre (no Sunday service)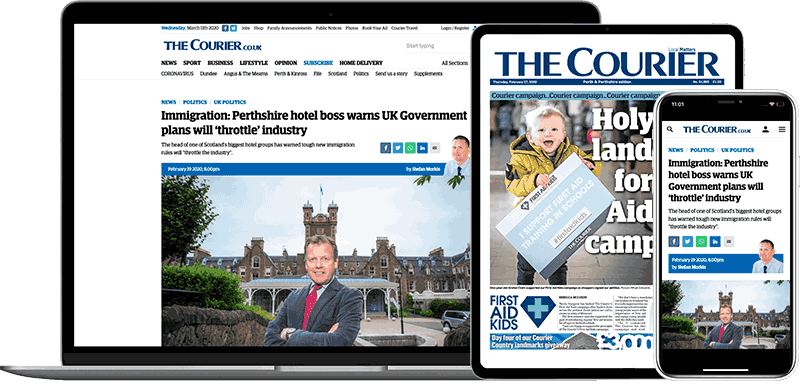 Help support quality local journalism … become a digital subscriber to The Courier
For as little as £5.99 a month you can access all of our content, including Premium articles.
Subscribe