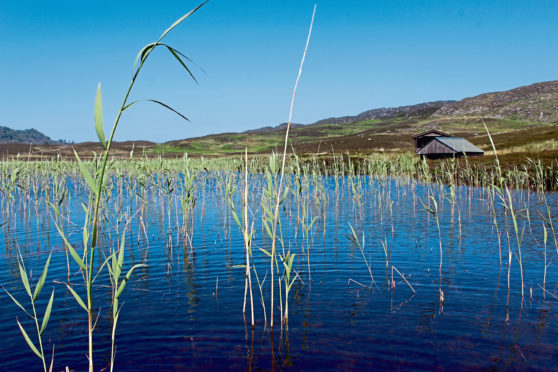 Lochan a'Chait, Butterstone, Perth & Kinross
North of Dunkeld, a landscape of low tree-clad hills and heather moorland dotted with charming wee lochans offers numerous possibilities for both walkers and mountain bikers and an excellent network of tracks and paths makes for easy exploration.
It is an area I visit often, and I usually begin my wanderings in Dunkeld itself. On this occasion, however, I opted to set off from Butterstone, a peaceful hamlet lying a little to the east.
The village hall sits off the main road, up a narrow lane, and from here I hiked north, a slender strip of asphalt climbing above wooded Riechip Den, passing the grounds of Butterstone School to my left.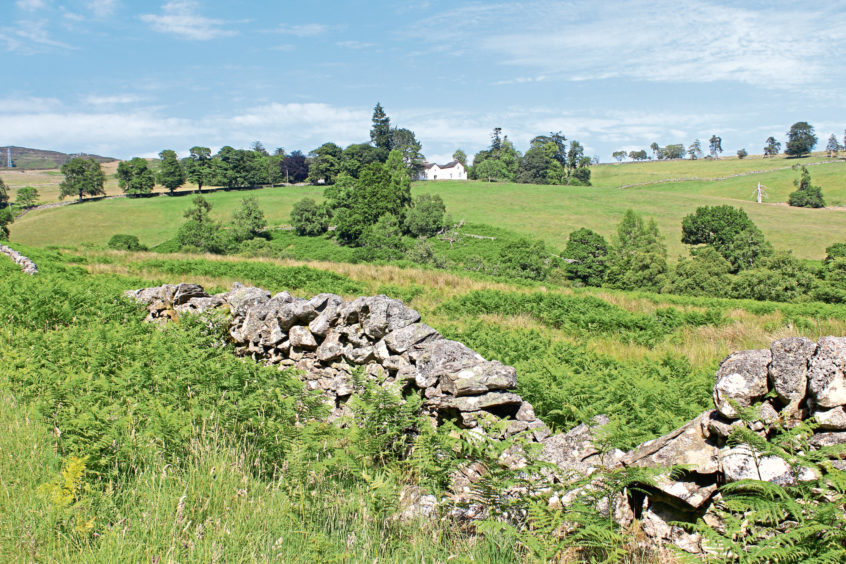 There is little respite in the incline, the road weaving up through grazing land and slopes of bracken, past patches of forestry before finally flattening out as it approaches the gateway to Riemore Lodge.
Entering the estate, the flanks of Benachally, to the right, complete with prominent summit monument, caught my eye first but soon the craggy slopes of Deuchary Hill, up ahead, vied for attention.
Closer to hand, the way passes the first of the day's watery delights – round and reed-fringed Dubh Loch and then the more picturesque Children's Loch, a fishing pool with a tiny wooded island and quaint anglers' hut. It is a lovely spot, one that evokes happy memories of childhood adventure in the great outdoors.
Above the gently ripping water, the track forks and I took what is effectively the tradesmen's entrance to Riemore Lodge, the route dipping to cross Buckny Burn below the remains of a former steading at Easter Riemore, last occupied in the mid-19th century, before climbing into woodland concealing various estate buildings.
I stopped just short of the lodge itself, branching out on to open hillside where a track climbs below a striding pylon line to the shallow col lying between Benachally and Riemore Hill. A cairn marks the highpoint and signals the start of a moorland descent blessed with an impressive view over Loch Benachally, a stretch of water popular with trout anglers.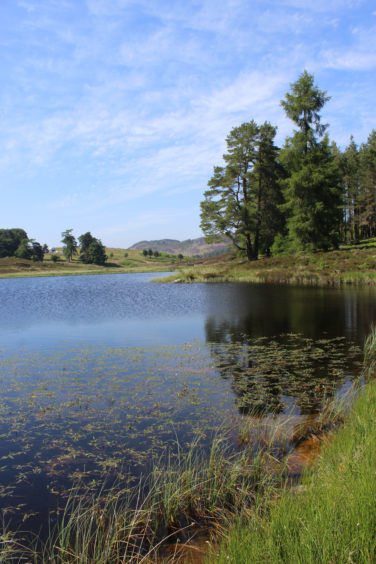 Track and loch do not converge so I had to satisfy myself with admiring this reservoir from a distance as I dipped to the skeletal stone outlines of Craigsheal, an abandoned farmstead, and the Laird's House, before climbing through a gap in heathery mounds above.
This was my gateway to Lochan a'Chait where the water is accessible from the track, the shoreline next to the boatshed and fishing hut the perfect place to pause for a picnic and gaze out over reedy shallows towards Capel Hill.
With only the crumbs of my sandwiches left, I dusted myself down and re-joined the track, a rougher but no less distinct trail curving through the heather below Spurn Hill before dropping to cross Buckny Burn once again.
A more robust track led me down the valley, the gurgling stream to my side as I skirted the wooded policies of Riemore Lodge and turned west towards my last pool of the day and one of the jewels in the crown of the countryside here, Loch Ordie.
With the sun shinning brightly above me, I could not resist kicking off my boots and dipping my toes in the water, a refreshingly cool treat for feet ahead of the track walk back to Butterstone.
ROUTE
1. Exit hall car park by main entrance, turn right and ascend minor road for 2km.
2. Fork left through Riemore Lodge gateway and follow surfaced track for 1.5km.
3. Turn right (signed Keeper's House) and follow track down over Buckny Burn and up through woodland. Descend past estate buildings to junction beyond cattle grid.
4. Turn right through metal gate. Ignore track branching left and continue ahead, ascending below pylon line. Continue up to col then descend to ruined Laird's House.
5. Fork left on grassy track, ascending to Lochan a'Chait, then continue ahead on rougher track which curves left and descends to cross Buckny Burn.
6. Turn left and follow track south. Pass below pylon line, ignore track branching left and continue ahead through wooden gate to junction.
7. Continue ahead to Loch Ordie.
8. Return to point 7, turn right and follow track south.
9. Continue ahead on track to point 3 then retrace steps to Butterstone.
INFORMATION
Distance: 18km/11¼ miles
Ascent: 500m/1650ft
Time: 5 hours
Grading: Moderate route following good tracks through open country to upland lochs with sections of prolonged ascent. Keep dogs under close control to protect livestock and wildlife
Start/finish: Butterstone Village Hall, Butterstone, on A923 three miles west of Dunkeld (Grid ref: NO 063459)
Map: Ordnance Survey 1:50,000 Landranger sheet 52 or 53; Ordnance Survey 1:25,000 Explorer sheets 379 and OL52
Tourist Information: Perth iCentre, 45 High St, Perth PH1 5TJ (Tel 01738 450600)
Public transport: Stagecoach bus number 60 offers a limited service from Blairgowrie or Dunkeld to Butterstone (no weekend service)