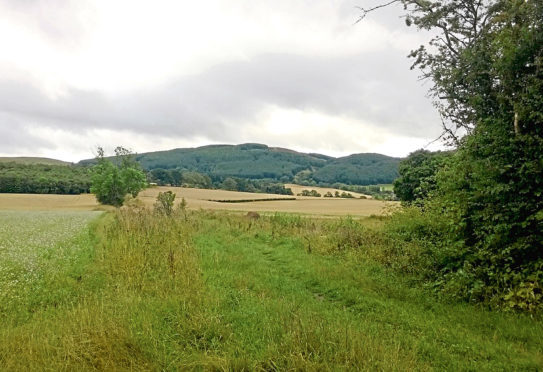 Pitkeathly Wells, Bridge of Earn, Perth & Kinross
Established as a crossing point on the River Tay in the 1300s, Bridge of Earn flourished as a spa town during the late 19th and early 20th centuries.
Victorian visitors flocked to the area to take the healing waters drawn from Pitkeathly Wells, endorsed by medical experts of the time as a cure for a plethora of ailments, ranging from hiccups to cholera.
Bought by the gallon or by the jar, the water was stocked by chemists all over Britain while baths and tearooms, tennis courts and croquet lawns sprang up around the five wells, local hotels and boarding houses enjoying healthy occupancy during the busy summer months.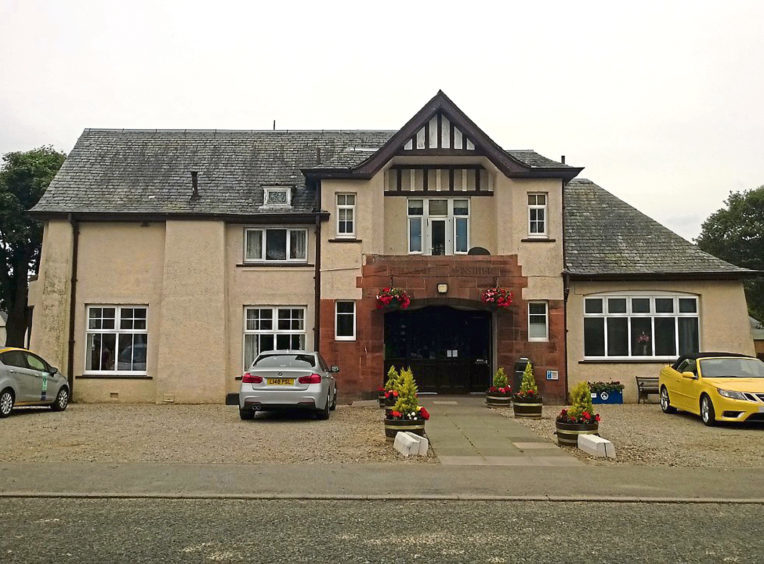 The boom in tourism saw Bridge of Earn expand rapidly during this period, new buildings including the Public Hall and Institute on Station Road, funded by the local landowner and opened in January 1909.
It remains a popular, well-used hub for community groups and activities and was the starting point for my walk to the old wells.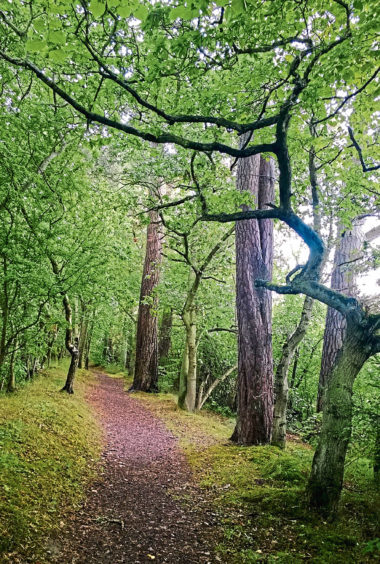 Hiking out of town along Station Road, past the site of Bridge of Earn's former station (it closed in 1964 and the land is now occupied by housing), I crossed the railway and joined a surfaced track leading west through Dunbarney Estate.
Passing the sheds of Eastfield Farm, I enjoyed views across the fields, north to Mailer Hill, beyond which lies the city of Perth, and east to the wooded flanks of Moncreiffe Hill with its ancient hill forts, before arriving at Dunbarney House.
The track curves round the periphery of the property, offering tempting glimpses over the wall of the 18th century mansion and its gardens, before leading south to Quarry Hall and the heavily wooded remains of Dunbarney Quarry.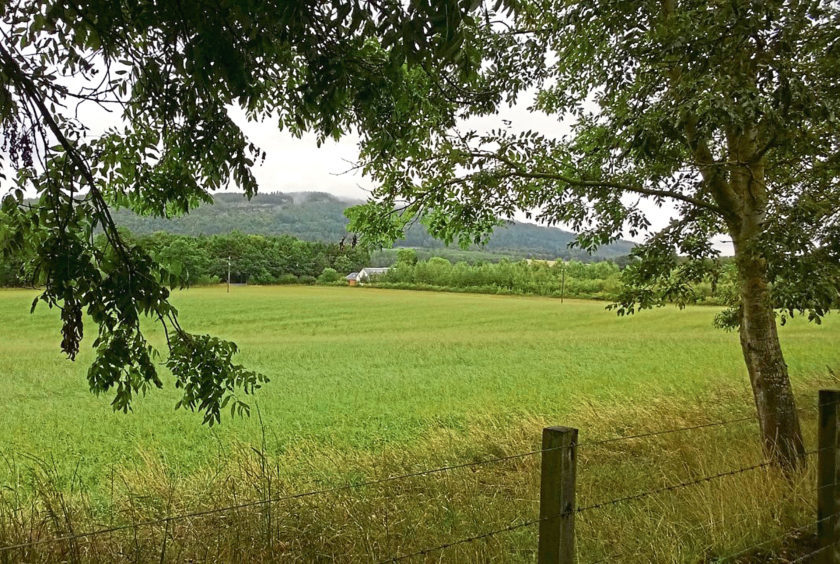 Here the trail splits, one signed path leading west to Forgandenny, the other turning east into the trees before cutting south between fields to Pitkeathly. Tramping the latter, I snaked through the slender strip of rowan, hawthorn and rosehip bushes to meet the B935.
Cross with care for traffic moves swiftly along this long, straight stretch of road, and follow the footpath on the other side to a cluster of houses where a minor road branches right at a post box to Pitkeathly.
Mineral water from four of the five wells – East Well, West Well, Spout Well and South Park Well – was originally piped into Dunbarney Well from where it was pumped to the spa, established in the 1780s.
Such was its popularity that in 1910 drinks giant Schweppes initially leased and then bought the site, erecting a bottling plant. It closed in 1927 after a fire and, over the years that followed, business slowly dwindled, custom for the spa finally drying up altogether in 1949.
Today all that remains of this once prosperous oasis of peace and tranquillity hidden away in the Perthshire countryside is the circular well cottage, topped with a conical stone tower inscribed with a cross.
The road passes the cottage, now a private dwelling, but it can also be seen through the trees from the path which cuts through adjacent woodland in which at least one of the old wells was located.
Emerging from the trees, a minor road led me below West Dron Hill back to Bridge of Earn where I was keen to find refreshment at a watering hole of my own.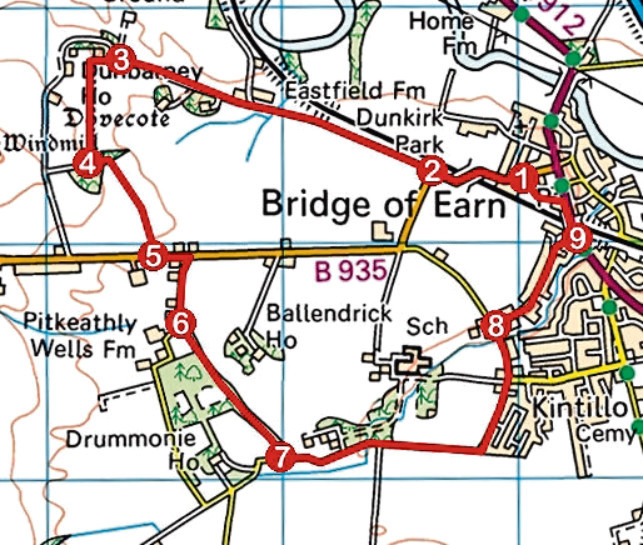 ROUTE
1. Exit car park on to Station Road, turn left and follow Station Road 400m west, crossing railway.
2. Where road swings left, enter Dunbarney Estate and follow surfaced track past Eastfield Farm and on towards Dunbarney House.
3. Pass metal gate, continue ahead to cottage then swing left, following track south to Quarry Hall.
4. Turn left (signed Pitkeathly) and continue ahead into woodland where path swings right, leading south between fields to B935.
5. Cross B935, go left along pavement to junction, turn right (signed Kintillo) and follow minor road 300m south.
6. Branch left and follow woodland path south to meet minor road.
7. Turn left and walk east along road to Kintillo. Swing left and follow Forgandenny Road 500m north, passing entrance to Kilgraston School.
8. Go right along Heughfield Road to Main Street (A912).
9. Go left along Main Street, crossing railway, then branch left down steps into Victory Park.
INFORMATION
Distance: 6.4km/4 miles
Ascent: 50m/165ft
Time: 2 hours
Grading: Easy, low-level route following good paths, tracks and minor roads through farmland and woodland. Keep dogs under close control and on leash where signs request
Start/finish: Public Hall & Institute, Station Road, Bridge of Earn (Grid ref: NO 130182). Park opposite in Victory Park car park
Map: Ordnance Survey 1:50,000 Landranger sheet 58; Ordnance Survey 1:25,000 Explorer sheet 369
Tourist Information: Perth iCentre, 45 High Street, Perth PH1 5TJ (Tel 01738 450600)
Public transport: Stagecoach bus services 17 and 36 run from Perth to Bridge of Earn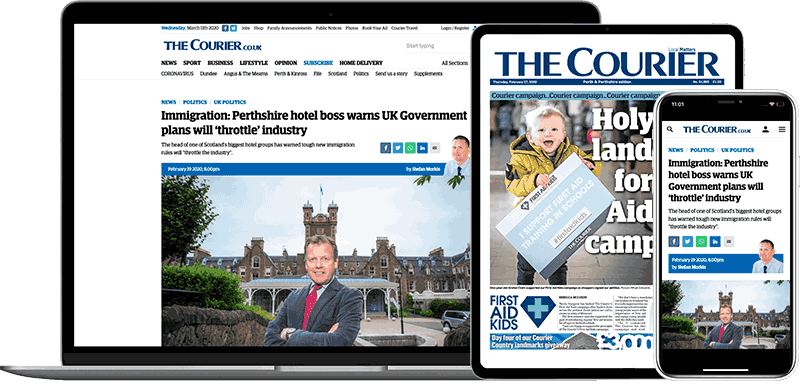 Help support quality local journalism … become a digital subscriber to The Courier
For as little as £5.99 a month you can access all of our content, including Premium articles.
Subscribe