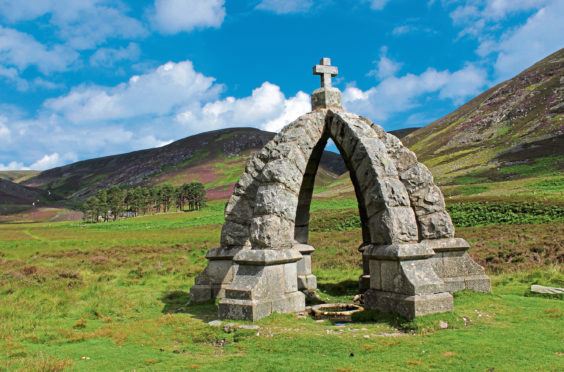 Mount Keen, Glen Esk, Angus
Mount Keen is Scotland's most easterly Munro, a solitary mountain cut adrift from the rest of the country's 3000-feet-plus peaks by a matter of geography and a quirk of geology.
Approaching from Invermark, in Glen Esk, the Mounth Road, a long-established right of way travelled by Queen Victoria during stays at Balmoral, rises on to its western flank from where an excellent path completes the climb to the top.
While Glen Mark offers a level approach that can be undertaken on a mountain bike if so desired, the ascent out of the valley is steep and strenuous, the lonely summit exposed to the elements.
Hiking west along the road, passing little Lochlee Parish Church, I soon branched right on to the Mounth Road, the signed track leading towards House of Mark, a former manse, below which the way forks.
Bearing left, beyond a metal gate, I skirted the lower fringes of a band of Scots Pine trees before striking out across heather moorland studded with silver birch.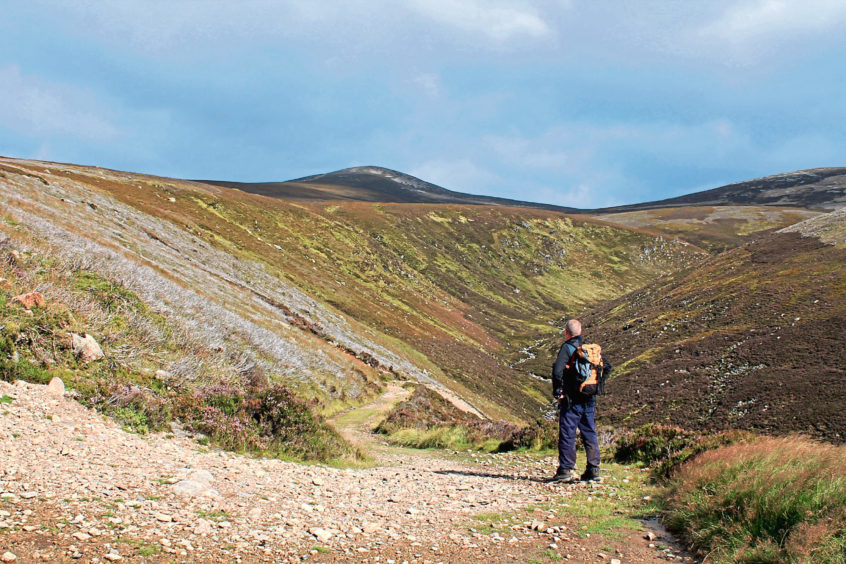 The track passes through an antiquated metal gate and crosses a small stream before rising briefly, the way following the Water of Mark upstream to Queen's Well and, beyond this ornate stone structure built to commemorate a visit by Queen Victoria in 1861, a lone cottage at Glenmark, last outpost of civilisation in the valley.
This is a good place to pause for rest and refreshment for, after an amiable approach through beautiful Glen Mark, the hard work begins above the cottage.
Cross Easter Burn – there are stepping stones just upstream from the ford – then Ladder Burn and head up through a narrow cleft, a strenuous but well-graded ascent lifting the route away from the stream.
Above a pair of tight hairpin bends, Mount Keen finally reveals itself, the cone-shaped peak protruding from the vast and largely featureless expanse of the Mounth plateau.
The gradient eases, the track cutting a course through peaty moor, passing a substantial cairn on the right where I stopped to take a breather and admire the mountain.
A second large cairn just south of the highest point on the Mounth Road, marks the junction from which a fine hill path climbs directly to the summit, the route weaving up through scattered rock, mounting occasional flights of stone steps, as the apex nears.
Mount Keen's trig point crowns a bulbous mound of granite, an easy scramble emerging on to an exposed vantage point from where, on a clear day, glorious panoramic views await.
To the east, Mount Battock and neighbouring Clachnaben can be seen while, to the west, Lochnagar is the most easily identified mountain landmark, the main Cairngorm plateau dominating the skyline beyond.
It is worth wandering out to a mound of rocks just north of the summit for a view over Glen Tanar, destination of the Mounth Road. The right of way can be clearly seen snaking down the valley towards forests far below.
Closer to home, keep eyes peeled for ptarmigan, the bird's grey, black, brown and white summer plumage perfect camouflage in the rough, stony terrain. In winter, their feathers turn white enabling them to go largely undetected in snow and ice.
After all the effort of the ascent, the long descent back down the valley, with magnificent vistas over Glen Esk, offers a welcome change of pace.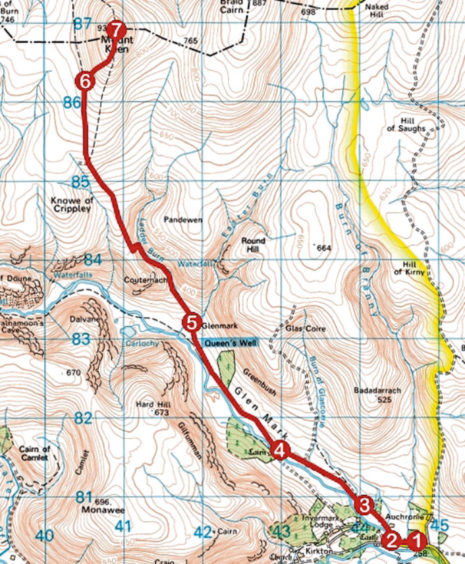 ROUTE
1. Walk 300m west along road, passing Lochlee Parish Church.
2. Turn right along Mounth Road track (signed Queen's Well and Mount Keen). Where track forks below House of Mark, go left, passing through gate, and continue by woodland and over moor.
3. Pass through high metal gate and continue ahead on main track, ignoring tracks branching right.
4. Go straight ahead, ignoring track dipping left to bridge, to Queen's Well and cottage at Glenmark.
5. Beyond cottage, cross Easter Burn by stepping stones then Ladder Burn and ascend Mounth Road to cairn close its highest point.
6. Branch right and ascend path to summit.
7. Return to Invermark by outward route.
INFORMATION
Distance: 17km/10½ miles
Ascent: 720m/2360ft
Time: 5 hours
Grading: Challenging there-and-back route to the summit of a Munro, following good tracks and paths, suitable for fit, well-equipped hillwalkers. Keep dogs under close control to protect sheep and ground nesting birds
Start/finish: Invermark car park, four miles west of Tarfside, Glen Esk (Grid ref: NO 447803)
Map: Ordnance Survey 1:50,000 Landranger sheet 44; Ordnance Survey 1:25,000 Explorer sheet 395
Tourist Information: Dundee iCentre, 16 City Square, Dundee DD1 3BG (Tel 01382 527527)
Public transport: None
mn