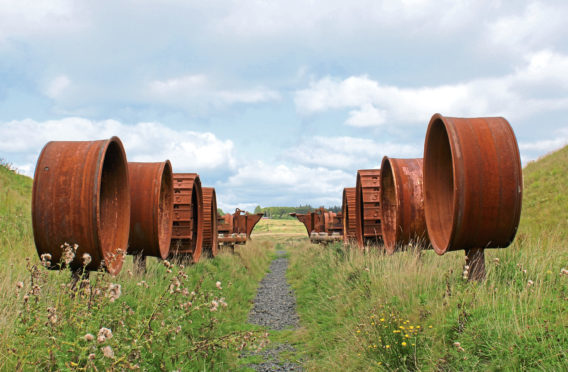 Loch Fitty & St Ninians, Kingseat, Fife
Like many Fife communities, the village of Kingseat, north of Dunfermline, was built on coal. Extraction began in the early 19th century and continued until the end of 1945.
The first mines were sunk around the shoreline of Loch Fitty and, while little remains of these endeavours, the impact on the landscape of a more extensive nearby operation – the St Ninians open cast mine – is less easy to conceal.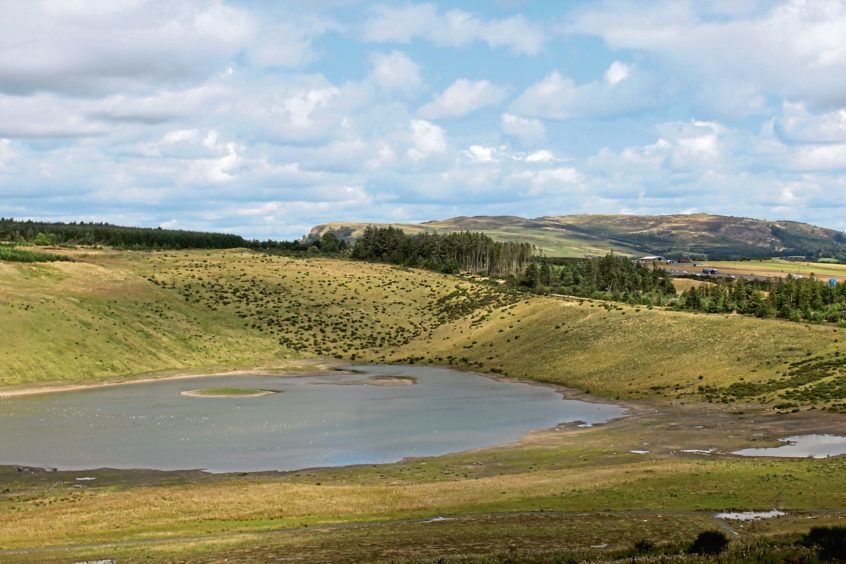 Long intrigued by the land art project intended to reclaim this vast site – visible from the adjacent M90 – I turned off the motorway at Kelty and wound along rural roads to Kingseat, where a display outside the community centre celebrates the area's mining heritage.
Loch Fitty was my first port of call, a track branching off the road just north of the village descending to the water and the disused piers of a former trout fishery.
The route here follows the fledgling Fife Pilgrim Way long distance trail, the waymarked path crossing a causeway at the eastern end of the loch, where, ahead of me, I spotted the three-peaked hill that dominates the former open cast mine.
To reach it, I stayed on the pilgrim way, the trail skirting through woodland and passing stables and a white house on my right before joining the overgrown remnants of a road that rises along the eastern edge of the St Ninians site, running parallel with the M90.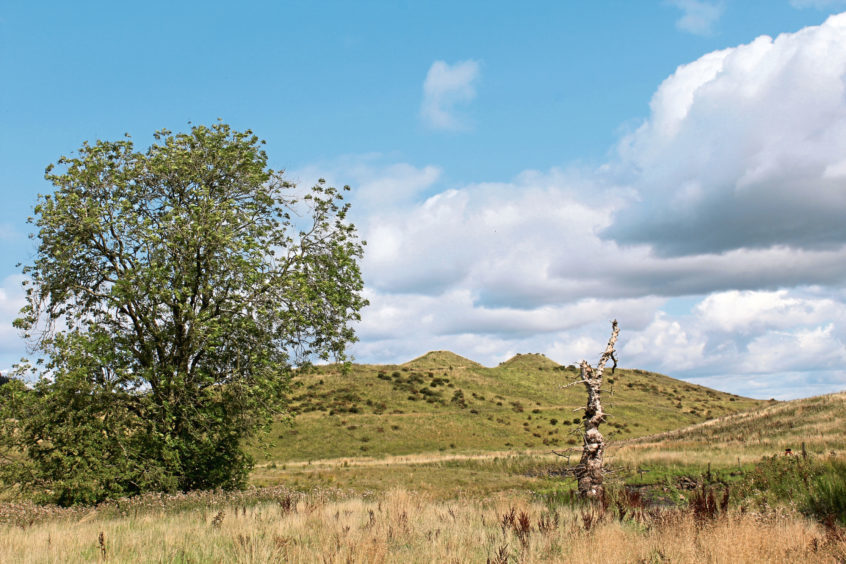 Old maps reveal this lost byway originally served the villages of Fairfield and Lassodie, thriving mining communities until the closure of the local colliery in 1931 when workers and their families were forced to leave. The last houses were demolished in the 1940s.
A path branches left by a pond, skirting round the southern edge of the hill, but continue up to the next junction and another track, also striking left, offers a detour to the summit. It is a climb worth making and, while the route up spirals round the mound, a more direct unofficial path rises steeply over the western flank.
On top, trees sprout from stacks of dumper truck tyres on each of the three peaks while there is a map of Europe set in stone and an avenue of old bits of mining equipment.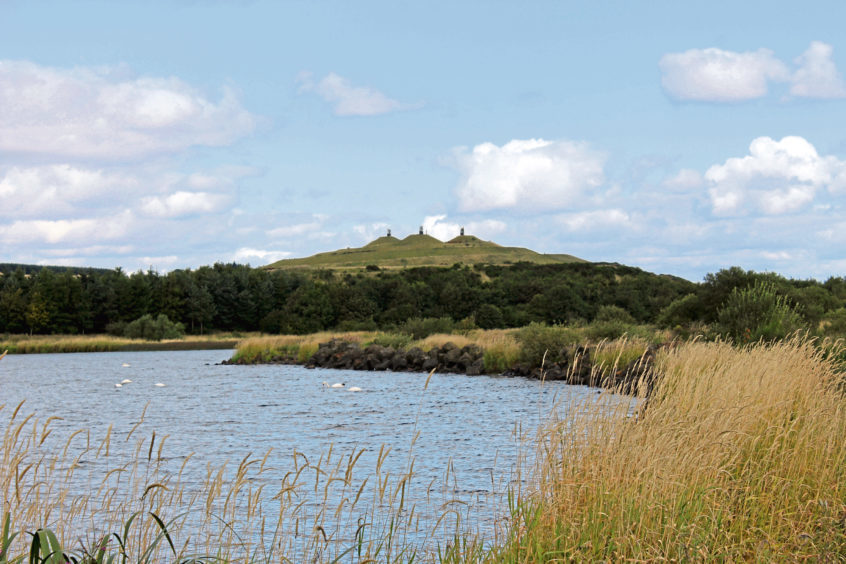 Aside from the construction of a second hill to the west, this is as far as the ambitious land art project, commissioned by the now defunct Scottish Coal Company, progressed and the long-term future of the site remains uncertain.
With buildings removed and the scarred black earth coated in topsoil, nature is slowly taking hold once again, the artificial loch formed in a deep hollow below attracting flocks of birds, and the paths popular with dog walkers.
The scale of the mining operation, which ended in 2016, can only be truly appreciated from the top of the site, where a track runs west, passing above a pair of gravel car parks before skirting between the mine and Thornton Wood, to the north.
From what was a gently sloping hillside, a mammoth amount of material has been carved out, leaving an unworldly, desolate landscape behind.
There were plans extend the site south, draining Loch Fitty to scrape up coal lying beneath its bed, but thankfully this never came to fruition, for it is a tranquil, scenic spot bordering an ethereal world.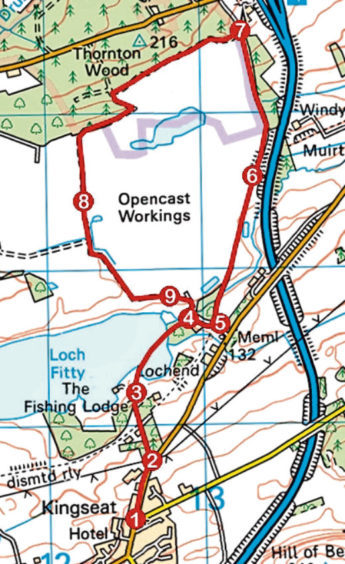 ROUTE
1. Follow Main Street (B912) north out of Kingseat, continuing ahead on roadside footpath.
2. Below pylon line, go left through pedestrian gate by metal gate and descend surfaced track. Ignore track branching right and continue down to fork.
3. Go right, remaining on surfaced path, pass through gate and cross causeway.
4. Ignore two paths branching left and bear right, passing pole gate and white house on right, to junction. Go left to minor road.
5. Turn left, pass round gate, and follow former road then track north, passing to right of hill.
6. Detour left up the hill of three peaks before continuing north, up the eastern edge of the site, to junction near telecoms mast.
7. Turn left along gravel track, following it west before descending south.
8. Bear right over concrete, picking up track south. Turn left at next junction, passing woodland on right.
9. Descend past storage container and cross bridge to reach point 4. Turn right and retrace steps to Kingseat.
INFORMATION
Distance: 8km/5 miles
Ascent: 170m/560ft
Time: 2-3 hours
Grading: Moderately easy route following good tracks and paths with optional ascent to top of hill. Keep dogs under close control by Loch Fitty to protect livestock and wildlife and exercise caution around former mine ponds. Stout footwear recommended
Start/finish: Kingseat CLC, Church Street, Kingseat (Grid ref: NT 125904). Small parking area on Church Street or on-street parking on Main Street
Map: Ordnance Survey 1:50,000 Landranger sheet 58; Ordnance Survey 1:25,000 Explorer sheet 367
Tourist Information: St Andrews iCentre, 70 Market Street, St Andrews KY16 9NU (Tel 01334 472021)
Public transport: Stagecoach bus services 81 and 33 stop in Kingseat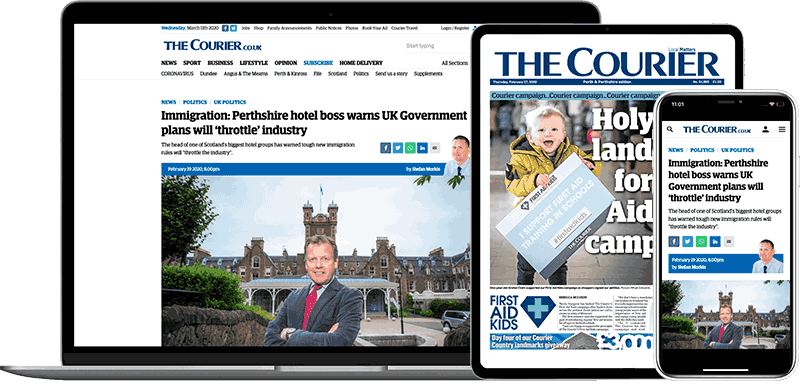 Help support quality local journalism … become a digital subscriber to The Courier
For as little as £5.99 a month you can access all of our content, including Premium articles.
Subscribe