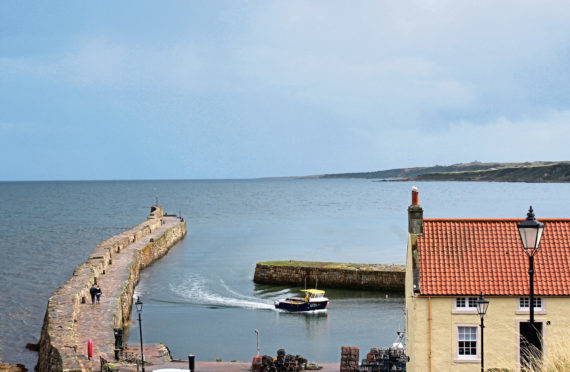 St Andrews is perhaps best known as the home of golf, but it is also a town with a turbulent history, one of religious persecution, murder and execution and the historic sites that bore witness to these troubled times offer a fascinating insight into the past.
Overlooking Bruce Embankment, Martyrs Monument is a suitably striking and apt landmark from which to start a walk through the royal burgh's holy history.
Recently restored, it was erected in 1842 to commemorate four leading Protestants figures who were executed during the Scottish Reformation of the 16th century, a time of conflict between Catholics and Protestants.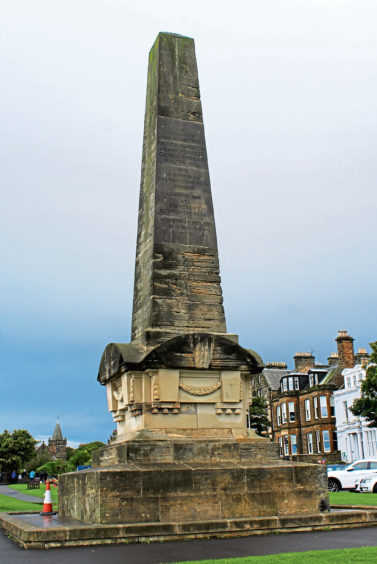 From the well-tended garden that flanks the memorial, I headed along the tree-lined footpath of The Scores, where many of the fine historic buildings are occupied by departments of the town's university, to St Andrews Castle.
Perched atop a rocky promontory, the 12th century stronghold played a part in the darkest days of the reformation when protestants were incarcerated in its notorious bottle dungeon.
Later, disguised as stone masons, they raided the castle, murdering the cardinal and taking refuge within the solid stone walls, a lengthy siege in the 1540s resulting in the digging of a mine and counter mine which, today, are popular tourist attractions.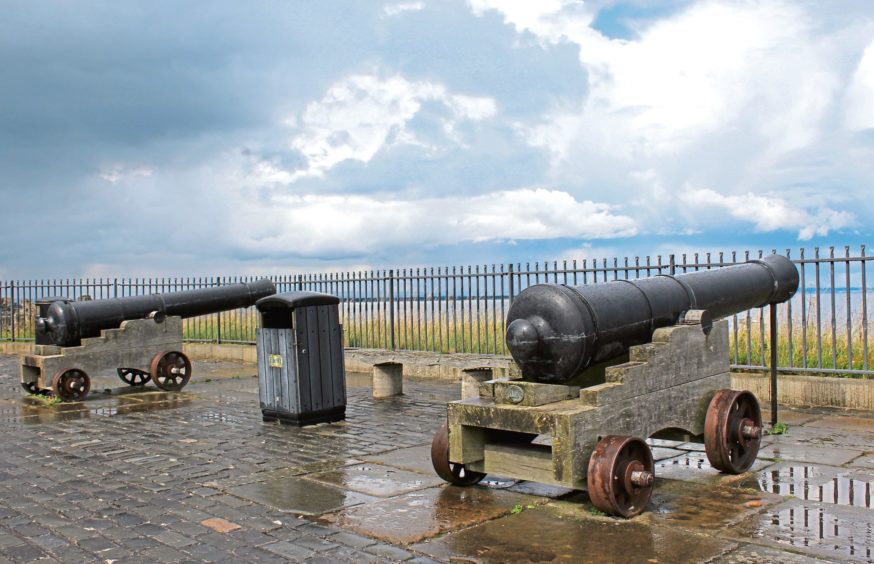 Wandering on along the cliff-top, past cannons pointing seaward, the way rubs shoulders with St Andrews Cathedral where a doorway in the boundary wall offers access to the grounds, dominated by St Rule's Tower.
The largest medieval church in Scotland, the cathedral was ransacked by Protestants in 1559 and, in the years that followed, it was abandoned and fell into ruin. Much of the stone was removed and used in the construction of houses and other buildings in the town.
Some may have found its way into the piers of the town's harbour, which nestles below the cathedral grounds.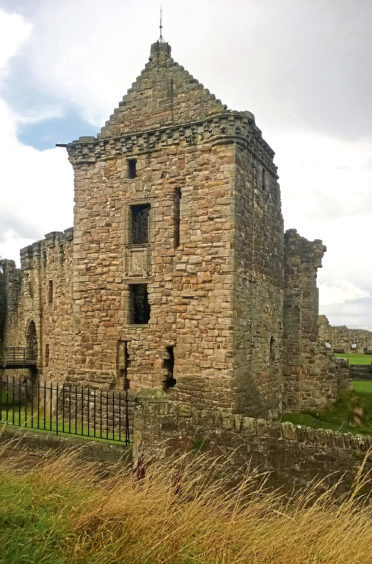 There is a long tradition amongst students of walking out along the longer north pier on Sundays, after church service, and I enjoyed a pleasant detour seaward over the roughly hewn stone breakwater before wandering along Shorehead, past boats that fish from this sheltered haven.
Crossing Kinness Burn, the way continues across grassland bordering the popular East Sands beach before turning inland at a conveniently placed public toilet, Woodburn Place and Woodburn Terrace leading to parkland where I met up with the stream once again.
It was but a brief reunion although another followed soon after, a bridge spanning the flow guiding me up towards the town centre, slender Abbey Court cutting past flats and the rear of the Byre Theatre to one of the burgh's main thoroughfares, South Street.
Linking the ruins of the cathedral, to the east, with the historic West Port gate, it is a bustling boulevard, lined with shops, restaurants and cafes and, at its heart, Holy Trinity Church, the most historic of the town's places of worship.
While this church has expanded and been rebuilt over the centuries to meet the needs of its congregation, further along South Street, the scant remnants of Blackfriars show it fared less well.
Founded in the 15th century, the Dominican monastery was attacked in 1547 and, a decade later, the last monks were driven out. All that remains today, sitting in the grounds of Madras College, is part of the vaulted chapel, another reminder of the town's less than peaceful past.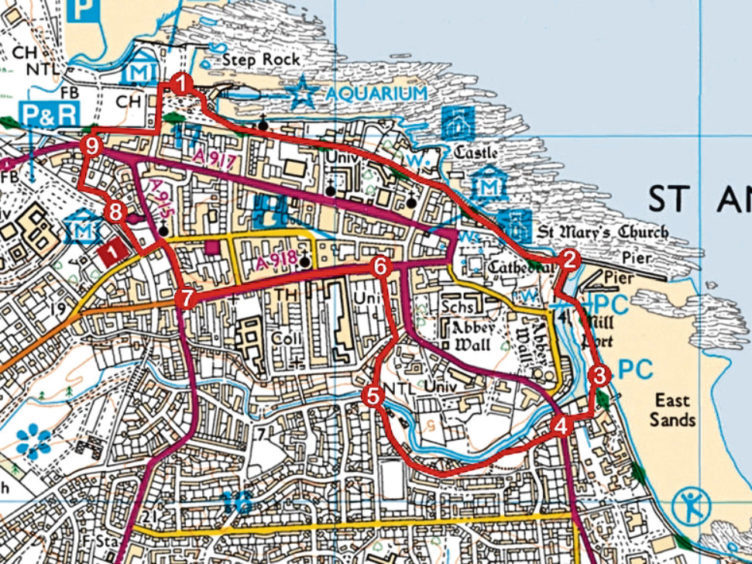 ROUTE
1. Ascend path past aquarium to Martyrs Monument and bear left along The Scores. Pass castle and continue along East Scores, descending left after cannons to harbour.
2. Turn right along Shorehead to café, go left over bridge and continue along seafront path.
3. Bear right at WC then right along Woodburn Place to A917.
4. Cross and walk along Woodburn Terrace. Branch right ahead of shops into park, forking right at next junction to Glebe Road and continue down to bridge over Kinness Burn.
5. Cross, ascend Greenside Place to junction and go left up Abbey Court to South Street.
6. Turn left along South Street to West Port gate.
7. Turn right along City Road, cross at lights, then proceed along Doubledykes Road, turning right on to footpath.
8. Pass to rear of bus station then taxi rank, branch right down steps and follow Windmill Road to Links Crescent.
9. Cross, head through Grannie Clark's Wynd then go right, up The Links to Martyrs Monument.
INFORMATION
Distance: 4.8km/3 miles
Ascent: 62m/200ft
Time: 1-2 hours
Grading: Easy, low-level town walk following pavements and footpaths
Start/finish: Bruce Embankment car park, Golf Place, St Andrews (Grid ref: NO 505172). Pay and display charges apply between April and September (Mon-Sat)
Map: Ordnance Survey 1:50,000 Landranger sheet 59; Ordnance Survey 1:25,000 Explorer sheet 371
Tourist Information: St Andrews iCentre, 70 Market Street, St Andrews KY16 9NU (Tel 01334 472021)
Public transport: Stagecoach bus services 99 from Dundee, 23 from Stirling or X59 from Edinburgh to St Andrews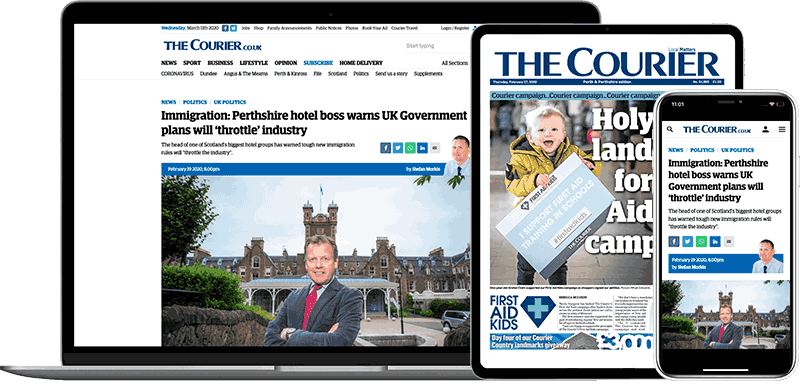 Help support quality local journalism … become a digital subscriber to The Courier
For as little as £5.99 a month you can access all of our content, including Premium articles.
Subscribe