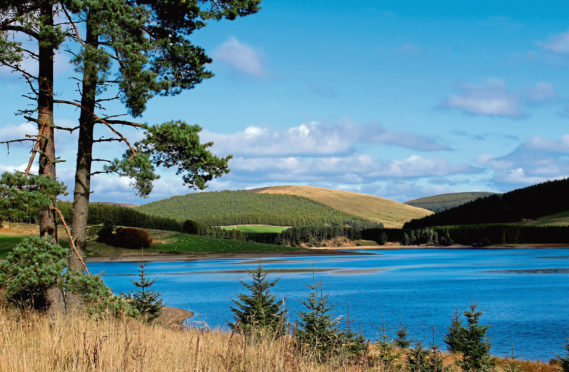 Backwater Reservoir, Glen Isla, Angus
'This dam is the first in Great Britain where, because of adverse sub-surface conditions, chemical grouting has been employed to form the water-tight cut-off curtain across the valley beneath the embankment.'
So proclaims a plaque by the Backwater Reservoir, deep in rural Angus, and one can almost imagine the plumb tones of the Pathe news reader uttering this proud engineering claim as the Queen declared the scheme open back in October 1969.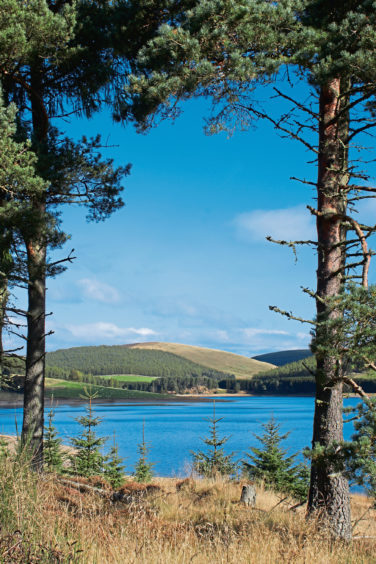 The grouting certainly did its job for, almost half a century on, the dam and its reservoir continue to both gather and store millions of gallons of water destined for the homes and businesses of Dundee, Angus and parts of Perth and Kinross.
Stretching north into Glen Damff, the two-and-a-half-mile long ribbon of water, flanked either side by hills, moorland and forestry and maintained by Scottish Water, not only quenches our thirst and keeps our toilets flushing but also forms the centrepiece of a very enjoyable and scenic low-level circuit, ideal for an autumnal outing.
There is a car park at the western end of the neatly mown grassy embankment from where a surfaced track leads through a set of gates – where the aforementioned plaque is set into the stone pillar on the left – before striking out above the rippling water.
Passing North Lodge and, beyond a barrier gate, a small stone memorial to one of the engineers who worked on the project, the route skirts through woodland then a corridor of broom, the seed casings snapping like little fire crackers in the warmth of the morning sunshine as I wandered by.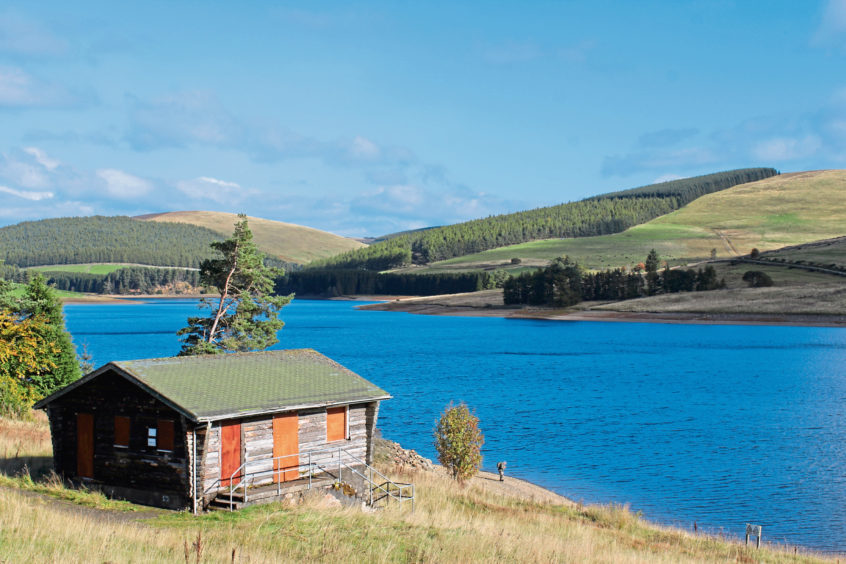 Much of the forestry on the slopes to the left has been felled, creating a more open outlook, while gaps in the bushes to the right afforded me wonderful views over the reservoir, a popular spot with anglers who fly fish the banks for brown trout. Midway along the lochside, a tiny chalet perched above the water serves as a fishing hut.
Negotiating a couple of high gates beyond the cabin, the surfaced track leads on towards the northern end of the reservoir and, where it ends at a turning circle, a rougher, grassy trail climbs past a band of mature broadleaves towards woodland.
A path cuts straight through the peaceful plantation of larch and pine, where, amid the chaos of wind-blown trunks and upturned roots, I spotted a scampering red squirrel before emerging from the trees into the wilder bounds of Glen Damff.
Clustered around Glendamff Burn below me, sheltered pasture grazed by cattle and sheep extends north from the wooded tip of the reservoir towards distant grouse moorland and gently sloping, heather-clad hills wedged between Glen Prosen and Glen Isla.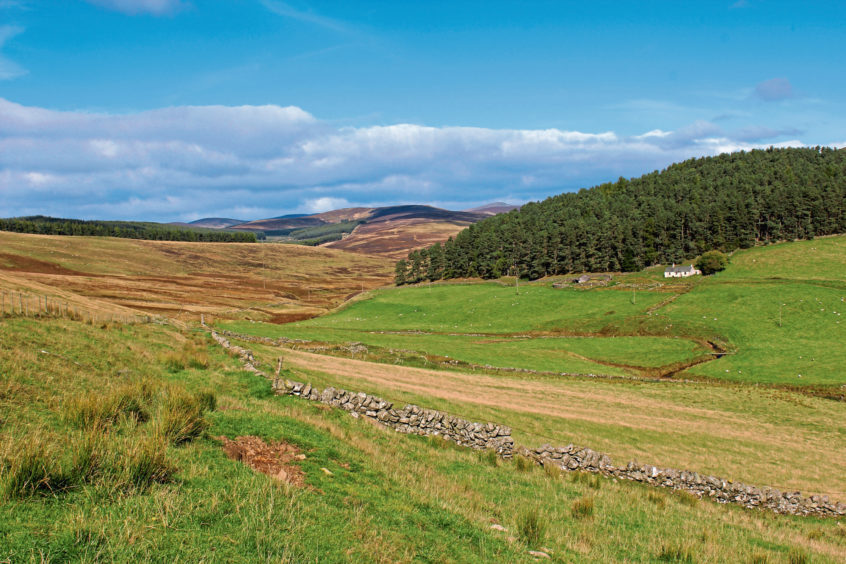 A well-established path descends by stock fencing and rugged old stone walls to meet the snaking stream, a flat wooden bridge my crossing point. The reedy ground immediately ahead of the bridge is wet underfoot but, once this marshy obstacle has been negotiated, a firm bank of grass rises to a tumbledown stone enclosure and, above it, a lonely cottage named Barny.
From this now derelict old bothy, a track escorted me across fields, skirting between pasture and forestry, passing the remote farmsteads of Glendamff and Glenhead, to meet the road running south by the reservoir, the distant dam drawing closer with my every step.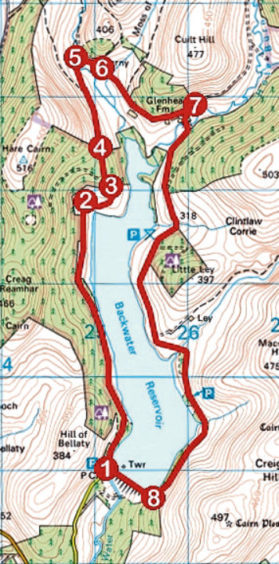 ROUTE
1. Pass through stone gateway at western end of dam and follow surfaced track north along west side of reservoir.
2. Where surfaced track ends at turning circle, continue ahead on grassy track, ascending through wooden gate.
3. Where track curves left, branch right to signpost (signed Path to Glendamff) and follow path up to high metal gate on edge of forest. Go through adjacent kissing gate and follow path north through plantation.
4. Exit plantation at high wooden gate and descend path north over hillside to meet Glendamff Burn.
5. Cross wooden bridge and bear right, ascending grassy field to derelict cottage at Barny.
6. Turn right and follow farm track past Glendamff and Glenhead farms to meet minor road.
7. Follow minor road south along east side of reservoir to dam.
8. Cross dam to return to car park.
INFORMATION
Distance: 12km/7½ miles
Ascent: 300m/990ft
Time: 3-4 hours
Grading: Moderate low-level walk following tracks, paths and minor road around reservoir. Keep dogs under close control over grazing land at northern end of reservoir and in Glen Damff
Start/finish: Car park at western end of Backwater Reservoir dam (Grid ref: NO 250589), a mile north of the junction of the B951 and B954 in Glen Isla
Map: Ordnance Survey 1:50,000 Landranger sheets 44 and 53; Ordnance Survey 1:25,000 Explorer sheets 381 and OL53
Tourist Information: Dundee iCentre, 16 City Square, Dundee DD1 3BG (Tel 01382 527527)
Public transport: None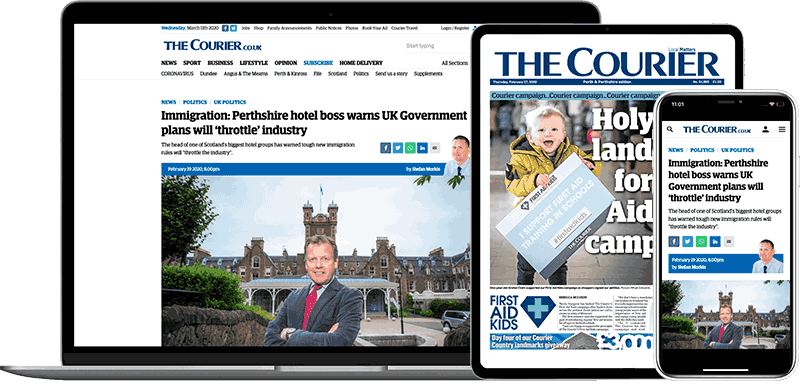 Help support quality local journalism … become a digital subscriber to The Courier
For as little as £5.99 a month you can access all of our content, including Premium articles.
Subscribe