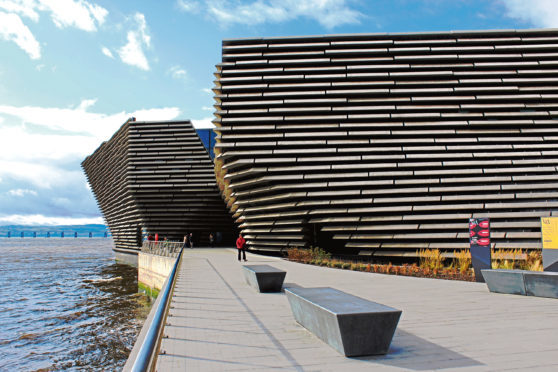 The Waterfront, Dundee
Perch on the riverside and proving hugely popular from the outset, the V&A is Dundee's newest visitor draw. However, the city's waterfront is dotted with attractions, old and new, cultural and historic, and this short, often bracing, walk by the estuary links just a few of them.
Setting off from Slessor Gardens, at the heart of Dundee's current waterfront regeneration project, my first port of call was the visually stunning museum, a building inspired by the sea cliffs of Scotland with a prow jutting proudly out over the waters of the Tay.
Wow moments abounded as I wandered around the exterior of glass and concrete, a riverside promenade leading to the glistening, watery sea cave that separates the two halves of the building.
Maintaining the maritime theme, Captain Robert Falcon Scott's Antarctic research vessel Discovery – built in Dundee in 1900 – occupies the neighbouring dock and, at Discovery Point, with its quirky penguin statues, I joined the riverside walkway leading west to the Tay Rail Bridge.
By Alexandra Fountain, erected to commemorate visits to the city by King Edward VII's wife Queen Alexandra, a bronze plaque set into the wall reminds visitors of another chapter in local seafaring history.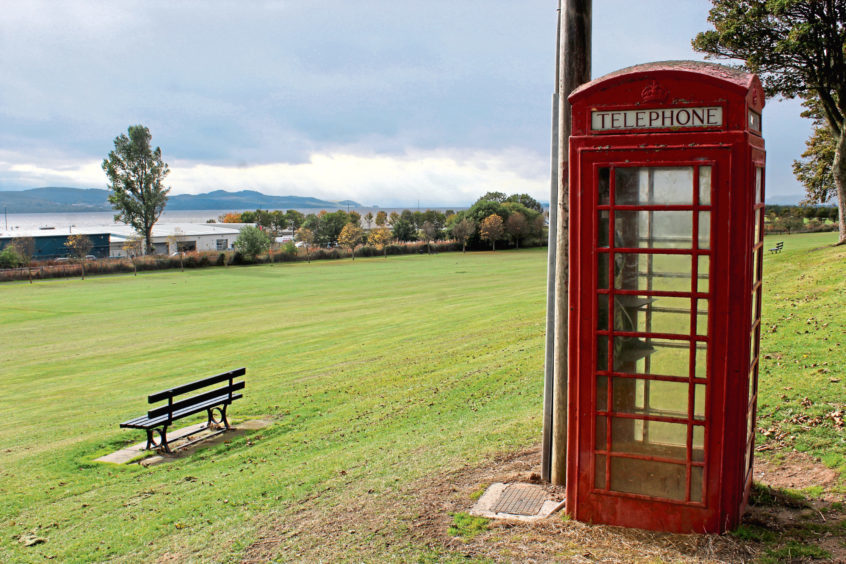 Taking off from the estuary on the back of the flying boat Maia on October 6, 1938, the experimental seaplane Mercury flew over 6000 miles to Alexander Bay, in South Africa, setting a world long distance record in the process.
Despite its success, only one example of the Maia-Mercury composite was ever built by manufacturer Short Brothers, of Kent, but the concept was resurrected by NASA in the 1970s when two modified Boeing 747s were used to transport space shuttles in similar piggy-back style.
Remaining on terra firma, I headed upriver, skipping jauntily over quotes from William McGonagall's poem The Railway Bridge of the Silvery Tay set into the pavement as I approached the historic crossing.
Dundee's bard penned another ode to the bridge in 1880, this time recalling the disaster of the previous year in which 75 people died when the high spans collapsed under a train during a fierce storm.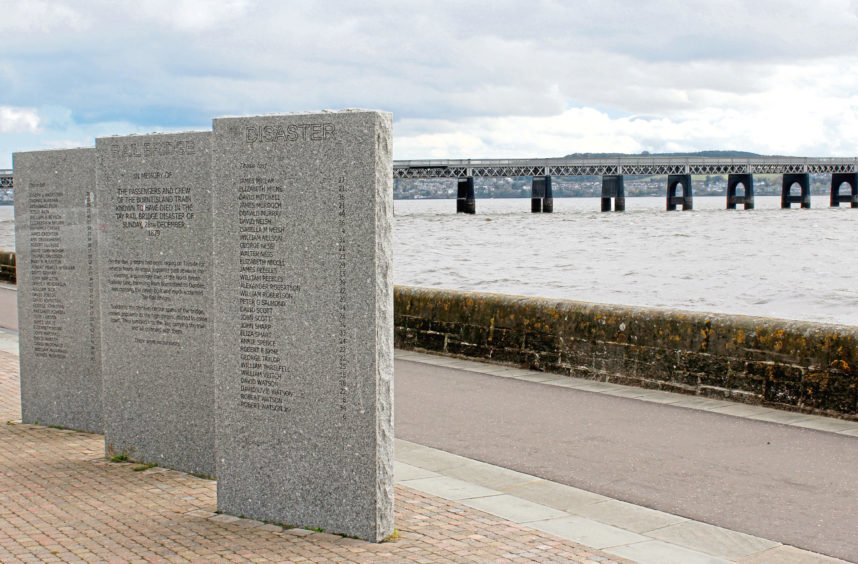 Just on from the bridge there is a memorial to those who lost their lives on that tragic December night. A trio of carved granite slabs, it mirrors an identical one near Wormit on the other side of the river.
Crossing Riverside Drive beyond Bridgeview Station Restaurant, a bridge decorated with the distinctive seagull themed illustrations of local street artist C. Gul guided me over the railway and on to Magdalen Green, the city's oldest public park, with its iconic bandstand.
More of his humorous take on the menace of gulls can usually be found on the hoardings lining the Seabraes walkway, beyond a playpark at the eastern end of the green, where an unofficial street art gallery injects colour into the site of the city's former rail yards.
Running parallel with the railway, the walkway continues past the tubular steel arch of the Seabraes Pedestrian Bridge and a striking yellow and black office block constructed using 37 recycled shipping containers to meet Greenmarket.
Leading round to the new plaza at the front of the railway station and, across the esplanade, the V&A, Greenmarket offers access to Dundee Contemporary Arts and the Dundee Science Centre, two more of the city's popular attractions.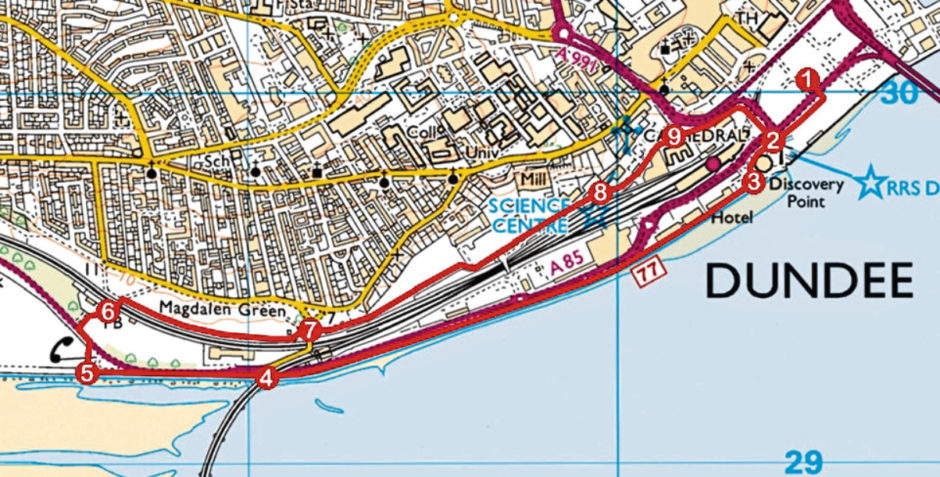 ROUTE
1. Cross Riverside Esplanade at lights and turn right, passing V&A and RRS Discovery to Discovery Point.
2. Bear left around Discovery Point building to join riverside walkway at Alexandra Fountain.
3. Turn right and follow riverside walkway to Tay Rail Bridge.
4. Pass under rail bridge and continue along riverside walkway to Bridgeview Station Restaurant.
5. Pass round restaurant and follow Riverside Drive footpath west to pedestrian crossing. Cross to Riverside Pavilion.
6. Cross footbridge over railway, turn right (signed City Centre) and follow Magdalen Green footpath to Riverside Approach.
7. Cross road and continue ahead (signed City Centre) past playpark and along Seabraes footpath running parallel with railway to meet Greenmarket.
8. Continue ahead along Greenmarket.
9. Approaching South Marketgait, bear right, remaining on Greenmarket, to railway station entrance. Cross at lights to Discovery Point and V&A and retrace steps to start.
INFORMATION
Distance: 4.8km/3 miles
Ascent: 50m/165ft
Time: 2 hours
Grading: Easy, low-level urban route following pavements and surfaced footpaths
Start/finish: Slessor Gardens, Riverside Esplanade, Dundee (Grid ref: NO 404299). Nearest parking at Science Centre (pay and display) or Greenmarket multi-storey car park
Map: Ordnance Survey 1:50,000 Landranger sheet 54; Ordnance Survey 1:25,000 Explorer sheet 380
Tourist Information: Dundee iCentre, 16 City Square, Dundee DD1 3BG (Tel 01382 527527)
Public transport: Dundee is well served by both bus and rail services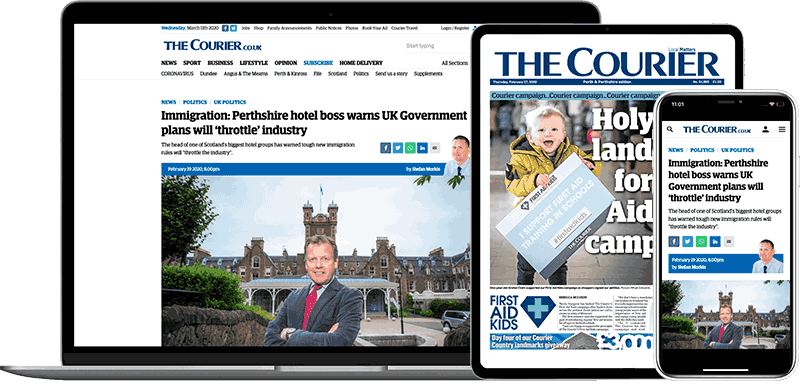 Help support quality local journalism … become a digital subscriber to The Courier
For as little as £5.99 a month you can access all of our content, including Premium articles.
Subscribe