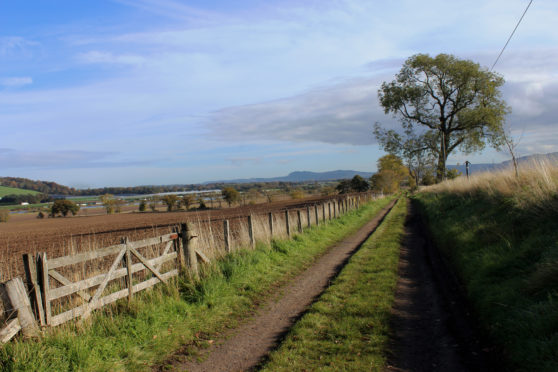 Earlier in the year, while exploring Deuchny Wood, on the outskirts of Perth, I enjoyed a brief dalliance with Coronation Road, a Royal route that ran between Scone Palace, where Scotland's kings were traditionally crowned, and Falkland, in Fife.
Crossing the Sidlaw Hills south of Scone, the ancient highway dipped to the banks of the River Tay where a ferry conveyed kings and queens across the water to a quay by Elcho Castle.
The onward journey to Falkland Palace necessitated a second river crossing, this time over the Earn, and, with the ferries consigned to history, it is a tricky route to follow on foot these days.
Undeterred, I picked up Coronation Road once again at Elcho Castle, a well preserved 16th Century tower house built originally for the Wemyss family, of Fife, and now in the care of Historic Scotland.
It is open to the public during the spring and summer months and, arriving off-season, I took advantage of the empty car park, left my motor, and set off on foot back up the single-track road.
The way passes a cluster of cottages, a wee pond and a restored 16th century beehive-shaped dovecot before weaving between the sheds of Elcho Farm.
Rising past the farmhouse and on towards the hamlet of Rhynd, the road soon swings right and here I turned left, Coronation Road striking east, cutting a course through arable fields that sweep down from the wooded slopes of Moncreiffe Hill to the Tay.
Enjoying views across the water to the Carse of Gowrie and Sidlaw Hills beyond, I marched on, swapping the rough track for asphalt at Balhepburn Farm.
The old carriage road progresses across one of the most productive patches of agricultural land in Perthshire, fields sandwiched between the Tay and Earn.
Approaching Easter Rhynd, I paused briefly to explore a tiny 17th Century graveyard sitting in the shadows of the sheds, the ruins of the old parish church, abandoned in 1841, lost beneath rambling ivy.
The public road ends here but, skirting round the edge of the farm, a track leads on towards the River Earn, my time on Coronation Road ending at the site of an old pier where a boat once plied the water to Ferryfield of Carpow, on the far bank.
Today only a pair of electricity pylon lines cross the river here and my onward journey along the ancient highway would, once again, need to wait for another day.
My exploration of this corner of Perthshire was not, however, at an end and, picking up a grassy track, I followed the Earn downstream, past a fishing bothy, to the point where the river meets the Tay.
Rounding the spit, rushes swaying in the breeze and the Tay now by my side, I wandered upstream, the track leading on to a grassy levee, an embankment raised to protect fertile lands from flood waters.
Pulling away from the river to join a track by the house at Muirhead, the easiest route back to Elcho is to re-join the Coronation Road, although it is possible to branch right down the track and stay by the Tay a little longer.
A grassy field-edge strip, rough and lumpy underfoot, leads to another section of levee and a ruined fishing bothy, a track dog-legging round the far end of the field before climbing to Coronation Road.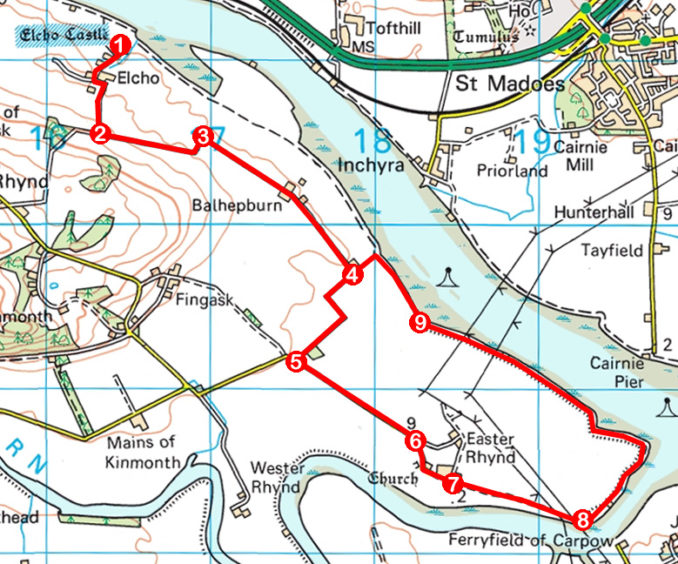 ROUTE
1. Follow castle access road 650m south, passing through farmyard, and ascend to corner where road swings right.
2. Turn left (signed Lower Rhynd) and follow track 700m east.
3. Turn right and continue east along track then surfaced track, passing through Balhepburn, to house at Muirhead.
4. Bear right, remaining on surfaced track, and continue south-west to meet minor road.
5. Turn left and follow minor road south-east towards Easter Rhynd.
6. Approaching entrance to Easter Rhynd, bear right, passing graveyard, and follow track past farm sheds on left.
7. Approaching bungalow, bear right along field edge track to meet River Earn below pylon lines.
8. Bear left along grassy track to fishing bothy then continue along riverside track then path on top of levee.
9. Ascend grassy field edge then bear left along track to Muirhead (point 4). Turn right and retrace steps to Elcho Castle.
INFORMATION
Distance: 11km/6¾ miles
Ascent: 80m/260ft
Time: 3-4 hours
Grading: Easy, low-level route following tracks, minor roads and paths through farmland and along river bank. Keep dogs under close control over agricultural land where livestock may be encountered
Start/finish: Elcho Castle, Rhynd, near Perth (Grid ref: NO 164210). Castle is well signed from A912 at Scoonieburn, Perth, and from Bridge of Earn. Limited parking adjacent to castle
Map: Ordnance Survey 1:50,000 Landranger sheet 58; Ordnance Survey 1:25,000 Explorer sheet 380
Tourist Information: Perth iCentre, 45 High Street, Perth PH1 5TJ (Tel 01738 450600)
Public transport: None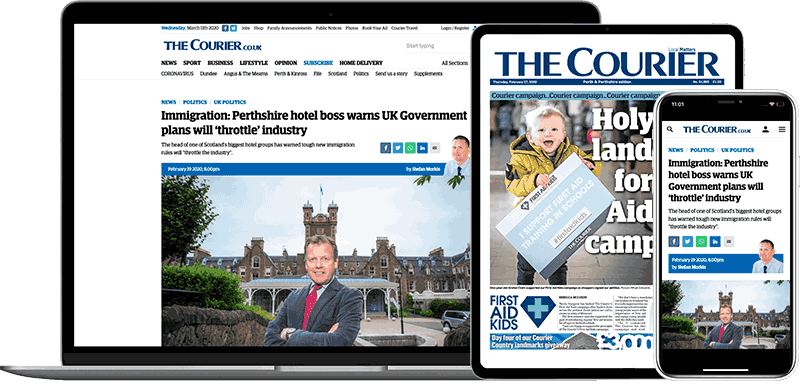 Help support quality local journalism … become a digital subscriber to The Courier
For as little as £5.99 a month you can access all of our content, including Premium articles.
Subscribe