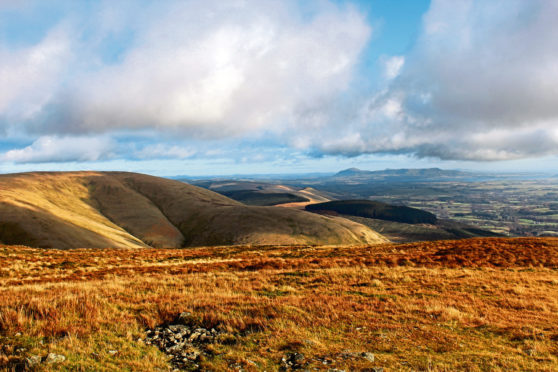 Rising above the 15th century stronghold of Castle Campbell, King's Seat Hill is one of the high points of the Ochils, a range of peaks that stretches from Stirling, in the west, to the Firth of Tay, in the east.
Approached from a leafy ravine of tumbling water below the castle, it is a top tinged with tragedy, a cairn just below the summit marking the spot where a trio of Spitfires crashed 75 years ago, killing two pilots and seriously injuring the third.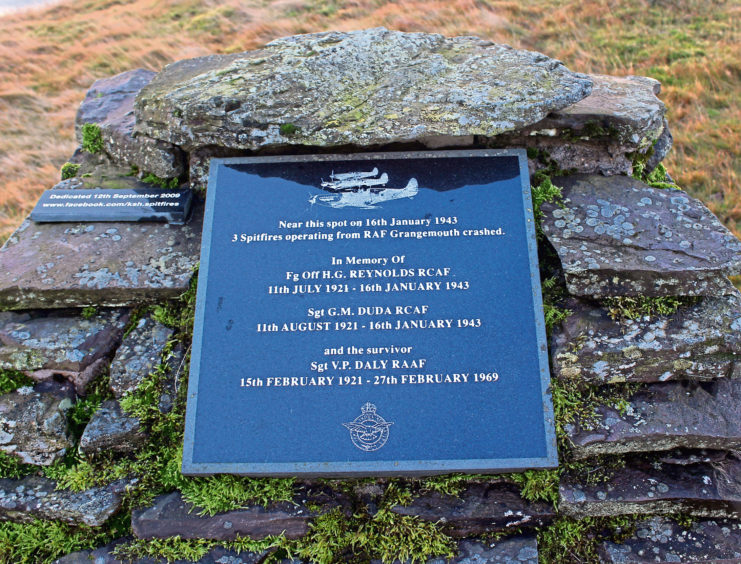 The Scottish hills were no strangers to wartime plane crashes, but this is perhaps one of the less well-known ones. Were it not for the dedication of local historians, who were instrumental in constructing the memorial, it may well have been forgotten.
My route to the memorial and then on to the summit began in Dollar Glen, a car park in a former quarry cut into Gloom Hill part way up the road to the castle offering access to the gorge and all its glories.
From an information board, a path weaves down through the trees to Dollar Burn where I branched right, a delightful trail interspersed with wooden walkways and steps climbing past sprightly falls to ruined Castle Campbell.
Dating from the early 1400s and originally called Castle Glume, the imposing tower house was the Lowland seat of the Campbell clan for nearly two centuries.
The onward route rises from the castle entrance, curving north into a narrow defile carved out by Burn of Sorrow before emerging on to open hillside above a footbridge spanning the stream.
The grassy path soon splits, one arm ascending over Bank Hill, the other, slightly less strenuous, passing to the right of this low top beyond which the two converge and run west to a gate and stile.
Here the way swings right, climbing through a rocky cleft and up the south east shoulder of King's Seat Hill to the memorial which sits at the top of the steepest section of the slope.
It is a simple tribute to Canadian airmen Flying Officer Hugh Reynolds and Sergeant Gordon Duda, who both died in the accident, and Sergeant Vincent Daly, from Australia, who, despite breaking his leg, managed to drag himself off the hill.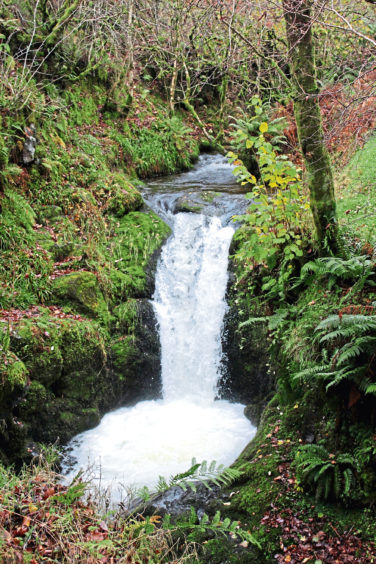 The three – all just 21 years of age – were flying a training sortie from RAF Grangemouth on January 16, 1943, when they entered a band of thick mist cloaking King's Seat Hill and crashed.
The gradient eases here, a stone shelter on the summit a peaceful spot to pause and reflect upon this wartime catastrophe before continuing over the exposed plateau to a small cairn marking the actual top then descending south-west, along a broad, grassy ridge, the path finally dipping through Mill Glen to Tillicoultry.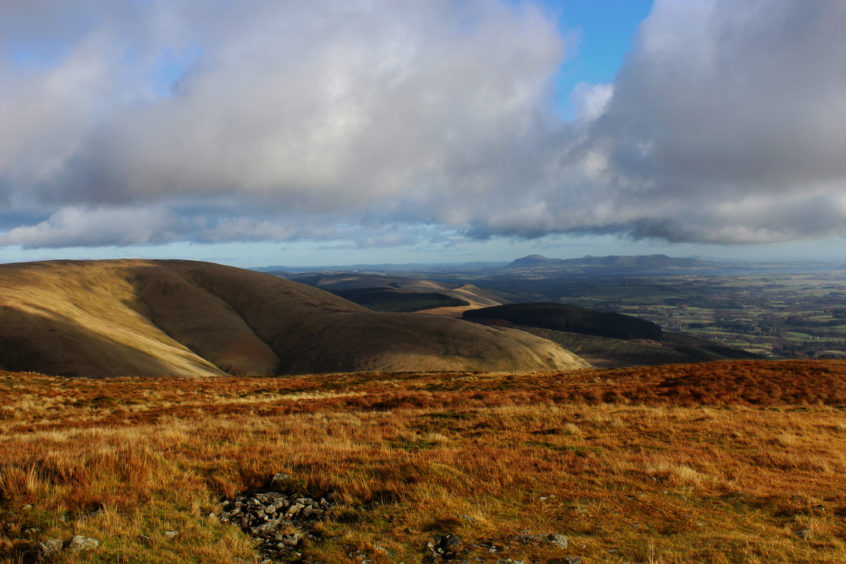 Resisting the temptation to board a bus back to Dollar, I wandered east through the town centre to Murray Square Clock, a well-loved local landmark, before following Moss Road to the Art Deco-style Devonvale Hall where I made my return along the trackbed of the former Devon Valley Railway, now a cycle path and walkway.
Alighting beyond the surviving platform of Dollar Station, Dollar Burn led me upstream to the town's museum, where information on the Spitfire crash can be found, and, behind it, Dollar Glen.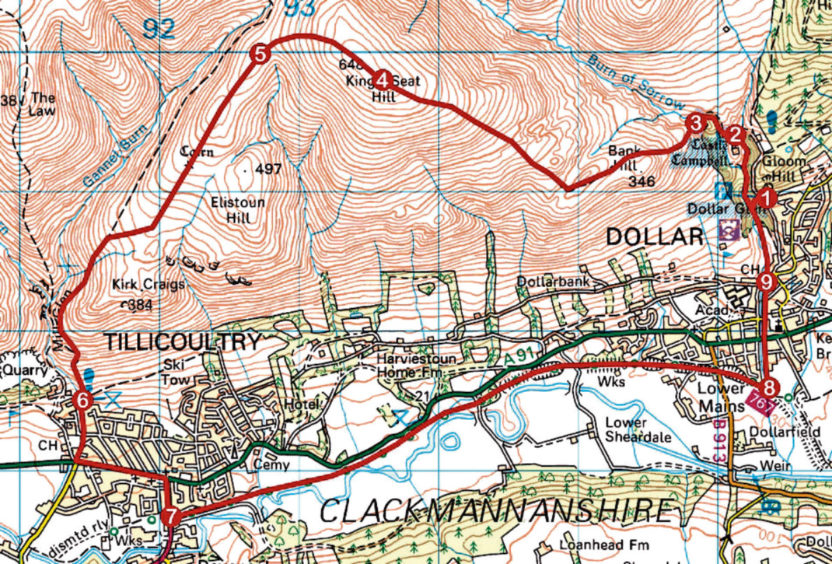 ROUTE
1. Cross Castle Road and descend path to junction in base of glen. Turn right and ascend path to Castle Campbell.
2. Ascend higher of two paths, passing two benches, go through gate and follow Burn of Sorrow to footbridge.
3. Cross, turn right through gate, and fork left ascending path to King's Seat Hill summit via Bank Hill.
4. Continue north-west over plateau to small cairn then fork left, descending to stile.
5. Cross and bear left along shoulder and down through Mill Glen to gate. Go through, descend steps to track and turn right.
6. Walk down Upper Mill Street to High Street. go left for 700m to Murray Square Clock, then go right for 300m along Moss Road.
7. Cross Moss Road (signed Dollar) and follow surfaced path 4.5km east.
8. Beyond old railway platform, turn left (signed Health Centre) and follow path then Park Place north to A91. Cross and continue up East Burnside to Dollar Museum.
9. Enter Dollar Glen and stay on right side of stream to meet path ascending to car park.