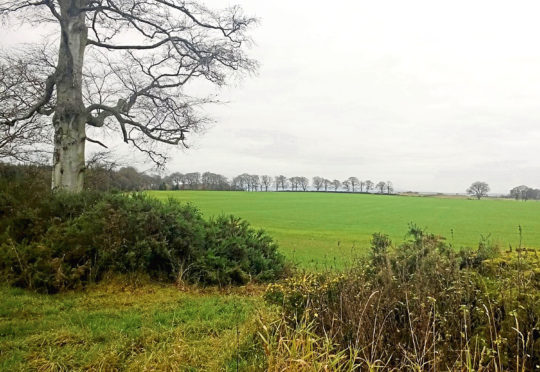 The ancestors of the modern road network, turnpike roads were an early attempt by the government to make users pay for the upkeep of the nation's highways.
Introduced in the mid-17th century at a time when the country's main arteries were little more than rough, muddy tracks, often impassable in heavy rain or after snowfall, the scheme was designed to fund much needed improvement.
Peppered with gates and toll houses, the revenue raised from passing carriages and wagons was largely ploughed into circumventing steep hills, stabilising surfaces and building new bridges, easing the trials and tribulations of travellers.
While many of these old routes subsequently formed the basis of today's road system, some bits were bypassed, surviving simply as rights of way now enjoyed by walkers, cyclists and horse riders.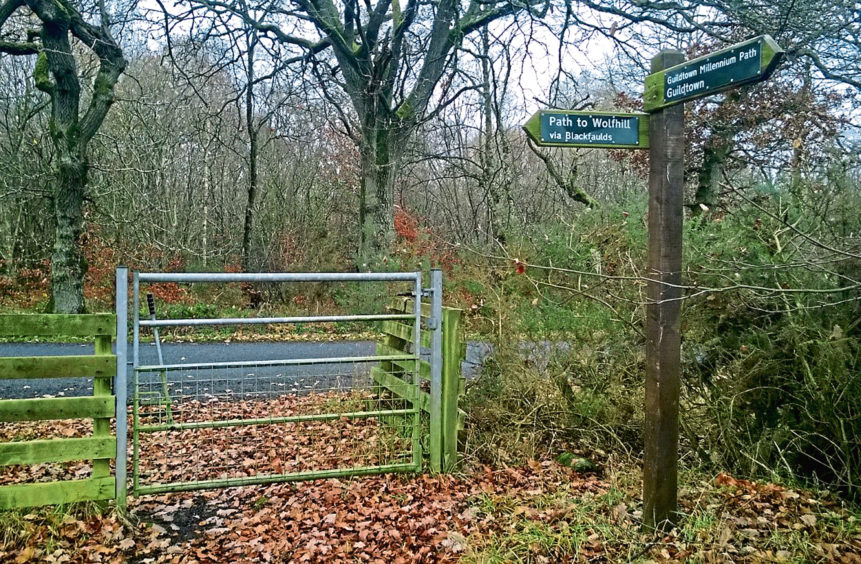 The once busy turnpike road linking Perth and Forfar is a fine example of this and I would join it for a way on a circuit through a quiet and oft overlooked corner of the Perthshire countryside, starting in Guildtown.
The village has its own well-signed network of paths, upgraded in 2000 to celebrate the millennium, and, from the community hall, I set out along one of them, the way leading me past the local park and along the edge of a field towards woodland.
A quiet country lane proceeded through the trees, descending between fields towards St Martins. The road can be followed to the quiet hamlet, but I branched off it, climbing past Cairnbeddie Farm before descending along the edge of a field to meet the turnpike. A short detour took me from the junction down to St Martins and its church.
Built in 1842 atop a natural mound rising above St Martins Burn, the present kirk replaced two earlier structures, one dating from 1622 and the other from 1776.
Architecturally it is interesting enough, but more fascinating is the surrounding burial ground and its early tombstones, the oldest of which date from 1646. They are adorned with not only carvings of skulls, crossbones and angels but also the tools of the trades of those interred below the ground.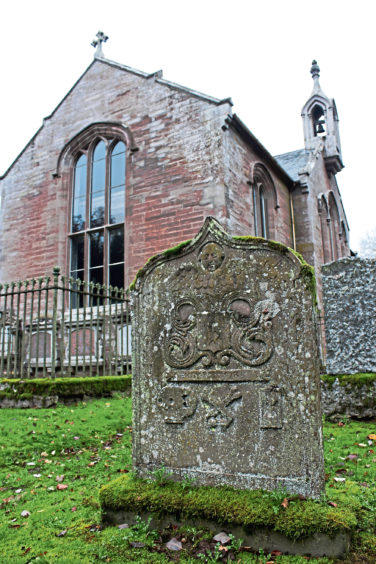 Returning to the turnpike road, I followed it north for a way as it cut between fields, a strip of deciduous woodland to my right offering shelter while at the same time affording views east to the Sidlaw Hills.
John Adair's map of 1685 was the first to show the road and later surveys by other cartographers confirmed it as the main route north from Perth through Strathmore to Coupar Angus, Glamis and then Forfar.
Beyond Kingswell the way becomes rather overgrown, so I opted to leave it ahead of the steading and follow better tracks up to the village of Wolfhill passing, in the first field to the left, a prominent boulder known as Witches' Stone.
Legend has it that this is the spot where MacBeth met the three witches who warned him of his demise when 'Birnam Wood comes to Dunsinane', the latter lying a few miles directly east of this spot.
It is one of several ancient standing stones to look out for as the walk loops round and returns to Guildtown, the others to be found in woodland above Redford Farm and by the road to the west of Blackfaulds Farm.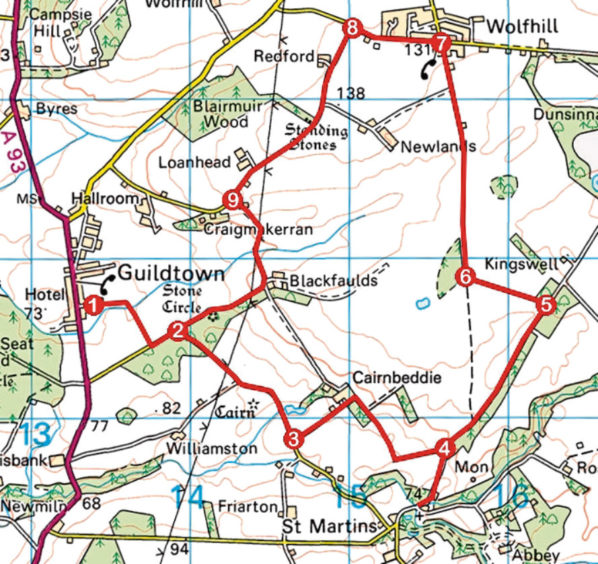 ROUTE
1. Follow Hall Road east to its end and continue ahead on path (signed St Martins Road). Cross footbridge to reach road. Go left (signed Wolfhill) for 200m along road to junction.
2. Swing right and walk 1km south-east along road.
3. Turn left, ascending surfaced track to Cairnbeddie Farm. Continue straight ahead on rough track, passing farm sheds on left, then go right, descending track. At bottom of slope, swing left to next junction.
4. Detour right, descending to St Martins Church, then return to junction and ascend track (signed Wolfhill).
5. Turn left at waymarker post and walk 500m along track to junction.
6. Bear right, ascending track north to Wolfhill.
7. Turn left and walk 600m west along road.
8. Turn left after Redford Cottage and follow track south to meet road at Loanhead Farm.
9. Take next track on left, bearing right at Blackfaulds to reach point 2 and retrace steps to Guildtown.
INFORMATION
Distance: 11km/6¾ miles
Ascent: 150m/500ft
Time: 3 hours
Grading: Moderate low-level route following tracks, paths and minor roads through farmland. Keep dogs under close control
Start/finish: Guildtown Village Hall, Hall Road, Guildtown (Grid ref: NO 133317). Parking behind hall, next to recycling centre
Map: Ordnance Survey 1:50,000 Landranger sheet 53; Ordnance Survey 1:25,000 Explorer sheet 380
Tourist Information: Perth iCentre, 45 High Street, Perth PH1 5TJ (Tel 01738 450600)
Public transport: Stagecoach bus service 58 (Perth to Blairgowrie) stops in Guildtown