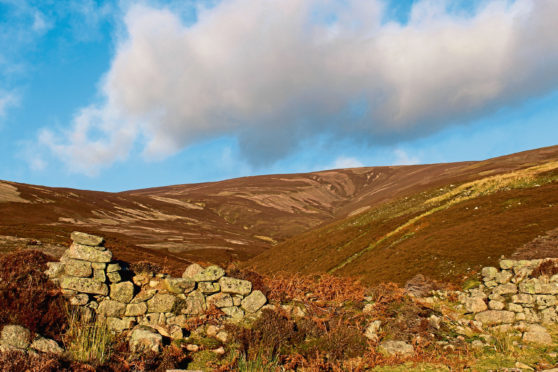 Recumbent Hill of Cat rises lazily from Glen Esk but the ascent, via the historic Firmounth Road, is anything but restful. It is a long and arduous hike, sweat and toil eventually rewarded with panoramas over Angus, to the south, and Deeside and the mountains of the Cairngorms, to the north.
The medieval Firmounth was, in its day, a busy upland highway, well-travelled by cattle drovers, traders, itinerant farm workers and, in the 18th and 19th centuries, whisky smugglers.
It survives today as a right of way, crossing the hills between Tarfside, in Glen Esk, and Dinnet, in Aberdeenshire, and, to the south of Hill of Cat, forms part of a network of tracks accessing Millden Estate's grouse moors.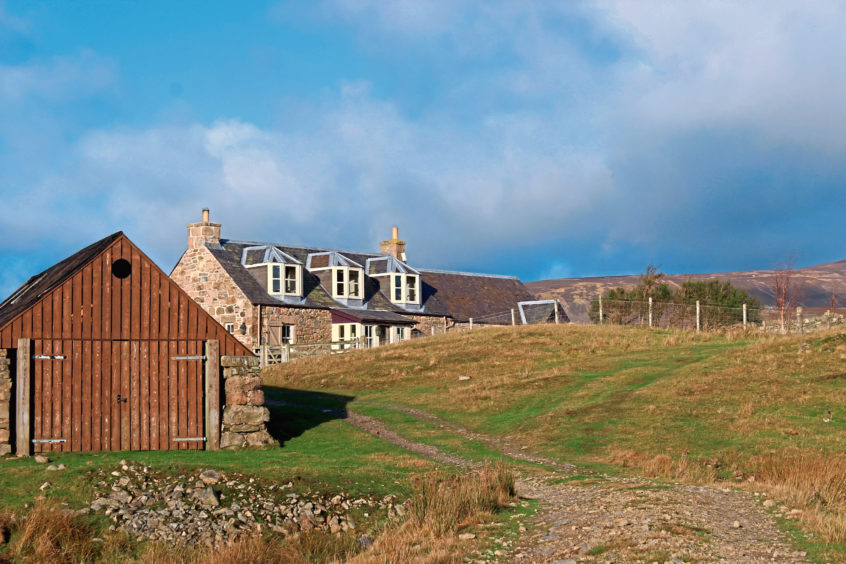 With the shooting season over for another year I hiked north from Tarfside, climbing through a band of woodland to a former Royal Observation Corp bunker. During the Cold War these observation posts was constructed to monitor fallout in the event of a nuclear strike. Thankfully not needed, they were decommissioned in 1991.
Beyond the bunker, the track crosses grazing land, dallying briefly with Water of Tarf, before rising to a remote lodge at Shinfur.
Passing between the house and an outbuilding, the way curves gently right, crossing pasture to reach a metal gate, moorland lying beyond. Now flanked by heathery slopes, the way fords Burn of Clearach where, just prior to the crossing, on the left, a small plank bridge offers a dry way over, before ascending to a second gate and junction.
Go straight ahead here and the Firmounth climbs steadily up the southern shoulder of Tampie. It is a long and steady incline but, as height is gained, excellent views open out over Glen Esk.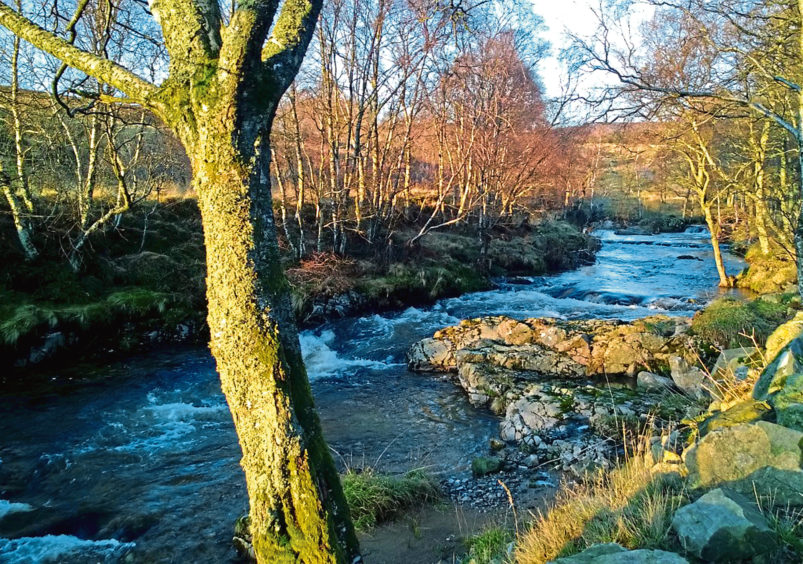 Higher up, the old road bisects a more recent estate track then swings right, contouring round the slope ahead of the final, arduous haul to a junction where the Firmounth forks left and another notable highway, the Fungle Road, breaks right. Four sturdy cairns line the approach to a weather-worn signpost indicating the onward course of each.
The Firmounth weaves up past a line of stone grouse butts to its highest point, the summit of Tampie, an elevated vantage point offering views east to Mount Battock and the granite tor crowning Clachnaben and west to Hill of Cat, before dipping north into a peaty col where I spotted a mountain hare in winter garb.
The track deteriorates to something more akin to its original state as it approaches the county border where I left it by a boundary stone and turned west, a line of old metal fence posts guiding me across the col (where the terrain is boggy) and up to the trig point on Hill of Cat.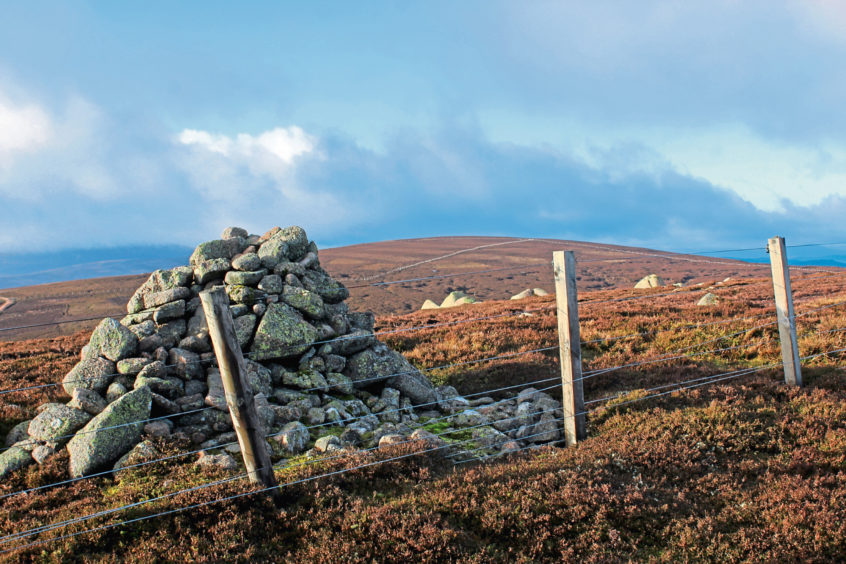 After enjoying my well-earned vista north, I retreated south, wandering through the heather to meet a fence, a slender trail running parallel down to a gate and, once through, a track that handled the remainder of the descent over Hill of Corn to the ruins of Glencat, an abandoned farming settlement occupying a grassy enclave at the foot of the slope.
Finding a safe spot to boulder hop Burn of Cat, I hiked the track up and over the shoulder of Red Shank, Burn of Keddloch the final obstacle on my return across grouse moor and grazing land to Tarfside.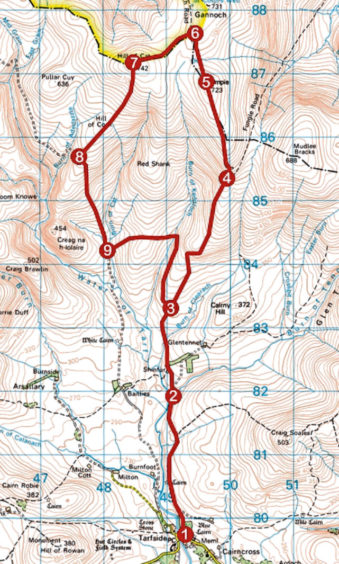 ROUTE
1. Walk 100m west along road, turn right (signed Firmounth and Fungle roads) and ascend track to junction. Fork left and walk 2km north along track.
2. Cross bridge, fork left (signed Fungle and Firmounth) at junction above and ascend to Shinfur. Pass to left of lodge and continue north on track.
3. Ignore track branching left and ascend track to junction where Firmounth and Fungle roads split.
4. Fork left and ascend Firmounth Road, passing through high gate, to Tampie summit.
5. Descend to junction. Ignore high gate on left and continue ahead, dipping through col, staying with fence on left to boundary marker stone.
6. Turn left and ascend Hill of Cat, following metal fence posts to summit.
7. Descend south to meet fence on left and descend by fence to gate. Go through to meet track and follow track south.
8. Curve left, descending track to Glencat.
9. Follow track east, across Burn of Cat, over Red Shank and across Burn of Keddloch, then swing right and follow track south to point 3. Retrace steps to Tarfside.
INFORMATION
Distance: 19km/11¾ miles
Ascent: 750m/2475ft
Time: 5-6 hours
Grading: Challenging upland circuit, following, in the main, good tracks over exposed ground, suitable for fit, experienced and well-equipped hillwalkers. There are two bridgeless stream crossings and some boggy ground to contend with on the final approach to Hill of Cat. Keep dogs under close control to protect livestock and ground nesting birds
Start/finish: Car park, Tarfside, Glen Esk (Grid ref: NO 492797)
Map: Ordnance Survey 1:50,000 Landranger sheet 44; Ordnance Survey 1:25,000 Explorer sheet OL54
Tourist Information: Dundee iCentre, 16 City Square, Dundee DD1 3BG (Tel 01382 527527)
Public transport: None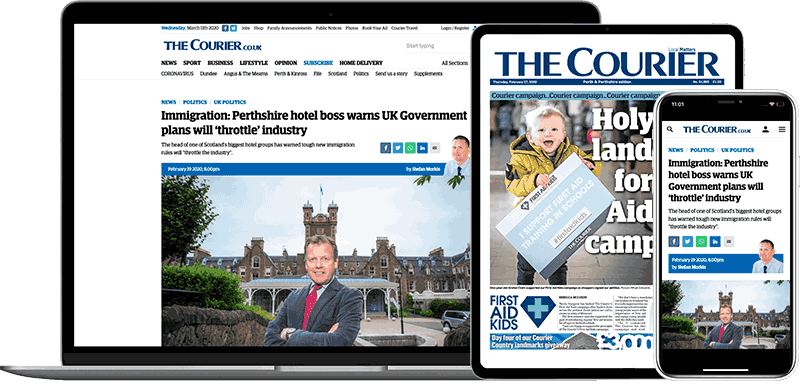 Help support quality local journalism … become a digital subscriber to The Courier
For as little as £5.99 a month you can access all of our content, including Premium articles.
Subscribe