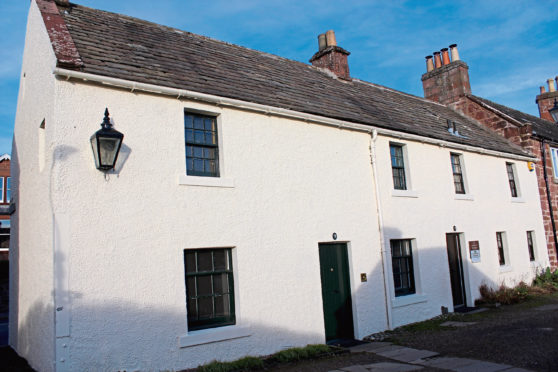 Playwright J M Barrie's classic story about the little boy who never grew up – Peter Pan – has captivated and enthralled generations of children and adults.
First performed on stage in London in 1904, the magical adventures of Peter, Wendy, Tinker Bell and the evil Captain Hook on the island of Neverland will always be a Christmas pantomime favourite.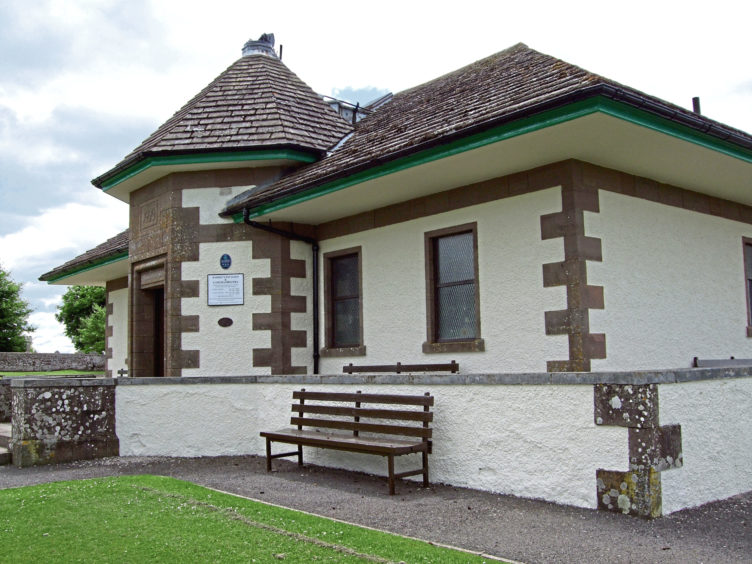 Fans will know that Sir James Matthew Barrie was born and raised in the Angus town of Kirriemuir and today, over 150 years later, the burgh's links to the author remain as strong as ever, making it the perfect place for a festive family outing.
Much of the inspiration for his work came from childhood experiences and one spot the young Barrie doubtless explored is Kirrie Den, a wooded valley transformed into a public park in 1867.
This was the first port of call on my quest to discover Neverland, Gairie Burn guiding me upstream from Bellies Brae and across Tannage Brae to the park gates.
Beyond, an inviting swathe of grass dotted with trees weaves through the den, flanked either side by wooded slopes and roughly hewn cliffs. The path stays close to the stream, passing boarded up Den House (the former park keeper's cottage), a children's play area and bandstand.
A popular spot for play and picnics in the summer, glistening under a heavy frost I met only hardy dog walkers as I progressed to the point where the den narrows, the path enjoying closer acquaintance with Gairie Burn as it tumbles below High Bridge and Cuttle Well, a natural spring.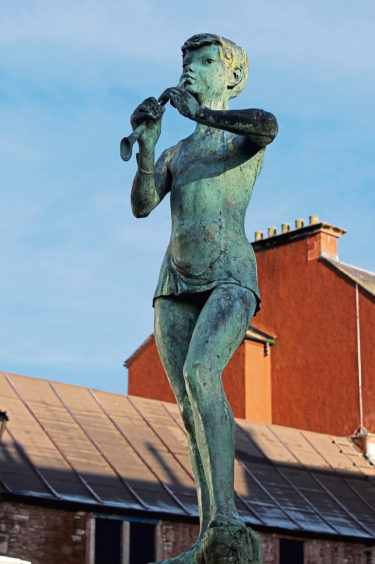 Hemmed in by houses and gardens, the den ends above its most impressive waterfall and, crossing the stream by an old stone slab bridge, I hiked through town streets to another park, this one on Kirrie Hill.
Barrie was a keen cricketer and donated a pavilion to the community, which he formally opened on June 7, 1930, the day as he was granted the freedom of Kirriemuir. A simple yet striking single-storey building, it houses one of only three working camera obscura in Scotland.
Now flanked by grassy playing fields and patches of woodland, Kirrie Hill once boasted both a cricket ground and nine-hole golf course.
On a more sombre note, after his death in 1937, Barrie was laid to rest in the family plot in the adjacent cemetery. Access is by a metal gate in the wall just above the pavilion and the location of his grave is signposted.
A stone's throw away there is a more recent interpretation of his Neverland fantasy world, a play area for children centred on a pirate galleon complete with wooden carvings of Peter Pan and Captain Hook.
Proceeding along the crest of Kirrie Hill, the trail passes an ancient standing stone and trig point before looping down past quarried cliffs to meet Brechin Road, my route back into town and to Barrie's birthplace.
Now in the care of the National Trust for Scotland, the simple white-washed weaver's cottage is preserved as it was when the author was a child and, just around the next corner, there is a fountain honouring his literary achievements.
And, if these were not enough in the way of tributes, a statue of Peter Pan himself graces the town's central square, marking the end of my adventures in Neverland.
ROUTE
1. Cross Gairie Burn by bridge on southern edge of car park, turn right and follow path upstream.
2. Enter The Den and continue by stream, curving right into trees and ascending to bridge. Do not cross but continue up steps and bear right to top of den.
3. Fork right and cross stone slab bridge to meet Lochmill. Go right along Lochmill then, passing No Entry signs, bear right down Glengate to fire station.
4. Go left up Gordon Park to meet Whiteside, go right to Roods and turn left.
5. Turn right (signed Camera Obscura) and ascend path to Kirrie Hill.
6. Detour into cemetery before continuing east past Neverland play area and shelter to standing stone.
7. Bear right then pass to left of covered reservoir and descend woodland path to Brechin Road.
8. Turn right and follow Brechin Road west to Barrie's Birthplace. Continue past fountain, go left along School Wynd then right along Bank Street to statue.
9. Turn left and descend Bellies Brae.
Information
Distance: 5.25km/3¼ miles
Ascent: 100m/330ft
Time: 2 hours
Grading: Easy low-level route following good paths through parkland and woodland and pavements through town streets with some short sections of ascent
Start/finish: Bellies Brae car park, Bellies Brae, Kirriemuir (Grid ref: NO 385537). Pay & Display (£1 per hour), except Christmas Day and New Year's Day
Map: Ordnance Survey 1:50,000 Landranger sheet 54; Ordnance Survey 1:25,000 Explorer sheet 381
Tourist Information: Gateway to the Glens Museum, 32 High Street, Kirriemuir DD8 4BB (Tel 01575 575479)
Public transport: Stagecoach bus service 20 links Kirriemuir with Dundee via Forfar