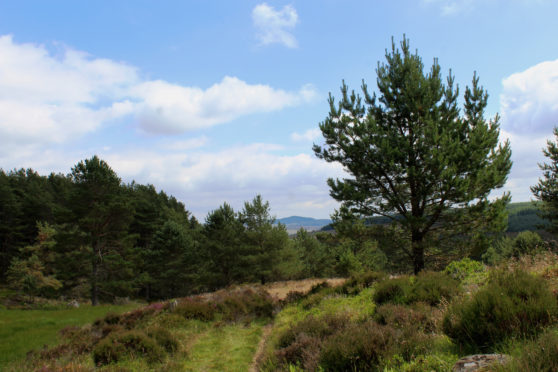 Glen Derby, Kirkmichael, Perth & Kinross
Hidden away beyond the pines and spruces of Kindrogan Wood and hemmed in by the hills lying between Strathardle and Strath Tummel, Mains of Glenderby is an oasis of peace and tranquillity.
Once a busy farmstead, the long-abandoned cottage now lies in ruin while the skeletal lines of tumbledown stone walls etch the boundaries of fields and enclosures over surrounding slopes.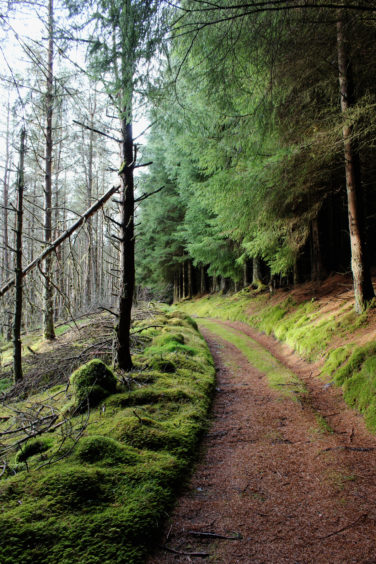 The farm is not the only remnant of settlement all but lost in the landscape here for there is evidence of much earlier occupation, hut circles and field systems dating back to the Bronze Age.
Today, life in these parts mainly centres on the vibrant little village of Kirkmichael and it was from here that I set out, initially along the Cateran Trail.
Climbing past the local school, the trail soon forks, one arm heading north past a row of pretty cottages to Enochdhu and then Spittal of Glenshee, the other branching left to the former Free Kirk where it swings left again and leads south out of the village and through the fields of Strathardle.
Beyond the lone cottage at Balchrochan, at a bend in the track, I left the long-distance route, a path signed for Dunkeld rising over a grassy meadow then tree-dotted moorland to enter forestry higher up.
The rutted way through the conifers is often wet and muddy underfoot but, thankfully, the terrain is firmer beyond the next gate, a good path cutting a line through heather to meet a track below the prominent cairn on Creag Shoilleir.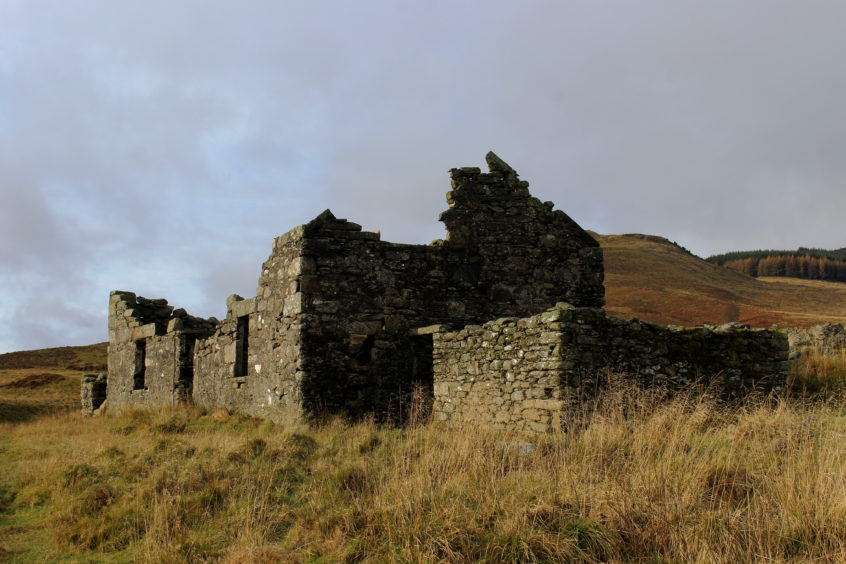 Bounded by forestry to the north, the track weaves west over the moor, crossing ground once peppered with huts, shielings and cultivated plots. Apart from some scattered clusters of rock and stone, there is little left of these early hamlets where families eked a meagre living from the barren hillside.
Close to the point where the plantation on the right ends, the track splits, the right of way to Dunkeld branching left, the track on the right – my onward path – dipping to cross Loch Eisg Burn before roaming north over and round a series of spurs.
Underfoot, the way is generally distinct enough although in a few places, where the trail crosses reedy ground, careful navigation is required to stay on track.
Below, occupying a natural hollow in the landscape, Mains of Glenderby is in clear view but before it is reached there is the little matter of crossing Back Burn, a deep but slender stretch of water at this point.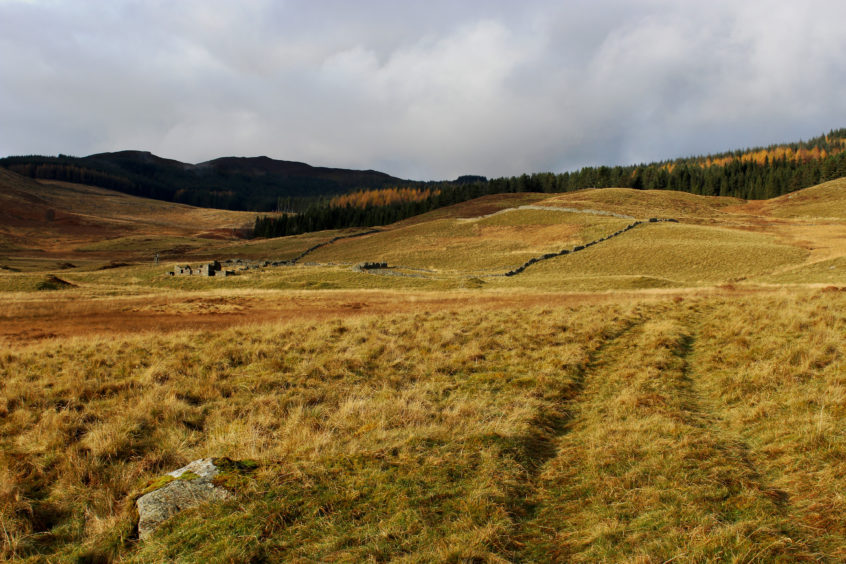 There is no bridge – the track simply fords the flow – and one can either wade or paddle across or seek out a narrow spot where it is possible to leap from one grassy bank to the other.
Once over, bear left around the mound of Torr a'Mhuilinn to a junction where a track branches left to the farmstead, a perfect spot for a picnic, the old stone walls still affording some shelter from the elements.
It is an eerily quiet spot now but up until the middle of last century the isolated cottage was home to a shepherd and his family. Locked and boarded when they left, a fire in the late 1970s rendered the property a ruin.
Sandwiches finished, a lovely walk down Glen Derby, through Kindrogan Wood and over heathery slopes bristling with pine, to Kirkmichael awaited me.
ROUTE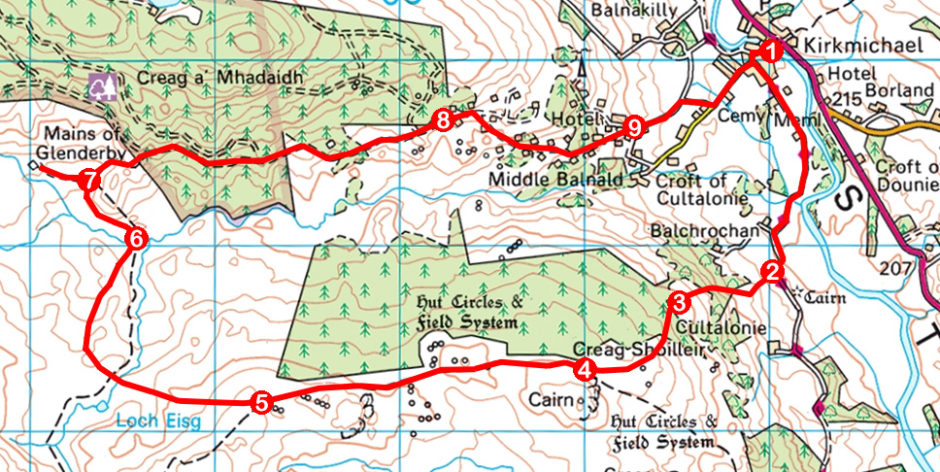 1. Follow Cateran Trail 1.3km south.
2. Branch right off track (signed Dunkeld) through metal gate and ascend grassy field to wooden gate. Go through and continue up rough track to metal gate.
3. Go through gate and ascend path through forest to gate. Go through and continue up moorland path to meet track.
4. Turn right and walk 1.75km west along track.
5. Where track forks, go right, descending west through stream gully before curving north over heathery shoulder, finally descending to Back Burn.
6. Cross stream and bear left to meet more distinct track leading to junction.
7. Detour left to Mains of Glenderby then follow track east through Kindrogan Wood. Exit plantation at metal gate by information board and continue 750m east to path crossroads. Go straight ahead to wooden gate.
8. Continue ahead to next junction and go right, descending track through lodges.
9. Follow minor road down to Kirkmichael.
INFORMATION
Distance: 12km/7½ miles
Ascent: 300m/990ft
Time: 3-4 hours
Grading: Moderate route following tracks and paths through woodland and over moor with some sustained ascent. Some sections can be boggy underfoot. Keep dogs under close control to protect livestock and wildlife
Start/finish: Public car park opposite Kirkmichael Primary School (Grid ref: NO 079600)
Map: Ordnance Survey 1:50,000 Landranger sheet 53; Ordnance Survey 1:25,000 Explorer sheet OL52
Tourist Information: Blairgowrie iCentre, 26 Wellmeadow, Blairgowrie PH10 6AS (Tel 01250 872960)
Public transport: Stagecoach bus service 71 offers a link from Blairgowrie to Kirkmichael (no Sunday service)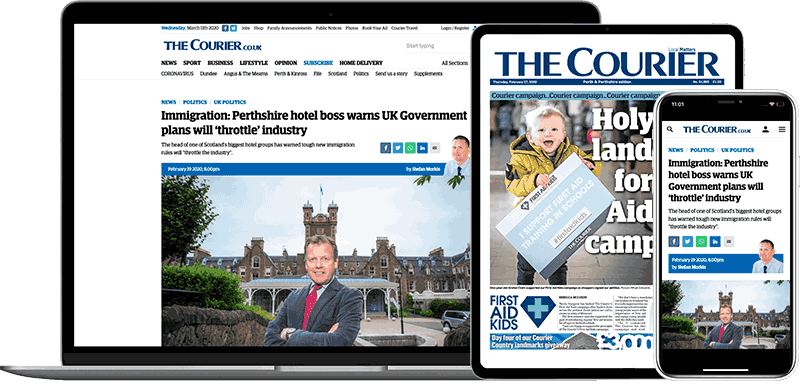 Help support quality local journalism … become a digital subscriber to The Courier
For as little as £5.99 a month you can access all of our content, including Premium articles.
Subscribe