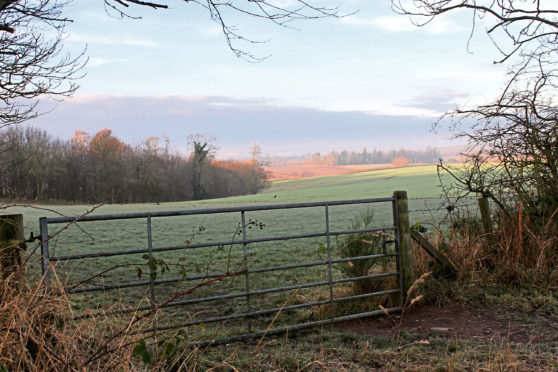 Regular readers of Take a Hike will be aware of my fascination with the histories of old paths, whether they be former drove roads through the glens, coffin roads linking scattered communities to their kirks or military routes built to quell uprisings in the Highlands.
One of the more unusual ones I recently came across, however, is the Milkboys' Walk, a path on the outskirts of Perth which, according to local tradition, was used by lads carrying buckets of fresh milk down from the farms to customers in the city.
A short stretch of this whey way survives near Gannochy and to walk it I set off on foot from the nearby Quarrymill Woodland Park, where leafy trails follow Annaty Burn upstream towards Scone.
The village of Gannochy was established by philanthropist Arthur Kinmond Bell – better known as A K Bell, son of the founder of the famous Bell's whisky blend – to provide affordable accommodation for the city's artisan workers and, in 1937, he gifted the 27-acre woodland park to the people of Perth.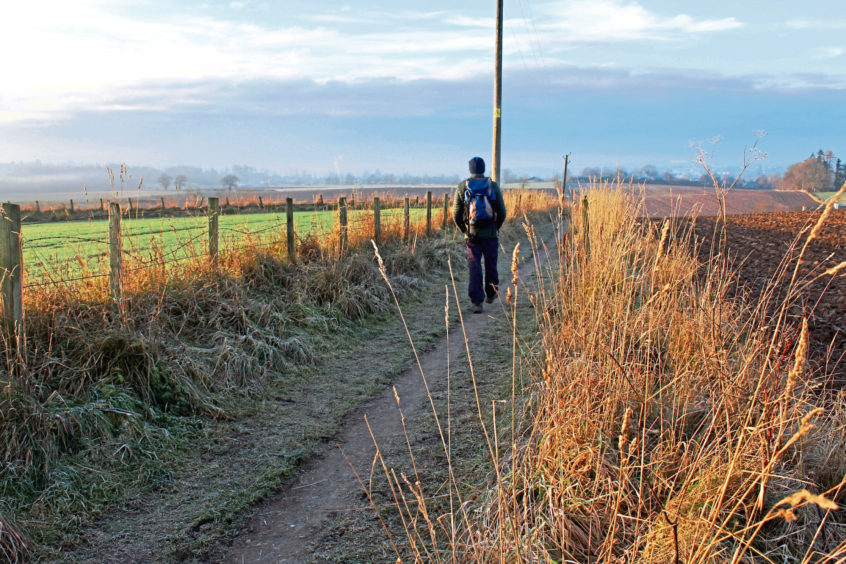 The den has a long history of industrial activity. In the 14th century stone for the construction of Scone Abbey was extracted here while in the 18th century both sandstone quarries and textile mills lined the banks of the burn.
Most of the old pits are either overgrown or have been landscaped and the mills are all gone and today this is a peaceful place to wander, the rich mix of tree and plant life a haven for birds such as woodpeckers and warblers, jays and buzzards, and mammals like roe deer, squirrels and stoats.
Following the stream up to an old mill pond, I left the den but stuck with the burn, its slender channel leading me past Scone Wood and on through fields to Scone Old Parish Church and the town beyond.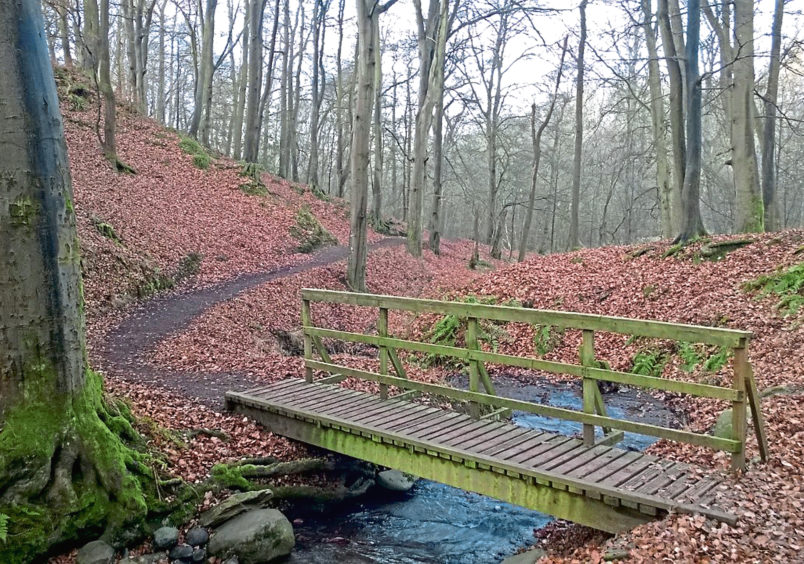 Across busy Perth Road, I picked up Den Road, access to Den of Scone, where I met up with Annaty Burn once again, the track meandering upstream past a playpark and scattered houses to a footbridge spanning the flow.
Bidding the burn farewell here, the way weaves through mature beech trees, accompanying a tiny tributary to the road above, then on past the entrance to Bonhard House and up through another band of woodland to a higher highway.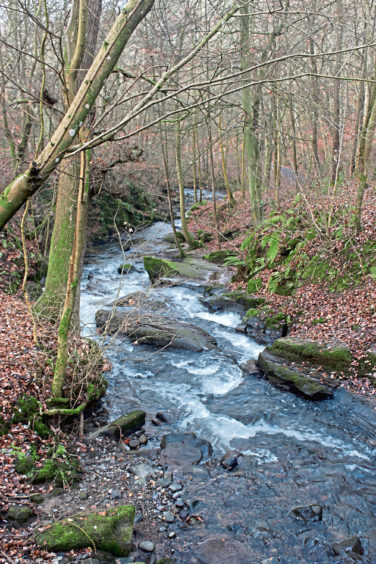 Emerging from the trees on to the lower slopes of the Sidlaw Hills, some fine views over Perth and the surrounding countryside greeted me as I turned west, hiking the lane briefly before a track and then grassy path guided me past Parkfield Farm and down to a cottage at Mayfield.
Swinging left, this is where I joined Milkboys' Walk, a sign and information board helping to preserve the heritage of this well-trod old route.
Aiding the passage of the young farm workers, the path dips between fields to cross Langley Burn before rising gently to Gannochy from where they would have wandered with their pals and their pails down through Bridgend and across Perth Bridge.
Bell's affordable housing vision is expanding with construction underway on the next generation of properties at Gannochy, but I cut through the quiet grassy crescent at the heart of his original model village of 149 red sandstone houses, built in the 1920s, en route from the milky way back to his other legacy at Quarrymill.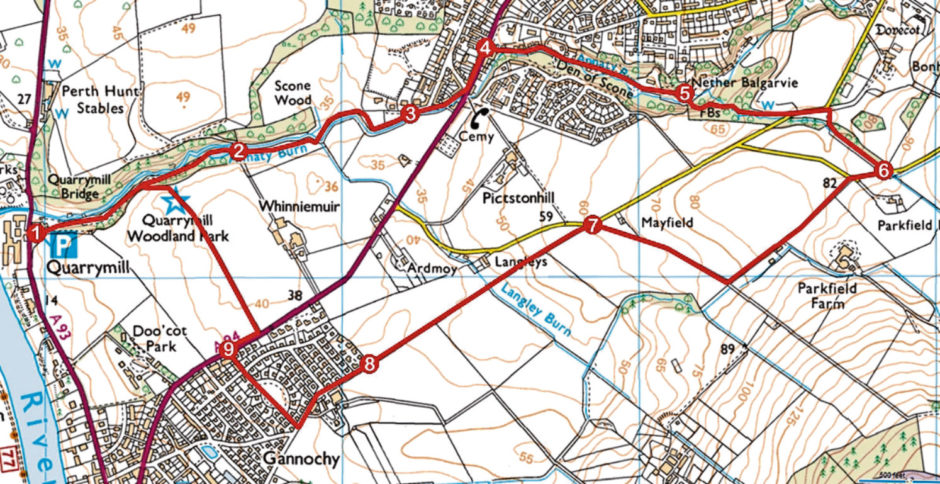 ROUTE
1. Pass to right of café and follow path up righthand side of Annaty Burn.
2. Pass pond to junction and continue straight ahead, following path by Annaty Burn to Scone.
3. Follow Burnside to Perth Road, cross and go left for 160m.
4. Turn right along Den Road and follow track through Den of Scone.
5. Approaching private grounds, turn right over bridge (signed MacDuff's Monument) and ascend path over second bridge, bearing right up to road. Go left for 100m along road then right on footpath, ascending to road.
6. Turn right and walk 120m along road then continue ahead on track to house then path, turning right at next junction to Mayfield.
7. Turn left and follow Milkboys' Walk to Gannochy.
8. Continue ahead along Gannochy Road then go right along Gannochy Green and Pedwarden Road to meet A94.
9. Cross at lights, go right for 140m then turn left (signed Quarrymill Woodland Park).
INFORMATION:
Distance: 7.2km/4½ miles
Ascent: 100m/330ft
Time: 2 hours
Grading: Easy, low level route following good tracks and paths through woodland and across farmland with some ascent. Stout footwear recommended
Start/finish: Quarrymill Woodland Park car park, 1.3km north of Perth Bridge on A93 (Grid ref: NO 120252)
Map: Ordnance Survey 1:50,000 Landranger sheet 58; Ordnance Survey 1:25,000 Explorer sheet 369
Tourist Information: Perth iCentre, 45 High Street, Perth PH1 5TJ (Tel 01738 450600)
Public transport: Stagecoach bus services 3 and 58 from centre of Perth stop at Quarrymill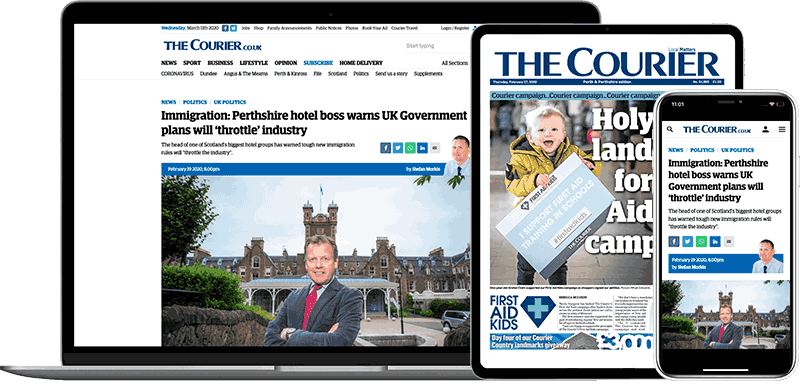 Help support quality local journalism … become a digital subscriber to The Courier
For as little as £5.99 a month you can access all of our content, including Premium articles.
Subscribe