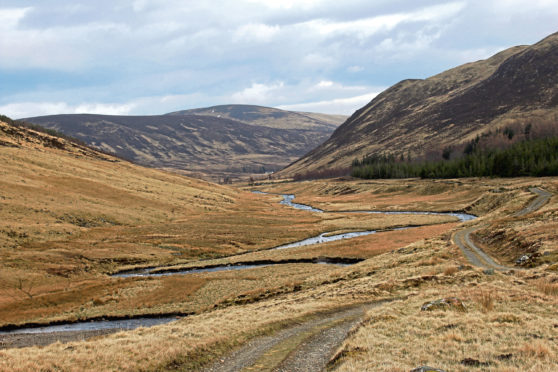 Bessie's Cairn in Glen Isla is a stout little landmark tucked away in one of the remotest corners of Angus.
Built in 1852 to honour Lady Elizabeth Londonderry, the pyramidal pile of stone has seats on all sides, the perfect place to sit amid a mountain landscape that is as beautiful as it is dramatic.
Lady Elizabeth was a frequent visitor to Tulchan Estate, where she enjoyed hunting stags in the secluded valleys of Caenlochan Glen and Canness Glen, seldom visited spots branching left and right respectively at the top of Glen Isla.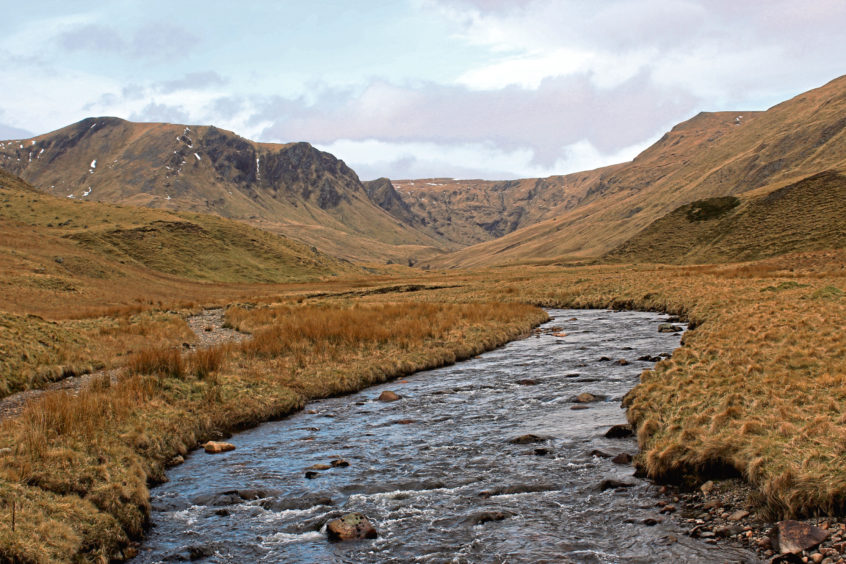 She was also an enthusiastic photographer and was doubtless inspired by the spectacular scenery that greeted her here. With my camera packed, I set off from a small riverside parking area at Auchavan, at the end of the valley road.
Where the modern-day tarmac ends, the ancient Monega Road continues, following the youthfully exuberant River Isla upstream to Tulchan Lodge.
The Monega Road is the highest of the old Mounth Roads linking Angus with Aberdeenshire and, crossing a mountain plateau, it was a challenging traverse for early travellers, particularly in winter.
Popular with cattle drovers seeking an alternative to the steep Devil's Elbow between Glen Shee and Braemar, it slowly fell out of use as the lower level Tolmounth Road between Clova and Braemar gained favour.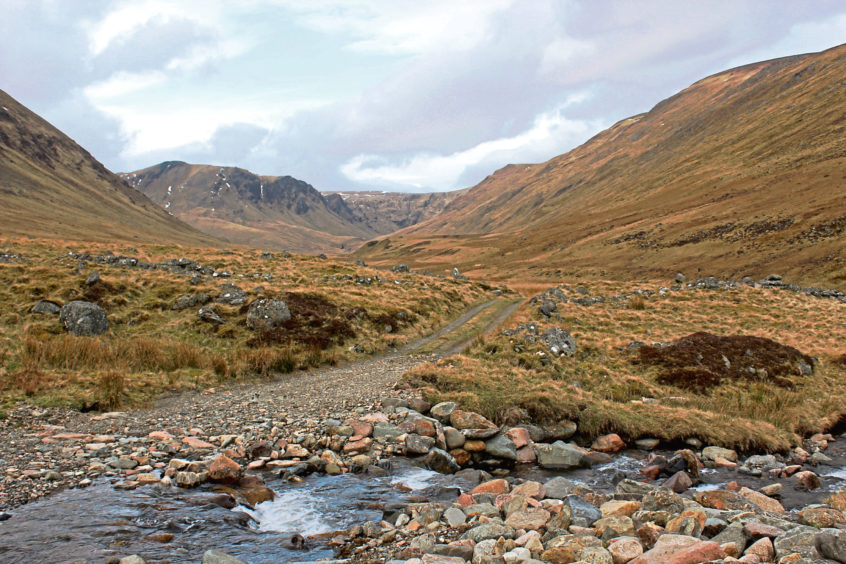 Thereafter, the Monega garnered a reputation for smuggling and cattle rustling and I wondered if Spying Hillock, above Tulchan Lodge, may have been a place where the authorities kept a watchful eye over traffic, or a vantage point for thieves preying on cattle farmers.
Crossing Glenbrightly Burn, the old road passes the lodge gates, woodland beyond largely concealing the two-storey Victorian shooting lodge which, built in 1870 and refurbished in the 1990s, sits at the heart of a traditional 15,000-acre sporting estate.
A sign for Monega by the gateposts points the way ahead and I hiked on up the glen, skirting below forestry to reach another sign, an older metal one just beyond the end of the plantation.
Here the Monega Road branches left, climbing over Monega Hill and Glas Maol before descending into Glen Clunie.
I stuck to the valley floor, the track remaining faithful to the meandering River Isla as it dipped to ford Glas Burn before pushing on up the glen, the way crossing reedy grassland below the long spine of Monega Hill.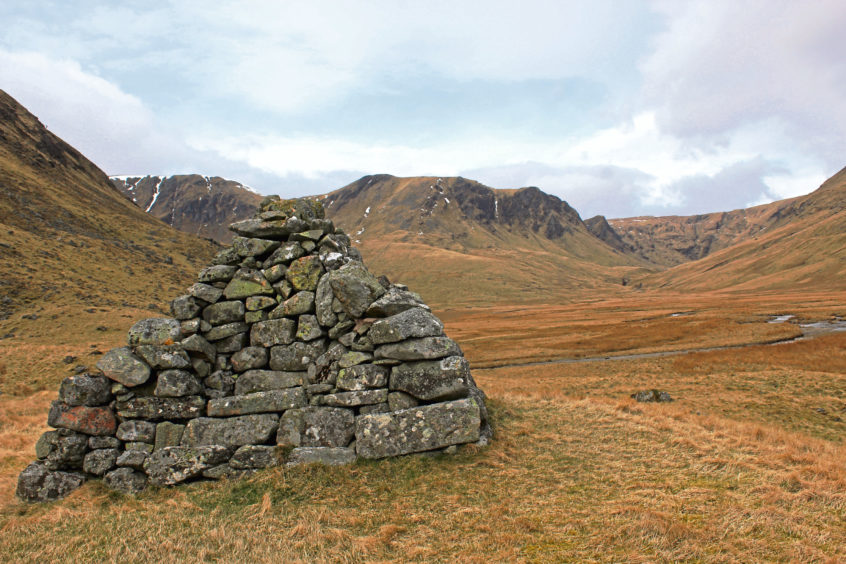 Arriving at Bessie's Cairn – where the name is engraved into a lichen-encrusted block of pink granite – I was ready for refreshment and it really is an ideal spot for sandwiches, once you have selected which side of the pyramid you want to sit on.
Guided by the prevailing wind, I savoured the shelter of the south side as I bit into my ham and pickle butties and gazed down the glen towards the bulky dome of Monamenach.
I could not, however, resist switching sides, drawn by the view north towards the craggy, vertiginous slopes of Druim Mor and, to the right, Canness Glen, where slender tails of white-water cascade over bare rock into the coire, the hidden hollow a haven for herds of red deer.
Largely concealed from this vantage point, Caenlochan Glen lurks to the left, a deep cleft carved into the eastern flank of Glas Maol where rare mosses, lichens and alpine plants grow.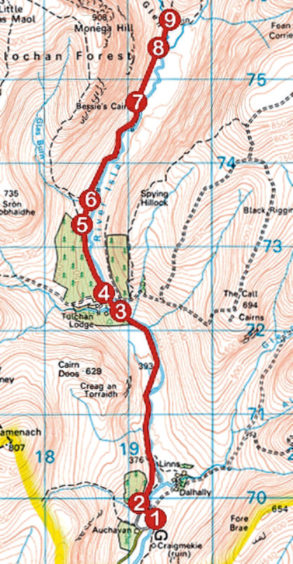 ROUTE
1. Passing but not crossing bridge spanning River Isla, bear left (signed Public footpath by Monega Hill to Braemar) up grassy bank on path skirting edge of woodland to meet track.
2. Turn right and follow track through woodland then north through Glen Isla to Tulchan Lodge.
3. Ignore track branching right, cross bridge spanning Glenbrightly Burn and continue to lodge gates.
4. Bear right (signed Monega Path) and follow track to junction. Ignore track branching left and continue ahead.
5. Where Monega Path branches left at signpost, continue ahead on track, dipping to Glas Burn.
6. Cross burn and continue north on track to Bessie's Cairn.
7. Continue north along track.
8. Where main track curves right to ford stream, branch left on initially grassy track leading north to ruined steading at top of glen.
9. Retrace steps to Auchavan.
INFORMATION
Distance: 13.6km/8½ miles
Ascent: 240m/790ft
Time: 4 hours
Grading: Moderately easy, low-level, there-and-back route following good track through remote glen. Keep dogs under close control to protect wildlife and game birds
Start/finish: Parking area by River Isla at Auchavan, 10km north of Kirkton of Glenisla, at end of public road (Grid ref: NO 192698)
Map: Ordnance Survey 1:50,000 Landranger sheet 43; Ordnance Survey 1:25,000 Explorer sheet OL52
Tourist Information: Dundee iCentre, 16 City Square, Dundee DD1 3BG (Tel 01382 527527)
Public transport: None