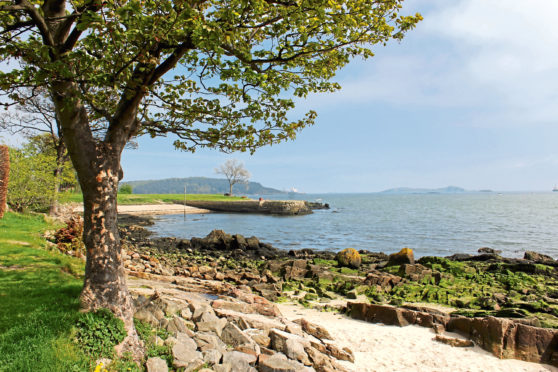 Dalgety Bay may not offer the shimmering silver sands of its near neighbour Aberdour, but it does boast quite a diverse stretch of coastline complete with quiet sandy coves, high cliffs, wee harbours and an ancient kirk.
Combine this seafront stroll and its views of the Forth bridges and the island of Inchcolm with a wander inland through leafy Fordell Glen and an ascent of Letham Hill and you have an even more varied outing.
Located on the northern edge of town, Dalgety Bay Railway Station, with its adjacent car park, is an ideal starting point for the loop and, from here, I set off west, following Clockluine Road out past the village of Hillend, over the railway and on towards Fordell Glen.
A path runs parallel with the road, dipping to cross Mill Lade and then Keithing Burn, after which I branched right, crossing the road to enter the forest, a path rising through the trees from an informal parking area.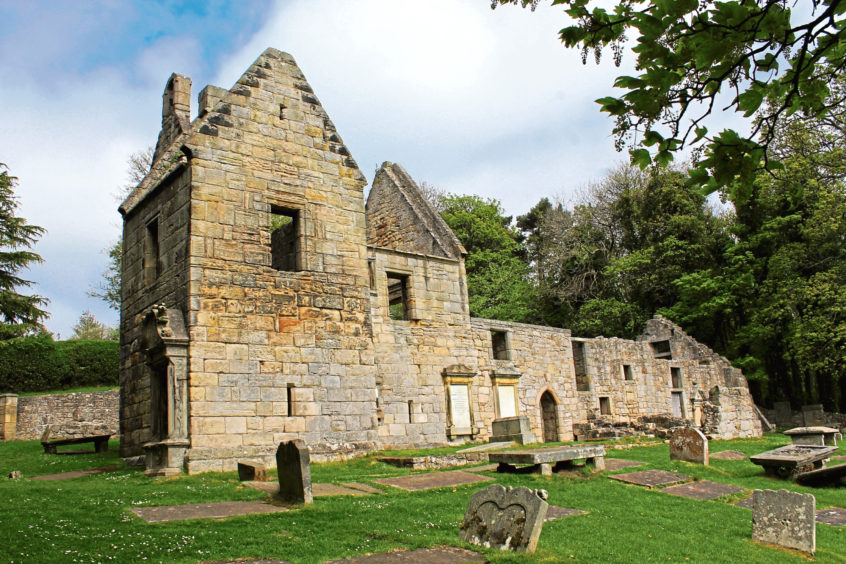 Staying on the main trail, the way curves left up through mature deciduous woodland, past banks of wildflowers and bluebells, before crossing an old stone bridge spanning Fordell Burn, which is largely concealed by trees, rhododendrons and undergrowth.
Looping up past a leafy ravine on the left, the way turns east, leaving the plantation beyond a track crossroads and descending past pony paddocks and Kirkford Plantation to South Lodge Farm.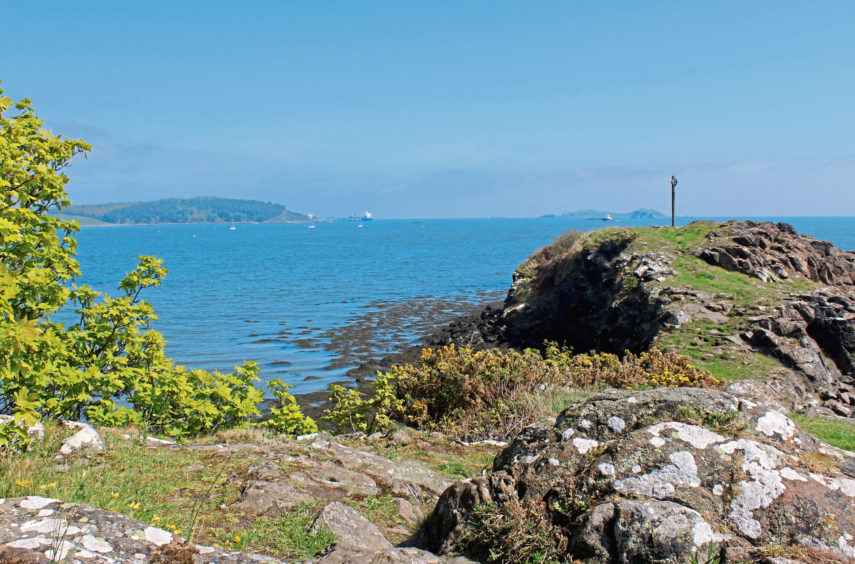 Crossing the railway and then road, a brief stint of urban tramping took me through Hillend Industrial Estate and on to Cornerstone Church, which sits on the edge of town. Now a gospel church, the former Dalgety Parish Church was built in 1830 to replace St Bridget's Kirk, my next port of call and the point where I would begin my coastal odyssey.
Climbing past Barns Farm, a straight road links the pair and, descending towards the Firth of Forth, I paused briefly to explore the ruins of St Bridget's Kirk, built in 1170 and linked to Inchcolm Abbey, a couple of miles offshore, and its ancient tombstones.
The church and graveyard enjoy a fine waterfront setting and it is tempting to sit awhile here and enjoy the outlook across the estuary before wandering west through Crowhill Wood and around Dalgety Bay on the Fife Coastal Path.
The waymarked trail weaves through woodland and residential streets to Donibristle Bay, with its old harbour pier and slivers of white sand, and then Downing Point, a short detour out on to the rocky promontory rewarded with views of the Forth bridges, to the west, and Braefoot Point and Incholm, to the east.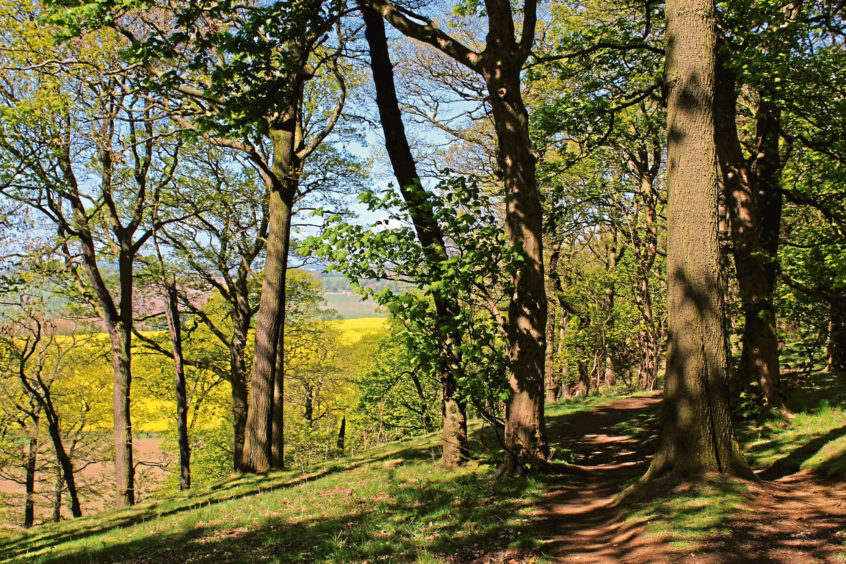 Dipping through peaceful Hopeward Wood, the way rises on to the cliff-top before rounding Hopeward Point to St David's Harbour where new houses and apartments are springing up around the ancient haven.
Negotiating a path through the development and passing the derelict shell of Seafield House, I skirted above the bay beyond before leaving the coastline to climb Letham Hill.
A signed path ascends steps to an area of grassland above a disused quarry where the way curves right, rising over the wooded spine of this slender wee peak. It is a wonderfully pleasant wander up through the trees, occasional gaps in the leafy branches and boughs affording views over farmland to the west, ahead of the looping descent to Hillend and Dalgety Bay Railway Station.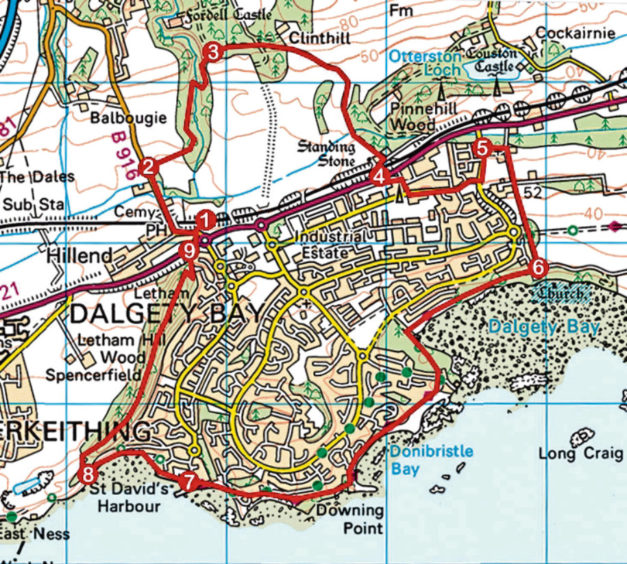 ROUTE
1. Walk west along B916, crossing bridge over railway, and follow parallel path 300m north.
2. Turn right, following path into and up Fordell Glen, curving right over stream before looping left up to junction.
3. Bear right, following track east. Exit woodland and continue to South Lodge Farm.
4. Cross A921, go left along parallel West Way to post box then go right up Central Way to meet Ridge Way. Go left along Ridge Way then left down Eastern Access Road.
5. Turn right (signed Cornerstone Church), passing church, then go right (signed St Bridget's Kirk) following surfaced track south to ruined kirk.
6. Follow Fife Coastal Path (FCP) west to St David's Harbour.
7. Continue ahead on FCP above bay, passing stone pillar.
8. Go right through break in wall (signed Letham Hill and Hillend) and ascend path north over Letham Hill.
9. Descend steps to meet A821 and bear right, crossing at roundabout, to return to station.
INFORMATION
Distance: 12km/7½ miles
Ascent: 200m/660ft
Time: 3-4 hours
Grading: Moderately easy low-level route following good tracks and paths through woodland, farmland and along coast with some prolonged inclines. Stout footwear recommended
Start/finish: Dalgety Bay Railway Station, Main Street, Dalgety Bay (Grid ref: NT 149841). Free parking
Map: Ordnance Survey 1:50,000 Landranger sheet 65; Ordnance Survey 1:25,000 Explorer sheet 350 or 367
Tourist Information: St Andrews iCentre, 70 Market Street, St Andrews KY16 9NU (Tel 01334 472021)
Public transport: Dalgety Bay Railway Station, on the Fife Circle line, or Stagecoach bus services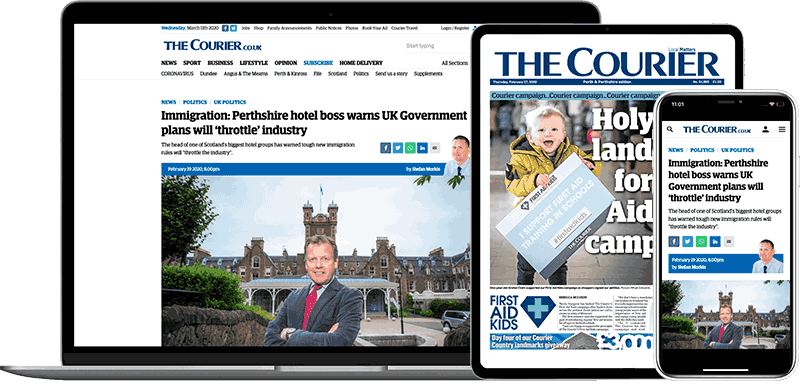 Help support quality local journalism … become a digital subscriber to The Courier
For as little as £5.99 a month you can access all of our content, including Premium articles.
Subscribe