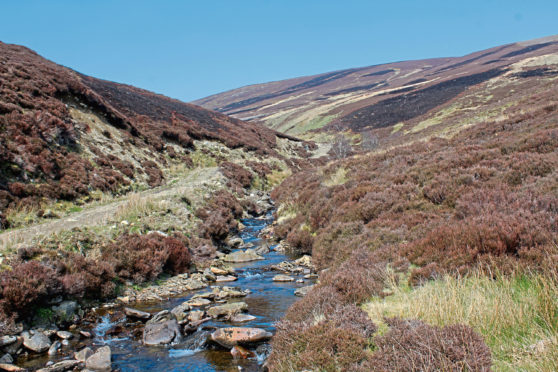 Running west from 18th century Newton Bridge, in the Sma' Glen, near Amulree, to Ardtalnaig, above the shoreline of Loch Tay, the right of way through Glen Almond offers a long but pleasurable valley hike, part of the route now incorporated into the long-distance Rob Roy Way.
The linear trail also provides access to a variety of peaks along the way, including Auchnafree Hill, a Corbett, the Munro of Ben Chonzie and, my target for the day, Beinn na Gainimh.
For those who like their hill lists, Beinn na Gainimh is a Graham, a classification covering Scottish peaks between 2000 and 2500 feet in height, with at least 150 metres of descent on all sides.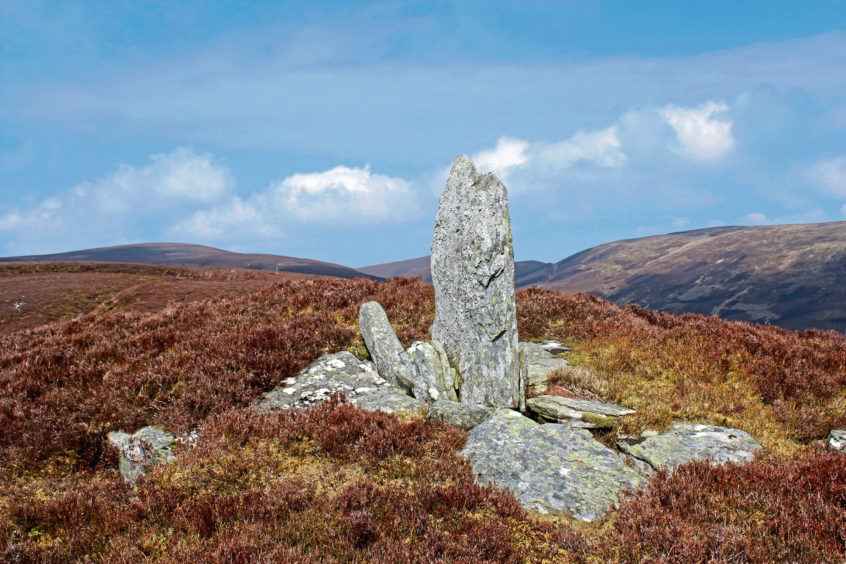 Beinn na Gainimh rises to the north of Glen Almond and, after a fairly flat valley approach, gaining the summit entails a steep climb, initially by track, over neighbouring Sron Bealaidh before descending by grouse butts and Coire Henzie.
With that in mind, crossing Newton Bridge, built in 1730 to carry General George Wade's military road north from Crieff to Aberfeldy over the River Almond, I savoured the first few flat miles, ambling west alongside the tree-lined river.
All too soon, however, the time came to tackle the gradient, the track rising steeply by a band of mixed woodland cloaking Henzie Burn, up the southern shoulder of Sron Bealaidh.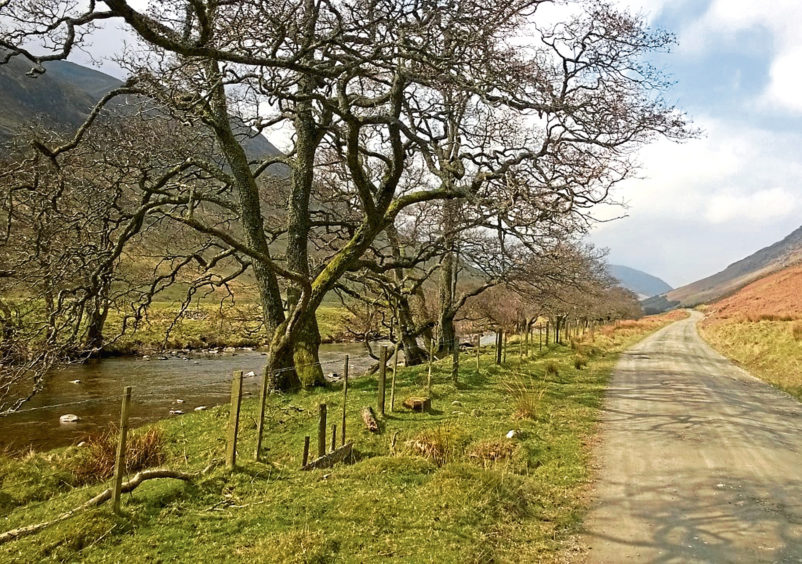 Beyond a gate by the top of the plantation, the incline eased a little, but the ascent continued unabated until finally the gravel road reached its highest point, where I was more than ready to pause for a breather and rest weary legs.
Here, by a small quarried out layby, I branched left off the track, a rough trail snaking up through the heather by a line of grouse butts on to the ridge above, the conical outcrop to the south – Conichan Castle – crowned with a standing stone.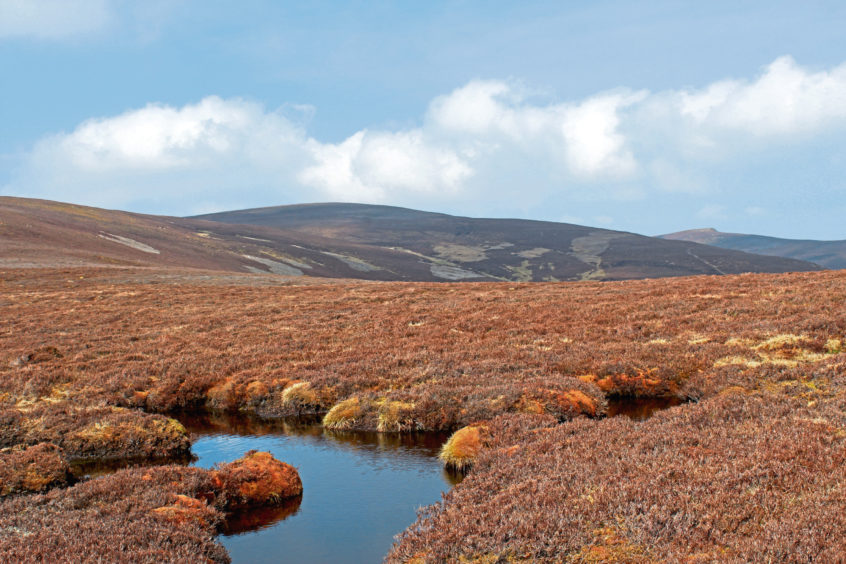 Picking up a slender path, I wandered up the broad southern spur of Sron Bealaidh, the walking now easier, the elevated highway blessed with vistas west over Glen Almond and south towards Auchnafree Hill and Ben Chonzie.
With mountain hare darting back and forth across the hillside and the occasional grouse flaring up from the heather, I negotiated peat hags higher up the slope before meeting up with a fence line which passes over the unmarked summit of Sron Bealaidh before curving right towards Beinn na Gainimh.
I stayed with the fence over the shallow col, past a wee pool, the crags of Meall nam Fuaran in view to the north across the deep defile of Glen Lochan, before leaving the wire where it branched left to find my own way to the summit, marked by a small cairn.
Descending the south-eastern flank of Beinn na Gainimh to a prominent cairn, a rough and ready set of all-terrain vehicle tracks led me steeply down a line of grouse butts and across Henzie Burn to join a more substantial gravel road following the water downstream.
The track dips to a small dam where the foundations of a former estate hut sit opposite a rather more basic shelter for grouse shooters.
My focus, however, was on the incline ahead, and, after fording the stream, I prepared myself for another sharp climb before finally enjoying the descent into Glen Almond and the leisurely hike back to Newton Bridge.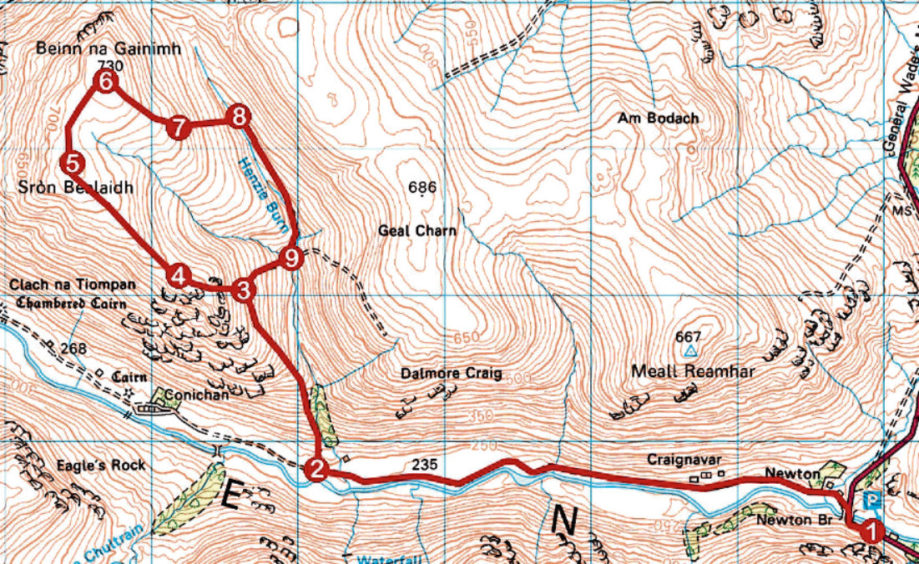 ROUTE
1. Cross Newton Bridge, go left through gateway and walk 4km west along valley track.
2. Turn right and ascend track skirting edge of woodland north. Go through gate above plantation and continue up to highest point of track.
3. Branch left off track and ascend rough path on to ridge.
4. Bear right along slim trail, ascending broad shoulder to unmarked summit of Sron Bealaidh.
5. Continue by fence line north across col. Where fence breaks left, continue up slope to summit of Beinn na Gainimh.
6. Descend south-east shoulder to cairn at top of line of grouse butts
7. Bear left, descending by grouse butts. Cross Henzie Burn to join track at turning circle.
8. Follow track south, descending to track junction by dam.
9. Cross stream and ascend track to point 3. Retrace steps from there to Newton Bridge.
INFORMATION
Distance: 16km/10miles
Ascent: 730m/2400ft
Time: 5 hours
Grading: A challenging upland hike with some strenuous steep and ascent, the route follows valley tracks and hill paths, indistinct in parts, over exposed grouse moor. Suitable for fit, experienced hillwalkers. Keep dogs under close control to protect livestock and ground nesting birds
Start/finish: Newton Bridge, Glen Almond, on A822, 6km south of Amulree (Grid ref: NN 888314). Layby parking to east of bridge
Map: Ordnance Survey 1:50,000 Landranger sheet 52; Ordnance Survey 1:25,000 Explorer sheet 379
Tourist Information: Perth iCentre, 45 High Street, Perth PH1 5TJ (Tel 01738 450600)
Public transport: None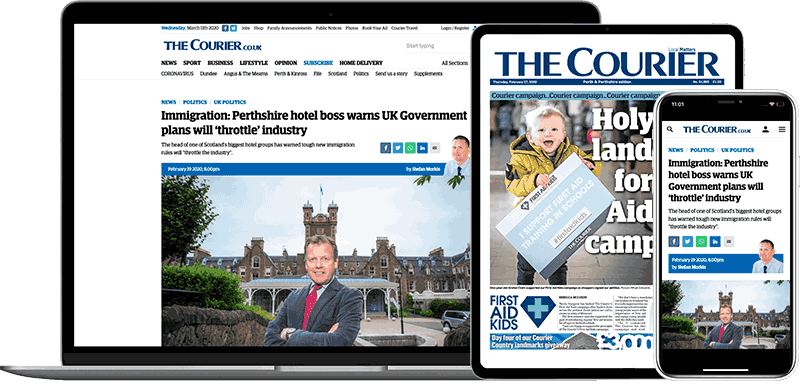 Help support quality local journalism … become a digital subscriber to The Courier
For as little as £5.99 a month you can access all of our content, including Premium articles.
Subscribe