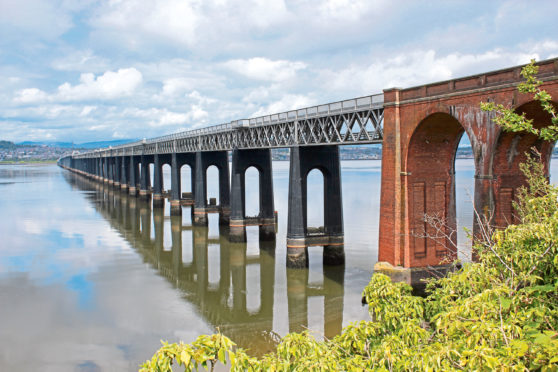 This year marks the 140th anniversary of the collapse of the first Tay railway bridge, which, for a brief period, carried trains across the estuary from Wormit, in Fife, to Dundee, before succumbing to the ravages of a winter storm.
Opened on June 1, 1878, to great engineering acclaim, the crossing was almost two miles in length and, at the time, was the longest bridge in the world. It took seven years to construct but just minutes to fall, the high central spans tumbling away below the trundling wheels of a passenger train on the night of December 28, 1879.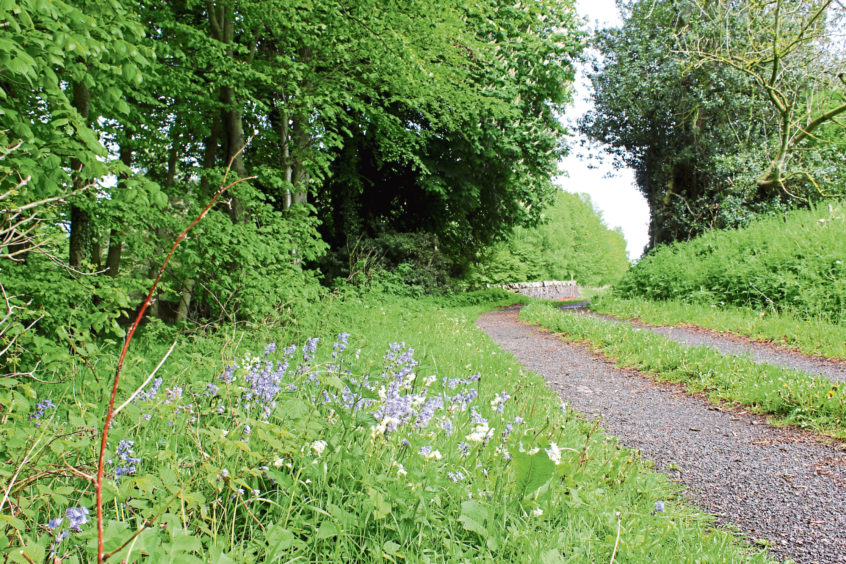 On June 20, 1887, a second, sturdier, bridge opened, a structure that has stood the test of time. It is a landmark that dominates this walk from the outset with Wormit Hill offering elevated views over the river and the historic metal spans.
Pulling my boots on in the shadow of the bridge, I made a brief detour to visit a granite memorial to the 75 passengers and crew who died in the disaster (located at the far end of the gravel promenade and parking area overlooking Wormit Bay) before heading off.
A grassy track skirts the edge of a field then a small pond to reach a wooden stile beyond which a path climbs towards the railway line, passing under the permanent way to Naughton Road.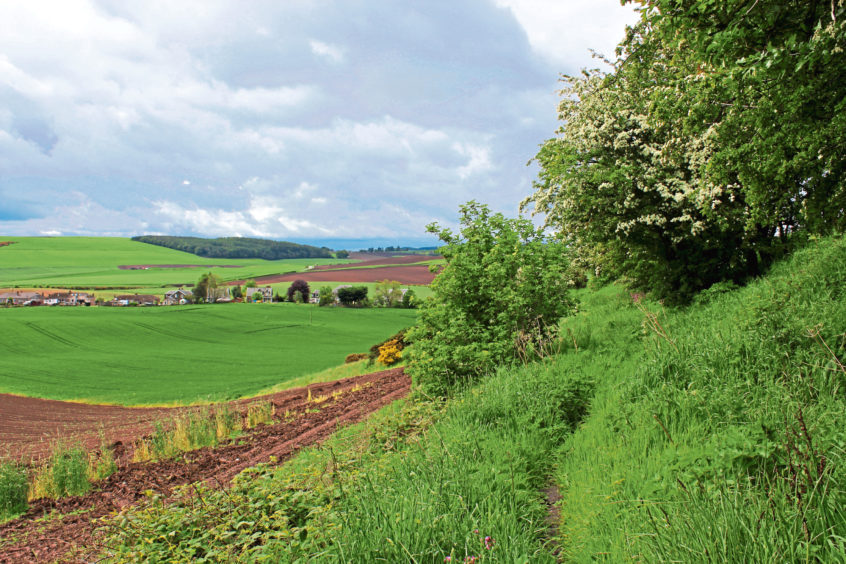 Across the road, a little to the left, a short stretch of track leads past a haulage yard to the start of a grassy and, at times, slightly overgrown, path rising gently towards fields above, a footpath sign further on keeping walkers on the correct course.
Beyond a metal gate, the way passes through a break in a wall before running along the lower edge of a field. Swing left up the far side of the field and, ignoring the first waymarker arrows encountered, continue to the next marker post and bear right through a sliver of trees to meet a track.
This curves east towards St Fort Home Farm where, approaching the steading, I branched left, a track mounting the shoulder of St Fort Hill, to reveal views over the Tay to Dundee.
Turning west along the edge of woodland where cattle grazed amongst the trees, a grassy path then track led me alongside and through a band of forestry, up on to the exposed grassy top of Wormit Hill.
At just 99 metres in height, it is by no means a lofty peak but, rising from the banks of the river, it enjoys a wonderful outlook over the estuary towards the distant summits of the Sidlaw Hills.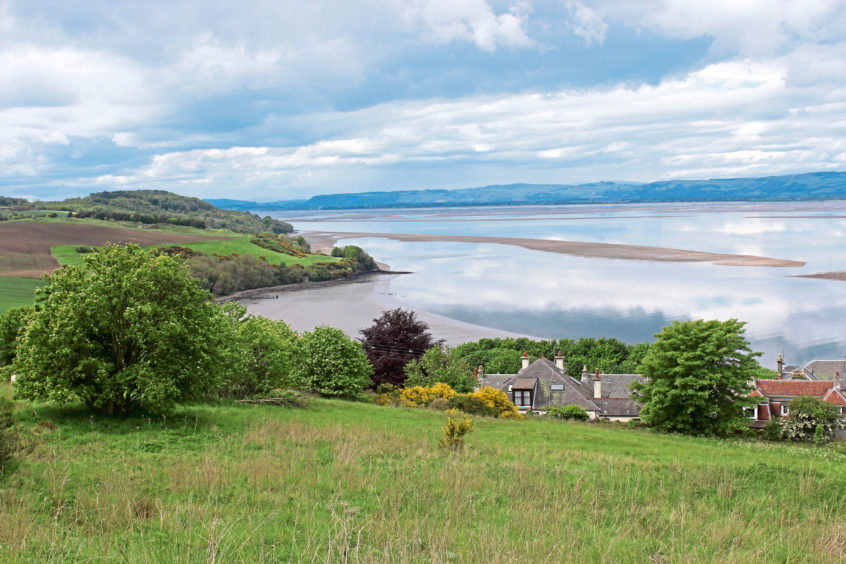 A path roams west, running alongside a boundary wall separating the cultivated southern flank of the hill from the grassy northern slope and, with the railway bridge in clear view below me, I descended towards Wormit.
Approaching the southern end of the crossing, at the entrance to Bridgehead Place, there is an information board with details about the disaster, which remains to this day one of the worst structural engineering failures in Britain.
From Bridgehead Place, a path and steps lead down to Bay Road where, passing under solid brick arches at the bridge's landfall, I wandered back down to Wormit Bay, pausing briefly to admire this wonder of Victorian engineering and ponder the fate of its predecessor.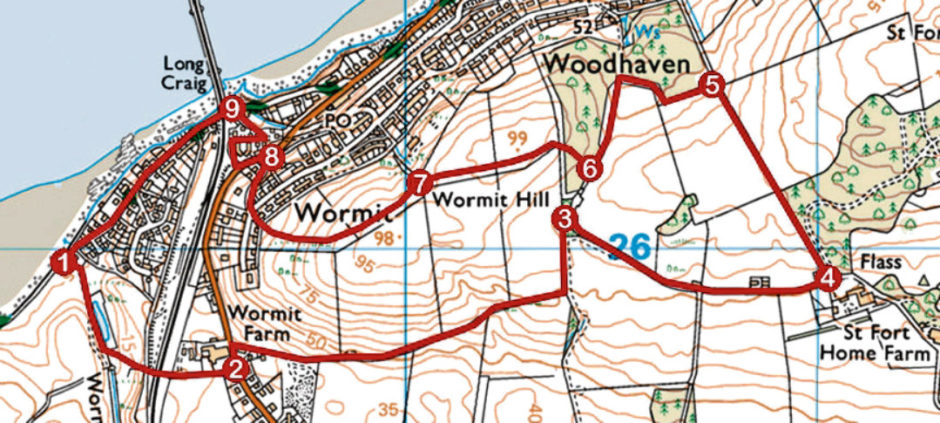 ROUTE
1. Take path south (signed Gauldry) along edge of pond to stile. Cross and ascend path, passing under railway, then track to Naughton Road.
2. Cross, go left along Naughton Road for 100m, then right along track (signed St Fort). Bear left at marker post up footpath then along field edge to waymarked junction.
3. Go right through trees then right again on track to St Fort Home Farm.
4. Turn left by cottage, following track 600m north-west.
5. Go left along southern edge of plantation, pass through gate and turn left up grassy path.
6. Go right on track through woodland, fork right then go left following path west over Wormit Hill, dipping to junction.
7. Bear left up grassy track and continue along upper edge of grassland before curving right, down to electricity box. Descend road to 20mph sign then go right down Mount Stewart Road to Naughton Road.
8. Go left, along Naughton Road, then right along Bridgehead Place to turning circle. Branch left down path to Bay Road.
9. Turn left and descend Bay Road to Wormit Bay.
INFORMATION
Distance: 6km/3¾ miles
Ascent: 150m/495ft
Time: 2 hours
Grading: Easy route following tracks, paths and minor roads with some well graded ascent. Stout footwear recommended
Start/finish: Wormit Bay Car Park, at the foot of Bay Road, Wormit (Grid ref: NO 392259)
Map: Ordnance Survey 1:50,000 Landranger sheet 54 or 59; Ordnance Survey 1:25,000 Explorer sheet 371
Tourist Information: St Andrews iCentre, 70 Market Street, St Andrews KY16 9NU (Tel 01334 472021)
Public transport: Stagecoach bus service 77 links Dundee and Wormit and Moffat & Williamson bus service 92 runs from St Andrews to Wormit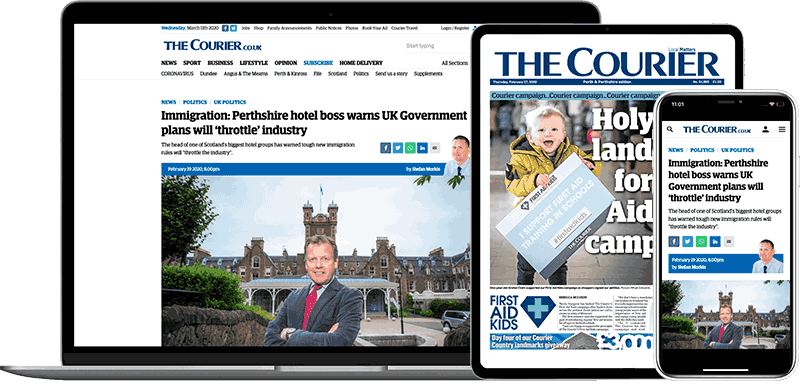 Help support quality local journalism … become a digital subscriber to The Courier
For as little as £5.99 a month you can access all of our content, including Premium articles.
Subscribe