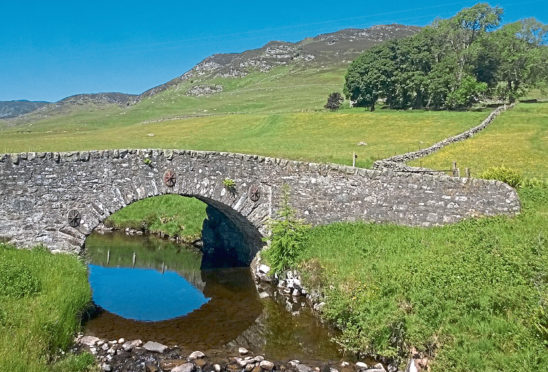 The hike through Glen Brerachan to Brerachan Falls is a short one and, while not necessarily a destination for a day out in its own right, combines well with a drive through this beautiful valley.
Branching off the main A93 at Bridge of Cally, north of Blairgowrie, the A924 snakes up through Strathardle, visiting the hamlets of Kirkmichael, Enochdhu and Straloch before narrowing as it swings west into remote Glen Brerachan en route to Pitlochry.
It is one of Highland Perthshire's most scenic and most popular road trips while the falls, tucked away below Brerachan Wood, are less well known but offer a fine excuse to pull over by the old bridge at Dalnavaid, don boots and spend a couple of hours wandering through this sparsely populated corner of the countryside.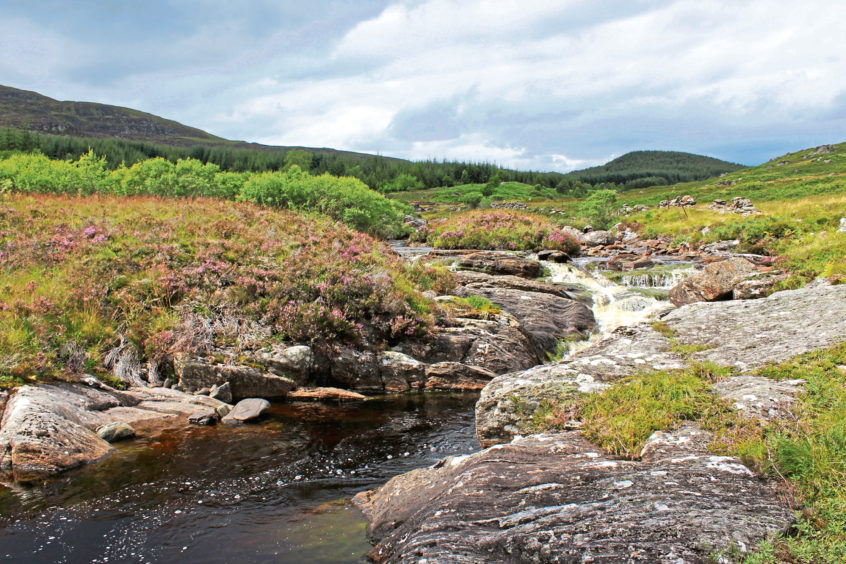 There is a small roadside parking area just east of the single-arch stone crossing, designed by civil engineer Thomas Telford, built in the 1820s and subsequently bypassed by a more utilitarian structure.
The trail to the tumbling cascades of white water begins at a metal gate at its northern end where a sign indicates the onward course. Optimistically, it suggests the falls are just 800 metres away, but double this figure for a more accurate distance.
Climbing from the river over a grassy meadow, the route skirts below abandoned Stronhayie Farm, the forlorn and derelict cottage flanked by old oak trees and the nettle-infested ruins of collapsed outbuildings.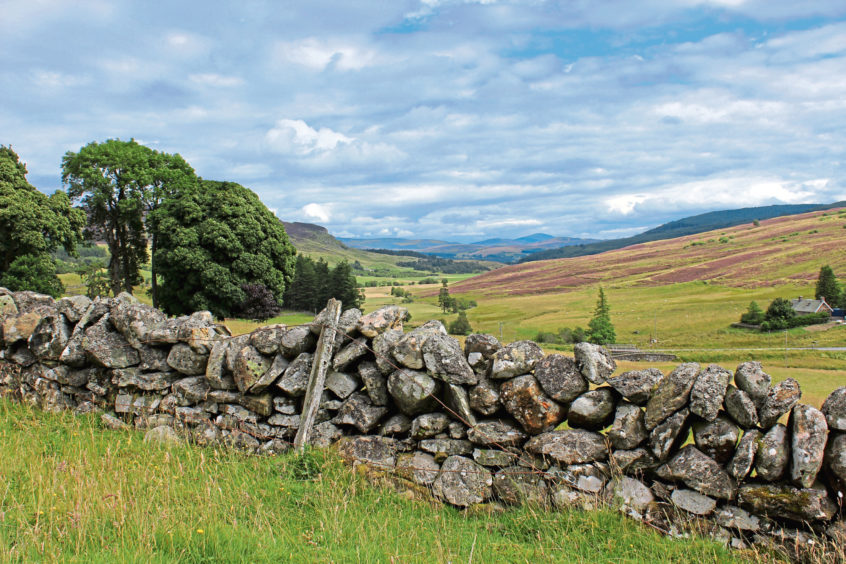 To the left of the farmstead, in the shadow of Stronhayie Craig, a track strikes west up the glen, crossing grassy pasture, swathes of buttercups beaming bright yellow under the beating sun when I visited.
Above me, on the rough moorland under the crags, I spotted red deer, their young inadvertently trapped below the fence line, preventing the herd from retreating into the hills.
Wandering from field to field, hoping they would figure a way out, I dipped below a row of mature trees to cross Balgholan Burn by a slightly out of kilter footbridge below sheep pens before progressing towards a tumbledown stone enclosure.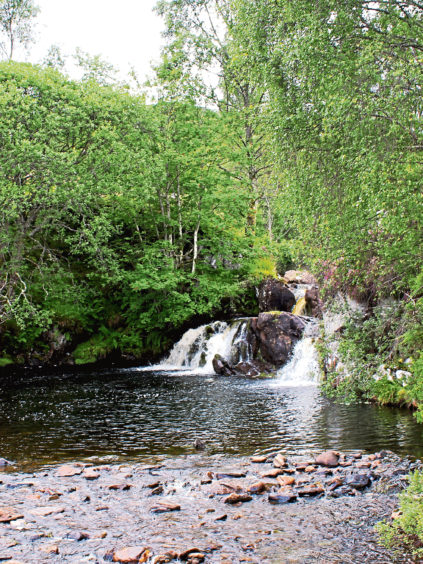 The Brerachan Water, meandering peacefully through the valley at this point, keeps its cards close to its chest, no hint yet as to what lies upstream. But, veering towards its silky-smooth flow, I soon encountered the first of the falls.
Sheltered by leafy boughs, the river skips down a rocky staircase into a broad, glistening pool and, across a line of makeshift stepping-stones, the flat grassy bank is a great spot for a picnic.
Resisting the temptation to kick off my boots and socks just yet, I hiked upstream, a reasonable enough line cutting through the vegetation, although the terrain it is little rough in places.
Climbing past a succession of waterfalls and pools, the ground soon flattens out, the river rolling lazily over broad slabs as I approached an old timber bridge slung across the channel. This affords access to Brerachan Wood, a broad clearing ascending to the main forest track, and offers a fine view south across the glen to Dalnacarn Craig and Blath Bhalg.
However, with the sun beating down on my sweaty scalp, I retreated to the lowest pool and, stepping gingerly out from the mid-point of the stepping-stones, where a band of gravel was firmer underfoot than the slippery submerged rocks, took a refreshing plunge.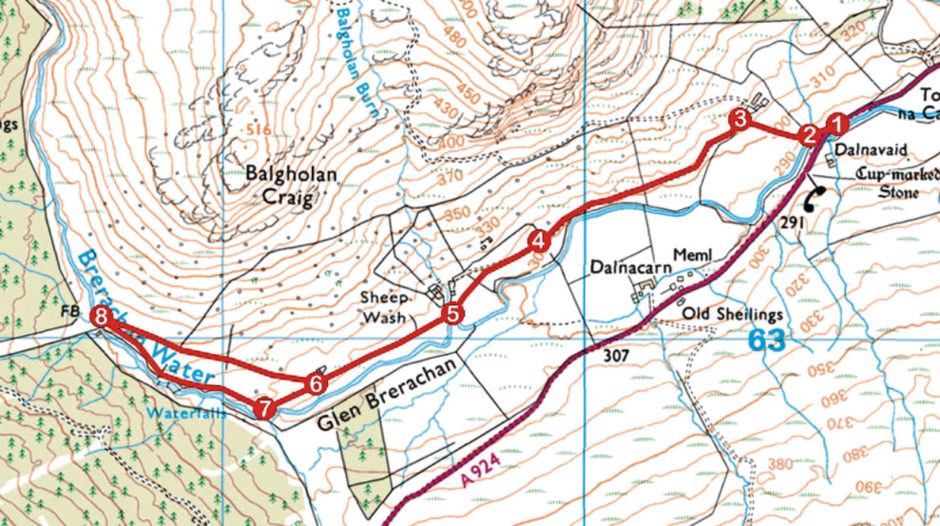 ROUTE
1. Walk west along A924 to bridge over Brerachan Water.
2. Bear right off road on to track leading to old bridge then branch right through gate (signed Brerachan Falls) and ascend grassy track to meet gravel track to left of derelict cottage.
3. Turn left and follow track west through fields.
4. Go through gate and cross field, bearing left of line of mature trees, to next gate.
5. Go through gate, cross bridge over stream below sheep pens and continue ahead on grassy track to old stone enclosure.
6. Bear left along grassy trail to Brerachan Water and the lowest of the falls.
7. Follow slender path upstream to wooden bridge.
8. Bear right, following line of ATV tracks back to stone enclosure and retrace steps back down glen.
INFORMATION
Distance: 5.25km/3¼ miles
Ascent: 120m/400ft
Time: 2 hours
Grading: Easy, low level route following track and path over pasture where sheep graze (keep dogs under close control). Stout footwear recommended
Start/finish: Roadside parking area on A924 just east of Telford's old bridge over Brerachan Water at Dalnavaid (Grid ref: NO 009637)
Map: Ordnance Survey 1:50,000 Landranger sheet 43; Ordnance Survey 1:25,000 Explorer sheet OL49 and OL52
Tourist Information: Pitlochry iCentre, 22 Atholl Road, Pitlochry PH16 5BX (Tel 01796 472215)
Public transport: None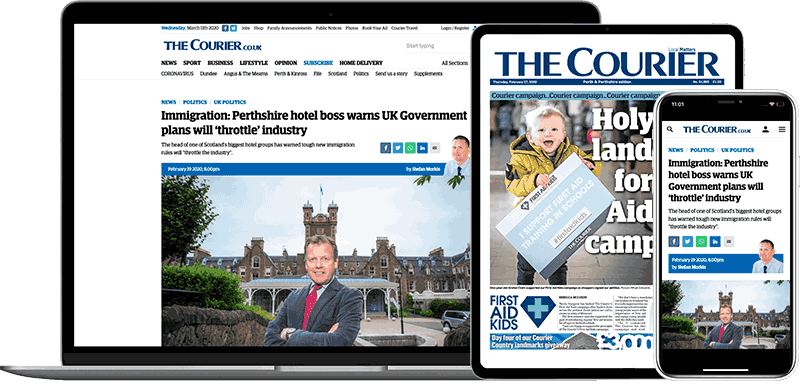 Help support quality local journalism … become a digital subscriber to The Courier
For as little as £5.99 a month you can access all of our content, including Premium articles.
Subscribe