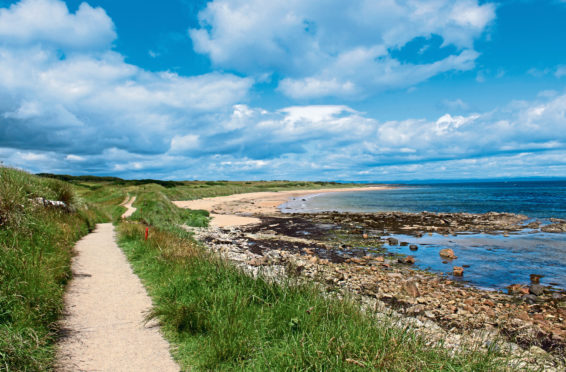 Sunshine drew me to the coastline for a wee wander along the eastern fringes of Fife and through the wooded policies of Cambo Country House & Estate, a short drive south from St Andrews.
My starting point – the village of Kingsbarns – has a fine sandy beach above which the Fife Coastal Path runs and, while sorely tempted to simply dally by the sea, I shouldered my pack and set off.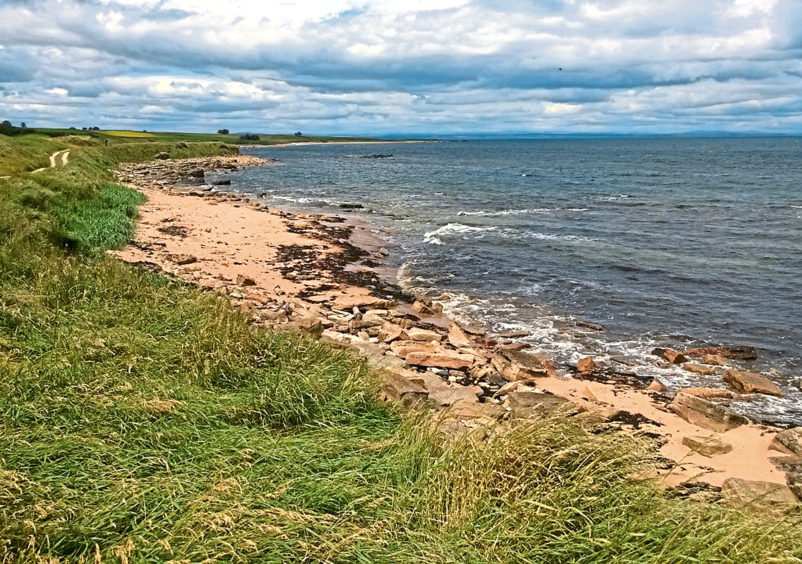 Cutting a line through the grass above the foreshore, the trail – path initially then sandy track – skirts below the neatly manicured fairways of Kingsbarns Golf Links, curving above the 15th hole at Cambo Ness and past a toilet block to reach the outflow of the Cambo Burn.
A pair of bridges span the estuary for those continuing south along the long-distance path, but I left it here and turned inland, following the Cambo Burn upstream through a delightfully tranquil woodland gorge, famed for its spring snowdrops.
Crossing the stream and ascending a set of steps, I wandered up the valley, the path running parallel to a wall on my left through mature broadleaves, the burn gurgling away in the cleft below.
Keep left and the way weaves on through a willow arch and then a doorway in a high wall before skirting alongside the wall, atop which there is a sculpture of a pair of young gymnasts, to another doorway.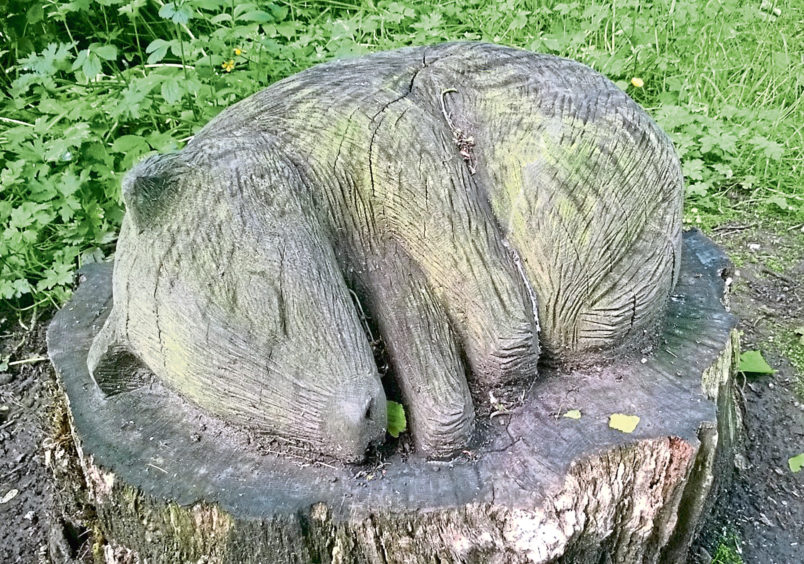 Beyond this second opening a path branches right over a footbridge into the gardens and grounds of 19th century Cambo House, where a restored stable block houses a café and shop.
The onward route bears left at this point, continuing upstream to the next footbridge where I crossed the Cambo Burn and progressed along the right bank, forking right where a path branches left to Kingsbarns Distillery and rising to meet the mansion's main driveway.
On the other side, I picked up the path again, branching left for Kingsbarns as the trail heads out towards a gate lodge before meandering through a band of woodland bordering the A917.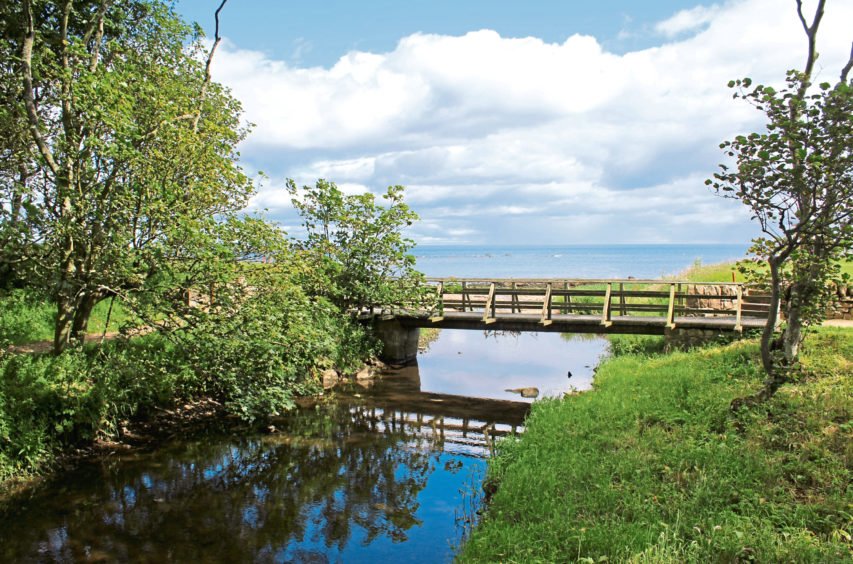 Beyond a sturdy old stone icehouse, the way passes Cambo Farm and a mill pond before roaming on through the trees, emerging on to Back Stile, the lane descending to the beach, by farm sheds.
Back Stile offers a short-cut back to the car park, but I opted to hike on through Kingsbarns, pausing briefly to admire 18th century Kingsbarns Parish Church, which sits at the heart of the community, next to the large village square.
Kingsbarns' roots are to be found in the fields that surround it, fertile land where grain was grown for the Stuart kings at Falkland Palace and stored, as the name suggests, in royal barns here.
Following the main road north, out of the village and on through this rolling farmland, I picked up the old Drony Road, a track that curves seaward.
Grassy underfoot at first, I discovered a beautifully mown pathway beyond Sandyhills, occasional red arrows guiding me down to the waterfront where I re-joined the Fife Coastal Path.
Initially confined to the beach, it soon climbs on to the grassy bank above the shoreline, the walking easy as the way once again borders the golf course, passing above the site of Kingsbarns' 19th century harbour and pier en route back to the beach car park.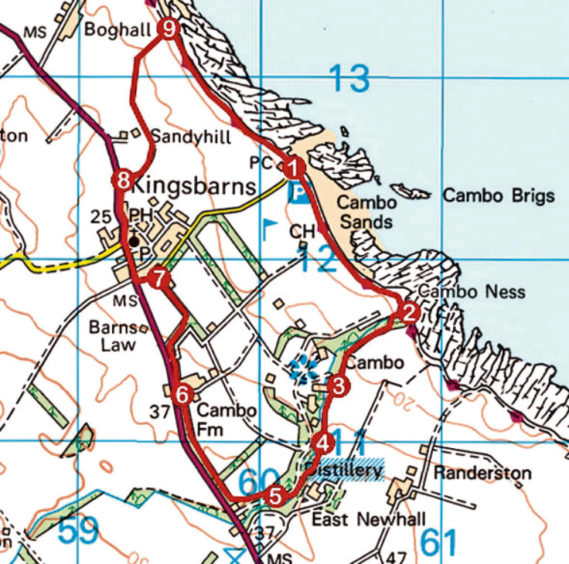 ROUTE
1. Follow Fife Coastal Path south to bridge over Cambo Burn at Cambo Ness.
2. Turn right through wooden gate into Cambo, fork left at next junction, cross stream, ascend steps and follow woodland path.
3. Bear left, passing to left of Cambo House and gardens. Pass through two doorways in walls to reach junction by bridge.
4. Bear left up valley to next bridge. Cross, go left then fork right at next junction, ascending to driveway
5. Cross and continue ahead on woodland path, forking left at junction (signed Kingsbarns).
6. Cross track and continue ahead, to left of pond, on path to Kingsbarns.
7. Go left up Back Stile then right along A917 pavement, passing through centre of Kingsbarns. Continue north out of village on roadside footpath.
8. Turn right and follow Drony Road track down to coast.
9. Turn right and follow beach then coastal path to car park.
INFORMATION
Distance: 7.2km/4.5 miles
Ascent: 60m/200ft
Time: 2-3 hours
Grading: Easy, low level route following tracks and paths along coast and through woodland with some easy ascent
Start/finish: Kingsbarns Beach car park, Back Stile, Kingsbarns (Grid ref: NO 601125)
Map: Ordnance Survey 1:50,000 Landranger sheet 59; Ordnance Survey 1:25,000 Explorer sheet 371
Tourist Information: St Andrews iCentre, 70 Market Street, St Andrews KY16 9NU (Tel 01334 472021)
Public transport: Stagecoach bus service 95, linking St Andrews and Leven, stops in Kingsbarnszm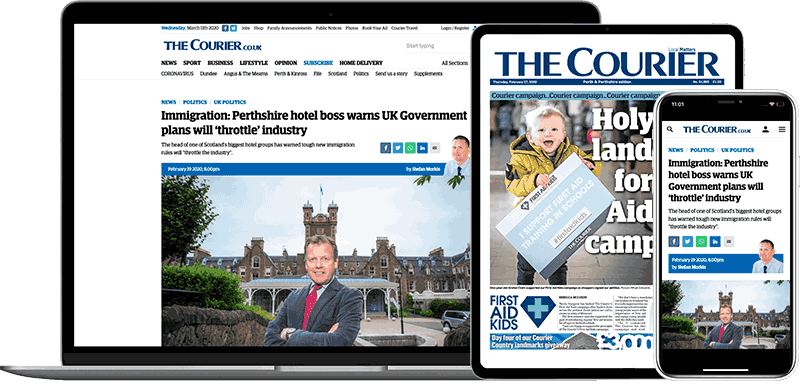 Help support quality local journalism … become a digital subscriber to The Courier
For as little as £5.99 a month you can access all of our content, including Premium articles.
Subscribe