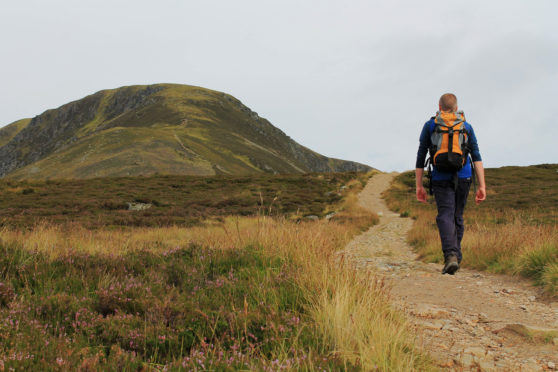 The hike from Clova up to Loch Brandy is strenuous but enduringly popular, thanks to the spectacular glacial scenery that awaits walkers, the high-level pool nestling in a perfectly sculpted mountain corrie.
Climb above the water and the gently rounded summits rising from the plateau offer excellent mountain vistas stretching north towards landmark peaks like Mount Keen, Lochnagar and the distant Cairngorms.
One particularly prominent viewpoint in these parts is Boustie Ley, a wee hill lying off the beaten track, to the west of Loch Brandy, above neighbouring Corrie of Clova. Few seems to venture this way, so it offers an escape from the summer crowds.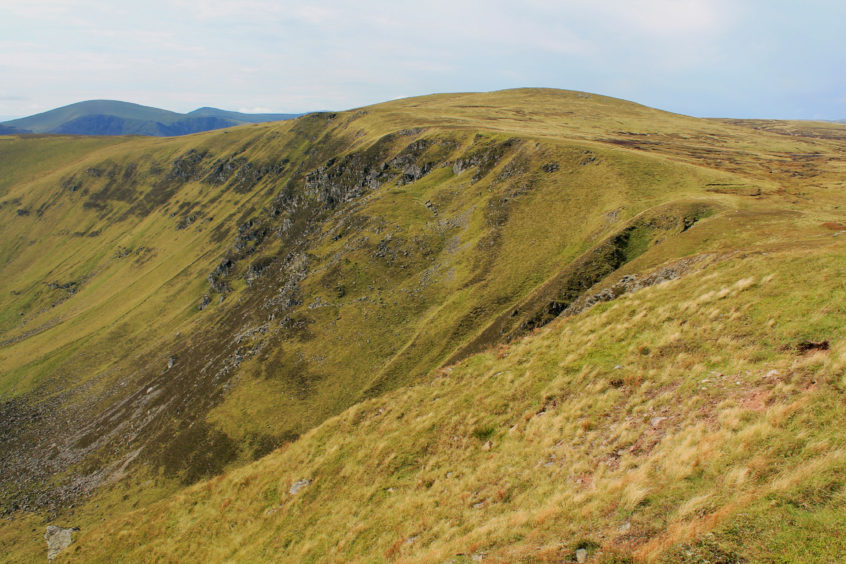 Initially following a long-established upland right of way linking Glen Clova with Glen Esk, the path to Loch Brandy begins behind the Glen Clova Hotel, rising through silver birch on to open hillside.
A well-constructed trail climbs steeply and, with height quickly gained, views over Glen Clova and the hills of the south reward effort. Along the way, steps assist over the more demanding sections.
Eventually the gradient eases, a final short pull lifting the path on to the lip of the corrie cradling Loch Brandy. Widely regarded as one of the best examples of a mountain corrie loch in Scotland, precipitous bluffs of rock scarred with narrow gullies of grass and scree deliver a spectacular backdrop.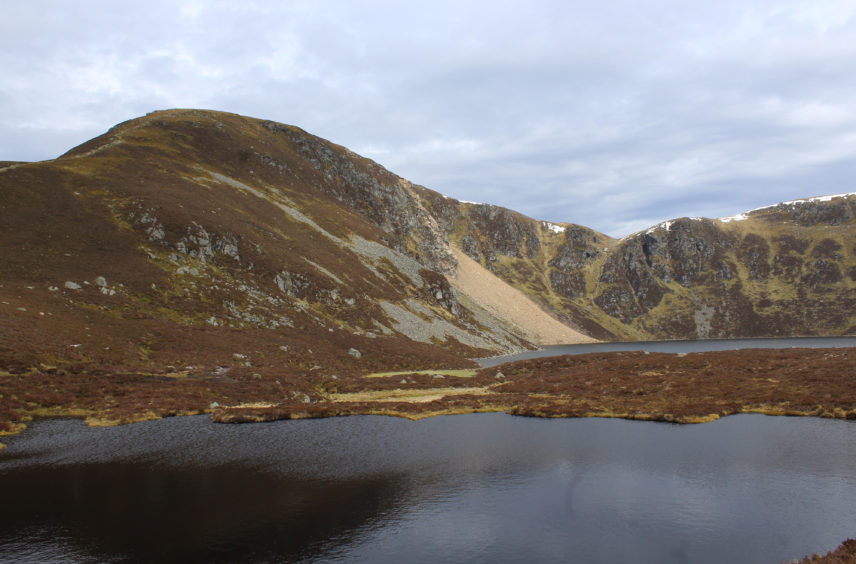 On the lip of the corrie there is a junction of paths where the route to Green Hill strikes right, dipping to cross the loch's outflow before climbing steadily over the broad shoulder of Broom Shank to the summit cairn. Less steep than the path up The Snub, on the western side of the corrie, it affords the best views of Brandy's glacial bowl.
Leading west from Green Hill, a grassy track rounds the top of the corrie, dipping briefly through a gully before rising on to The Snub where evidence of the precarious geological nature of mountain corries is clear to see. A substantial band of the upper corrie wall is slowly slipping away.
From the cairn on The Snub, walk west across a flat plateau of heather to the upper rim of neighbouring Corrie of Clova where a slender trail meets up with all-terrain vehicle tracks that cross the fledgling Corrie Burn before looping up on to Boustie Ley.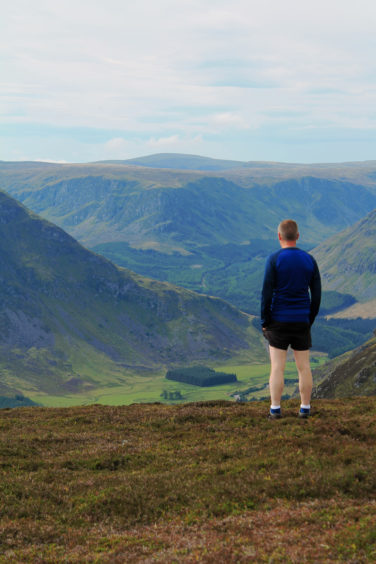 Where the tracks become rather faint, aim for a wooden post up to the right and the way soon becomes clearer, a second post guiding walkers to the squat summit cairn from where, on a clear day, an array of mountains is visible, including Mount Keen, Lochnagar, Broad Cairn, Mayar and Driesh.
Initially there is no path to Ben Reid but descend the grassy southern spur to the col below and a slender line appears in the heather, climbing to the cairn with its grandstand view of Glen Clova and Glen Doll.
The wee trail continues out to a second cairn on the prow before leading down the steep, boulder-strewn slope. The path soon disappears but go carefully and a trouble-free line can be picked through the jumble of rocks without too much difficulty.
Two-thirds of the way down, where the slope becomes steeper, bear left to avoid larger outcrops, then aim for the top end of an obvious track, the route down to Clova.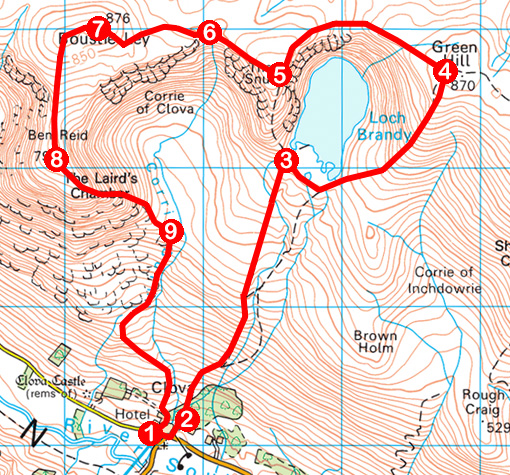 ROUTE
1. Follow road east to Glen Clova Hotel. Bear left up through hotel car park to enter woodland.
2. Fork right at junction (signed Glen Esk), ascend path past chalets, bear left over footbridge, go through gate and ascend path to Loch Brandy.
3. Turn right, follow path around southern edge of loch to outflow, cross stepping stones and ascend path to summit of Green Hill.
4. Turn left and follow grassy track north-west around top of corrie. Dip to cross gully then bear left up to summit of The Snub.
5. Walk west over plateau to upper rim of Corrie of Clova, picking up slim path then ATV track dipping to cross Corrie Burn.
6. Ascend ATV track to summit of Boustie Ley.
7. Continue west to second top then turn left, descending southern spur to col, then ascend to cairn on Ben Reid.
8. Follow slim path east to second cairn then descend steeply to meet track-end.
9. Descend track to Clova.
Distance: 11km/6¾ miles
Ascent: 770m/2540ft
Time: 4 hours
Grading: Moderately challenging route for experienced hillwalkers following good paths for much of the way but also crossing some pathless ground, with some strenuous ascent and steep descent. Keep dogs under close control to protect sheep and ground nesting birds
Start/finish: Milton of Clova car park, Clova, Glen Clova (Grid ref: NO 326730)
Map: Ordnance Survey 1:50,000 Landranger sheet 44; Ordnance Survey 1:25,000 Explorer sheet OL53
Tourist Information: Dundee iCentre, 16 City Square, Dundee DD1 3BG (Tel 01382 527527)
Public transport: None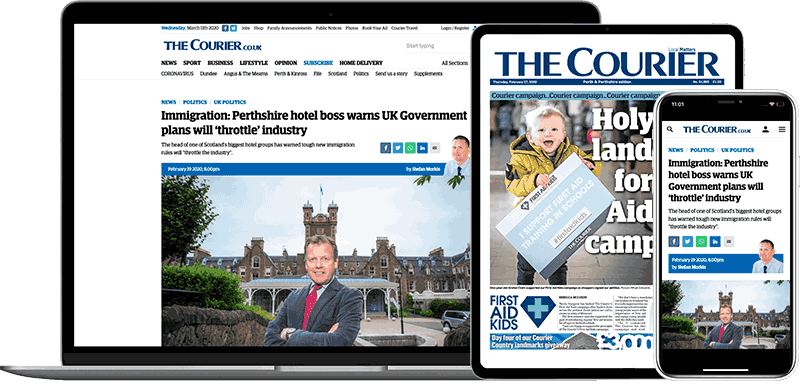 Help support quality local journalism … become a digital subscriber to The Courier
For as little as £5.99 a month you can access all of our content, including Premium articles.
Subscribe