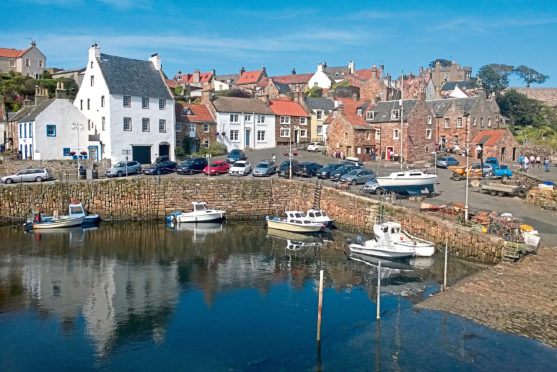 Crail harbour is one of the prettiest little ports in the country, its rugged stone breakwater a haven for fishing boats since the 16th century.
Sheltered by cliffs and overlooked by a charmingly chaotic jumble of traditional stone cottages sloping up to the historic heart of the burgh, pleasure boats berth alongside the handful of crab and lobster boats that work out of the harbour.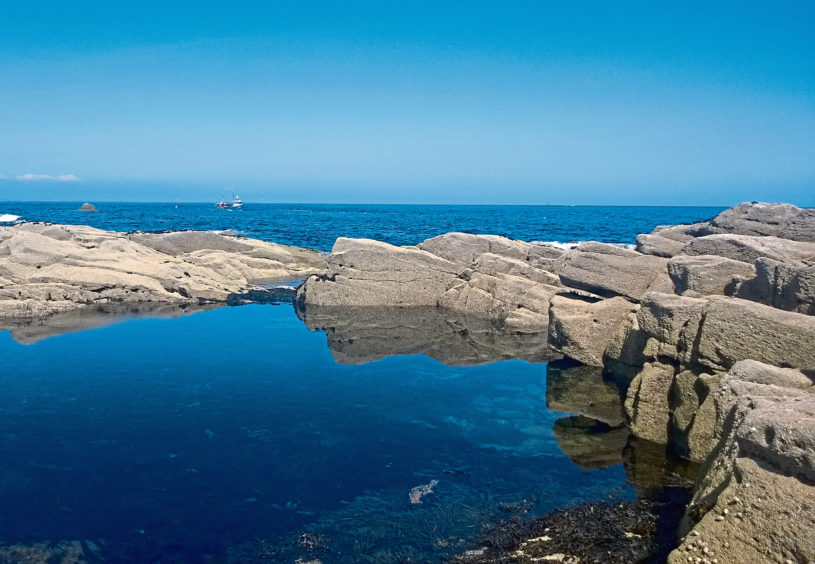 While the fishing industry is a shadow of its former self, the quayside, with its tearoom, ice-cream parlour, fresh lobster shack and adjacent sandy beach, still bustles with life, attracting a steady stream of visitors.
With the Fife Coastal Path passing close by, it is also the perfect spot from which to embark upon a longer shoreline odyssey, one that would take me north past an old wartime airfield to Fife Ness, the eastern tip of the kingdom.
Above the harbour, Castle Walk offers the first of many fine sea vistas, a viewpoint indicator board next to a weathered 17th century sundial (originally sited at the harbour), picking out offshore landmarks, including the Isle of May and Bass Rock.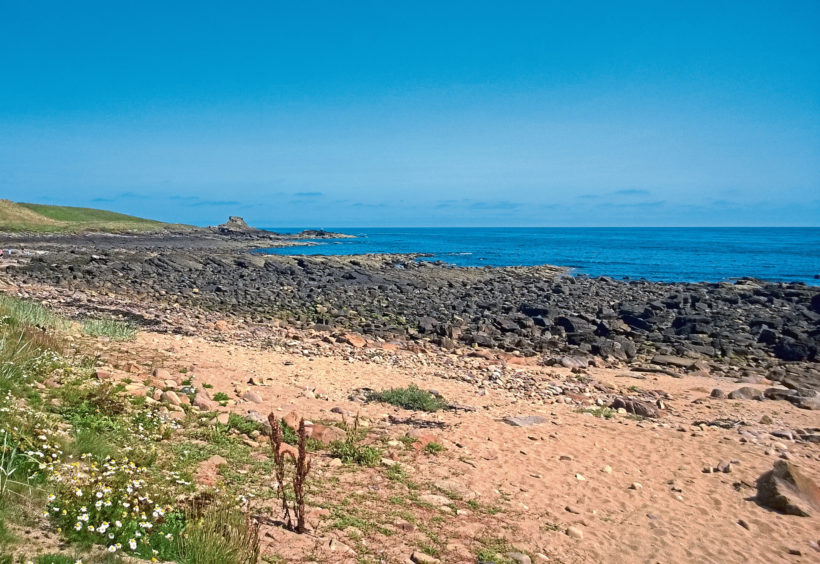 The elevated walkway leads round to the 18th century Watch House where the trail dips towards the rocky shoreline and leads on to Roome Bay, parkland dipping to a fine strip of sand and bathing waters.
After detouring up to the sturdy white drum of the restored 16th century Priory Doocot, I proceeded through the park, steps at the far end guiding the coastal path out of Crail and on to Sauchope Links where the way proceeds between caravans and lodges to the Kilminning Coast Wildlife Reserve.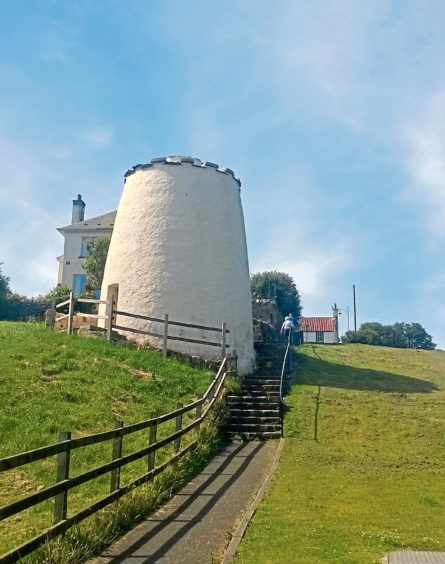 The prominent wee sea stack is known as Kilminning Castle Rock and while there appears to be no evidence of a castle existing here, archaeological investigations have uncovered the remains of a chapel and early medieval graves.
The reserve itself, a mix of grassland, saltmarsh and coastal scrub, attracts nesting birds such as whitethroat, stonechat and linnet, while seabirds, including shag, cormorant and guillemot, can often be seen on the shoreline rocks.
The path cuts a line across the bay and through thick banks of scrub, beyond which the former coastguard station at Fife Ness, with its angular, colourful houses, looms into view, the trail curving round below the lookout post and lighthouse.
Hidden below the light, built in 1975 to replace lightships moored offshore, there is a well-preserved wartime pillbox, part of the defences of Crail Airfield, while, at low tide, vast slabs of stone projecting seaward are riddled with rockpools that team with aquatic life.
Other than a couple of bunkers set into the slope, the former aerodrome, despite its size and proximity, is largely hidden from view from the coastal path.
However, trekking back to Crail along the road, there is much to see of what is widely regarded as one of Britain's best preserved Second World War airfields.
Opened in 1918, the site was mothballed after the First World War but re-activated in 1940 as HMS Jackdaw, a training base for naval pilots, and it remained operational during the Cold War, finally closing in 1960.
Private land signs deter closer exploration but visible from the road are a plethora of military buildings dating from the 1940s, including pillboxes, barrack blocks, hangars and the control tower, the runways now the setting for motorsports.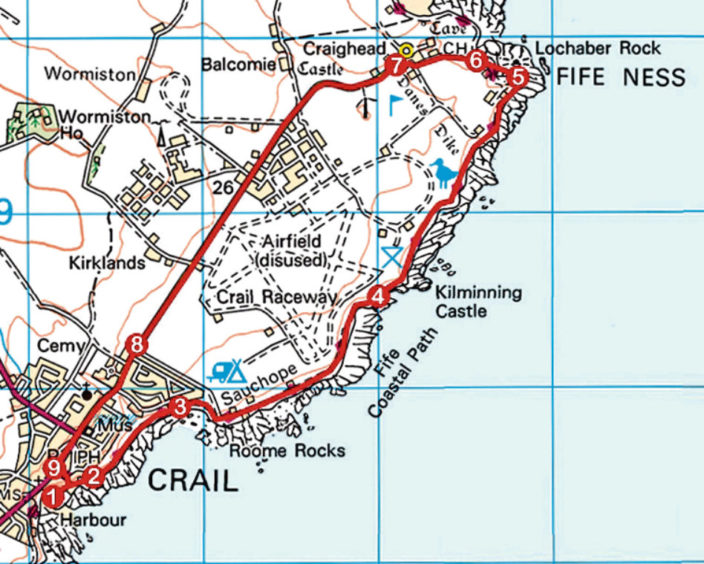 ROUTE
1. Ascend Shoregate from harbour, fork right up steps on to Castle Walk and follow it round to the Watch House.
2. Go right, descending path/steps to shoreline and bear left along coastal path to Priory Doocot and Roome Bay. Continue ahead through coastal parkland.
3. At far end of park, ascend wooden steps and follow Fife Coastal Path (FCP), passing through Sauchope Links Leisure Park to Kilminning Coast Wildlife Reserve.
4. Pass through gate by reserve sign and continue ahead on FCP to Fife Ness.
5. Follow path round below lighthouse then continue ahead on surfaced track, crossing golf course.
6. Below clubhouse, fork left up surfaced track, passing row of cottages on right, to meet road.
7. Turn left and follow road to Crail.
8. Entering Crail, continue ahead on Balcomie Road, Marketgate and High Street.
9. Turn left down Shoregate to harbour.
INFORMATION
Distance: 8km/5 miles
Ascent: 100m/330ft
Time: 2-3 hours
Grading: Easy, low-level route following coastal path, surfaced tracks and minor road. Stout footwear recommended. Keep dogs under close control over golf course
Start/finish: Crail harbour (Grid ref: NO 611073). Parking in Rumford and Nethergate North
Map: Ordnance Survey 1:50,000 Landranger sheet 59; Ordnance Survey 1:25,000 Explorer sheet 371
Tourist Information: St Andrews iCentre, 70 Market Street, St Andrews KY16 9NU (Tel 01334 472021)
Public transport: Stagecoach bus service 95, linking St Andrews with Leven, stops in Crail