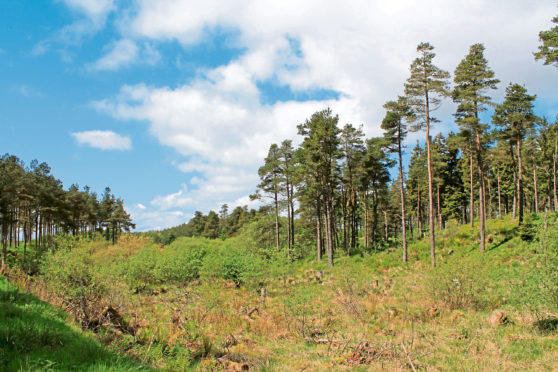 Cloaking low tops in the northern fringes of the Ochil Hills, Pitmedden Forest straddles the border between the county of Perthshire and the Kingdom of Fife.
Within the woods, the extensive network of tracks and trails is particularly popular with mountain bikers, but there are also routes for those of us setting off on two feet rather than two wheels.
Paths to Pitmedden rise from Abernethy, to the north, and Auchtermuchty, to the south, but I opted to start at a small Forestry Commission car park, on the single-track Abernethy Glen road, at the western end of the plantation.
From here the forest road rises steadily into the trees, signs for Pitmedden Forest paths keeping me on track. It is not uncommon to encounter vehicles on this section of track, so stay vigilant for the passage of any traffic.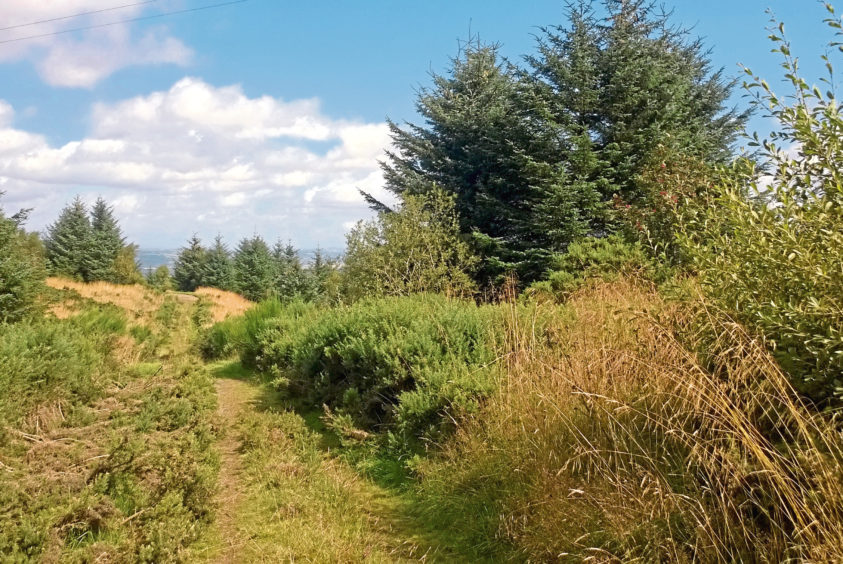 At the top of the incline, I branched left, round a barrier gate that keeps all but forestry vehicles off the trail ahead and continued up, the way flanked by tall, slender pines.
At intervals along the way, narrow paths break left and right – these are the domain of the mountain-biker and, while there is nothing to stop walkers exploring them, be aware that bikes can travel at quite a speed along them.
Staying loyal to the main track, I weaved on past a handful of reedy wee ponds, one of which has been fenced off as a haven for newts and other amphibious creatures.
Here, the track curves right, following the borderline between Perthshire and Fife over the crest of the Ochils and through what is a slim band of forestry.
Indeed, it is not long before the trees on the right clear to offer a fine vista south, over rough sloping pasture, to the prominent peaks of the Lomond Hills and the more distant yet just as distinct form of Largo Law.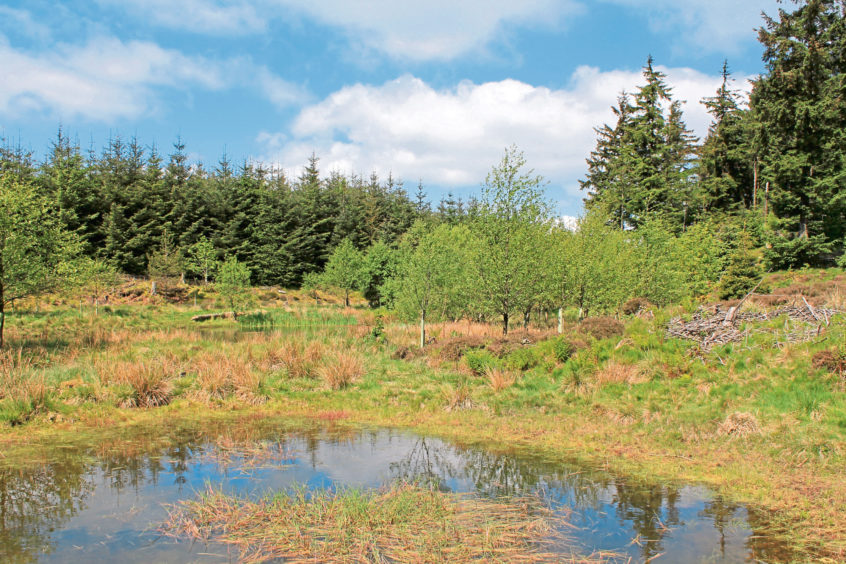 Dipping in and out of woodland, rising and falling like a lazy rollercoaster, the track finally descends past a small quarry to Seven Gates junction, an intersection of routes leading east and west and north and south.
These days there are just two obvious gates here – a metal barrier gate straddling the main track and a nearby gate leading into a field. However, in addition to these, if each track radiating out of the junction had, at some point, been gated, it would account for the name.
Ignoring the first track breaking left (to Abernethy), I took the second left, beyond the barrier gate, and headed north, the way dipping briefly before curving up over the northern flank of Carpow Hill where the trees part briefly to offer a tempting glimpse of the Carse of Gowrie below.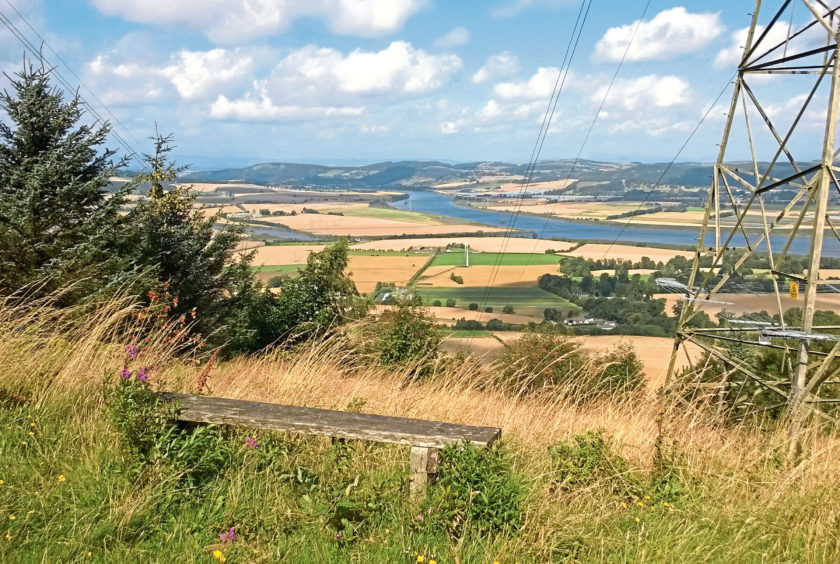 Higher up, where the way passes below a pair of pylon lines, there is a much better viewpoint, complete with wooden bench, overlooking the valley, the convergence of the rivers Tay and Earn and the Sidlaw Hills beyond.
Swinging south, the trail loops back and forth below the overhead power cables, crossing the heathery slopes of Pitcairlie Hill from where I spotted Norman's Law, the last summit of note at the eastern end of the Ochils.
Returning to Seven Gates, I set off back along the track to Abernethy Glen but, along the way, could not resist exploring some of the paths that disappear off into the trees.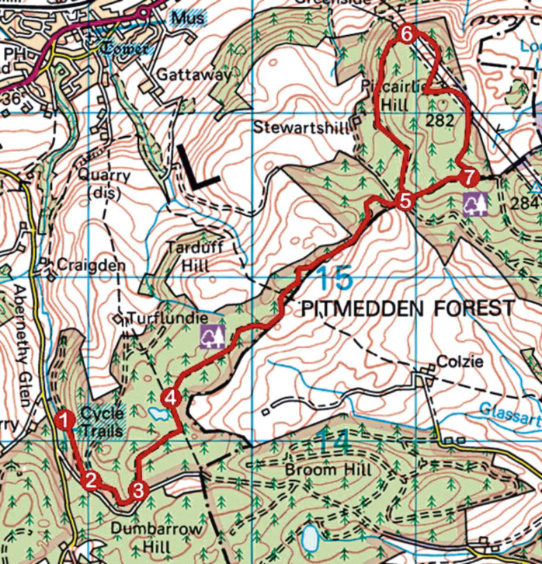 ROUTE
1. Pass between green metal gate posts and ascend broad forest road.
2. Ignore track branching left and continue up forest road (signed Pitmedden Forest paths) to next signed junction.
3. Go left (signed Pitmedden Forest paths), pass round metal barrier gate, and ascend track.
4. Pass ponds and stay on main track, following occasional arrow posts as the way curves right and leads north-east, passing through woodland and along edge of plantation.
5. Descend past quarry to Seven Gates. Ignore first track branching left (signed Abernethy) and continue past metal barrier gate to next junction. Turn left and follow track north to viewpoint below pylon lines.
6. Continue ahead on track as it curves right and leads south over Pitcairlie Hill, weaving below pylon lines to junction.
7. Turn right and descend track to Seven Gates junction (point 5). Retrace steps back to car park.
INFORMATION
Distance: 10km/6¼ miles
Ascent: 270m/890ft
Time: 3 hours
Grading: Easy forest walk following good tracks with some well-graded ascent and descent. Stout footwear recommended
Start/finish: Pitmedden Forest car park, Abernethy Glen, on the minor Abernethy to Strathmiglo road (Grid ref: NO 188141)
Map: Ordnance Survey 1:50,000 Landranger sheet 58; Ordnance Survey 1:25,000 Explorer sheet 370
Tourist Information: Perth iCentre, 45 High Street, Perth PH1 5TJ (Tel 01738 450600)
Public transport: Stagecoach bus service 34 linking Perth and Glenrothes stops in Abernethy, a 2km walk from start point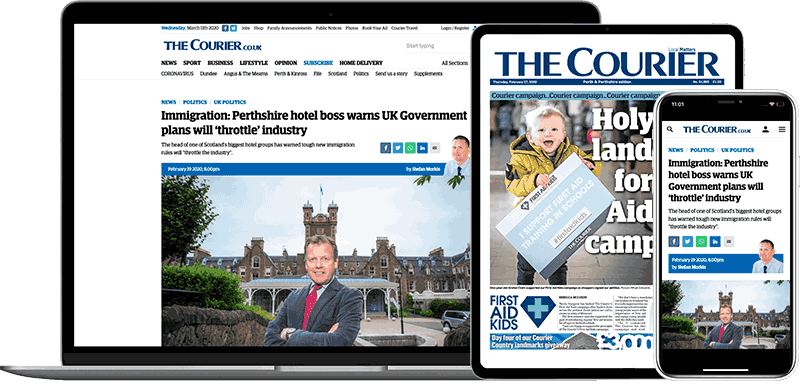 Help support quality local journalism … become a digital subscriber to The Courier
For as little as £5.99 a month you can access all of our content, including Premium articles.
Subscribe