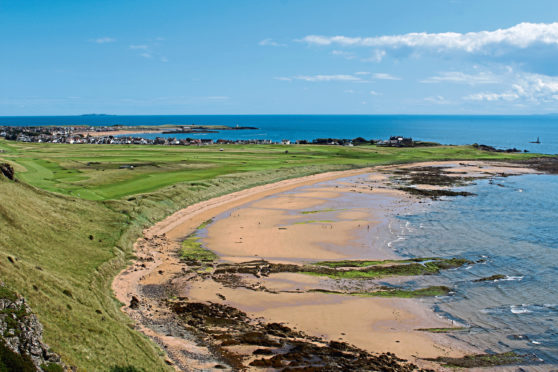 The East Neuk villages of Elie and Earlsferry have long been a popular destination for visitors. Back in the 12th Century, Earlsferry was established as the northern terminus of a ferry route conveying pilgrims across the Firth of Forth from North Berwick on their journey to St Andrews, while Elie grew up around a more sheltered fishing harbour.
In time the pair merged – they were formally united in 1930 – and, with the ferry service long confined to the annuls of history, most now come here for golf, water sports and the glorious sandy beaches, of which there are four to explore.
The first of these is to be found at Ruby Bay, where Elie Ness, with its stumpy white lighthouse, shelters a slim strip of sand. Close by is the ruin of Lady's Tower, built in 1770 as a changing room for Lady Janet Anstruther, who was partial to a dip in the sea.
It is worth a brief detour across the low grassy headland before setting off on the route proper, which led me from the car park at Ruby Bay down into Elie where the harbour, with its prominent granary building, is now a base for water sports.
The old wharf lies as the eastern end of Elie Bay and, beach beckoning, I wandered through village streets lined with historic houses and quaint cottages before finally stepping on to the sand.
On sunny summer days, the bay, with its colourful beach huts, draws the bathing crowds while, out of season, it is a fine spot for a stroll, the sandy strip curving west towards Chapel Ness.
The ruins of an old religious sanctuary stand here, once a welcome refuge for the travelling pilgrims at the end of their voyage across the Forth, now a pleasant spot to sit and enjoy the sea view.
Around the headland and across the fringes of the golf course at Earlsferry Links, West Bay never seems to be quite as popular as Elie Bay, although it is every bit as enchanting, the swathe of white sand arcing towards the towering rocky bluff of Kincraig Point.
Walk along the beach or follow a trail through the marram grass bordering the golf course to an information board revealing the important defensive role Kincraig Point and its coastal battery played during the Second World War.
Climbing on to the headland, the path passes the stark remnants of military buildings and concrete gun emplacements where six-inch canons with a 10-mile range protected allied shipping in the Firth of Forth and access to the naval base at Rosyth.
Below the crags and cliffs, the Elie Chain Walk, once a well-kept secret but now a popular coastal scramble, offers a more challenging alternative low-tide route around Kincraig Point for those with a head for heights and a hunger for adventure.
The two trails converge above a sea cavern known as the Devil's Cave from where a path flanked to the right by gently sloping fields curves round the promontory to Shell Bay, my fourth and final beach of the day.
A holiday park takes full advantage of its seafront location here, camping pitches and caravans stretching back from the bay, the access road guiding me inland to join a farm track where Painted Lady butterflies fluttered through the hedgerows in the afternoon sunlight as I wandered back to Earlsferry then Elie.
INFO
Distance: 9km/5½ miles
Ascent: 120m/400ft
Time: 2-3 hours
Grading: Easy, low-level route coastal route along village streets, beach, paths and tracks with a short climb on to Kincraig Point, where there are steep, unguarded drops. Stout footwear recommended
Start/finish: Ruby Bay car park, Elie (Grid ref: NT 497997)
Map: Ordnance Survey 1:50,000 Landranger sheet 59; Ordnance Survey 1:25,000 Explorer sheet 371
Tourist Information: St Andrews iCentre, 70 Market Street, St Andrews KY16 9NU (Tel 01334 472021)
Public transport: Stagecoach X60 bus service, linking St Andrews with Leven, stops in Elie
ROUTE
1. Follow car park access road inland to Admiralty Lane, go left down to The Toft then turn right.
2. Go left along The Terrace and South Street, descend ramp on to beach and continue west.
3. Bear right at end of beach, ascending grassy strip. Turn left, following Chapel Green Road to its end, and follow Fife Coastal Path (FCP), around Chapel Ness, to meet track descending left towards beach.
4. Turn right, following signed high tide route to junction by information board.
5. Turn right, ascending path on to Kincraig Point, and follow FCP around headland to Shell Bay.
6. Cross stream and bear right then right again along holiday park access road to FCP car park.
7. Turn right, passing metal gate, and ascend track to junction. Go left to Grangehill.
8. Descend to golf course, go left along Grange Road then right, down Ferry Road.
9. Approaching phone box, go left along path to clubhouse then right down Golf Club Lane. Go left, following Links Place and Bank Street into Elie. Continue ahead on High Street then turn right down Stenton Row to The Toft.