A Victorian house in Forfar has been comprehensively overhauled and updated with the finest quality bespoke fittings and latest technology. It's a remarkable blend of traditional and ultra-modern.
Lour Manor was built in 1902 and has a stone-built solidness typical of Victorian homes. The last three years have seen it given the most comprehensive upgrading since its foundation stones were laid.
"In the garden alone we took out 160 tonnes of material and put 140 tonnes back in," owner Ed Newberry explains.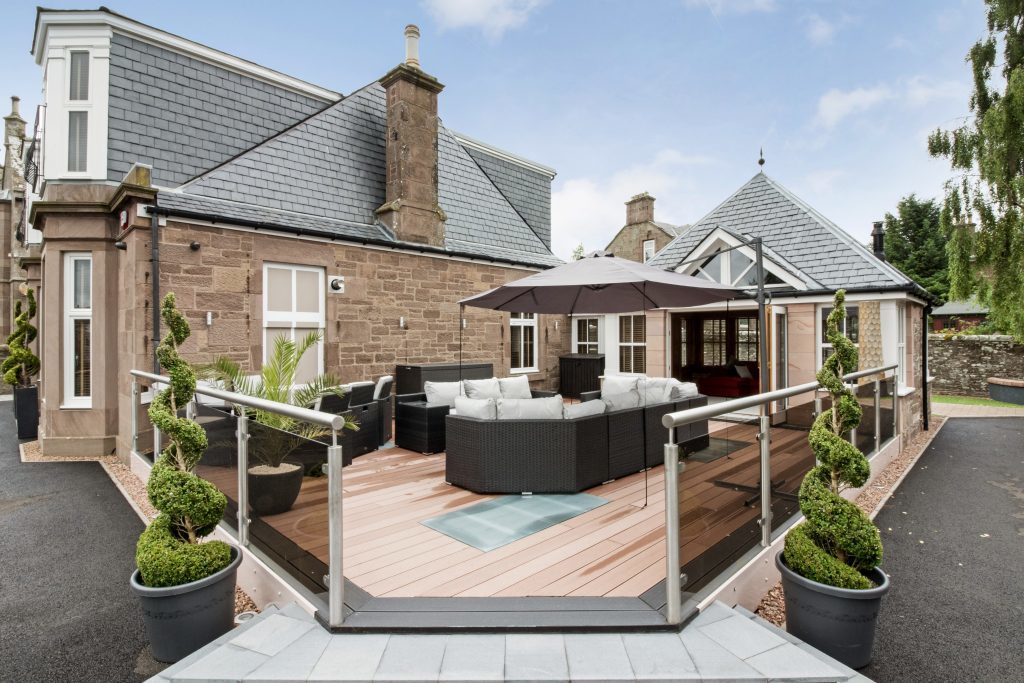 Rarely has a house been so completely overhauled inside and out – and with such scant regard for cost. Stone and even trees have been imported from Europe, doors and windows custom-built, and a state of the art security system using 12 night-vision cameras oversees it all.
Ed (46) worked in the oil and gas industry and then carried out close quarters security, guarding high net worth individuals in Europe and the Middle East. He left the latter job last year and is currently re-training.
He bought Lour Manor in 2014 and has spent three years and £400,000 turning it into his dream home.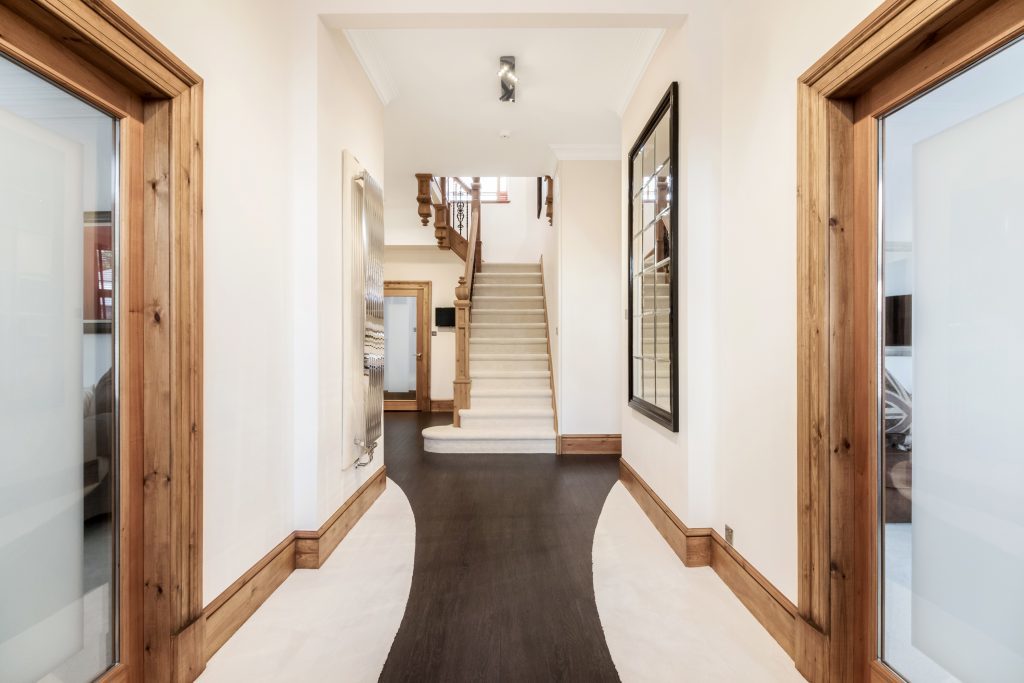 Every interior door is double glazed, all the skirtings are new and every light is low-energy LED. Numerous rooms have Dutch "Dru" living flame gas fires – "they're 98% efficient and you can switch them on from your phone so the house is toasty when you arrive."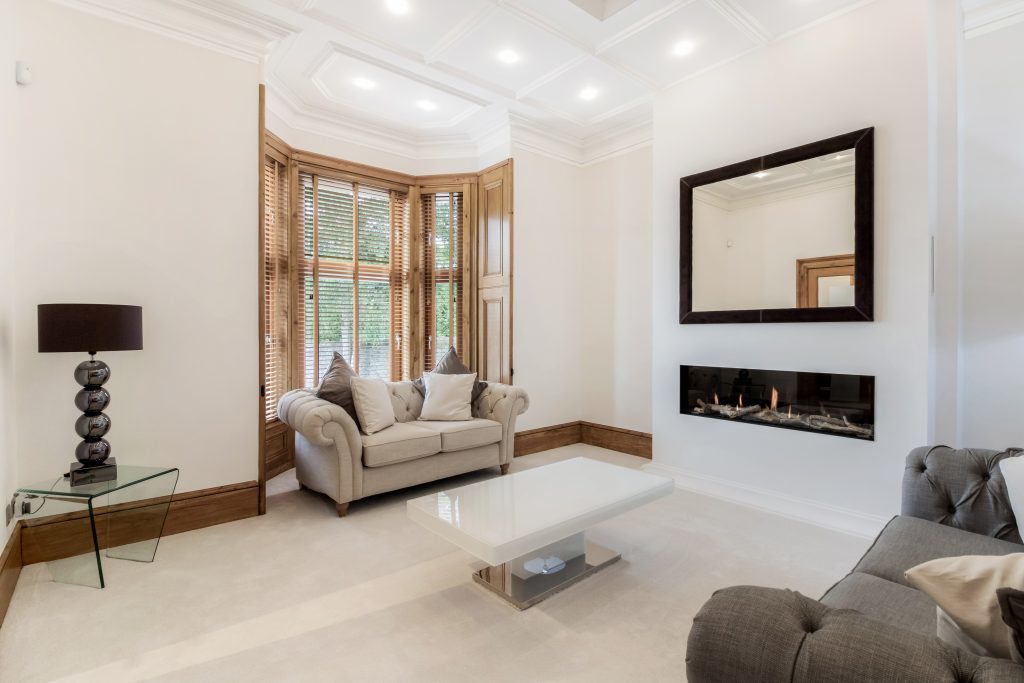 At the front of the house are the living and drawing rooms, both with Dru fires. There's a dressing room that could be used as a dining room. A formerly "cold and dark" bedroom has been completely soundproofed and transformed into a cinema room, with alcantara-clad walls and doors.
The kitchen has additional light from a roof window, a utility room houses the necessary mod-cons; and there's even a wine cellar behind a cloakroom.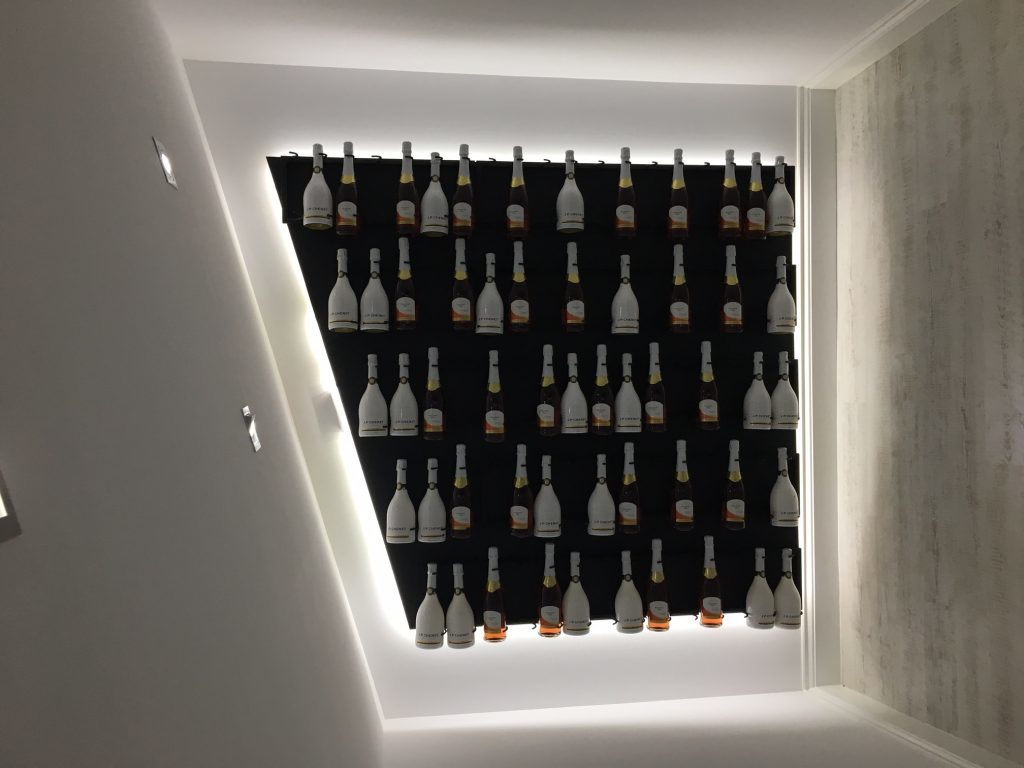 A well lit corridor called the "gallery" houses artworks and some remarkable radiators by the Radiator Studio in Edinburgh. It leads to the sunroom, which has windows along three sides and another Dru fire.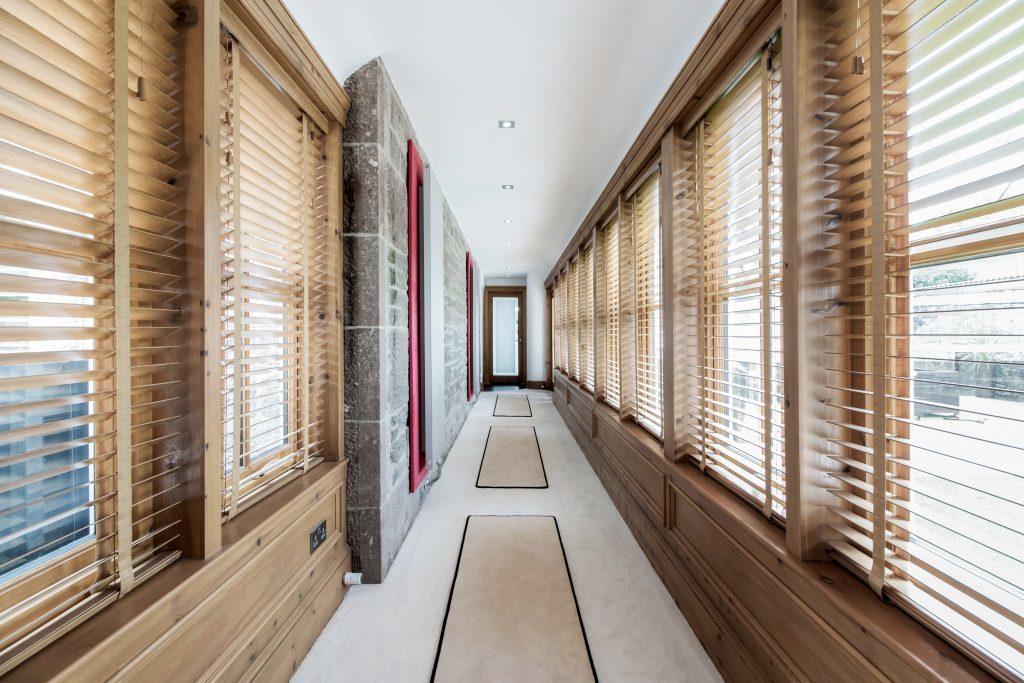 Upstairs are three double bedrooms, family bathroom and an office. A guest bedroom is en suite, while the master has a dressing room, en suite, and door to the office.
No expense has been spared and the attention to detail is incredible. Devices called "gutter brushes" ensure leaves and other debris falls outwards, meaning the gutters never need cleaned. Triple-glazed bespoke windows are maintenance-free UPVC outside but fine-grain wood inside.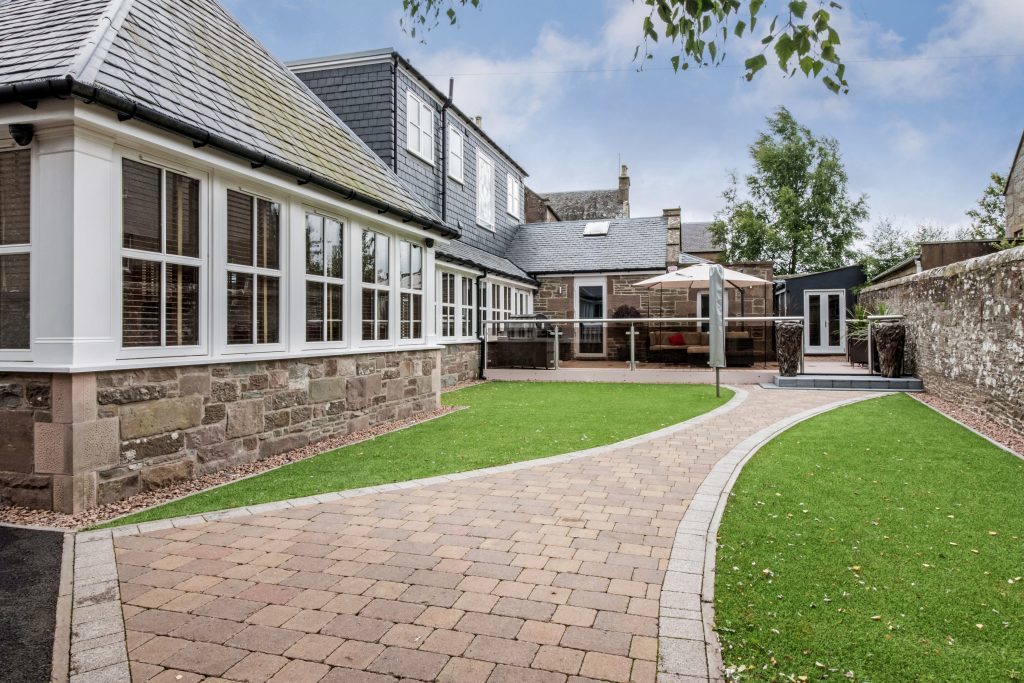 Outside, the front garden was completely dug out and tarmacked, with stone boundary paths along the edges. Electric gates that can be remote controlled from Ed's phone give vehicle and pedestrian access.
An Italian stone fountain forms the centrepiece of the drive, with LED-lights bathing the flowing water in a blue glow. The decorative pencil trees beside it were also imported from Italy.
The rear garden has monobloc and artificial grass, while the decking is composite material that will never fade or warp. "Everything's designed to be zero maintenance," Ed explains. "The countryside's just a couple of minutes away. I'd rather spend my time charging through the woods on my trail bike or paddling down a river than pruning trees and mowing grass."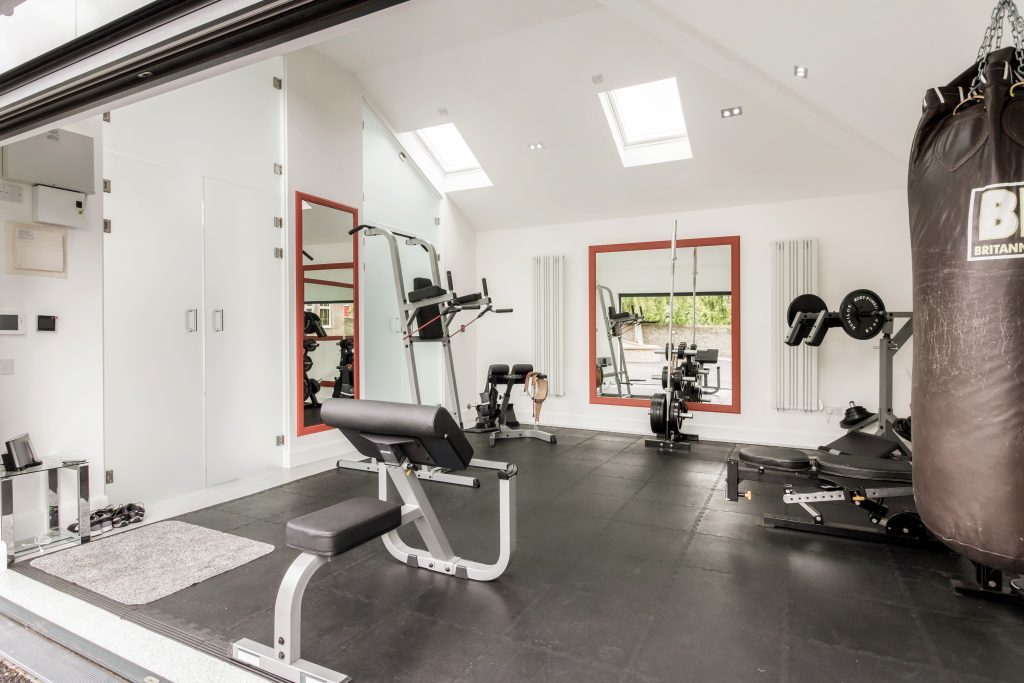 A new outbuilding has a slate roof, gable wall of glass, vaulted ceilings and two sets of quad-folding doors. One side houses Ed's gym, while the other is his "showroom" – he's a lover of fast cars.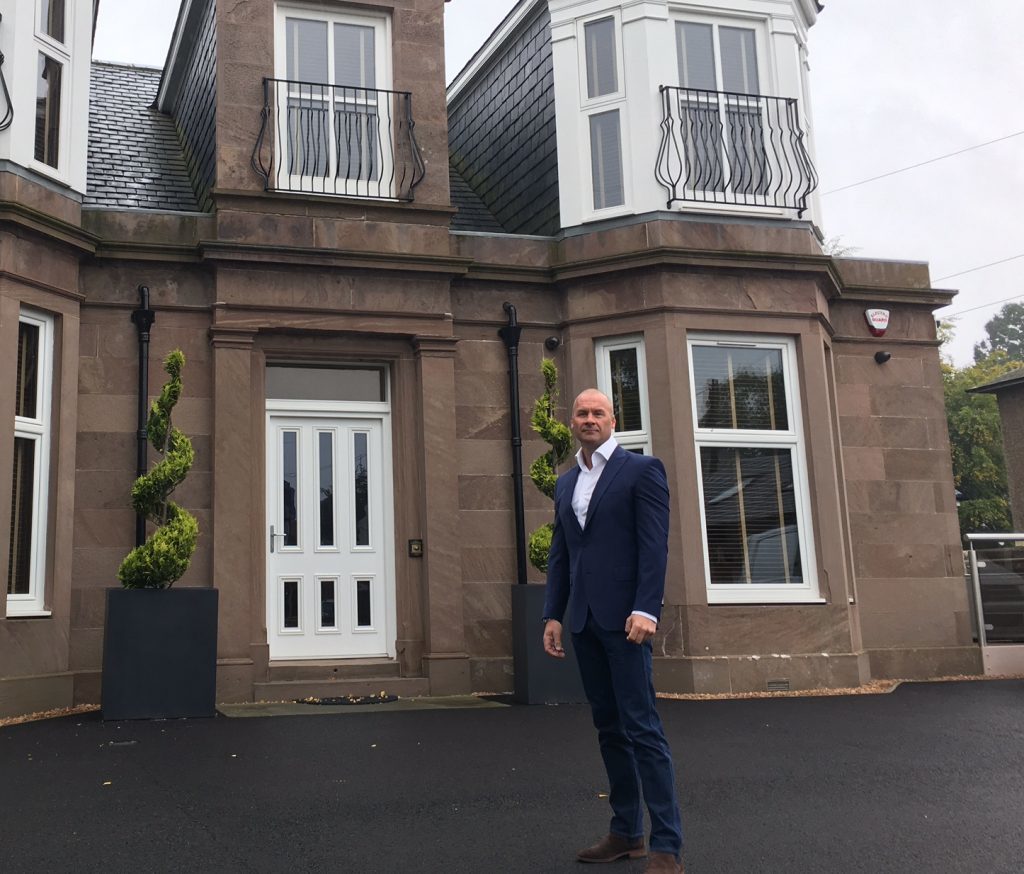 "I think your house should be everything you want it to be," he explains. "If you want to go to the gym, there's the gym. If you want to watch a movie, there's the cinema room. If you want to have a beer outside, there's the decking."
Given the time, energy and money spent on Lour Manor it must be a wrench to sell it. "This was meant to be my forever home," he admits. "That's why I spent so much money making it perfect. But I've got a new project I'm working on. It's going to be glass and steel, cantilevered out of the hillside. It's a once in a lifetime project and it's going to be amazing."
Lour Manor, Forfar, is on sale with Shiells for offers over £515,000.