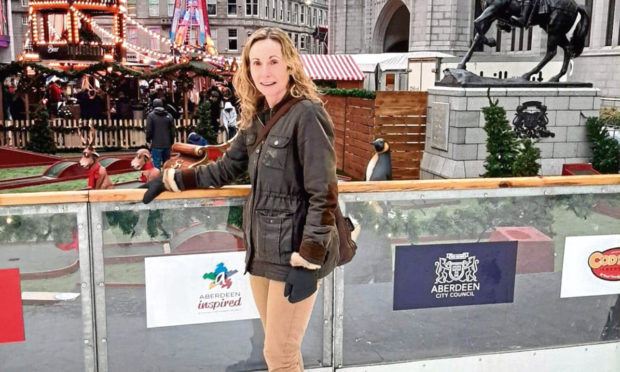 Cheryl Peebles heads up north to find beautiful Christmas illuminations and plenty of festive fun in the Granite City…
The northern lights of old Aberdeen may be immortalised in song, but it was the Christmas lights of modern Aberdeen that attracted us for a festive break.
And the Granite City – as it is commonly known owing to its architecture – does Christmas well.
We spent a December weekend in Scotland's third largest city, when its main street was festooned with illuminations and bustling with shoppers loading up with gifts. It was also hosting for the third time Aberdeen Christmas Village, with an ice-skating rink, market and funfair in the shadow of the spectacular Marischal College.
Home for the weekend was the Station Hotel, which has had a multi-million-pound facelift to mark its 125th anniversary. A stone's throw from the railway station in the heart of the town centre, and walking distance from shops and attractions, the five-storey hotel was the ideal base for a city break.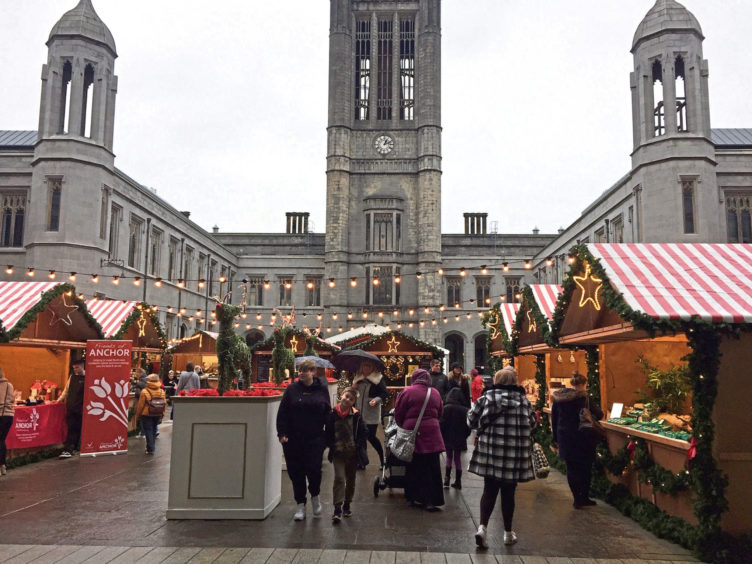 Eager to sample the Christmas village, we got kitted out with our ice skates almost as soon as we arrived.
With Christmas music ringing in our ears and the lights and buzz from the nearby funfair adding to the atmosphere, it was a fun and sometimes hair-raising way to while away an hour!
Thankfully exiting the rink injury-free, we perused the artisan craft market in the Marischal College quadrangle, picking up a few gifts on the way.
Refreshments were calling and came in the form of warming Baileys-infused hot chocolate and marshmallows in the village's open-air chalet-style bar.
The village also boasts a reindeer-themed crazy golf course, a helter-skelter and some stomach-churning fairground rides that we left to the less faint of heart.
Along the way, we spotted a few of the totem poles that form the Twelve Days of Christmas Wooden Sculpture Trail, another element of Christmas in Aberdeen 2019 organised by Aberdeen Inspired and Aberdeen City Council.
The artworks by wood carver Gary Shand depict the lines from the popular Christmas carol, including a partridge in a pear tree, and each has a letter to solve a festive puzzle.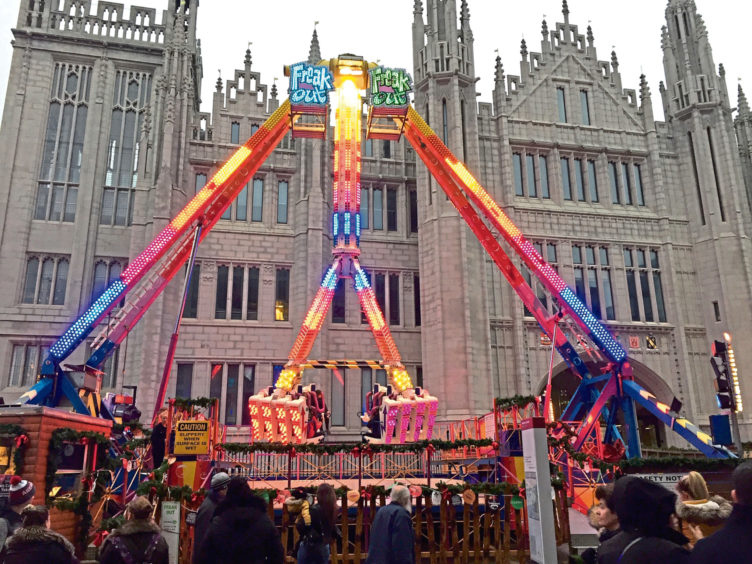 Aberdeen is also the ideal place to blitz your Christmas shopping list.
We hit busy Union Street, the city's main thoroughfare, with its throng of national chain stores as well as lots of interesting independent shops.
Within easy walking distance are the Trinity, Union Square and Bon Accord shopping centres, the latter over two sites including what was previously the St Nicholas Shopping Centre.
Each of the centres also had a pretty impressive Christmas lights display.
The newest of the bunch, Union Square, also has a cinema and a "street" of restaurants on its upper floor, and on the plaza outside, there was another pop-up chalet-style bar, offering weary shoppers to chance to relax and recharge over a warming mulled wine.
We also found some time for culture, with a visit to Aberdeen Maritime Museum to learn about the city's fishing heritage and the oil industry that has fuelled its economy. A fascinating collection of exhibits spans four floors of the 16th-Century Provost Ross's House, including a steamer deck house and a nine-metre-high model of the Murchison oil platform, which reaches from the bottom of the first floor to the ceiling of the top.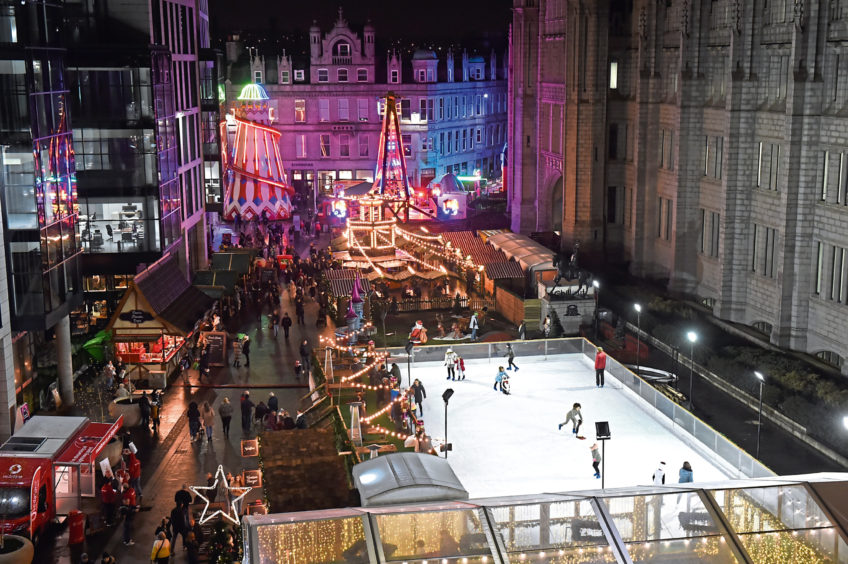 The museum's glazed front overlooks Aberdeen Harbour, connecting its history to the industry that continues there today.
Christmas festivities would not be complete without a trip to the pantomime, and the grand Tivoli Theatre offered up Snow White by the Attic Theatre company.
Of course, being in Aberdeen, the show had a Doric twist, with the usual seven dwarves replaced by the likes of Tricket, Pugglt and Crabbit.
Dame with a difference Wilma Washcloot and her son Muddles delivered a steady stream of innuendo-filled laughs in the mither tongue, sending us back into the cold winter air at the end of the show still chortling.
At the end of two busy days, it was a relief to retreat to the comfort of our executive double room at the Station Hotel. Spacious and tastefully decorated, it boasted a luxurious king-size bed and a separate area to relax in.
Hotel owner Cairn Hotel Group has invested £5 million in renovation, including its new-look Montrose Bar and Lounge, Station Brasserie, reception area and 50 refreshed rooms, with further upgrades planned.
Describing it as a "grand old lady" of the city, general manager Linda Matthew said it was important that the building's charm and personality were retained during the changes.
We dined both nights in the Station Brasserie, first sampling its dinner menu then its high tea menu.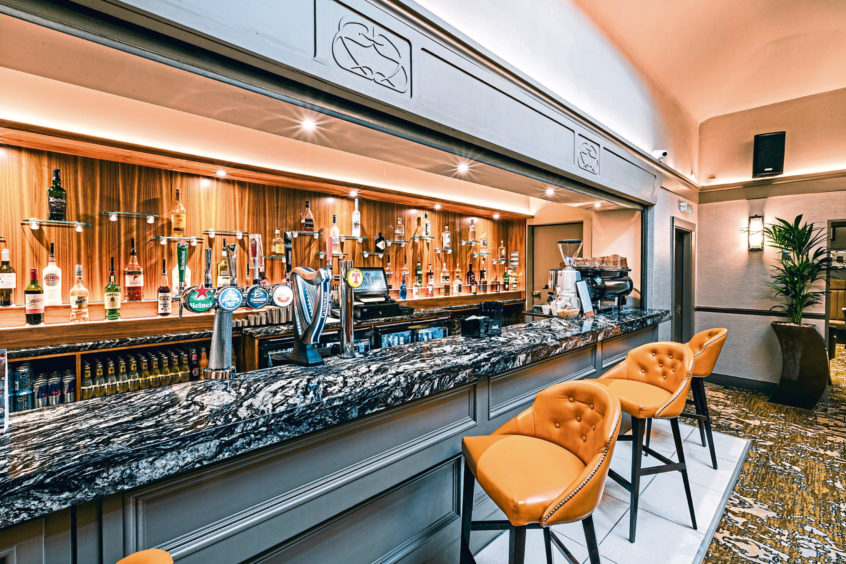 The restaurant prides itself on using local produce. Mussels were off the menu so the grilled harissa salmon and BrewDog Punk IPA battered haddock seemed like good choices and neither disappointed. The salmon came on a bed of sweet potato puree, bulgar wheat, apricots and toasted almonds, and was a real treat.
High tea at the Station is a popular choice amongst Aberdonians and visitors alike, with the brasserie fully booked at Saturday teatime.
Winter warmers including macaroni and smoked salmon fishcakes were followed by a fine array of cakes and still-warm scones.
The full Scottish breakfast was complemented by a selection of speciality porridges. The delicious Banarama, topped with sliced banana, toasted flaked almonds, maple syrup and cinnamon, fuelled us for the journey home full of memories of an "affa fine" weekend, as they'd say in Aberdeen.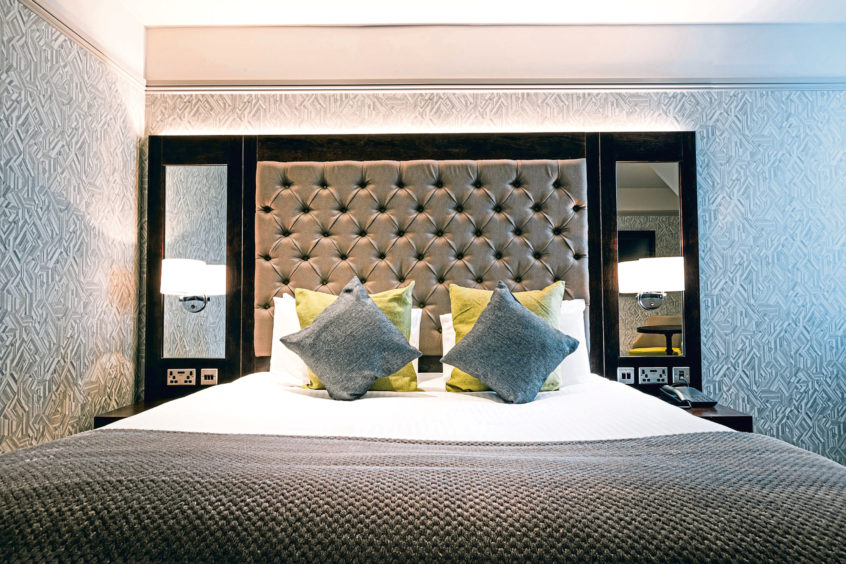 info
Station Hotel, 78 Guild St, Aberdeen. To book, phone 01224 587214. Prices start at £90 per room, per night (based on two people sharing) for dinner, bed and breakfast in a refurbished room, Friday to Sunday, subject to availability.
Aberdeen Christmas Village, Broad Street, runs until December 31. Open Monday to Thursday 12pm-11pm, Fridays 12pm-12am (school holidays from 11am Monday to Friday), Saturdays 10am-12am, Sundays 10am-11pm.
Snow White at the Tivoli Theatre, Guild Street, until Sunday, December 22. Tickets start at £13 from thetivolitheatre.com.
Aberdeen Maritime Museum, Shiprow, is open Mondays to Saturday, 10am-5pm, and Sunday 12pm-3pm. Entry free.