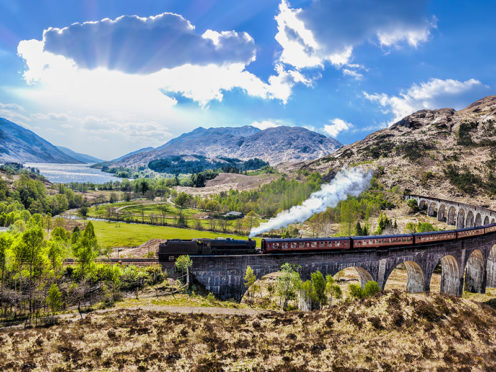 Celebrating the golden heyday of Scottish excursion travel, here are 5 rather grand attractions around the country you need to visit, each offering a nostalgic experience, surrounded by stunning Scottish countryside.
1. Bo'Ness & Kinneil Railway
Celebrating the glory days of Caledonian and British railway railway travel, Bo'ness & Kinneil Railway is one of Scotland's most popular attractions.
Showcasing the country's strong railway heritage, the site has also been immortalised in film throughout the years, featuring in the mystery thriller 'The 39 Steps' and global sensation 'Outlander'.
Travelling along the 10-mile track on board a vintage train is the icing on the cake after exploring the preserved exhibits of Scotland's largest railway museum!
2. The Jacobite
A true Scottish icon, travelling along the 84-mile Fort William to Mallaig Line on board The Jacobite is one of the great, quintessentially Scottish experiences.
Gliding through some magnificent scenery, journey highlights include the beautiful Glenfinnan Viaduct and the views looking out across Loch Shiel.
Here, close to Glenfinnan, the famous Scot 'Bonnie Prince' Charles Edward Stuart raised his standard at the start of the Jacobite rising of 1745.
3. The Maid of the Loch
The famous paddle steamer at Loch Lomond, the Maid of the Loch is a testament to the skill of shipbuilders of the River Clyde.
The last of her kind built in the UK, the Maid of the Loch was actually built twice.
First constructed in Glasgow, the ship was taken apart and transported to the banks of Loch Lomond.
Reassembled and launched in the early 1950s, recent conservation efforts have started to bring her back to her best after being left neglected for a number of years.
Refurbishing work is being undertaken in stages with visitors able to board the 'The Maid', learn about her fascinating history and see historic engines below deck.
4. Strathspey Railway
Brought back to life in the late 1970s that heralded the return of steam travel in the Scottish Highlands, The Strathspey Railway Line whisks passengers off on a journey back in time.
Travelling between Aviemore and the Boat of Garten along a track once left unused for decades, the route takes passengers through the stunning scenery of Cairngorms National Park.
Scenic highlights range from vast moorland to huge pockets of forest and the River Spey, one of Scotland's longest rivers.
5. The P.S Waverley, the world's last seagoing paddle steamer!
The Waverley is the world's last seagoing paddle steamer.
Built to replace the 1899 Waverley after its sinking at the evacuation of Dunkirk during WWII, The Waverley plies its trade along the Clyde.
Back to her best thanks to newly fitted boilers, The Waverley is set to be one of the great Scottish seafaring excursions of 2021, providing the perfect, grand day out.
Feeling inspired?