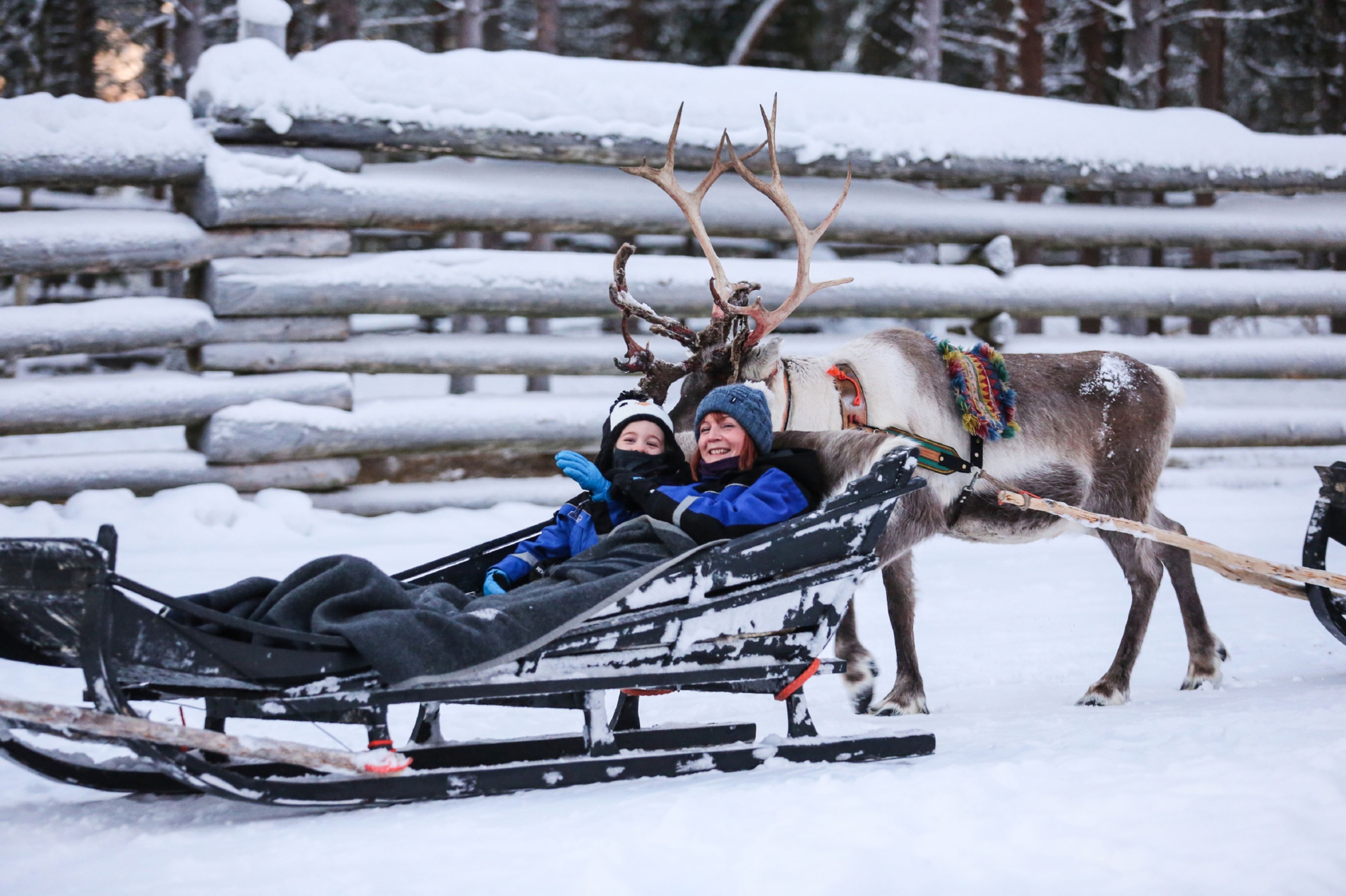 Finding the real Santa Claus is the number one priority when Claire Spreadbury takes her daughter on a magical trip to Lapland
I'm knee deep in snow, slush pelting in my face and my six-year-old daughter, Rosie, is whimpering behind me.
"You hate it, don't you?" asks Sebby, our guide.
It's not a question I thought I'd ever be asked in Lapland, particularly on the cusp of Christmas.
We're sat atop a skidoo, me at the front, Rosie clinging on for dear life at the back. About 10 minutes ago, we came to standstill in a big pile of fluffy snow, and now we've very narrowly missed a tree and appear to be precariously balancing at a 45-degree angle.
As Sebby pulls us out (again), I manage to find some inner strength to stop myself hopping off and hiking back. Rosie has a face like a wet weekend and declares she's never getting on a skidoo with me ever again.
She's true to her word, as well. And later that day, shows me even she can take the wheel in a more confident manner, as she straddles a small skidoo for kids, and whizzes it around and around in the snow (it's on a harness, but still).
So our once-in-a-lifetime trip hasn't quite brought out my inner child just yet, and we're also having trouble tracking down the man we're here to see.
Every day, we climb on a coach in search of Santa and his elves and today, we're told he's been spotted with the reindeer.
Bearing in mind there are more reindeer than people here in Luosto – slap bang in the middle of Finnish Lapland – this could be tricky, but we head off to find a very lovely man called Anssi, who goes by the title of 'reindeer man' and looks after Rudolph and his friends.
Warming our feet by the fire, he tells us how reindeer learn to walk about 10 minutes after birth, and can run within an hour. They have to in order to survive, as there are predatory wolves, eagles, lynxes and bears out here.
It seems fitting to see some of this running for ourselves and, as a sky of candyfloss pink, baby blue and marmalade syrup opens up all around us, we take our seats for the ride of our lives.
It's minus five degrees (pretty warm for December) and Rosie and I snuggle up under a smelly old blanket and animal skin, staring up at a reindeer's backside.
"Mush!" Rosie commands, and before we know it, our sled is swooshing through the most picture-perfect Christmas card scene imaginable. It's icy cold, but deeply relaxing, and if I could stop marvelling at the Narnia-esque surroundings, I might just fall asleep.
After our reindeer ride, we warm our insides with some hot berry juice before Rosie runs off to make friends with the elves.
There are 30 or so elves here, helping Father Christmas make and deliver toys. So far, Rosie's thrown snowballs at Tricky Dicky, had a running race with Speedy Sam and buried Noisy Ned's bell in the snow.
But there's one very special elf she's fallen a little bit in love with. Her name is Snowy Bowy. She's dressed in a very elaborate white and turquoise gown, wears an enormous crown on her head and has sparkles on her face.
After a dinner of Artic char fish and reindeer (which tastes like beef), we're cosying up in our Alpine lodge warmed by a real fire, when there's a knock at the door. Snowy Bowy has arrived to read a bedtime story.
Initially tentative, Rosie soon finds herself lost in the magic of The Secret Adventures Of Santa's Special Helpers, interrupting Snowy to ask her very important life questions ("Where is your sparkly dress from?") while gazing lovingly into her eyes.
When it's time to leave, Snowy Bowy writes a message in the book and leaves it as a present. Maintaining the gaze she's had fixed on Snowy's face for the last 20 minutes, Rosie says: "Please can you stay forever? And can I have some of the sparkles you put on your face?"
The following morning, rumour has it Santa's been visiting the huskies, so we head up to the farm to seek him out. The dogs bark almost constantly unless they're running, but as we get set for a husky ride, I hear a mention of the word 'driver'.
My heart sinks a little. As we've already established, I'm not the best at driving, and if the truth be told, I'm not great with dogs either. But before the dream is shattered, one of our coach reps comes to the rescue and Rosie and I sit down, while he runs along, steering the sled from behind.
The dogs pick up speed as we slide and swirl through the icy white winter wonderland. The downhill runs are by far the most exciting as we get gather pace, but as we come to the end of the ride, there's still no sign of Santa.
We're about to give up all hope when we're told elf Wendy Wood needs our help.
It's pitch black and we clamber into a great big sleigh lit up with twinkling fairy lights. We giggle hysterically as we jump and bump about, until we join the elves around a campfire on top of the hill.
We're singing Christmas songs and listening to Hans Christian Andersen tales when Rosie's name is called. We head up the steps to a wooden house, knock on the door to find Wendy Wood, who leads us to Mrs Claus, and then suddenly, we find ourselves in the same room as Father Christmas.
Rosie's eyes do all the talking as she stares in silent adoration, listening and receiving her gift. When we head back outside, she tells me she's "absolutely certain that's the real Santa".
Mission accomplished, we head back to The Merry Elf pub for a celebratory Glogi (a bit like mulled wine).
As the kids party with the elves, I sneak off to realise a Christmas wish of my own. Speeding through fresh tracks, snowflakes falling thick and heavy, I'm 'getting back on the horse' on an adults-only night skidoo safari.
Head guide Ben leads a team of five of us, each with our own driver, up to the top of a mountain. We skid and bump our way through the blackest of nights, butterflies fluttering around my belly. There isn't a soul to be seen, just miles of thick white snow and trees covered in blankets of fresh white powder, so heavy the branches bow with the weight, like big dollops of icing dropping down the side of a gingerbread house.
As we reach the top, we switch off the lights and sit in the dark, dark night.
For a minute, it feels like I've returned to my childhood as we chatter in the darkness. And if I'm honest, I have. Free of responsibilities, my inner child has finally escaped, because everyone's a kid in Lapland.
TRAVEL FACTS
Claire Spreadbury was a guest of Canterbury Travel (www.santa-holidays.com; 01923 822 388) and British Airways on the Magical Interlude three-night tour to Luosto, with return flights from Gatwick or Manchester, transfers, full-board accommodation, thermal snow suits and boots and all activities including husky and reindeer safaris, adult and children's snowmobiles and a private family meeting with Santa. Price starts from £4,649.50 for a family of four sharing a log cabin.
Santa Tours go on sale from November 15, 2016 with tours operating from November 29 to December 23, 2017.
Optional extras include the bedtime story (95 euros; approx £85) and the snowmobile safari (70-90 euros; approx £63-£81) for one to two people.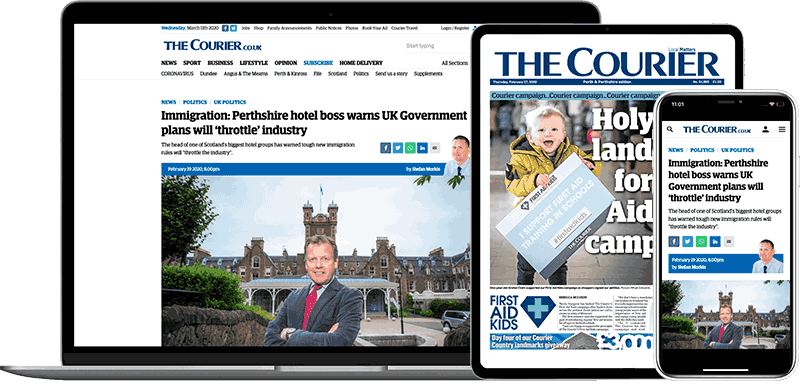 Help support quality local journalism … become a digital subscriber to The Courier
For as little as £5.99 a month you can access all of our content, including Premium articles.
Subscribe