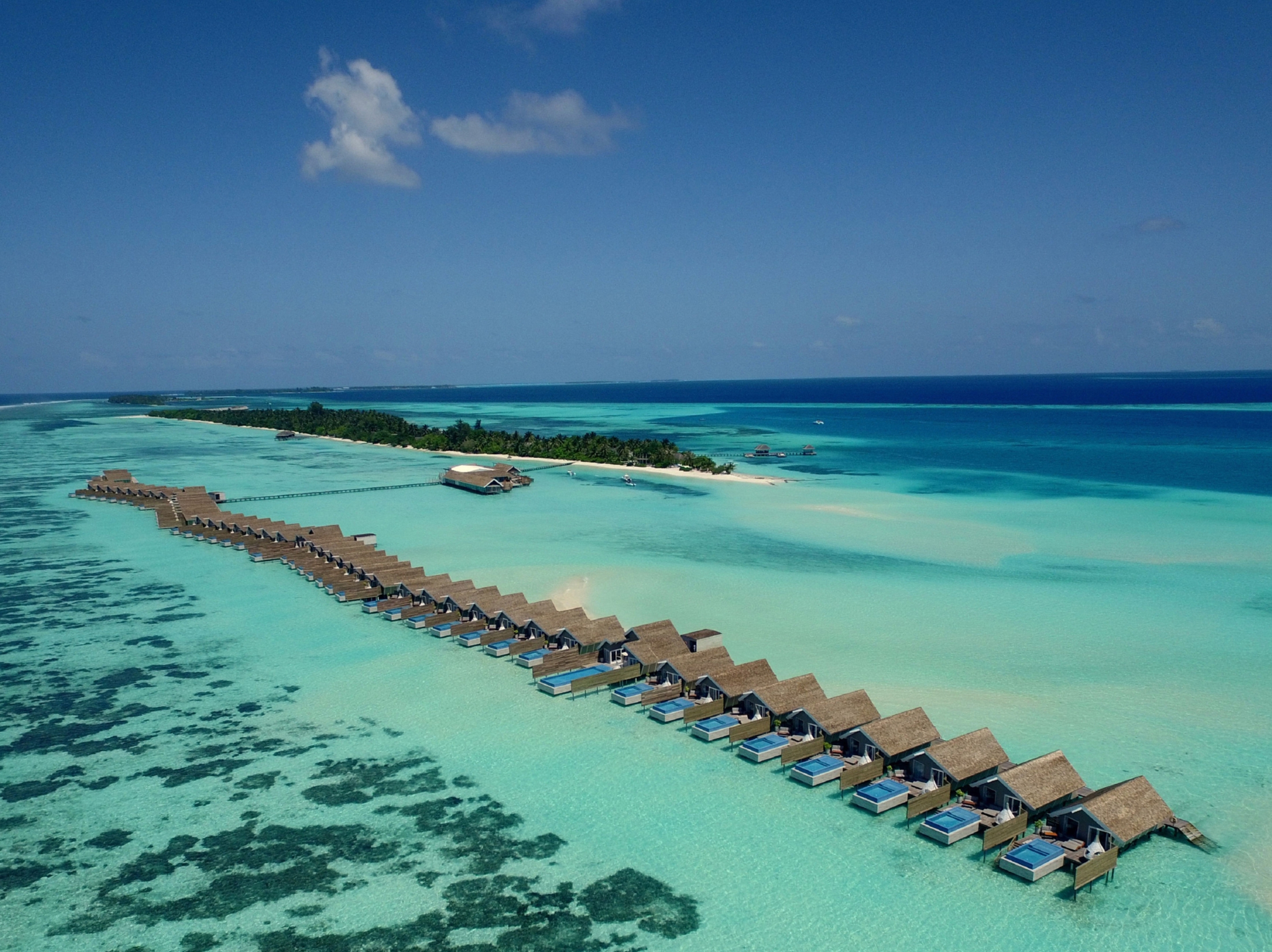 A resort offering more than just the promise of paradise? Karen Bowerman finds extra depth in the Maldives at the rebranded LUX South Ari Atoll
I don't know how it happened, but having popped off to powder my nose, I'm now dancing in delight, with a stranger in paradise.
I'm in the Maldives in the Indian Ocean, a country which offers the ultimate in laidback luxury. It has pristine sands, turquoise lagoons and tropical fish that sparkle and shimmer in the sea.
So it may seem odd that I'm about to rave over my resort's restrooms, which is where I'm presently dancing. But they're such a joyous discovery – with their sea-dappled walls, wacky music, whales' tails, photo booth, and life-sized pictures of Kate Moss-style mermaids – they represent to me, the beginning of a love affair. Not with the guy that I bumped into and jived and joked with, but with LUX South Ari Atoll, a resort which – although this sounds well nigh impossible – offers more than just the Maldives.
But I'll come back to that, later.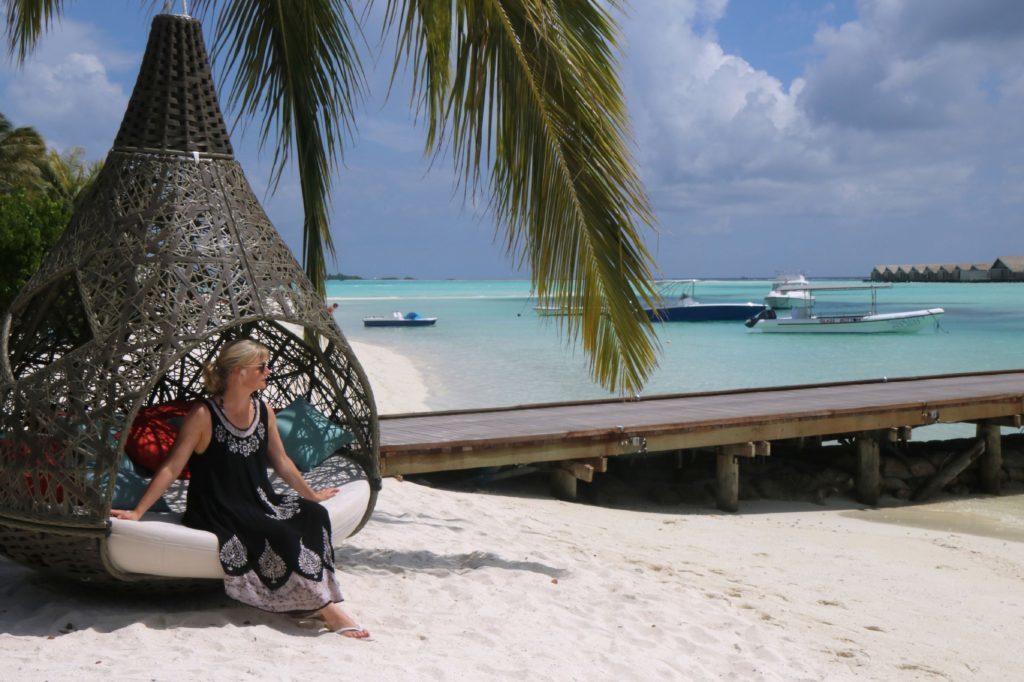 The Maldives is a chain of 26 atolls, 700km southwest of Sri Lanka. The southern isles include Hulhule, home to the international airport in the capital, Male, and Dhidhoofinolhu, where you'll find LUX South Ari Atoll.
As we approach, by seaplane, the view is stunning: palm-covered islands, each with a cyan-blue halo, float like lily pads on a sapphire sea.
Our pilot, wearing flip flops, brings us down. We glide to a halt across the glassy water. At the jetty, staff wave and shout, 'Welcome'.
Within minutes, I feel like a glamorous castaway. Our villa, with its palm thatch and courtyard pool, opens onto a powdery, milk-white beach; two loungers, framed by coconut trees, face the ocean.
My husband and I go for a dip, enjoy a rose-pink sunset, and watch the night sky flood with stars.
The next morning we're sitting, in dazzling sunshine, on the roof of a dhoni, a traditional Maldivian fishing boat, scanning the sea for shadows; I seem to spot them everywhere.
But Tina, LUX South Ari Atoll's marine biologist, knows what to look for – a shape she describes as belonging to "the biggest smile in the ocean".
We're searching for (harmless) whale sharks, the largest fish in the world; the biggest recorded is 12.65m long and 21.5tons. White Sands Reef, just minutes from our resort, is one of best places to find them.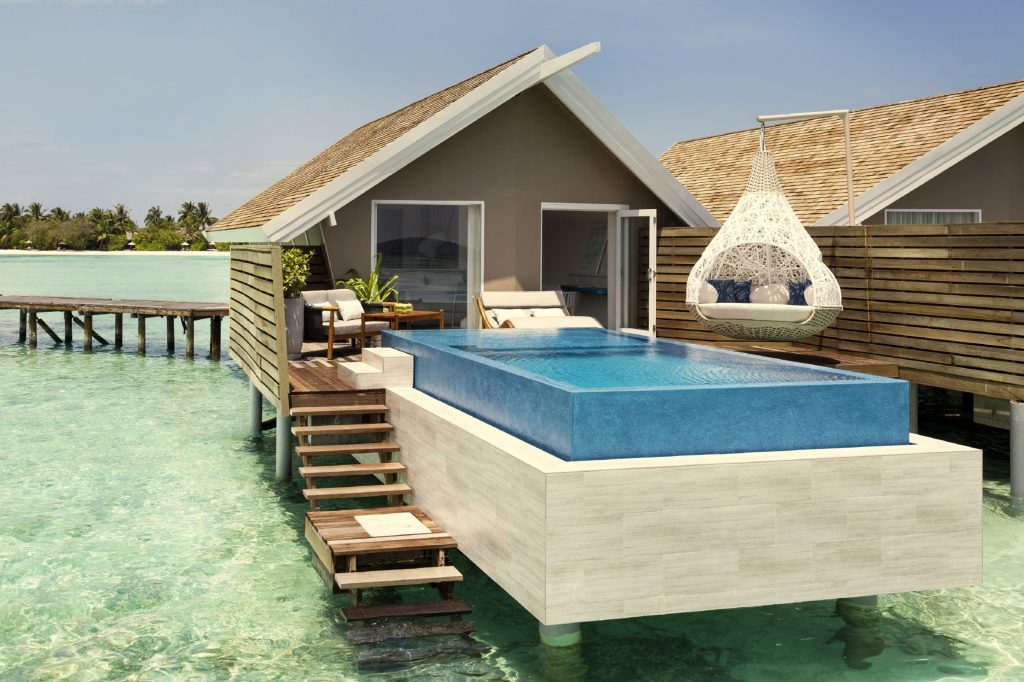 Incredibly, we're in luck…
"He's coming towards us!" Tina shouts. "Quick! Get in!" We grab our fins and jump into the sea.
Moments later, a flattened head emerges from the shadows; you can't miss the colossal "smile".
The shark's 4m long, a juvenile. I swim beside it for quite a few minutes, keeping my distance, but close enough to feel part of its world. The spotted giant cruises against the current, sweeping the water for food. Then it disappears, ghost-like, into the deep.
Another day, while snorkelling, I spot a green turtle diving below. Its patterned shell glints in the sunlight, as if a huge emerald has been lost at sea.
Where the reef drops away, I come across parrotfish, powder blue surgeonfish and a shoal of black and white pennant coralfish that sink and rise with the waves.
I hold my breath and notice munching sounds; it's a lilac and lime parrotfish, nibbling at dead coral as it cleans the reef. Occasionally, it excretes a cloud of sand.
"Kids love it when I tell them they're walking on parrotfish poop," Tina says as we return to the shore.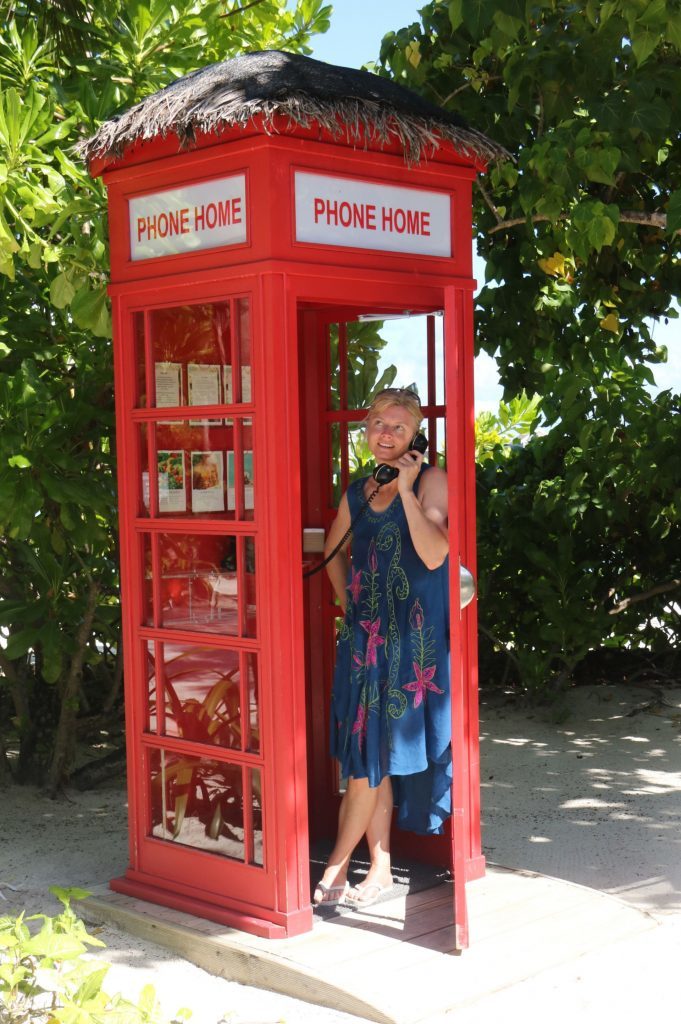 LUX South Ari Atoll is one of the largest resort islands in the Maldives, at almost 2km long. A sandy lane runs the length of it, through palms and frangipani flowers. Beachside restaurants, bars and pools are hidden in the trees.
At one end is the lagoon, the crystal clear water lined with brightly-coloured bean bags. We sit at the bar, a smart take on a laidback surf-shack, and listen to reggae with a bottle of rose from the resort's exclusive Scrucap selection.
A glance at the menu tempts us to try something. We delight in a salmon and red snapper carpaccio and the freshest tuna tartare we've tasted.
Everyone we chat to comments on the food; it is, without doubt, superb. At East Market, an Asian market-style buffet built over the water, we wander among sacks of rice and baskets of beans, to stalls of steaming dim sum and cook-to-order curries and stir fries.
A joke with chef Pong leads to my husband cooking his own Thai green curry, ladling in coconut milk and flavouring it with fresh lemon grass. Pong, very generously, proclaims it's "the best he's ever tried".
On the sunset side of the island is Beach Rouge, with a beach club vibe, white furniture and red cushions. My twice-cooked octopus is so tasty, I choose it again during our stay, while the kulhimas (traditional fish curry) served on the terrace at the Senses restaurant, is as fresh as the breeze that wafts in from the sea.
But it's the resort's little touches that excite me most, adding fun, flair and an element of surprise to this sunny island hideaway.
There's the red, thatch-roofed phone box inviting you to phone home for free, wooden carts in little clearings offering fresh coconut and bottled water, Sanih's ice-cream parlour with its home-made waffle cones, the open air cinema (where my husband, in jest, asks for popcorn, and the reply is "Certainly, sir") and the cups of rich, island-roasted coffee, with whale sharks patterning the foam.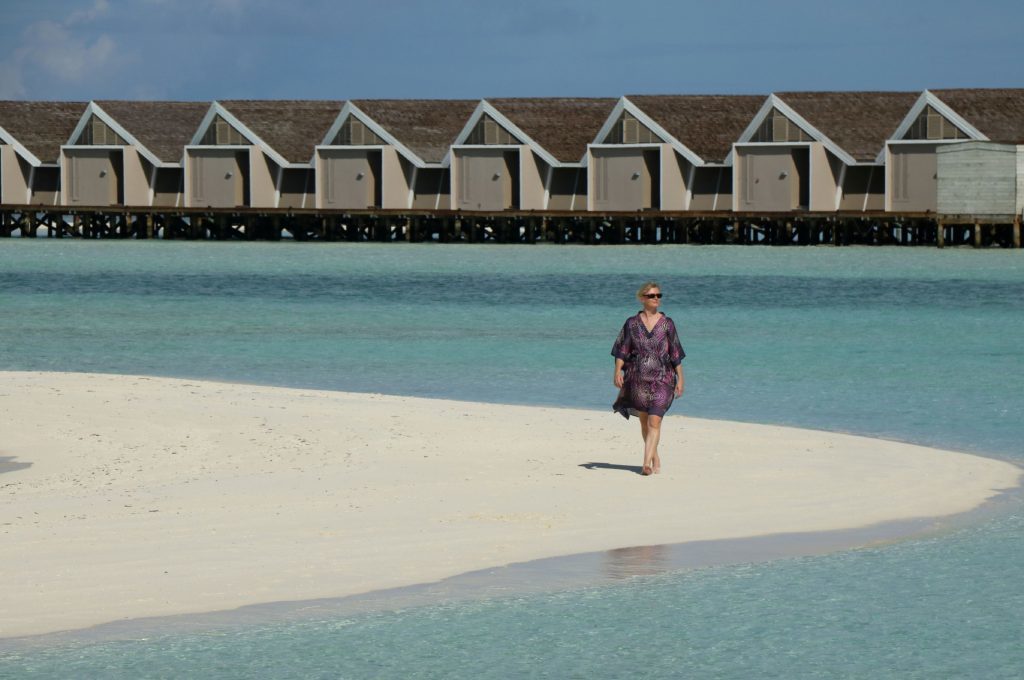 And then there's the giant banyan tree which, in a nod to local custom (and to encourage donations for community projects), is the resort's Tree of Wishes.
Red ribbons flutter from its branches. On each of them, a guest has written their heart's desire: 'I wish I was a fairy princess', 'I wish to be a marine biologist' and 'We wish for lovely memories of the Maldives' they declare.
We spend our last two days in an extremely stylish overwater villa, with a nautical feel, a private pool and steps leading into the lagoon.
It's the perfect place for lingering; there again, so is the spa. We go for a couple's massage but within seconds, my husband's asleep.
I leave him snoozing and slip into the pool. The sky turns peach, the sand glows gold and the hum of the departing seaplane reminds me we'll be on it tomorrow. But for now, my wish is to wallow in paradise.
They say the whale shark has the biggest smile in the Maldives – me, I'm not so sure.
TRAVEL FACTS
:: Karen Bowerman was a guest of LUX South Ari Atoll (www.luxresorts.com).
:: Hayes and Jarvis (www.hayesandjarvis.co.uk) offers seven nights B&B from £1,945pp – a saving of up to £338pp, based on departures May 30, 2017. The offer includes seaplane transfers and return flights from London Heathrow with Qatar Airways.