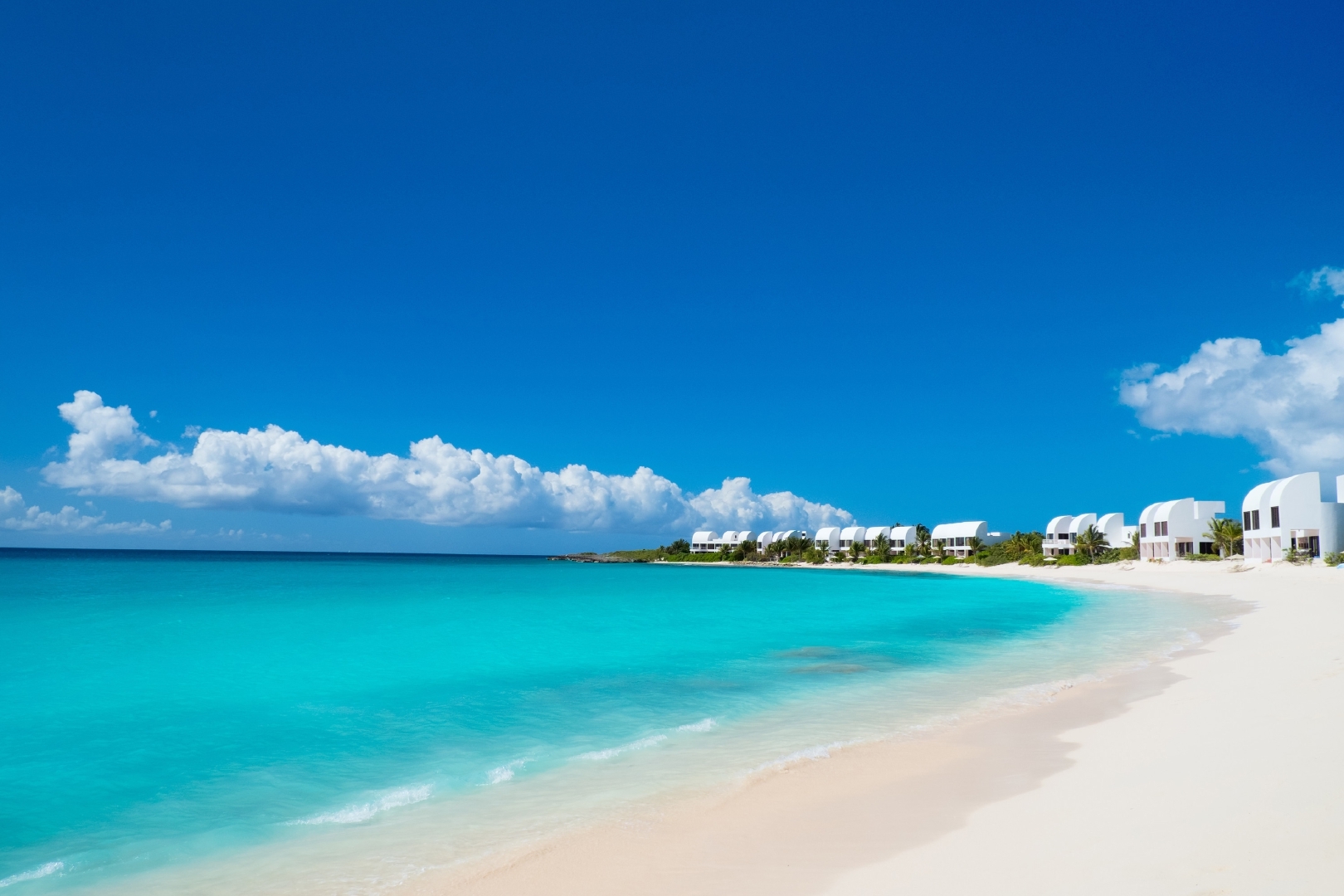 Gearing up for the 50 years of independence celebrations, tiny Caribbean island Anguilla is making a splash on the sunshine party scene, says Lisa Haynes
"Here you go: rum, with a little bit of punch for colour," the barman says, dancing and serving drinks simultaneously.
I am two hours into the final night of Anguilla's Moonsplash festival (held each year under the March full moon) and I've already clinked rum punch glasses with five different locals who now feel like old friends.
We've been on the island just four days.
The Caribbean's longest running independent music festival might be in its 27th year, but it's still one big homegrown beach party, fuelled by a thirst for authentic music and rum-and-Ting.
It's run by so-called 'king of the dune' and reggae local legend Bankie Banx, and each of the three Moonsplash headliners are wildly different. Bankie and his musician/cricketer son Omari Banks bring the reggae vibes on Friday, Sheriff Bob rocks out some Saturday night country, and string ensemble Synergy Violins play a megamix from the rooftops to close the festival on Sunday.
There's something about dancing to reggae next to the ocean with a full white moon illuminating the sky.
If this is the Caribbean's answer to Ibiza, sign me up.
With the island celebrating 50 years of independence this year, Moonsplash is like the warm-up jam for a line-up of festivals, parties and boat races scheduled throughout May to commemorate Anguilla Day on May 30th. The most significant annual holiday on the Anguillan calendar, it marks the pinnacle of the revolution when St Kitts policemen were expelled from the island in 1967.
One of five British overseas territories in the Caribbean, Anguilla is tucked away as the most northerly of the Leeward Islands. Its exotic name comes from the Italian word for eel, thanks to the island's distinctive long, narrow shape.
It takes less than a day to roam around Anguilla's entire 35 rustic square miles.
We stop the tour van to make way for goats and baby kids skipping alongside the roadside, and take snapshots of sun-drenched pink primary schools and stripy ice cream stands.
With its vibrant colour and ever-friendly locals, it's no surprise the island was recently the star of BBC Two's 'An Island Parish' docu-series.
I discover more about the island's past at the Heritage Collection Museum. Brightly painted in the island's national colours – white, blue and orange – the museum is curated by local historian Colville Petty, OBE and author. We explore his fascinating personal collection of geological and historical artefacts, ranging from Anguilla land crab shells in Tupperwear boxes, through to rusting cannonballs from the 1796 French conflict when two warships attacked Anguilla in the height of the Napoleonic Wars.
If you're not familiar with Anguilla's history, you've probably seen its iconic beaches via paparazzi shots.
Anguilla is the if-you-know-you-know hotspot where A-listers like Jay Z and Beyonce, Justin Bieber, and the Kardashians moor their super-yachts.
"Jay Z and Beyonce are low-key, but Justin was kinda outrageous last year," my island spy tells me.
Celebrities come here to relax after partying on nearby St Barth, about a one-hour boat hop from Anguilla (depending how fast the luxury yacht is).
But the aquamarine tide is turning. A new generation of luxe resorts like the Four Seasons and newly opened The Reef by CuisinArt are catering to a crowd that like a live DJ accompanying their lime daiquiris and sashimi platters.
"I think the real difference is that Anguilla has more of a European vibe than anywhere else in the Caribbean," says Stephane Zaharia, The Reef's vice president and general manager.
He goes on to show us drone footage of the resort's New Year celebration, featuring DJ duo D-Nice and Kenny Burns, that reminds me of a lavish party scene from The Great Gatsby movie. I immediately ask if there are any tickets for NYE 2018.
On the flip side, there are authentic bars like The Pumphouse in Sandy Ground that serve up fresh lime rum punch and live Caribbean music. We catch a reggae rendition of Adele's 'Hello', which is on repeat in our heads throughout the trip.
Partying aside, Anguilla's untouched paradise beaches will always be its main pull. The island has been the sun-drenched setting for iconic Davidoff 'Cool Water' ads and countless fashion campaigns.
"It may seem a long way to come to take an image, but it's not just about the backdrop," says Mimi Gratton of Blue Sea Anguilla events. "Art directors have said it's about the light here – it has a magical quality."
I pack for the journey home, which involves a speedboat ferry and small plane before boarding the flight from Antigua. Cue James Bond moments. It's a long trip but the off-the-beaten-track journey makes it feel even more like you're part of an exclusive Anguilla club.
My usual departing ritual of buying a fridge magnet from every destination I've ever been to is scuppered in Anguilla by the sheer absence of tourist shops. But I like that.
Instead, I buy a Bankie Banx T-shirt and reggae CD to continue the Caribbean party vibes at home.
TRAVEL FACTS
:: Lisa Haynes was a guest of the tourist board. Visit www.ivisitanguilla.com
:: Double rooms at Frangipani Resort (www.frangipaniresort.com) start from £303 per night (including voucher towards breakfast); CuisinArt Resort (www.cuisinartresort.com) from £445 per night (including breakfast), and The Reef (www.thereefbycuisinart.com) from £385 per night (including breakfast).
:: British Airways (www.britishairways.com) flies from London to Antigua from £468 return. Transfer from Antigua to St Martin with Winair (www.fly-winair.sx) from £243 return and take a ferry from St Martin-Anguilla with Calypso Ferries (www.calypsochartersanguilla.com) for £105 return.
:: For more information on Moonsplash, visit bankiebanx.net/moonsplash. Tickets cost 35 dollars (100 dollars VIP) each for Friday or Saturday admission. Sunday beach party, free.