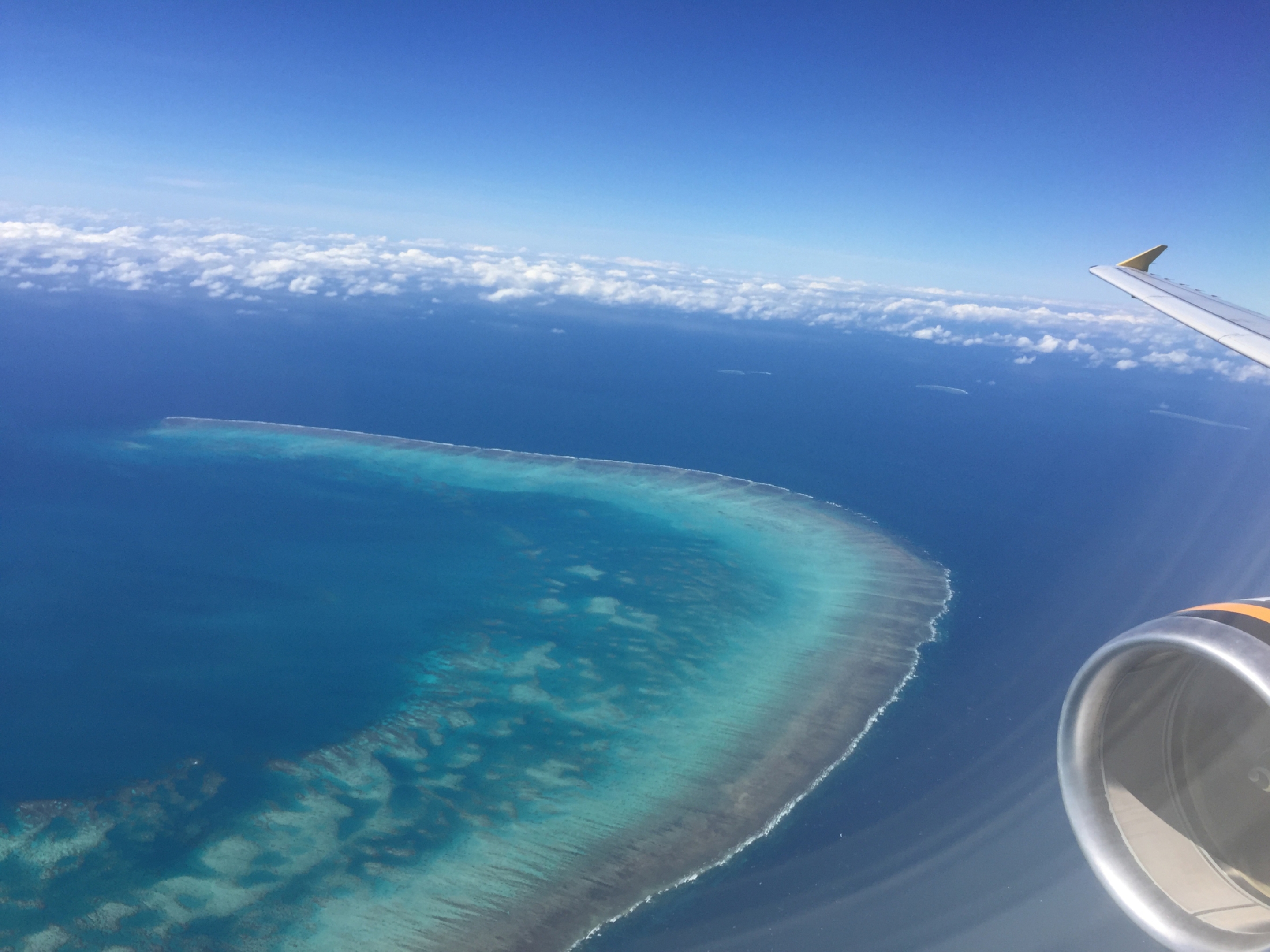 When I first ventured out to Australia in the 1990s getting Down Under involved multiple plane changes and flights within the country were impossibly expensive. I'm writing this now on Australia's sun drenched east coast and I'm happy to report that times have changed. Getting to and around this vast country has never been easier and more enjoyable.
Striding out to Australia used to cost a fortune. One trip here cost me over £1,000 and I flew on six different planes! Australia used to be a real once in a lifetime experience. That has definitely changed as my ticket this time cost under £600 and that included the handy option of flying into Brisbane and out of Perth.
I flew out of Edinburgh with Etihad Airways, so no changing planes in London. Their award winning economy service was spot on the first leg to Abu Dhabi and I was lucky to be upgraded to Business for the flight to Brisbane. This made a big difference as once I had finished working I enjoyed a proper flat bed and caught up on sleep across the Indian Ocean.
My first stop was the Gold Coast, where the excitement is building as the city prepares to take the baton from Glasgow and host the Commonwealth Games (www.gc2018.com). Next April's spectacular is going to be a massive event with 70 countries and territories competing across 25 sports. The organisers travelled to Glasgow in 2014 to learn lessons and I'm proud to report that they loved what Glasgow did and also credit the city with reinventing the Commonwealth Games after the debacle of Delhi in 2010.
In the build up to staging the second biggest multi-sports event after the Olympics billions of dollars have been pumped into the Gold Coast. Only officially declared a city in 1994, the Gold Coast is using the Games to make up for lost time with a funky new tram network, revamped sporting arenas and four new venues.
Things are hotting up on the local dining and hotel scene too as money pours into this balmy beachfront city.
I stayed at The Island (www.theislandgoldcoast.com.au), which has just reopened after a major makeover. The rooms were stylish and very much in keeping with the shiny, new Gold Coast zeitgeist.
Dining out at Social Eating House the staff enthused about the Games as they served me sparkling, creative tapas. I loved the Kitchens at the Robina Town Centre too. They're all very Queensland with small artisan producers and food stall owners being tempted in to outlets in this massive shopping mall. Another quintessentially Gold Coast experience was savouring Moreton Bay Bugs at the waterfront Omeros Bros.
All too soon it was time to leave the Gold Coast, flying out of the increasing busy Gold Coast Airport. My destination was Far North Queensland. The approach into Cairns was spectacular as glorious ribbons of the Great Barrier Reef – the only natural wonder visible from space – unfurled across the dazzlingly blue Pacific.
I arrived desperate to get back out on the reef and the next day I bounced out across the surf from Port Douglas on Quicksilver (www.quicksilver-cruises.com). The last time I went out with them was twenty years ago. Although they now have a lot more competition I still rate them as their large jet engined craft take you way out to the Outer Reef, where the coral and marine life is at its best.
Once at their floating platform the choice was a buffet lunch or a snorkel. There was no choice for me and I was soon in the water eking out to the reefs. Quicksilver are brilliant for people who've never snorkelled before and it was a joy to share the whooping enjoyment of timid first timers.
I broke off from the throng and soon found myself alone in a magical world of brightly coloured coral, the sort of oasis you might imagine only really exists in Disney films. In Australia it is very real, which hit home as I rounded a bed of coral to find a hulking reef shark looming large below me. This glassy eyed predator cruised by as I froze. Shark attacks are very rare, but I have to admit I was glad to see him ease away!
A more welcome swimming companion came in the form of a green turtle. He didn't seem to mind as I followed him at a respectful distance as he did the rounds around his coral home. I loved floating nearby as he nibbled away at the coral looking for tasty titbits.
Once back on the platform I tucked into chunky fresh prawns and chatted to the other guests, many of whom were British. The snorkellers and scuba divers were visibly excited, but I loved too that those who had chosen to stay dry by descending to the viewing platform or take a semi-submersible boat ride were also enthusing about the wildlife.
The restaurant scene in Cairns is not quite as sophisticated as the Gold Coast, but I found a brace of fantastic places. First up was the Prawn Star. The idea was brilliantly simple and affordable – you come aboard an actual fishing trawler to enjoy literally boat fresh seafood! Tamarind was at the other end of the scale, a slick dining oasis which listed many local suppliers and brought a creative kick of Asian fusion to the white linen clad table.
It was time to head south and I hopped on another plane – I don't miss the interminable bus journeys that I trudged around on before the budget airlines arrived in Australia – for the trip to Sydney. I've spent months of my life in Sydney and actually proposed on the steps of the world famous Opera House, so it has a special place in my heart.
The first time I came to Sydney in 1995 I jumped straight on the Manly Ferry, which I'd been dreaming of doing all through the preceding dreich Scottish winter. I instantly fell in love with this deeply dramatic, in your face New World charmer of a city, which unfurls all around on this cruise. The first thing I did this time was, of course, hop back on for this magical, dirt cheap, thrill ride across to the famous beachfront suburb.
Australia's largest city has really boomed in recent years. When I lived here in the 1990s the centre was dead at night, but the streets around my hotel – the stylish QT (www.qthotelsandresorts.com) – were now alive with people enjoying a new wave of cafes, bars and restaurants.
I ventured down to where it all began for the First Fleet in 1788 – the historic Rocks district. This is where the nervous colonists eked ashore and made contact with the local aboriginal tribes, carving out a life that grew into a country. I love that you can still really feel the history here. I enjoyed a great value lunch with a million dollar view on the rooftop of the Glenmore Hotel. I'd been attracted by the Scottish name and it was a great place to survey the Rocks.
I'm sending off this article now from Sydney's Central Station with my east coast adventures at an end. I'm about to board the Indian Pacific train across to Perth. It leaves in an hour on this Wednesday afternoon. It doesn't get in to Perth until Saturday after an epic ride of 4,352km!  I'll be back with my experience of the train and the delights of both Perth and the Margaret River wine region in two weeks time, so stay tuned for more adventures Down Under…
info
Robin flew to Australia with Etihad Airways (etihad.com), who offer flights to multiple Australian destinations via Abu Dhabi.
For more information on Australia see www.australia.com.
Hotel of the Fortnight
Outdoor hot tubs are all the rage and the good news is that they needn't cost an arm and a leg. Last month I stayed at Ardgartan, which is run by Forest Holidays. My wife and I took our wee girls and their two cousins for a long weekend and had a ball. I loved that the hot tub gazed out over Loch Long with the Argyll Hills in the background. They have a wee restaurant and bar too, as well as a play area for the kids. We enjoyed one of their ranger led walks too and tackled a stretch of the nearby Cowal Way too. Three nights from £445 with four people staying. www.forestholidays.co.uk
Travel Tip – Getting the Cheapest Budget Airline Flights
The budget airlines have revolutionised travel, but it pays to know a few fare tricks. First sign up to the newsletters of the likes of easyJet (www.easyjet.com) and Ryanair (www.ryanair.com) so you'll be the first to hear about special deals. If you have specific flights in mind diary when they go on sale so you can check for advance fares. Also clear the cookies on your computer as some airlines use 'dynamic booking' software that tracks return visitors and blocks cheaper prices. Last up, always shop around. I use www.skyscanner.com as it handily includes all the budget carriers and full fare airlines