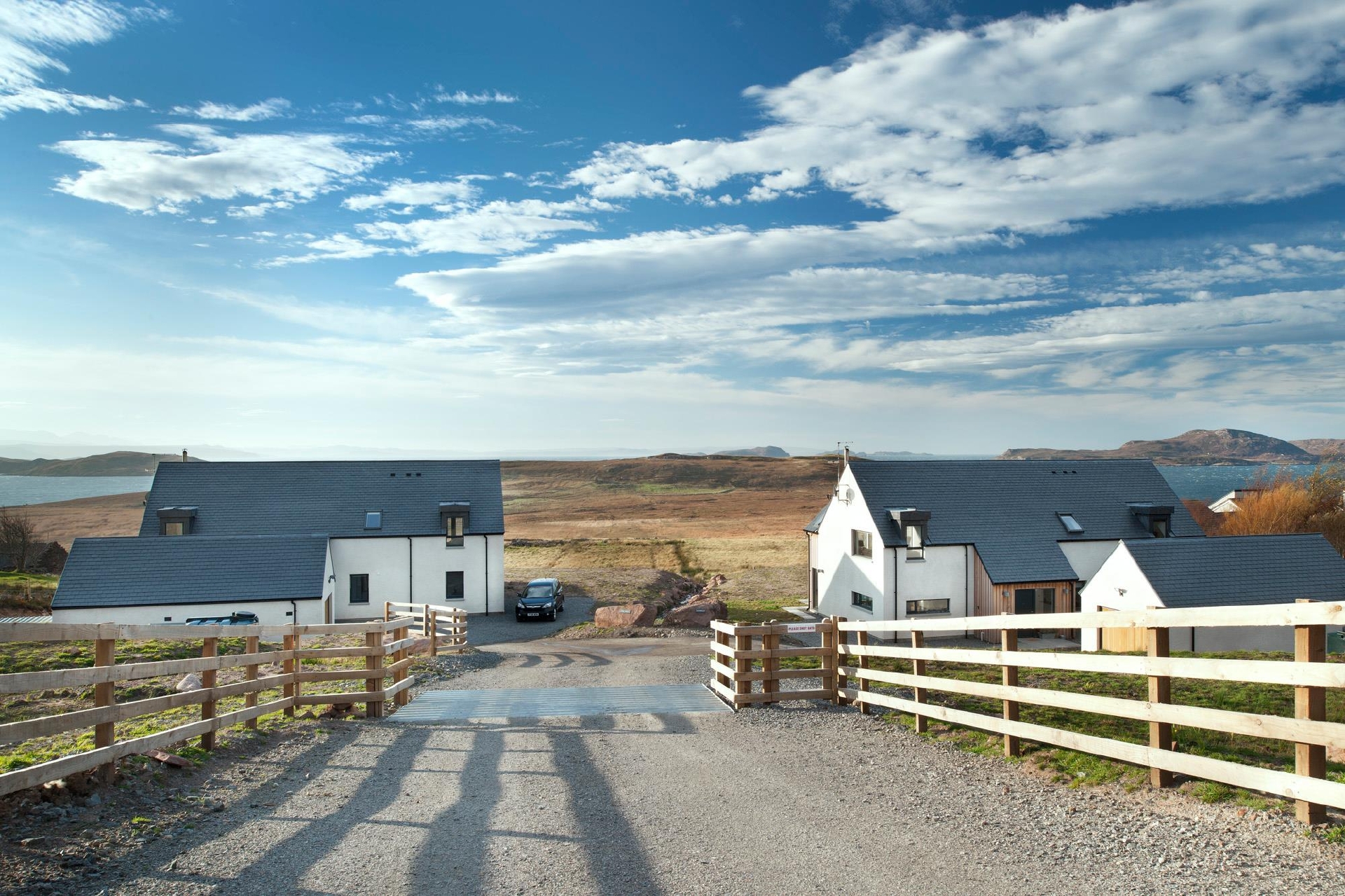 A luxury self-catering cottage where dogs can stay too? Gayle Ritchie whistles Toby and Cody and hightails it to Wester Ross
The sun is setting over the Summer Isles, and thin streaks of cloud drift lethargically across an azure sky.
The iconic islands are black silhouettes against the deepening pink haze above, while below, the sea is calm as a millpond.
I'm enjoying this stunning spectacle from one of the best vantage points in Wester Ross – from within Stac Polly Cottage in Achiltibuie.
The galleried lounge on the upper floor, where we sit to watch glorious sunsets every night, has a vista to die for, with unspoilt views of the Summer Isles and on clear days, across to the towering Cuillins of Skye.
I'm spending four nights at luxurious, pet-friendly Stac Polly. It sleeps eight so there's plenty of room for me, my mum, my partner Robert and two dogs.
If you're after a chill-out and kick-back break, then you'll be more than happy here as the self-catering cottage has everything you need and more – a hot tub, sauna, wood burning stove, media entertainment system, excellent wifi, plus all the usual items you'd expect.
But with hills to be climbed, coastlines and beaches to be explored, and pubs and cafes to be visited, there are way too many temptations to keep us inside.
On the afternoon of our arrival, we crack open a bottle of bubbly, gaze out at the views, and then take a stroll out to the headland of Rubha Dunan.
The grassy path passes a ruined broch and some derelict houses which invite exploration and we while away a good hour pottering on a lonely pebbly beach.
Having stocked up on groceries 23 miles down the road at Ullapool (you're well advised to do this because Achiltibuie is quite remote, although it does boast its very own Achiltibuie Stores), we whizz up a storm in the kitchen.
The next morning, after a peaceful night's sleep, we get up and devour a huge breakfast of bacon, eggs and coffee.
It's hard to prise ourselves away from the place but the mountains are calling.
A short drive along the coast takes us to Culnacraig, a tiny hamlet magnificently situated at the foot of Ben More Coigach (743m), a long, table-shaped mountain which dominates the peninsula.
The sun is doing its best to shine but rain threatens, so we decide to scale the slightly smaller Sgurr an Fhidhleir (705m), which is one of the finest peaks in the range, the cairn at the apex overlooking Lochan Tuath.
As we climb, the weather breaks, and we endure a flurry of hailstones followed by a full-on snowstorm.
"Let's go back," cries Robert, but I am foolhardy and stubborn and insist we carry on to the top.
Alas, the sensational vista promised at the summit  – the ground plunges away almost 500 metres vertically with views down to the loch and of the surrounding Assynt peaks – is completely lost on us today, as mist, snow and hail take hold.
Tromping back to base, we head straight to Achiltibuie Piping School Cafe for a warming bowl of soup and homemade scones. Just what the doctor ordered.
Unable to resist the mouthwatering array of homebakes on display, we scoff down mammoth slices of chocolate and carrot cake before going back to the cottage.
This was the perfect time to test the hot tub. It didn't matter that the rain and wind were whipping past my head; I lay back, drank in the views, and let the jet sprays pummel my aching muscles.
I was to return every night to stargaze from the tub – it's very addictive.
The following morning, we set off a coastal circuit of Achanaird Bay. The five mile route is fairly rough, following a sheep path, but the views of the Coigach mountains are stupendous.
Stopping for a picnic at a ruined cottage, we notice dozens of shiny black heads bobbing in the bay – seals!
They don't seem at all bothered as we sit watching them and they swim so close that we hear them breathing as they come up for air.
Later in the day, we enjoy lunch at the Summer Isles Hotel – and what a treat that is.
My Cullen Skink is packed with generous amounts of chunky fish, while Robert's haggis, neeps and tatties are said to be "damn good".
My mum's haddock and chips is a mighty portion, and again, it gets the thumbs up.
The evening is once again spent gazing out at the magical and ever-changing views and discussing plans for the following day.
We opt for one of my favourite walks – the climb up spectacular Stac Pollaidh (612m), her steep pinnacle ridge often likened to a porcupine.
You don't need to make it to the "true" summit – which involves a difficult, exposed scramble – to enjoy the hill and breathtaking scenery in all directions.
Instead, we climb up to the mid-section and are treated to panoramic views across the lochan-sprinkled wilderness.
As we pause for a snack, I realise the reason why I fell in love with this area is that the mountains possess a surreal quality, perhaps due to the otherworldly emptiness of their surroundings and the abruptness with which they seem to burst from the ground.
Musing on this, I look across to the iconic sugar-loaf hump of Suilven (731m), a mountain I've always dreamed of climbing.
Aside from walking and climbing, there's so much to do in this glorious and strange part of Scotland.
I first discovered the area when I was a student working a summer at Ardmair Point campsite and boat centre, three miles north of Ullapool. That was a good few years ago and days off would be spent exploring, walking and driving the length and breadth of the north-west. I cannot recommend it enough.
If it's beaches you're after, then are plenty of stunning white sandy ones.
Achmelvich Bay is a popular spot with water skiers, windsurfers, kayakers and picnickers and one of my personal favourites.
Then there's the walk to the dramatic bone caves of Inchnadamph where the remains of species such as lynx, reindeer and polar bear which once roamed here have been found.
Head further north into Sutherland and there's an amazing hike to Sandwood Bay.
A four mile walk along a bleak moorland track is amply rewarded when views of the beach, arguably the most beautiful in Britain, come into sight.
In the past, I've spent time exploring the mile of golden sand and dunes, with rocky cliffs and the giant sea stack of the Old Man of Stoer to complete the scene.
If it's a life on the ocean waves you're after, then why not take a boat trip out to the Summer Isles, or hire a kayak or yacht?
While I've stayed in all kinds of accommodation in this part of the world through the decades – from tents and caravans to log cabins – I can honestly say that if you're looking for a luxurious, pet-friendly abode with all mod cons and fancy extras like a hot tub, then Stac Polly Cottage has it all. Go on – you deserve it.
info
Stac Polly Cottage was awarded five stars from The AA and is located in the Achiltibuie peninsula overlooking the Summer Isles in the north west of Scotland.
The cottage (http://www.embracescotland.co.uk/highlands-and-skye/ullapool/property-1696-locholly-cottage-stac-polly-cottage/) sleeps eight people. Prices start from £899 per week.
Launched in 2016, EmbraceScotland's (www.embracescotland.co.uk) "Pets Welcome Charter" set out a range of standards that the holiday homes in its collection must meet in order to be classified as "pet-friendly".
All "pet-friendly" properties provide a water bowl, poop bags, details of suggested local dogs walks, contact details and directions to a local pet shop and vet, pointers to suitable exercise areas nearby and details of the local pubs and restaurants, where pets are accepted.
Many also provide towels for drying off wet dogs, food bowls, blankets, dog tags, a lead, a dog walking service, day kennels, treats and dog grooming. Holidaymakers can identify the properties that are pet-friendly by ticking the "pets welcome" box in the search function on the website.
Stac Polly Cottage is brilliant for pets, with all of the above and dedicated outdoor kennels for drying off mucky pups. See www.selfcatering-scotland.net
About EmbraceScotland:
EmbraceScotland is a comprehensive directory of 100% quality assured self-catering accommodation throughout Scotland.
The website features more than 3,000 properties from city pads and beach chalets, to farm houses and country cottages.
Pets are a priority with many properties welcoming not just dogs, but cats, horses, parrots, rabbits and hamsters too!
Holidaymakers book directly with the owner/managers with no fees, commissions or fuss.
For more information, go to www.embracescotland.co.uk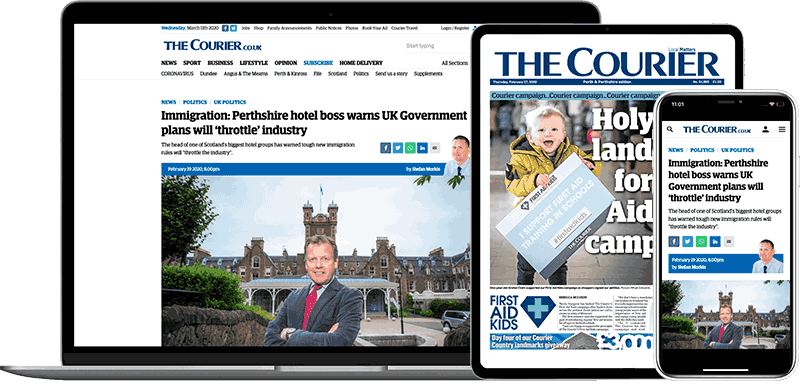 Help support quality local journalism … become a digital subscriber to The Courier
For as little as £5.99 a month you can access all of our content, including Premium articles.
Subscribe