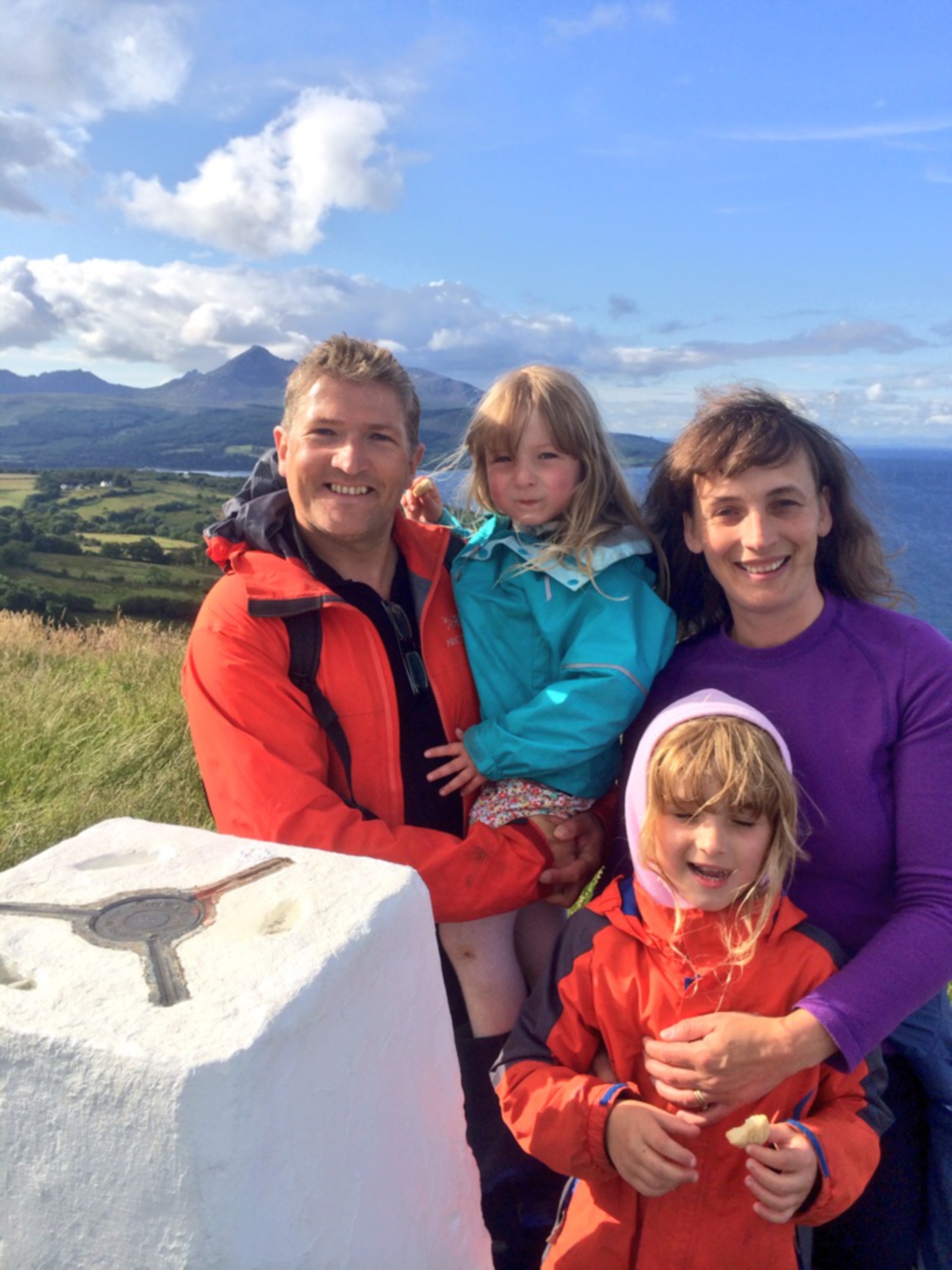 As a travel writer I've visited more than 100 countries and make 30-40 trips a year, but there is one place in Scotland that I return to every single year. That is the Isle of Arran. I'd like to share with you what for me makes this unique oasis in the Firth of Clyde so special.
My connections with Arran stretch way back to when I was a wee boy. Even earlier really as I have family on the island that can trace their roots back for centuries. Today my closest relatives on the island still run a farm in Shiskine.
That personal family link aside Scotland's seventh largest island lures me back for myriad reasons. Not least the scenic beauty. You'll often see Arran eulogised as 'Scotland in Miniature' and it really is – the Highland Boundary Fault forges right through the island's heart splitting into Lowlands and Highlands.
The main CalMac ferry cruises from Ardrossan into Brodick, handy as it lies by this geological faultline. To the south are rolling hills, fertile farmland and sandy beaches. This Arran feels gentle, welcoming and quietly charming. It is the Highlands north of Brodick, though, that really set my heart racing. This Arran is an epic land of jagged mountain peaks, tumbling glens and wild coastline.
You can enjoy Arran's scenery cruising around by car, but I recommend taking a bike ride (you can cycle right around in a day) or ideally heading out on two feet. Arran offers some of the finest hiking in Scotland. There is, of course, Goatfell, a majestic mountain that soars up a whopping 2,867ft from sea level. I climbed it when I was only six and last year had the pleasure of yomping up with my then eight-year-old Tara.
Many walkers end their explorations of Arran with Goatfell, but that is a serious mistake as there is much more on offer. The Glen Rosa Horseshoe is an epically beautiful ridge walk that offers up breathtaking views, while the amble up Glen Rosa itself is a gentle affair that can be enjoyed by those wanting to taste the mountains without getting too high.
The star attraction for walkers is increasingly the 65-mile Arran Coastal Way. Opened in 2003 by walking guru Cameron McNeish (who cites Arran as the inspiration for his career in outdoor writing), this summer this coastal epic was awarded the status of one of 'Scotland's Great Trails'. This puts it up alongside the likes of the West Highland Way.
You don't need to tackle all the Arran Coastal Way in one go. My favourite stretch is from Lamlash to Brodick. The views of Holy Isle strike as you set out, soon accompanied by tiny wee Hamilton Island. Here you have the choice whether to hug the coastline most of the way to Brodick, or to hike up Dun Fionn en route. I love that the Arran Coastal Way is not afraid to strike inland occasionally in search of the finest scenery. The views from atop Dun Fionn are some of the best on the island.
Whether you are walking, cycling or driving around Arran you will be treated to an ever-changing rich bounty of wildlife. You can see all of Scotland's 'Big Five' – otters, red squirrels (Arran has no grey squirrels), golden eagles, seals and red deer, the UK's largest land mammal. My daughters love when we head out on a 'nature safari' in search of all five.
One of my favourite wildlife experiences in the world was on Arran. I once arrived on a small cruise ship into Lochranza to find a hulking great basking shark in the still waters of the bay. I spent a couple of hours watching it feeding before we took a RIB across to check out the nearby very playful seal colony as the sun set. If that wasn't enough when we came out of a local bar after a nightcap my friend from London was caught unawares and fell head first over a stag!
Another of my favourite attractions on Arran over the years has been checking out the glorious beaches. I'm not a huge fan of the main beach in Brodick, but handily there is now a great walkway linking Brodick to the sandy Fisherman's Beach.
Other McKelvie family favourites I'd like to share with you include Sannox, which is reached across a set of stepping stones and then a walk through the dunes. Blackwaterfoot on the island's less explored west coast is a stunner, a wide stretch of sand with shallow water and great views across the Kilbrannan Sound to Kintyre and even Ireland. Then there is a 'secret' beach some of my family would wish I didn't share with you at Torrylin. Sorry! The best way in is on foot from nearby Lagg as you pass an ancient cairn on the way.
Speaking of cairns Arran is awash with history. There is, of course, the famous King's Cave. As a boy I loved hearing the legend about Robert the Bruce being inspired to continue his fight against English dominion here as he watched a spider try and try again to weave its web. Then there are standing stones and circles of Machrie Moor, some of the finest in Scotland.
There are castles and hillfort sites aplenty too. I have always been charmed by the rugged ruin of Lochranza Castle and moody Kildonan Castle, but my favourite is Brodick Castle. I think that the National Trust for Scotland run their land on Arran, which includes Goatfell and adjacent Glen Rosa, very well. They've made real efforts to re-grow patches of indigenous vegetation and are in the process of making Brodick Castle accessible to all visitors.
While daddy loves Brodick Castle and its lavish gardens and grounds my daughters – on our most recent visit earlier this month – had one destination in mind, the new Isle Be Wild woodland adventure playground. This spectacular new attraction is a world in wood set amidst the forest with a wee burn gurgling through it. The girls loved it and I appreciated the wee café where I could sit and watch them play as I sipped on a brew.
Arran as an island has long been awash with cafes, bars and restaurants. Many make the most of the superb local produce, from the famous Arran 'oaties' oatcakes and Pirnmill lamb, though to the range of superb cheese (the award winning Arran Blue is my favourite) and the island's increasingly renowned whisky.
I popped back in to the Isle of Arran Distillery, which opened in 1995 in Lochranza, to see how things were going. I'm glad I did as they've revamped their café with a great new menu that features the likes of local venison burgers and platters that bring together the best of Arran produce. They offer ace tours too (as a modern distillery most production is handily in one room) and tutored tastings. I savoured one of the latter and in the process learned all about their second distillery, which is set to open in the south of the island next year.
My base on this visit to Arran was an old favourite, the Auchrannie Resort (www.auchrannie.com). I've known the general manager here, Richard Small, for years and I've watched as he's helped steer this resort to a string of awards. They have hotel rooms in the old stone original hotel, spacious modern rooms in the Spa Resort and luxury lodges too.
We enjoyed staying in one of their revamped lodges. It was swish and in great condition, the perfect hub for an Arran break. On our last night we whipped up an Arran feast on our second floor terrace. As the sun set I toasted a wee dram to distant Goatfell and wished – as I always do – for a quick return to this most special of islands.
Factfile
Tourist information www.visitarran.com
CalMac (www.calmac.co.uk) operate ferries to Arran from Ardrossan in Ayrshire and from Claonaig on Kintyre.
Hotel of the Fortnight
Although Edinburgh boasts myriad hotels these days it can be hard to find somewhere a bit different. Hotel Indigo is certainly that, a four star hotel with online rates that often stack up against 'cheaper' hotels. They also go that extra mile with quirky extras like free use of their Polaroid cameras. You are very much encouraged to take snaps as you sightsee. You can save some for yourself and donate others to their display. The best win prizes. www.hiedinburgh.co.uk
Travel Tip
I love spending time on a city break in Glasgow and I also love chilling out, or even getting seriously active, on the bonnie bonnie banks of Loch Lomond. I recently spent a long weekend visiting both the city and Scotland's largest loch and it made me wonder why more people don't combine the two. They are so close together, so you can have your fill of culture and urban buzz before you lose yourself amidst Mother Nature. For more info see https://peoplemakeglasgow.com and www.lovelochlomond.com.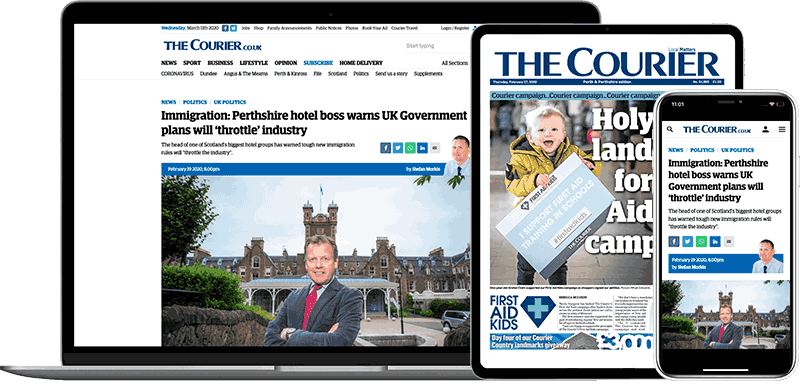 Help support quality local journalism … become a digital subscriber to The Courier
For as little as £5.99 a month you can access all of our content, including Premium articles.
Subscribe