Ahead of a Royal Scottish Geographical Society talk in Perth, journalist Rebecca Lowe tells Michael Alexander why she was inspired to cycle from London to Tehran to break down barriers and challenge misconceptions about the Middle East.
When Rebecca Lowe set off on her own to cycle from London to Tehran, her primary aim was to shed light on what she deemed a "hugely misunderstood and misrepresented" area of the world.
But while she had to endure her fair share of extreme heat, heavy handed police and gropers, she returned after a year satisfied that 99.9% of the ordinary people she met were not the volatile fanatics often portrayed in the media. By contrast, the majority simply wanted to live normal, peaceful lives.
"It was the Arab Spring in 2011 that kicked it off," says Rebecca, 36, who will be giving a talk about her adventure to the Royal Scottish Geographical Society in Perth on Tuesday.
"I was working as a journalist at that time and my specialism was human rights and the rule of law.
"I was working for this global organisation called the International Bar Association.
"When the Arab Spring happened I started writing and learning more about it and the region. There were a lot of human rights issues, and constitutional legal issues going on. A lot of time was spent researching it.
"One thing that really did affect me was I felt there's this high level of ignorance about the Middle East in the West.
"I think people just have a skewed idea about some of these countries – they tend to associate them very much with the often repressive authoritarian governments that are in place. They forget that the countries -the people –  are often not aligned with the leadership.
"I became very interested about that disconnect between the politics and the people in these places. I wanted to find out what the people are really like."
Packing in her job, the London-based Cambridge University graduate, who had ambitions to work as a freelance journalist, bade farewell to her property developer boyfriend Patrick and mum, and set off in July 2015 on her special Kona Sutra tour bike for what turned into an epic 11,500 kilometre (7000 mile) journey through France, Italy, the Balkans then on to Turkey, Lebanon, Jordan, Egypt, Sudan, Oman, the UAE and Iran.
Carrying all her equipment on panniers and experiencing a "wonderful sense of freedom", she slept in a tent to begin with. Then, as the weather grew colder and her confidence grew, she began taking up offers of accommodation from "incredibly hospitable" local people.
Rebecca admits she had a number of colourful experiences. These included being followed by the police in Egypt and being "told off" by the 'morality police' in Iran to cover up. She was also angered by the way some authoritarian regimes treated women.
However, she says there were only a couple of times when she felt "really uncomfortable and quite scared".
"The first time was when I got a puncture in Jordan and got into a truck with a guy there," she explains.
"He got a little bit frisky basically. He was Bedouin culture in southern Jordan – not a very educated guy – he was very ignorant about the kind of etiquette that would be expected in those circumstances.
"He was trying to touch me and kiss me. In the end I had to get my knife out of my bag and wafted it near his groin.  Fortunately as is usually the case in this situation he was a big coward and let me out!
"The other time I felt in danger was my own making when I went through the Sahara and ran out of water.
"I crossed from one road to another across the Nile to view some archaeological ruins.
"The side I'd come from had loads of water stations where you could buy drinks.
"The other side had nothing at all and hardly any cars. It was very very very hot at that time. There was this horrible hot headwind.
"I just got into this really bad way. That was the only time I thought this might be it!
"I did start panicking a little bit but scraped my way to the next town where a very kind Nubian family picked me up and tended to me and looked after me and let me sleep in their house. It was all fine in the end."
Rebecca said it was clear many people live in difficult conditions under authoritarian regimes.
However, her overwhelmingly positive experiences shattered any  pre-conception that Middle East countries are a hotbed of terrorist sympathy.  Every ordinary person she spoke to was very critical of the "murderous" Islamic State (IS).
"That was one of the wonderful things," she says.
"I thought people were going to be kind and interested in what I was doing.  I thought there was going to be some kind of difficulties and judgment in certain conservative  areas.
"But people were overwhelmingly curious and fascinated and really interested to know what I was doing, why I was doing it and where I was from.
"There were quite a few questions like 'where is your husband or children'? "But they were never really aggressive or hostile. It was genuine interest.
"I think for a lot of people there was a bit of envy as well amongst the men and women.
"A lot of people wanted to do something like this but weren't able to do so for a million different reasons.
"What I realised when I was going was the vast majority of people I was meeting just didn't have that freedom through no fault of their own  because of where they were born – financially, economically, socially – they wouldn't have been able to do it.
"So suddenly freedom became something that was really precious rather than something that was taken for granted my entire life.
"Even going through Europe, most of the people I was meeting in the Balkans were very poor people living in ramshackle houses.
"They physically can't leave their village because they don't have the means to do it.
"It was really kind of eye opening for me to understand that and kind of see it at first hand."
Rebecca Lowe's Inspiring People talk for the RSGS takes place at the Salutation Hotel, 34 South Street, Perth at 7.30pm on Tuesday November 7. For more information on her adventure go to www.thebicyclediaries.com

Rebecca Lowe.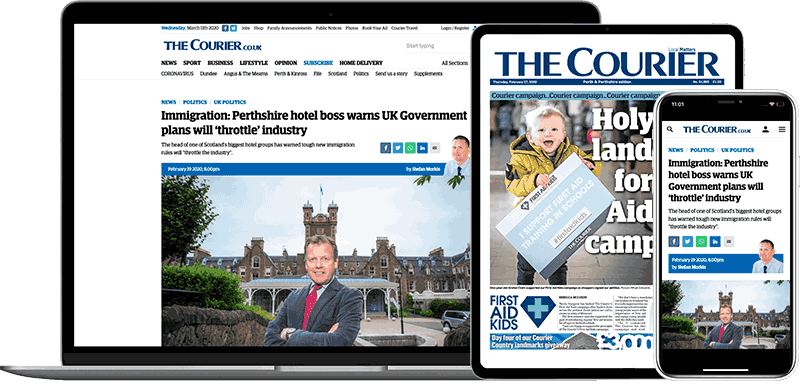 Help support quality local journalism … become a digital subscriber to The Courier
For as little as £5.99 a month you can access all of our content, including Premium articles.
Subscribe