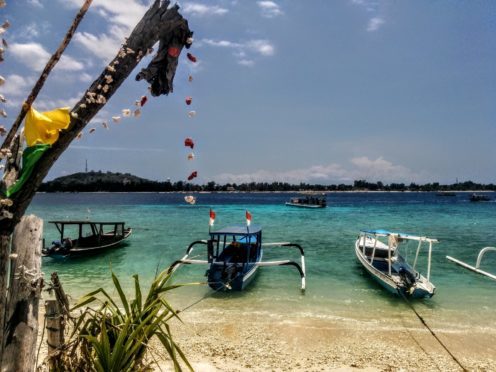 Bali's highest volcano has been teetering on the brink of a major eruption for months. With plans to celebrate her birthday in the Indonesian paradise, Gayle Ritchie risked a trip there – and was very glad she did…
Glass of fizz in hand, frangipani flower tucked into my hair, I'm gazing up at a starry Balinese sky while the waves crash gently on the shore below.
I've arrived at the sumptuous Four Seasons Resort Bali at Jimbaran Bay after a full day's travel – 27 hours, to be precise – but I couldn't be happier.
It's my birthday and staff here have pulled out all the stops to make me feel special. I'm greeted with a welcome drink and a delicious cake, and the most infectious of smiles.
After a refreshing dip in my private pool, I fall into the world's comfiest four-poster bed for a restorative sleep.
The next morning, after waking to a view from heaven – the villa overlooks the wide curve of Jimbaran's golden sands – I head for breakfast.
There's everything on offer from yogurt and granola to Asian and Balinese fayre and I gorge myself silly.
Then, after a stroll round the idyllic resort, I head for a session of "anti gravity" yoga, using hammocks.
It's tough work hanging upside down and "flying", and the instructor puts me into all kinds of weird and wonderful positions. The experience is said to relieve stress, encourage healthy blood circulation and beat jetlag, and it's great fun.
After lunch, I enjoy a wonderful two hours having a rejuvenating energy scrub, mud wrap, full body and facial massage in the Healing Village Spa. Just wow.
Then it's time for sunset cocktails before I leave for my new port of call, a much more modest hotel in the heart of Jimbaran.
The following day, I get a taxi to Uluwatu, stopping for a dip in the sea at crowded Padang Padang.
At Uluwatu, home to a famous sea temple which clings periliously to steep cliffs, I have my first – and only – negative Balinese experience.
The site is overrun with monkeys, and one grabs my phone, makes off into scrubland and starts to chew it.
Almost immediately, a women springs into action. I wrongly imagine she's trying to help me, as she throws a banana to the monkey and reclaims my phone.
The penny drops when she refuses to hand it over unless I pay her! As I fumble around in my purse, pulling out random notes, she shakes her head in disgust, and I'm surrounded by a group of local men. It's rather intimidating and as someone who considers themelf to be travel-savvy, I feel foolish to have been swindled!
Next morning, I jump in a taxi for a two-hour ride to Ubud.
The town is famed for its crafts, culture and art and its popularity has spiralled out of control thanks to the the Julia Roberts film Eat, Pray, Love.
As a lover of peace, I find Ubud's centre a little too frenetic. Packed tour buses, cars and taxis choke the main streets, inciting chaos.
Fortunately, it only takes minutes to escape the madness and find myself strolling along tranquil paths, through verdant rice fields and rainforests.
There are endless photo opps – farmers in straw hats slashing at swathes of green paddy fields, Hindu temples and shrines.
It's worth spending a few days in Ubud – there are cafes, restaurants, spas and craft shops galore – and accommodation to suit every budget.
Away from the luxuries of Four Seasons, my apartment, booked via Booking.com, is a disappointment.
Imagining £60 a night would guarantee something decent was a mistake (think mould on pillows, missing tiles, lacklustre breakfast) but perhaps I'm just unlucky as I overhear enthusiastic backpackers raving about their fantastic tenner-a-night accommodation.
On hearing there's a sister Four Seasons at Sayan, on Ubud's outskirts, I decide to treat myself to a night there. It's pricey, but hell, this is a one-off trip.
Just off the main drag, the entrance to the magnificent resort weaves past smiling security guards to reception where staff present me with a fragipani flower and tie a coloured scarf round my waist.
Then I cross a dramatic bridge, gaze across a lily pond to lush jungle and make an ethereal descent through a valley of towering trees, tiered rice paddies and enchanting gardens that cocoon 60 suites and villas.
As expected, my suite is out of this world, featuring a rooftop pond and meditation deck.
I spend the evening chilling with a beer or two, watching fireflies glow and dance in the dark sky.
The resort is truly a place which embraces you – an architectural masterpiece and verdant riverside sanctuary bathed in beauty.
Next morning, I join a bike excursion which promises to show an untouched side of Bali.
There are three of us on the tour and our cheery guide Agus regales us with stories and anecdotes.
Apparently, Barack Obama stayed at the resort a few months ago, and he joined a bike tour. "He was a really fun guy!" beams Agus as we wind through villages, tropical plantations, past rich green rice fields, rivers and canals.
Back at the resort, I enjoy a mouthwatering lunch at Riverside Cafe.
Snapper ceviche is followed by grilled salmon, rocket, organic pickles crushed walnuts, feta cheese and sour lemon cream. Delicious.
Then it's time for my Sacred Nap – an hour spent lying in a silk hammock suspended from the roof of a bamboo hut while former Buddhist monk Ibu Fera gently rocks me and tells the story of Buddha. It's a spiritual and deeply soothing experience.
I'm slightly woozy but have a treatment booked at the Sacred River Spa. Here, my therapist combines a deep scrub, tropical shower, nourishing bath, warming massage, and a meditation, leaving me walking on air.
My original plan had been to travel deep into the heart of Bali, but with Mount Agung burbling away and a seven-mile exclusion zone around the volcano, I play safe and head for the Gili Islands.
Scary (and true) stories of boats sinking abound, so it's worth doing your research and going with a reputable company like Gili Getaway.
First stop is Gili Air, said to blend party island Gili Trawangan's buzz and bustle with tiny Gili Meno's stripped-back, rustic vibe.
The white-sand beaches here are arguably the best of the Gili bunch and there's enough nightlife to keep everyone happy.
I spend a lazy few days on Air, swimming in the turquoise waters, sunbathing, strolling round the island (it takes an hour) and enjoying coconuts and cocktails.
Folk here are hot on recyling and at some bars, plastic is banned, water comes in glass bottles and straws are wooden.
I stay in a basic beach bungalow which loses electricy three times and drips water from the air con, but having quaffed quite a few cocktails, I'm not too fussed.
I find my true slice of paradise on Gili Meno, the smallest and quietest of the Gilis, ringed by gorgeous beaches and teeming reefs.
A highlight is snorkelling amongst the brilliantly coloured tropical marine life. And when a sea turtle swims alongside me, I'm ecstatic!
The only transport on the car-free Gilis is horse-and-cart and bikes, but I'm more than happy to walk.
Most accommodation on Meno is along the east coast, near the most picturesque beach, but I find a quiet apartment on the comparitively lonely west side of the island with great views of the ocean.
Strolling inland, I stumble on ramshackle homesteads, an abandoned hotel complex, the odd horse and cow, coconut plantations and a salt lake.
Along the coast, there's an enormous beachside project backed by ex-Baywatch star David Hasselhoff that will boast 90 villas when it opens in 2019.
The effect of this on Meno is likely to be profound, so I suggest getting there pronto.
At night, I eat at We'Be Cafe, a great place to watch the sunset, devour reasonably priced Mie Goreng (fried noodles), and chill to a mix of reggae and dance tunes.
Back on mainland, I spend my final day in glitzy Seminyak, which is full of boozy Brits and Aussies.
Sure, the nightlife here is buzzing, but I much prefer the serenity of the Gilis or the countryside around Ubud.
The great thing about this part of the world is that is has it all – beaches, countryside, culture, nightlife, shopping…your trip can be whatever you make it.
info
Four Seasons Resort Bali at Jimbaran, 20 minutes from Denpasar Airport, was relaunched in July 2017 following a major renovation of all 147 villas. See www.fourseasons.com/jimbaranbay/
Four Seasons Bali at Sayan is near Ubud, www.fourseasons.com/sayan/
Gayle booked all other accommodation with Booking.com and flew from Glasgow to Denpasar via Bangkok with Emirates.com