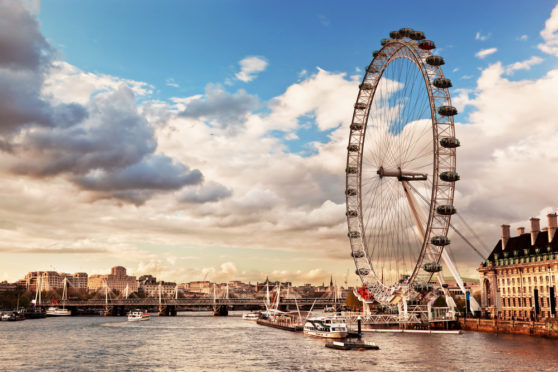 Bridget McGrouther enjoys a weekend break in London…
It didn't take me long to spot the Royals on a recent visit to London – and it wasn't even planned. I was at a travel show in the QEII Centre, while the entire Royal family happened to be attending a Commonwealth Service at Westminster Abbey just across the road.
It was the first time Prince Harry's fiancée Meghan Markle appeared at an official engagement with the entire Royal Family and the Queen.
As Her Majesty; the Prince of Wales; the Duchess of Cornwall; the Duke and Duchess of Cambridge; Prince Harry and Meghan Markle; the Duke of York; the Princess Royal and the Countess of Wessex arrived, we had a birds'-eye view of the Royal party from our floor-to-ceiling glass vista above. If only we could arrange a similar viewpoint for the up-and-coming Royal Wedding on 19th May!
If you are intending to go to London to line the streets for the Royal Wedding, I hope you have pre-planned as hotel prices have soared with the demand on rooms. At events like this (and Wimbledon), friends and family living in and around London can come in very handy!
Yet if you want to visit the UK capital and don't want to spend a princely sum, then I may have just the ticket…
Z Hotels are a new budget hotel chain that offer compact rooms in prestigious locations for a fraction of the usual price.
I had the pleasure of staying at the Z Piccadilly recently, right in the heart of Leicester Square's Theatreland, near the National Portrait Gallery and just around the corner from Nelson's Column on Trafalgar Square. It was like being on a Monopoly board!
My double room was definitely cosy and I was glad that I didn't need to share the bed with my six-foot-two husband, but there are larger queen and family rooms available. Unfortunately, as the hotels are not pet friendly, Simon was at home looking after Minnie.
The en suite shower room was partitioned behind a frosted glass screen – providing room enough for one to shower and brush one's teeth (I've adopted Royal speak now).
Rather than a wardrobe, there were hangers on hooks for your clothes and a tiny desk and stool sandwiched between the bed and the shower room. Thankfully, there was a window (some of the inside rooms don't have one, so request one if you're claustrophobic) and you couldn't miss the large, flat-screen TV hanging on the wall at the end of the bed, while there was free Wi-Fi, too.
There was also a very good hot drinks selection (including coffee bags) and welcome nibbles – disappointingly, I've found even the plushest hotels don't always supply these…
Best of all, there was a complimentary cheese and wine buffet every evening between 5 pm – 8 pm which I had arrived just in the nick of time for.
Held in the Z Cafe, I happened to sit beside three very friendly guests from Yorkshire and as the wine flowed and we helped ourselves to an array of cheeses, olives, breads, dips and chutneys, we got chatting, which is a very welcome thing when you're travelling solo. They even invited me along to the show that they were going to that evening!
The breakfast buffet was also impressive with a help-yourself hot drinks machine and Continental selection as well as bacon rolls available to order. Takeaway breakfasts are also available as well as room only rates.
Being so close to the tube, it was easy to zip around London's busy city centre. An extra tip is that you don't even need to queue for a ticket or Oyster card – you can use a contactless debit card directly on the station scanners or yellow card readers on buses and the cheapest fares are automatically deducted from your bank account.
As for seeing the sights such as Windsor Castle (venue to two Royal Weddings this year); Buckingham Palace and the Tower of London; perhaps consider booking a guided tour such as isango (www.isango.com). They have plenty of different coach excursions available, including a whirl on the London Eye or cruise on the Thames.
The good news is that there are also Z Hotels in Glasgow and Liverpool as well as several London districts and plans to open three new properties: Z Tottenham Court Road (April), Z Covent Garden (July) and Z Bath (August).
By the time I left after my short, two-night stay in London, I felt right Royally looked after!
Rooms at Z Piccadilly cost from £70 per night room only. Visit www.thezhotels.com/piccadilly
Travel News
Golfers can enjoy outstanding value on two of Europe's top 50 golf courses when they stay at the five-star Praia D'El Rey Marriott Golf & Beach Resort (praia-del-rey.com) in Portugal. An hour north of Lisbon, West Cliffs Golf Links has been voted 'World's Best New Golf Course' and forms part of Praia D'El Rey's new stay-and-play packages, with four-night, three-round breaks from 410 Euros pp.
Qantas has launched its non-stop flight from London Heathrow to Perth, the fastest route to Australia. The Qantas Dreamliner takes just 17 hours to reach Perth, where travellers can disembark, continue to Melbourne or connect to one of 11 other destinations. Flight Centre (flightcentre.co.uk), one of the leading travel agencies to Oz, has already seen high demand for the new service.
Based in some of Britain's most sought-after coastal and countryside locations, The Great Inns of Britain (greatinns.co.uk) are a selection of 21 characterful and quaint properties. With May representing National Walking Month and two Bank Holidays to look forward to, it may be time to plan a long weekend from The Wild Boar in Cumbria to The Boar's Head in North Yorkshire.
Hot choice:
A one-week holiday staying at the 3* Sol Lunamar Apartments in Palma Nova, Majorca, with return flights from Edinburgh Airport on 24 April and seven nights' accommodation on a self-catering basis costs from £280 based on two people sharing and subject to availability. Visit www.Sunshine.co.uk