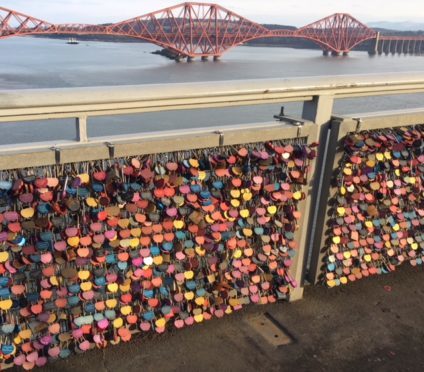 Terry MacCallum enjoyed a weekend break with her husband in Queensferry
They say that a change is as good as a rest – and my husband and I didn't have to travel far to prove the point. Based at the very comfortable DoubleTree by Hilton Edinburgh – Queensferry Crossing we spent an overnight stay in the hotel at North Queensferry and used it as a base to do some walking, some sightseeing and to enjoy some fine dining.
We were lucky with the weather and glorious sunshine made all the difference – to our views and to our outdoor expeditions.
Before heading to the hotel, we drove across the new bridge to South Queensferry, a charming and interesting place to visit. For its size, it has lovely coffee shops and places to eat and there are also interesting things to do.
After coffee and cake at the Little Bakery on the Main Street we paid a visit to an exhibition put on by the Queensferry History Group and staged in the council offices. This covered the stories of the 66 local men who served and died during the First World War.
The Queensferry At War exhibition is poignant and well researched with different items on show, many of such a personal nature – letters and photographs – that it would be difficult to fail to be moved by the sacrifice made by so many from one small place.
The history group are a busy bunch and it's worth calling in to the council offices to see which exhibition is currently running. There are also permanent displays which show life in South Queensferry over the decades.
After the exhibition we went for lunch at Antico, the café bar at Orocco Pier, a busy restaurant with fantastic views of the bridges. Window seats were at a premium, but even without the view we enjoyed a tasty lunch.
After a visit to the Harbour Gallery and other gift shops along the Main Street, we crossed back over the bridge and checked in at the DoubleTree Queensferry Crossing.
We were welcomed with a hot cookie – a nice touch for arriving guests, possibly weary after a long trip – and given directions to our room. We had a fantastic view of the new Queensferry crossing from our hotel room window, so close that you could almost reach out and pluck cars off the bridge, but so quiet that we weren't bothered in the least by traffic noise.
The hotel has opened following a £15m investment which has seen it transformed. With fantastic views across the Forth and the new Queensferry Crossing, the DoubleTree Queensferry Crossing sits in 10 acres of parkland on the headland above North Queensferry.
With the addition of 64 new rooms, the hotel now features 141 guest rooms and suites.  Taking full advantage of its elevated position, many of the rooms afford panoramic views over the Forth and its iconic bridges. We were lucky enough to have one of these rooms with a view and spent a good many moments trying to capture that "perfect shot" of the bridges.
The room was very comfortable indeed, with small touches which showed that thought has been given to the items that guests expect – and some they don't! The shower room was beautifully appointed and had a really luxurious feel.
Inspired by our view of all three Forth crossings, we headed out to the Forth Road Bridge and took a windy walk across, stopping to take a look at the hundreds of "love locks" that have been padlocked to a particular seduction of the bridge. The walk helped to build up an appetite for our evening meal.
The hotel's restaurant, The Shore Grill and Fish House, boasts massive picture windows that sweep across the entire frontage. On a clear day, diners can enjoy captivating views of the Queensferry Crossing.
The Shore aims to serve inspired cuisine.  The seasonally changing menu features simple, yet carefully crafted dishes using inventive techniques and the best local produce and is matched by an equally impressive selection of cocktails, wine and drinks.
General manager Stuart Douglas and his restaurant team pride themselves on serving their guests fresh, locally sourced seafood and beautifully presented seasonal dishes that showcase the highlights of the Scottish larder. And we can vouch for that!
Our dinner included seared Hebridean scallops, with Stornoway black pudding and an added twist of curried apple puree and garam masala crackling dust; seafood broth with silver mullet, mussels and pearl barley. Seared Scottish salmon was served with Scottish chorizo (who knew!), smoked squash, potato dumplings, fennel, chilli and sage. Mackies ice cream rounded off a delicious and interesting meal.
Breakfast in the morning was equally delicious and set us up nicely for the day. Our overnight stay had done much to recharge batteries and enjoy a little luxury while we did so.
However, for us, it was the genuine warmth of the welcome and the interest that all the staff took in their guests that really made the difference. Everybody likes to be made to feel special now and then and the staff certainly knew how to do that.
info
Terry and Ross stayed at the DoubleTree by Hilton Edinburgh – Queensferry Crossing. See www.doubletree-queensferry.co.uk
Rates vary from around £109 BB per room. In June, prices range from around £159 BB per room in a king guest room.  A room with a view is about £10 more.