Michael Alexander discovered why Holiday Inn Express at Southwark was an ideal base to get into the Christmas spirit during 48 hours in London.
There are two types of amateur ice skater it seems. There are the show-offs who birl around the rink with effortless ease – spinning and zooming without a care in the world and making the whole darn thing look dead easy.
And then there are the slippery ice-phobes – clutching the barrier at the side and strutting like a drunk penguin while trying to work out how to traverse a gap in the barrier that might as well be as wide as an alpine crevasse!
With a distant memory of skating at Fife Ice Arena once as a child, I'm afraid I fell (thankfully not literally!) into the latter category of skaterdom as I stepped gingerly onto the ice for some festive skating magic at the famous Somerset House outdoor rink in Central London.
But with Christmas music blaring, and the festive lights sparkling, it was impossible not to grin from ear-to-ear – or get into the festive spirit – as I made my way around the periphery of the arena – getting ever more confident, and even letting go of the sides, as the half hour session slipped by, before enjoying a warm drink in the rink-side Skate Lounge.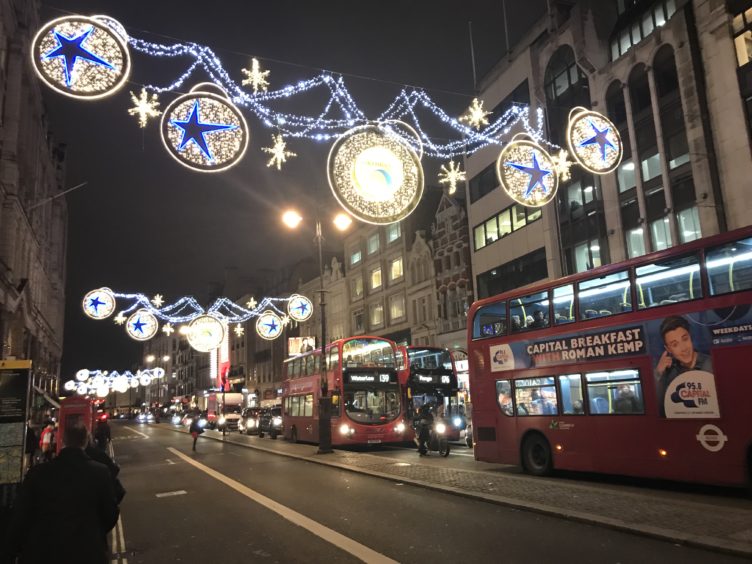 Trips to London are always special.
But when the opportunity arose to visit the 'Big Smoke' and join a small group of UK/Irish regional journalists on a special '48 hours in London' trip to experience what the capital has to offer tourists at Christmas, I jumped at the chance and enjoyed some seasonally enchanting experiences.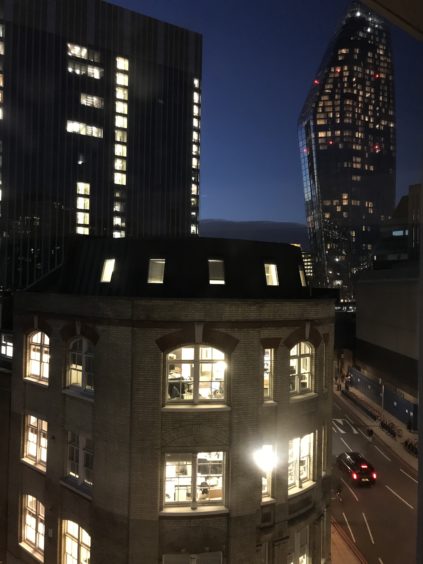 Having let the train take the strain from my home in Fife to Kings Cross, it was a short tube journey to our base for the short break – the Holiday Inn Express at Southwark which is conveniently located in the heart of London near local attractions including the Tate Modern and Shakespeare's Globe Theatre.
The hotel, with its modern air-conditioned non-smoking guestrooms equipped with free Wi-fi and flat screen TV, is a short walk from Southwark and Blackfriars tube stations, making it an ideal base for business stays or to explore the vibrant city for leisure.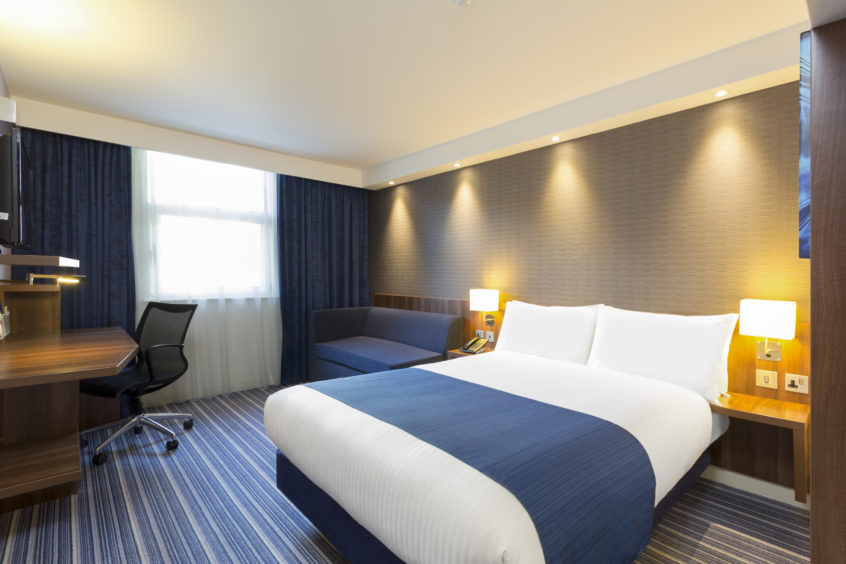 Our two-day itinerary was tailored to incorporate some of London's most iconic cultural sites, festive pop-ups and dining experiences – but we also had the opportunity to explore the city at our leisure.
Armed with our pre-paid Oyster cards to get around on the convenient-as-ever tube network, our first stop after working up an appetite at Somerset House was dinner at the Tandoor Chop House in Covent Garden.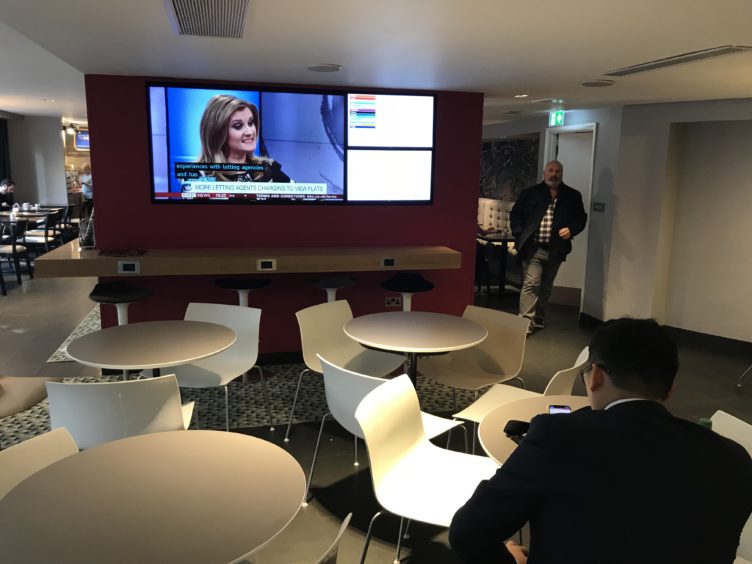 Combining the ambiance of a North Indian communal eatery with a classic British chop house, we shared a variety of tasty starter snacks including chickpea chaat with tamarind chutney and the delightful beetroot Seekh kebab with chilli lime, coconut yoghurt and pickled red onions. For my main I enjoyed a masala boti ribeye steak and nimbu masala fries – both of which had a tasty firey kick!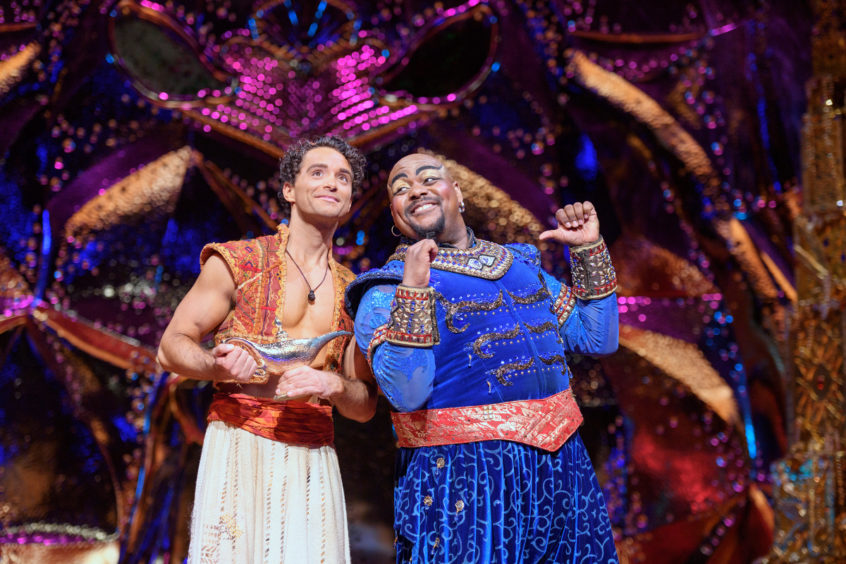 From here it was just a short walk to our highlight of the evening – a night watching one of the West End's most popular musical shows Aladdin, at the packed out Prince Edward Theatre.
With prime seats just eight rows from the front, this was the West End at its best – a genuine top quality colourful masterpiece with absolutely fantastic sets, a fabulous cast led by the brilliant show-stealing Genie (Trevor Dion Nicholas) and all the memorable songs from the classic Academy award-winning Disney film of the same name including A Whole New World and Arabian Nights.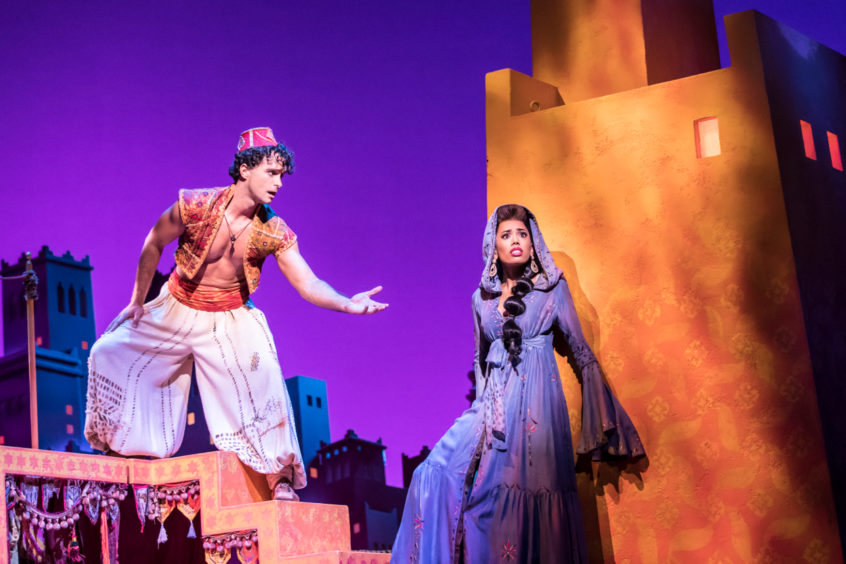 (If anyone can tell me how the flying magic carpet was staged, please let me know because I couldn't see the strings!)
Returning to the hustle and bustle of central London, we found time for a night cap or two in a trendy bar close to our hotel.
But this was just the half way point of our adventure. Feeling remarkably fresh the next morning, and boosted by a hearty good breakfast at the hotel's self-service buffet, day two of our London experience was like a scene from The Apprentice as we trooped from our hotel to a waiting cab which whisked us to Chelsea to take part in a festive wreath making workshop.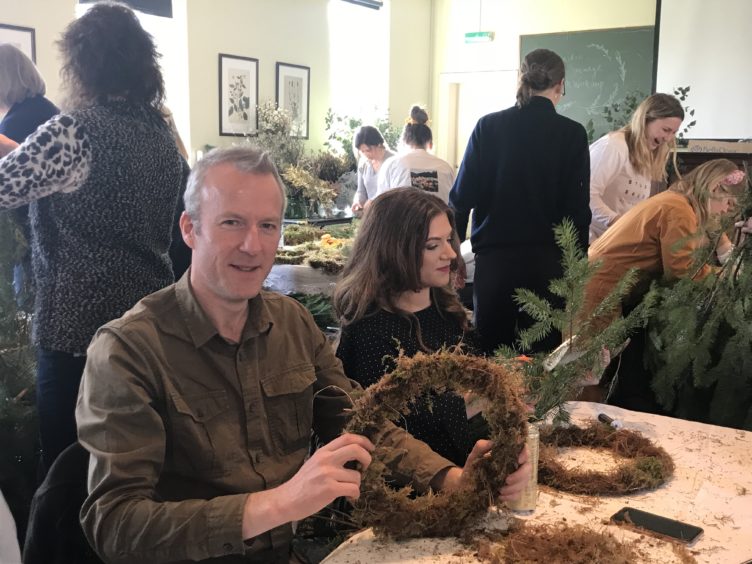 Located at the Chelsea School of Botanical Art, and bringing a whole new meaning to Made in Chelsea, we joined a bunch of London housewives for the two-hour class run by former theology student turned botanical artist 'Smudge' who talked us through the step by step process of making a Christmas wreath which we could take home with us and hang on our front doors.
Starting off wiring piles of moss onto a wire frame, we were shown how to overlay this with branches of Scots pine which we had to trim to fit – some, like mine, ending up more on the bushier side than others!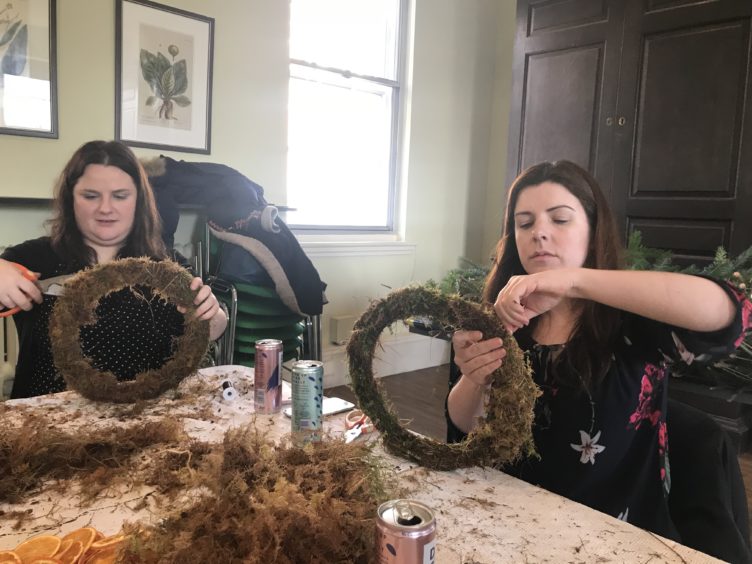 Then it was a case of 'getting creative' as we chose from a range of gold and silver leaves, pine cones and dried fruit to make them really festive.
The final challenge of course would be getting them home in one piece! (And I can confirm mine made it intact!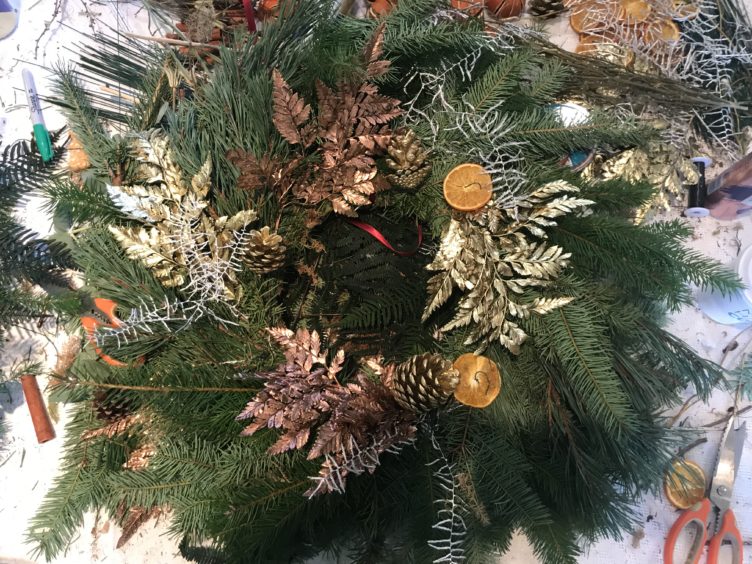 Jumping back in a taxi, we negotiated the bustle of city centre traffic for another treat – lunch at the iconic John Lewis Oxford Street and Mypie rooftop gardens.
A fine selection of pies and festive drinks were on offer. After bamboozling my English colleagues with stories of 'Twa pehs please an an Ingin ane in aw', I opted for the venison, chestnut mushrooms and juniper option with Maris Piper mash.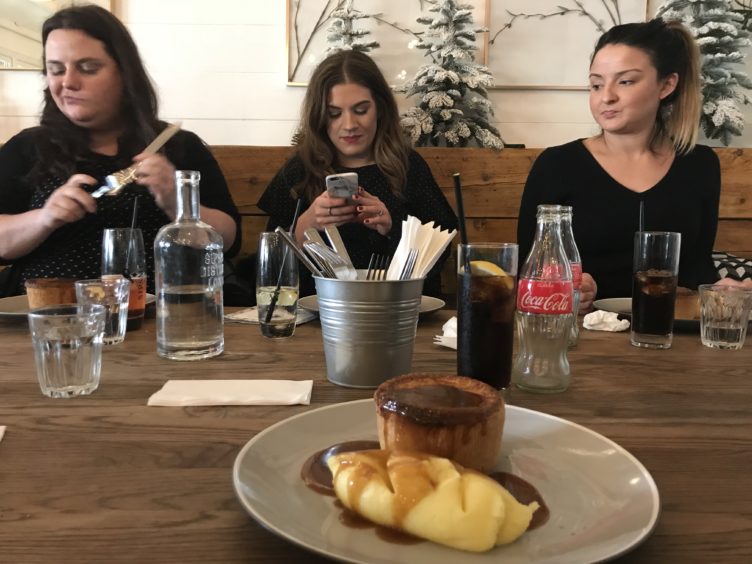 I was reliably informed that the minced beef and free range chicken pie options also hit the spot as did the Sipsmith hot gin!
There was time to lap up the atmosphere down iconic Carnaby Street – currently displaying special Christmas lights paying tribute to the late Freddie Mercury and the recently released film Bohemian Rhapsody.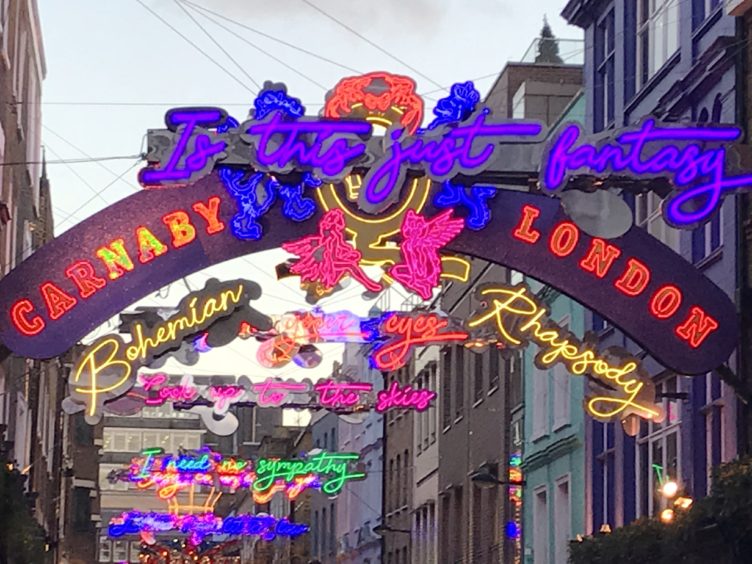 We were then picked up, again by taxi, to visit the famous Christmas lights at Kew Gardens in the south west of the city.
In many ways it was similar to attractions closer to home such as Perthshire's Enchanted Forest.
But the scale of this colourful light and sound extravaganza was astounding.
Highlights for me included the Cathedral of Lights and the Laser Garden light display which reminded me of something from a mid-1990s Dundee nightclub!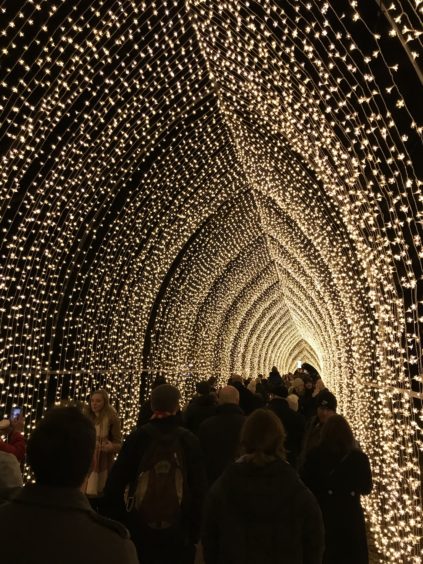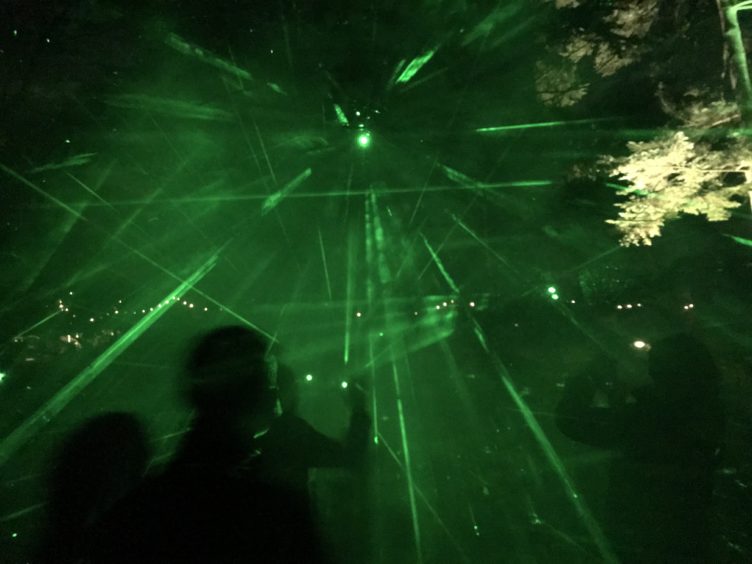 It was a cold crisp night and the mulled wine available for purchase as we made our way round added to the festive cheer.
A Christmas turkey dinner at the trendy No 1 Duke Street pub in trendy Richmond, near Kew Gardens followed.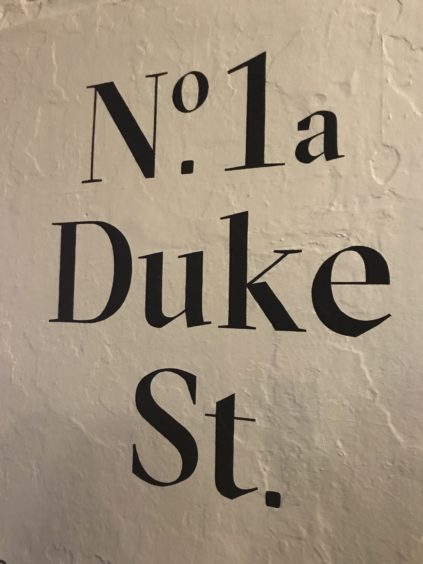 And after getting the train back to Waterloo via Clapham Junction and reluctant to let the night end too soon, there was time for cocktails in the Rumpus Room rooftop bar on the Southbank– a prestigiously trendy bar on the top floor of the Mondrian Hotel with magnificent views over the Thames towards St Paul's Cathedral and Canary Wharf.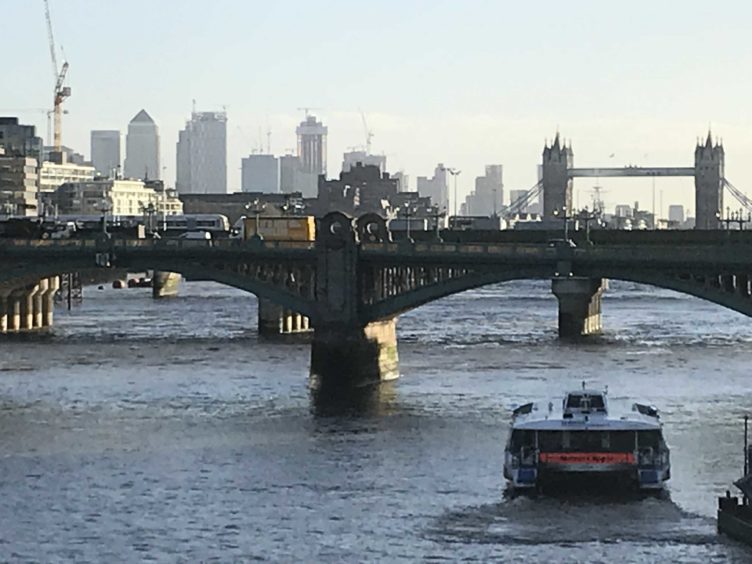 It was a fine place to reflect on a fine trip which, while relatively brief, had been action packed and certainly got us into the festive spirit. But was that really Lord of the Rings actor Andy Serkis standing at the bar?!?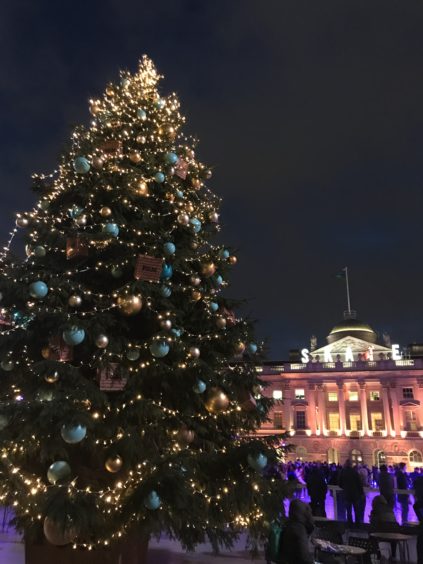 • Michael Alexander travelled to and stayed in London courtesy of IHG (InterContinental Hotels Group) and Holiday Inn Express.
• Holiday Inn Express London-Southwark is located at 103-109 Southwark Street, London. Breakfast is included in the cost (Rooms from £216 per night plus offers available)
• Other Christmas in London attractions include Winter Wonderland at Hyde Park, Southbank Centre Winter Market, Leicester Square Market, Greenwich Christmas Market and Snowscape at Aqua Shard.