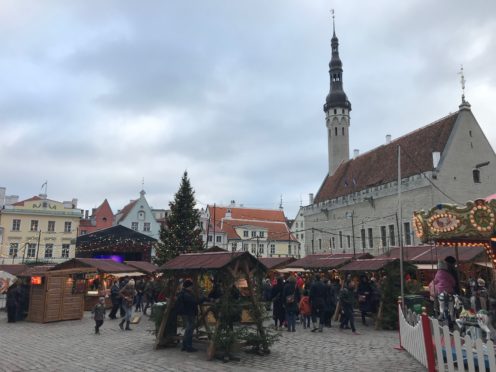 When two international friends came to stay, Rebecca Shearer showed them one of Europe's hidden gems, Tallinn
It wasn't until I was left in charge of planning a whistle-stop tour of Europe for two of my international friends that Estonia appeared on my radar, and the task of finding somewhere none of us had been was no easy feat. But Tallinn, the Baltic country's enthralling capital, is one of the most easy-going places I've ever visited.
At the heart of the city is Vanalinn, a subdistrict also known as the "old town", which separates itself from the modern streets and shopping centres via a mostly-intact 13th Century wall.
With not too dissimilar a feel from my native home of Edinburgh, the old town is characterised by authentic cobblestoned streets, charming architecture and Gothic church spires.
In the 20-minute journey from the airport to our accommodation on the edge of Vanalinn it wasn't difficult to notice the differences and similarities between the old and the new that Tallinn prides itself on. For instance, the architecture in the newer part of the city still harks back to the communist era, though there are hints of a modern world, such as cafes offering wifi and many British and American chains.
However, credit has to go to the citizens of Tallinn for protecting their cultural and rather captivating old town.
Where, in my native home of Edinburgh, cobbled streets have been paved over to allow for cars to travel with ease, much of Vanalinn's streets and architecture have been untouched by the country's 51-year stint in the clutches of the Soviets.
We also learned during our stay that the Estonian government is one of the first in Europe to become an e-government and create a digital society. Thus, despite its capital city appearing old on the surface, it is very much new at its heart.
Though we had arrived in Tallinn following a short stay in Disneyland Paris, it was clear the fairytale vibe was still with us.
Venturing through the Viru Gate, which is the entrance to the old town, was like stepping into an entirely different world than the one we had just arrived in. The wall that separates the old from the new started being built in the late 13th Century when their proximity to the coast became a major concern to residents wishing to defend themselves. Some of the guard towers dotted along the original 4km-long wall are still visible today and a few can be climbed for a small fee.
If the option is available it is well worth staying in one of the small, independently-run hotels in Vanalinn, or an AirBnb, which was our choice of abode for our long weekend, to help immerse yourself in the district's laid-back way of life.
Though cars do appear occasionally in the winding, cobbled streets, it is not necessary to hire one or find a taxi to explore the old town, the majority of which can be seen in an afternoon.
Plus, travelling into the modern part of the city is not necessary for a short trip, as whether you prefer food, culture, relaxation or immersing yourself in history, every type of adventurer is catered to.
On our first full day in Tallinn it didn't take long for us to navigate the streets and realise that it's a difficult city to get lost in, with most streets leading back to the town square.
The Town Hall Square is brimming with life, no matter what time of year it is. Our visit was in mid-November at the start of the briskly cold European Christmas market season, which Tallinn has been participating in since the early 1400s.
A large tree sat in the centre of the square, a tradition which many claim marks the display of the world's very first public Christmas tree.
On one side of it stood a stage upon which various events and local talent showcases take place to welcome in the festive season. Opposite was a market offering various items, from homemade crafts to mulled wine.
Despite the chill in the air, it would be easy to spend most of the day in the square and soaking up the Estonian culture. In the summer, the market is replaced with outdoor cafes and various medieval festivals take place throughout the year.
For a more immersive medieval experience, a visit to Olde Hansa restaurant is highly recommended. Grand Chef Emmanuel Wille and his team have created a menu around dishes that appear in historical texts, such as dried elk meat, wild boar and game sausages.
The waiters and waitresses are dressed in traditional clothing and décor dates back to the early 13th Century. Those who are more adventurous with their food consumption will be pleased to learn about the restaurant's iconic Master Cook's Feast which consists of 17 dishes for a total of 42€ per person.
And for those missing the comfort of home, The Highlander Scottish Pub is just across the street. Though we didn't venture in (I'd just given my Australian and American travel companions a tour of Edinburgh the week before and didn't want to taint their experience of my home country), we had been told the pub is a popular haunt for tourists.
There is also plenty to whet the appetite for even the most reluctant of history buffs. We decided to wander aimlessly on our first day and see how much of the old town we could explore without a map. A steep hill sits in the middle of Vanalinn called Toompea, and on more than one occasion we found ourselves ascending it. At the top is one of the most spectacular viewing platforms, known as Patkuli. From Patkuli visitors can see for miles around and the stark contrast between old and new, as well as the port where ferries embark to nearby Helsinki and St Petersburg, and slightly further afield to Stockholm and Riga.
Tours of Tallinn's old town usually stop at Patkuli and if you're lucky and hang around long enough for an English tour to appear, you might overhear some interesting facts about the city, such as the history behind St Olaf's church.
Further wanderings through the district led us to a garden area that was boxed in by guard towers, a museum and dotted with tall hooded figurines that looked scarily like the Death Eaters from Harry Potter. Though quite mythical it was just one of the many visual ways Estonians like to tell their history.
On the second day we took a trip out of Vanalinn to the Tondiraba Ice Hall to watch Scotland play in the European Curling Championships. Such a high-profile event only came to our attention after sharing a flight with the Swedish team from our stopover in Stockholm.
This, combined with its former title of European City of Culture 2011 and its fascinating history, is why Tallinn should be on your list for 2019.
Rebecca is a Senior Sub-Editor for The Courier. She paid for all of her own travel expenses during her trip to Estonia. Rebecca recommends: Staying at the Goldena Old Town Apartments, which can be found on Airbnb.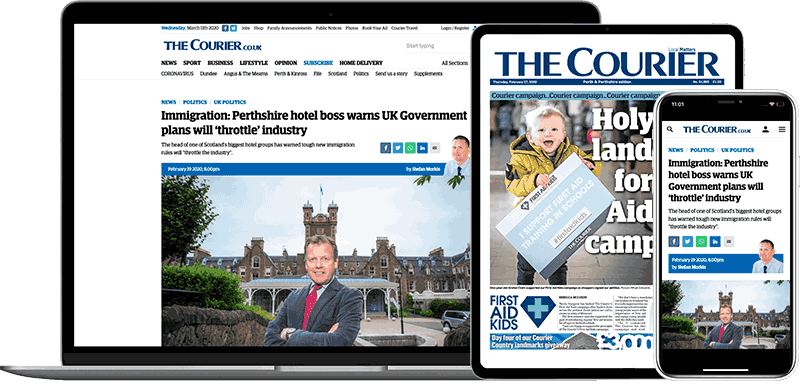 Help support quality local journalism … become a digital subscriber to The Courier
For as little as £5.99 a month you can access all of our content, including Premium articles.
Subscribe