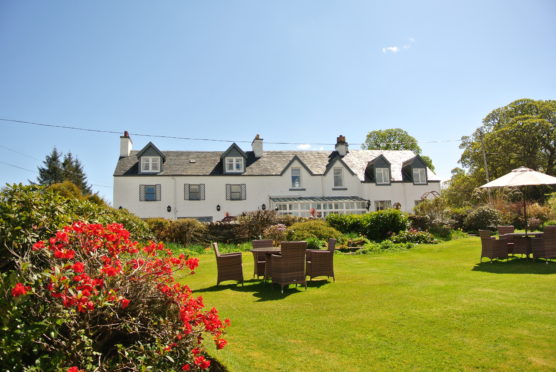 Ross Gilmore and his wife headed to Port Appin to explore the area and enjoy some R&R at romantic Airds Hotel
In need of some respite from our usual hectic routines, my wife and I took a trip to Port Appin for a break at the multi-award-winning Airds Hotel.
It's been voted the most romantic hotel in Scotland, with
a highly acclaimed restaurant, so we were looking forward to some luxury.
Port Appin is a pretty hamlet on the west coast of Scotland, close to Oban, around a three-hour drive from Dundee.
The journey was an adventure in itself, and we drove through some stunning scenery including a wonderful view of Castle Stalker, one of the most striking local landmarks.
You can arrange to go on a tour of the castle, including a boat trip and a guided tour by the castle's owners and residents.
There are plenty local walks in Port Appin itself, and you can hire canoes for exploring the loch.
For a day out, take the passenger ferry to the island of Lismore. The Airds Hotel can even kit you out with a backpack and picnic lunch, including a fine bottle of wine.
From the moment we arrived at the Airds we were treated like welcome guests.
The owner, Robert (voted Best Hotel General Manager of the Year at the 2018 Luxury Life Awards) greeted us warmly on arrival and showed us into the lounge.
Nestled into the sumptuous sofa beside the roaring open fire, with a welcome drink in hand, we already knew we were going to enjoy this trip.
The Airds is decorated throughout in a traditional style with a modern twist and an emphasis on comfort.
We were staying in the suite – which is particularly spacious, with a separate sitting area and typically glorious views. Crisp white linen, a firm but comfy mattress, and plenty of pillows and blankets guarantee a good night's sleep.
We also loved the finishing touches – stuffed Highland coos (available to buy and rehome if you can't bear to leave them behind), homemade shortbread, a decanter of whisky, and robes – which all add an extra touch of luxury.
The real focus of the Airds is the restaurant. The Airds has three AA rosettes, and a string of awards, including Fine Dining Restaurant of the Year and Scottish Hotel Chef of the Year, and has been included in the Good Food Guide for the past 42 years.
The whole event begins in the lounge, with pre-dinner drinks and canapes. It's a lovely start to the evening, a chance to take a breath, relax, and browse the menu before moving into the dining room.
The main dining room is calm, quiet, and immaculately finished, with plush upholstered chairs, heavy white linen, and fresh flowers on every table.
The Airds has a range of menus, including a seven-course tasting menu, and the hugely popular and reasonably-priced Sunday lunch.
There is also a gourmet break package which includes a personalised tasting menu on the second evening, and special menus for occasions such as Valentine's Day and Easter Sunday.
We ordered from the dinner menu, which changes regularly and emphasises local, seasonal ingredients. The chef is more than happy to let you know about the restaurant's local suppliers, with seafood from the west coast and a local butcher supplying the best 28-day-hung beef.
Vegetarian options are refreshingly inventive and made from the freshest ingredients, many from the chef's kitchen garden.
Carnivores are extremely well catered for. We ordered a delicious, rich, earthy venison dish served with pumpkin and chanterelle mushrooms.
The chef's passion for local seafood really shines through in the menu. Locally-caught scallop, salmon, squid, skate, mussels and oysters all featured, and we made an instant pact to return some day to try the lobster dish on the lunchtime menu.
Everything we ordered was perfectly cooked, and beautifully presented, with a variety of texture and colour on every plate. Risotto Nero was served in stunning contrast to a selection of seafood and sea vegetable.
The cheeseboard is an additional extra course as part of the dinner menu, but is not to be missed. The selection of cheese is tailored to the diner, with something for every palette, and a well-informed server to help you choose.
A stand-out in our personalised selection was the Lancashire Bomb, a creamy Lancashire cheddar encased in a striking round black wax.
Our desserts were delicious and almost too good-looking to eat, and then we returned to the lounge for coffee and petit fours, and enjoyed a pleasant chat with the other guests. Many people return to the Airds every year, and we enjoyed meeting some of them.
The next morning, after a restful sleep and a perfect breakfast, we decided to explore the area before heading home.
Port Appin really is a beautiful spot, with plenty to satisfy even the most adventurous thrill-seekers, as well as those who just want to relax and admire the view.
We will certainly return for another break, or at least that lobster lunch.
info
Ross Gilmore was a guest of the Airds Hotel & Restaurant in Port Appin, Argyll: airds-hotel.com / 01631 730 236.
The two-night winter offer is from £252 per person (two sharing, half board in a classic double room) and valid to March 31 (exclusion dates apply). The price includes early morning tea/coffee delivered to the room before breakfast and a daily newspaper of choice. The seasonal tasting menu is £81 per person for a nine-course menu (includes coffee and petit fours); pair with tasting wines for an additional £42.50 per person.
Special dietary requirements can be catered for with advance notification.Reservations: airds-hotel.com; by email: airds@airds-hotel.com; or call on 01631 730 236.
ACCOMMODATION: An enchanting former ferry inn, its excellence is endorsed by membership of the Relais & Châteaux, Pride of Britain and Connoisseurs Scotland portfolios.
CUISINE: The restaurant has featured in the Good Food Guide for more than 40 consecutive years and held three AA Rosettes for more than 25. "Fresh, local and simple" is head chef Chris Stanley's mantra.
ACCESS: fly to Glasgow or Edinburgh and drive or enjoy a picturesque train journey to Connel, followed by a short taxi ride.
WEBSITE: airds-hotel.com