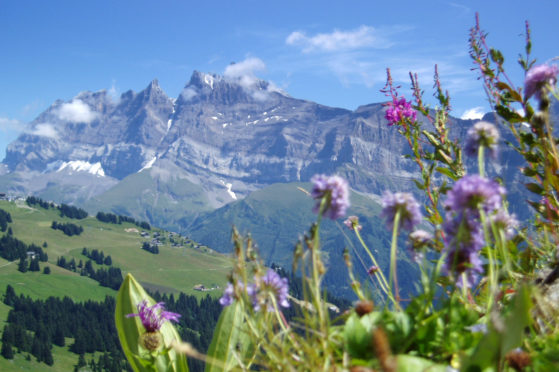 The bustling ski resort of Morzine in the French Alps is a fantastic place to visit year-round as Gayle Ritchie discovers…
The clink, clank and tinkle of cow bells echo throughout the vast, sweeping valley.
I'm standing on the border between France and Switzerland, surrounded on all sides by soaring mountain peaks.
It's taken me a good hour to hike up to this breathtaking, bucolic spot, the ridgeline of the high pass Col de Cou.
Planting one foot in France and the other in Switzerland, I raise my arms to the sky and feel a song coming on. After all, the hills absolutely appear to be alive.
I'm half-way through a short break with my partner and we're staying in Morzine – a bustling ski resort in the French Alps.
Having enjoyed a ski trip here in 2017 and heard about the fantastic summer/autumn scene – with hiking, biking, paragliding, rafting and other outdoor activities on offer – we were desperate to experience this "other side" of Morzine.
We'd clicked with the couple who owned the chalet we stayed in – Gina and Marcus Ewart hail from Broughty Ferry, run Reach4thealps and own 15 chalets across Morzine and Les Gets – and after a few vinos, promised to return.
During the ski season, we stayed in Chalet Hibou, a Reach4thealps catered chalet with eight strangers, but this time, we opted for a more private self-catering alternative.
Having flown to Geneva from Edinburgh, we arranged a transfer to Morzine with Reach4thealps. This takes around 90 minutes and passes some stupendous scenery and a "cemetery" of old bubble cars (gondolas) which the owner is planning to pimp up and sell on.
When we reach Morzine, we're blown away but its (late) summer beauty. A smattering of snow is still visible on the highest tops but lower down, the hillsides have blossomed into veritable Alpine meadows, carpeted with greenery and flowers all colours of the rainbow.
En route to our two-bedroom apartment, Petit Jouet, we receive excellent news. As five-bedroom chalet Claire Valee is empty, we can stay there if we fancy at no extra cost!
The chalet, which is one of the company's newest, is lavish beyond belief, with open fire, airy rooms and stunning mountain views.
To celebrate our arrival, we crack open a bottle of bubbly, don our swimgear and plunge into the hot tub. This is something we repeat at least twice a day during our four-night break.
A trip to the nearby supermarket to stock up on goods is quick and easy and after a simple dinner of chicken casserole, we head to bed.
I'd love to say we enjoyed a restful night's sleep, and we did, but not until after we'd listened to the revving and backfiring of souped-up and heavily modified rally cars prepping for the Mont Blanc Rally. This isn't a complaint! In fact, it was exciting to feel so close to the action.
I should point out, we didn't plan our trip to coincide with this annual motorsport event in September, which sees cars flying up and down mountains around Morzine over three days. It was sheer coincidence but a happy one.
The next morning, after a stroll to wonderful bakery La Bonbonniere to buy freshly baked baguettes, we consult maps left by Gina and plan a short walk.
It's drizzling as we set off but the sun soon breaks through the clouds as we stroll along an easy riverside path to impressive Cascade de Nyon, a gorgeous waterfall. We continue beyond this, through winding forest tracks, until we reach mirror-like Lac des Mines d'Or.
All that walking has made us thirsty so we stop for a couple of beers at the lakeside restaurant.
I take the opportunity to try out my French on the barmaid. I wonder why she looks slightly amused and then realise I've confused the phrase "biere pression" (draft beer) with "poisson" (fish) and indeed, asked for the latter. Oh the shame!
However, I'm glad to report that we did indeed end up with beer and not fish. Phew.
Back at the chalet, we rustle up another DIY dinner, this time, salmon and leek pie.
Next morning, we head to the same place we hired skis in winter, Francois Baud Freeride, this time to hire e-mountain bikes. These allow us to cruise up steep mountain roads without even breaking sweat.
We find ourselves heading back towards Lac des Mines d'Or where we again stop for beers.
Then we ditch the bikes and head uphill towards Col de Cou. It's a rough track, and while the bikes would probably manage it, we reckon it's a nice change of gear to walk.
After chilling out at the top, drinking in the glorious views and listening to all those cowbells, we head back to town.
Evening drinks are at atmospheric Bar Robinson, renowned for its strong Mutzig beer, where we huddle outdoors in the heated beer garden enjoying a glass or two.
The buzz in the town is electric with the rally, and the majority of folk seem to be dressed in race overalls.
The following morning, having chatted to Gina about fab yoga teacher Jo O'Neill  (The Yoga Pixi), I get up mega early and head to her Mountain-Rehab studio for a 7.30am session.
This is a combination of relaxing, uplifting and energising, and helps to release tension from back pain which has plagued me for weeks and sets me up for the day ahead.
I discover there's a burgeoning community of Brits living here. Jo, for example, is from Glasgow and I get chatting to a three folk from England.
After another bakery trip (we adore it!), we set off on foot for Lac de Montriond, less than 6km from Morzine.
There are two ways of getting there and we seek out the quiet, country road which passes rustic chalets and picture-perfect meadowland.
Our jaws drop when we reach the lake, its glassy turquoise water reflecting the dramatic woodlands and mountains that surround it.
We stop for coffee at a bustling cafe and then carry on up the valley until we reach Ardents, a place we're familiar with, having skied down to the fantastic Happy Hours Bar for Aperol before.
Not a soul is here today though, and we stretch out with our picnic on the grass, soaking up the sun.
Our final night is spent having a BBQ on the terrace and hanging out in a couple of Morzine's bars which are, again, packed with petrolheads.
We're sad to leave but pledge to return to this gem of a resort soon.
Right now, ski season is in full swing and Morzine is enjoying fantastic amounts of snow. If we hadn't booked a ski break in Italy next month, we'd have snapped up a deal here.
The great thing about the resort is that when the snow melts, there's plenty to do.
It truly is a year-round resort, embracing summer sports, whether hiking, mountain biking and road cycling, swimming in outdoor pools and lakes, golfing and white water sports such as white water rafting or canyoning.
There are loads of events planned for 2019, many of them cycle and mountain bike-themed, attracting riders from across the globe.
In July, the roar of motorbikes will echo around the mountains when the Harley days weekend comes to town and there's a triathlon in September. And of course, there's the Mont Blanc Rally.
Whenever you head there, you're guaranteed to have a whale of a time because Morzine is truly marvellous!
info
Gayle stayed at a self-catered chalet owned by Reach4thealps. Four night breaks start at around £250 depending on the chalet size. reach4thealps.com
She flew from Edinburgh to Geneva with easyJet. Return flights start from around £100. www.easyjet.com/en
Transfers via Reach4thealps are £60 per person for a return journey.
Most chairlifts and cable cars in the area are equipped to carry bikes in summer so you can explore at leisure with or without a bike.
Reach4thealps are affiliated members of the tourist office and can offer guests a summer multi-pass at €2 per day per person, allowing access to lifts (as walkers), swimming pool, lakes, ice rink, in-resort transport and tennis courts free of charge.
For details on The Yoga Pixi's classes, see www.facebook.com/theyogapixi
To hire e-bikes via Francois Baud Freeride, see www.fbfreeride.com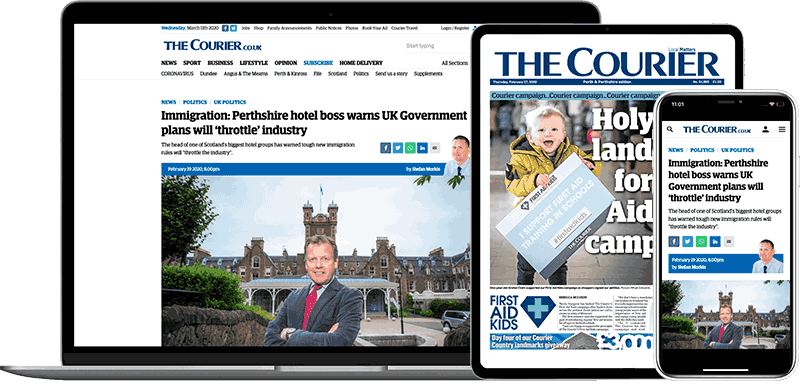 Help support quality local journalism … become a digital subscriber to The Courier
For as little as £5.99 a month you can access all of our content, including Premium articles.
Subscribe