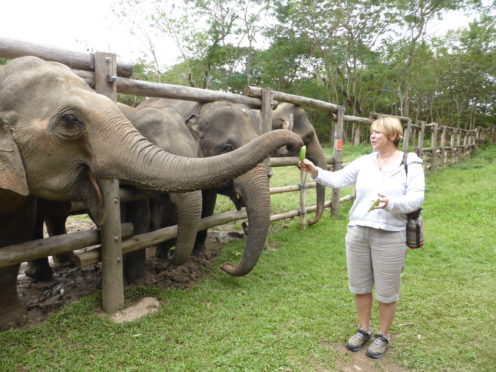 Avid traveller Bridget comes across some wild elephants at play during a series of unique wildlife encounters in Thailand.
There in front of us, down in the valley below, was a herd of wild elephants and their adorable babies. We weren't on the plains of Africa, but in Thailand's Kui Buri National Park, where incredibly, visitors have a 95% success rate of encountering these majestic beasts.
Not only Asian elephants, but leopards, rare birds and the endangered Bengal tiger are rumoured to still roam free in this protected area close to Hua-Hin and the border with Burma (Myanmar).
Considering so many of Thailand's elephants have been "domesticated" for logging, tourist shows, zoos, or killed by farmers and poachers, it's not a sight I had ever expected to witness. Yet I was elated to discover there are just as many wild elephants still at large as the 3,500 or so in captivity.
Better still, it's now illegal to catch a wild elephant or sell ivory in Thailand – both of which carry heavy penalties. At last, something is being done to protect the country's national animal.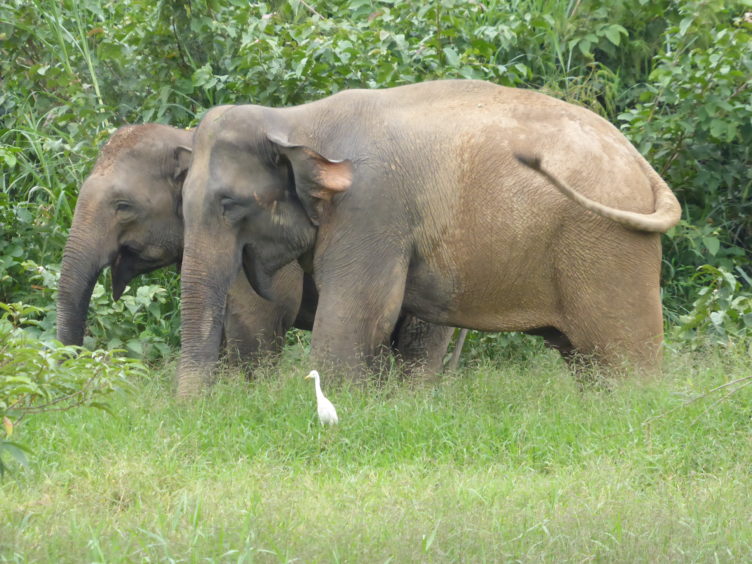 That will be a cause for celebration on the 20th Thai Elephant Day on March 13 2019, which was first set up in 1999 to help promote public participation in elephant preservation.
Lured by Audley Travel's new tailor-made tour of such unique wildlife encounters, as well as trekking to remote hill tribes, our group of six had been enriched by a week of adventure.
A steep hike through dense and steamy forest following a machete-wielding youth was rewarded by the privilege of sharing lunch with members of the gentle Lahu tribe, with whom we sat cross-legged on the bamboo floor of a longhouse on stilts.
Other activities included cycling past rice paddies to the sparkling White Temple in Chiang Rai (like something out of Narnia) and taking a long-tail boat ride up the Kok River, watched curiously by glimmering golden Buddhas, turquoise kingfishers and waist-deep fishermen throwing nets.
After visiting Chiang Rai's first elephant sanctuary – which opened in 2016 by Jack Highwood formerly from Kent – we knew a little of what was happening around us.
During our fascinating morning at Elephant Valley Thailand simply observing six rescued elephants (one a landmine victim) that were hoped would eventually be returned to the wild, Jack told us about elephants' body language and communication signals.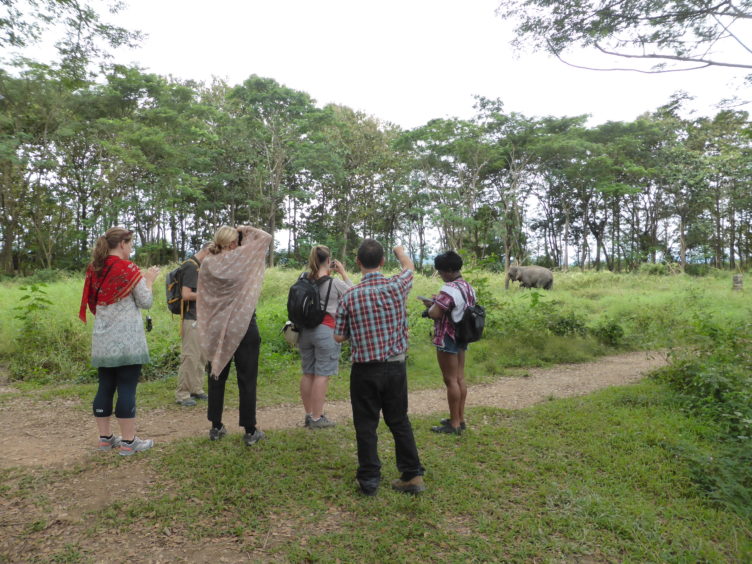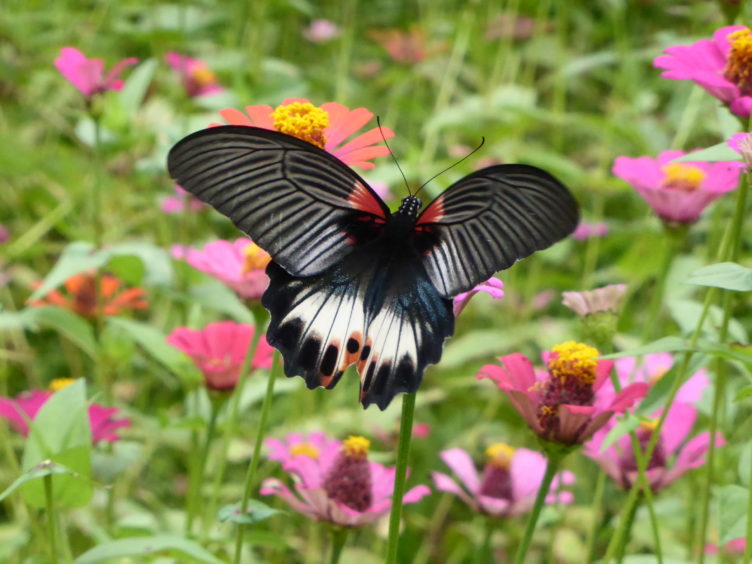 The lesson held us in good stead now as, like a David Attenborough documentary, the tranquil gathering of wild elephants before us had suddenly grown alarmed, trumpeting and flapping ears as the matriarch charged at something lurking in the undergrowth, while the adults huddled protectively around the babies.
I thought they had caught a whiff of our scent, but then the real culprit – a jackal – broke cover, tearing off in a panic to escape. Ten elephants against one – his chances weren't high.
In a recent tourism initiative started by Thailand's late King in an effort to save wild elephants, visitors can take a guided safari or hike through the Kui Buri National Park, as well as dine with local residents. This income is welcomed by villagers who then realise the benefits of elephant conservation.
There is a growing backlash against zoo captivity, tourists riding elephants and circus-type performances because of the cruel training methods used. Yet such shows like Phuket's FantaSea, where elephants perform on stage, sadly still continue.
It's encouraging that there are now eco-friendly alternatives that don't only protect wild elephants but the future of an equally endangered traditional rural way of life for the Thai people.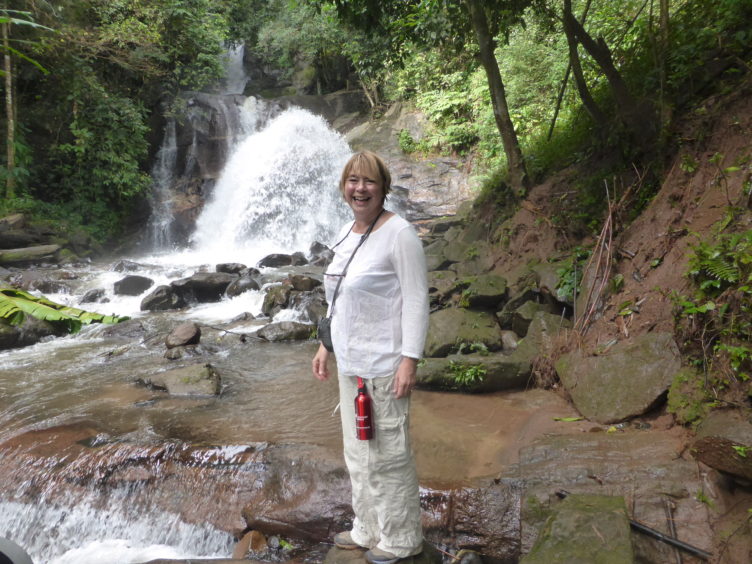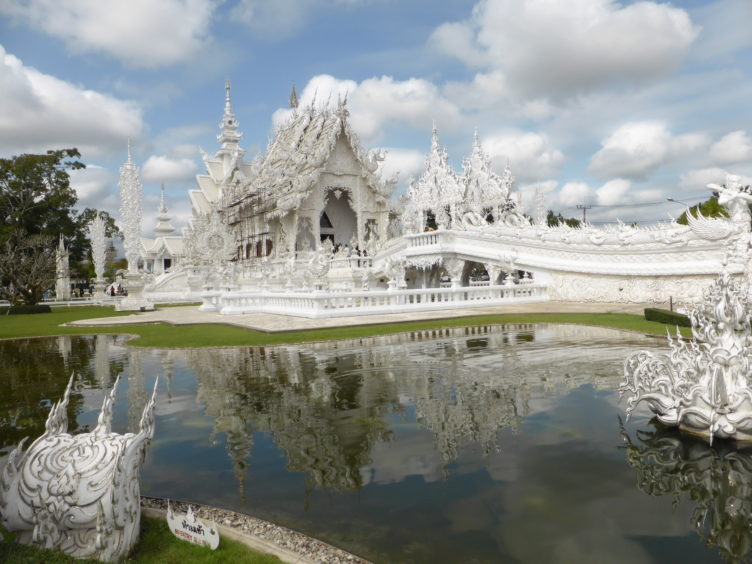 Getting there
Audley Travel (audleytravel.com/Thailand or call 01993 838115) offers tailor-made trips to Thailand.
A nine-day itinerary visiting Chiang Rai, Fang, Chiang Mai, Cha Am, Kui Buri National Park and Bangkok costs from £2,495 pp (based on a family of four sharing) or £2,985 pp (based on two sharing) and includes international flights with EVA Air (evaair.com or call 0207 3808300), domestic flights, B&B accommodation, transfers and excursions.
Every Audley Travel trip is tailor-made by a country specialist based on the client's tastes, budget and wish-list of attractions and activities.
Travel News
The Southern California CityPASS programme has recently introduced a build-your-own custom experience. This allows holidaymakers to create a discounted, tailor-made ticket package to any combination of the following top attractions: The Disneyland Resort; Universal Studios Hollywood; SeaWorld; LEGOLAND California Resort and San Diego Zoo. Visit citypass.com/southern-california
Late departures and overnight stays in iconic destinations are among the key features of P&O Cruises' new ship Iona's inaugural winter season, which goes on sale on March 18 2019. Between Oct 2020 and March 2021 Iona will sail south to Spain, Portugal and the Canary Islands for winter sun. Call 03453 555111, visit pocruises.com or see a travel agent.
Last-minute deal: Inghams is offering a seven-night ski holiday on a self-catering basis at the four-star Les Terrasses de Veret in Flaine, France, from £579 pp (saving £149 pp) based on four sharing. The price includes return flights departing on April 6 2019 from Edinburgh to Geneva and airport transfers. Visit inghams.co.uk/ski-holidays or call 01483 791114.